If you're the Canucks, what do you do with two sluggish defencemen who don't score, give up a lot of chances, and make a combined $7 million per season?
Ideally, you trade them for any assets possible and usher in younger players or players on short-term deals. That would be ideal for a rebuilding Canucks team because it doesn't look like Erik Gudbranson or Luca Sbisa will help them compete for a Stanley Cup anytime soon.
As the game moves toward defencemen who are quick, agile and elite at moving the puck, defenders such as Sbisa and Gudbranson are falling off of the grid. When you watch a team like the Nashville Predators in the playoffs, you don't see slow defencemen who lack the ability to transition the puck cleanly out of their own end.
Gudbranson, Sbisa & Hutton combined ($10.9) will make more than Josi, Ekholm & Ellis next season ($10.2M). Ridiculous value for Preds

— Jeff Paterson (@patersonjeff) May 23, 2017
Jim Benning dealt for both players when they were 24 years old, with hopes that they would blossom into top-four physical defenders. The problem is both of them now have over 300 games of NHL experience each. The chances of either defender asserting himself as a reliable top-four guy are slimmer by the season.
Gudbranson Gongshow
The Canucks shook up their team with a rare late May trade last season when Gudbranson and a fifth-round draft pick were acquired for Jared McCann, a second-round pick and a fourth-round pick. There were some mixed reviews about the trade, with some who applauded it and some who hated it.
After 30 games this season little is known about where Gudbranson sits with the Canucks. He had an underwhelming Canucks debut, where he and his main partner Ben Hutton were dominated in their own zone. Gudbranson allowed the most scoring chances per 60 at even strength among Canucks regulars. He was also the only Canuck to allow more than three goals per 60 minutes at even strength, according to Puckalytics.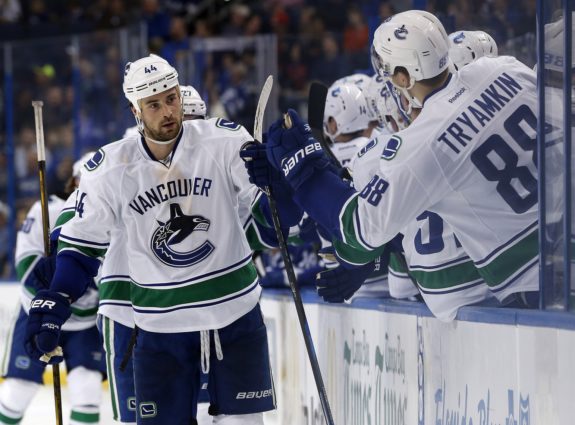 For a player who is labelled as a defensive defenceman, he was anything but in 2016-17. That should have the Canucks worried as he is slated to log big minutes on the Canucks' backend next season. Unless new head coach Travis Green cuts his ice time in favour of Hutton or Troy Stecher, Gudbranson will be a key cog on the Canucks blue line.
That might be the only negotiating power Gudbranson has heading into restricted free agency. He has very little wiggle room if he is looking for a raise on his $3.5 million salary. Judging on what Benning gave up to acquire Gudbranson, he still has high hopes for the 6'5, 220 lb. defenceman, who still has work to do.
Grizzled Vet' Sbisa
At the ripe age of 27, the oldest player on the Canucks' blue line aside from veterans Alex Edler and Chris Tanev, is Sbisa. The grizzled vet has now played in 199 career games for the Canucks. That should be enough for most people to realize that Sbisa will never be the defenceman that Benning envisioned.
When Benning signed Sbisa to a three-year, $10.8 million extension, it was largely met with criticism. Why would you pay a defender top-four dollar even though he barely belongs in the top six? After burning through two years of that contract, it's clear that Sbisa will never be worth that money.
One of the more head-scratching decisions was Willie Desjardins' insistence on playing the ineffective defender over Nikita Tryamkin. If Desjardins had more trust in the Russian rookie, perhaps he would still be in Vancouver.
Sbisa's numbers were better than normal this season, but much of that is credited to playing with Tanev. The pair had a 51.3% goal differential together, but Sbisa's goal differential at even strength dips to 44.9% without Tanev.
Who Does It Better?
This article, that followed last year's Gudbranson trade, argues that Gudbranson and Sbisa are similar and was met with some criticism. But after one year, it's clear that these two share common traits beyond their contracts and status as first-round picks.
Here are some 2016-17 stats on the two defencemen, courtesy of Puckalytics. They are ranked based on 231 defencemen who played at least 250 minutes at even-strength this season.
| | | |
| --- | --- | --- |
| 2016-17 Stats (Even-Strength) | Erik Gudbranson | Luca Sbisa |
| CF% | 47.2% (186th) | 45.8% (209th) |
| CF60 | 50 (200th) | 47.2 (222nd) |
| CA60 | 55.86 (130th) | 55.91 (134th) |
| GF% | 33.3% (227th) | 47.3% (133rd) |
| % of Team GA | 40% (197th) | 29.5% (68th) |
| % of Team GF | 27.6% (173rd) | 33.8% (97th) |
| Points Per 60 | 0.72 (106th) | 0.55 (176th) |
Looking at possession, it's clear that both players are below average and lean towards the bottom of the league in Corsi For, meaning that they don't generate much when they're on the ice. Neither player excels in getting the puck up the ice to their teammates.
Although both players should pride themselves on defensive ability, both are just below the average for Corsi Against. Although Puckalytics has no scoring chance data, the old Corsica website showed that Gudbranson allowed a lot of scoring chances. That's another tick against the "cornerstone" defenceman.
Gudbranson's Goals For total was one of the worst in the league, with only four defencemen finishing below him. The only reason Sbisa ranks so high in this category was from being paired with Chris Tanev. His 44.9% Goals For total without Tanev would tie him for 169th overall with Mark Borowiecki.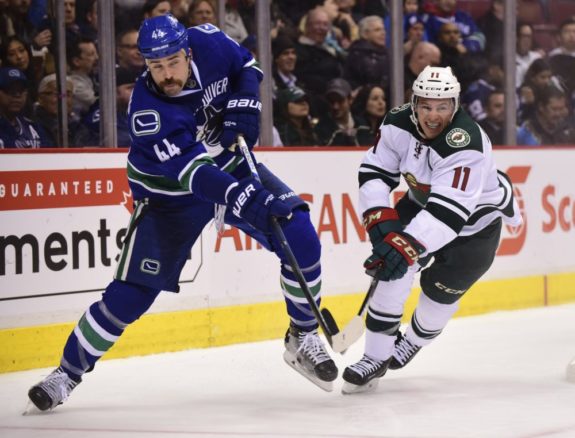 One interesting note was that Gudbranson was above average in terms of points per 60 at even strength. He jumps up to 25th overall in terms of primary points per 60, tied with Roman Josi. Gudbranson doesn't move the puck like Josi, so perhaps a larger sample size is needed. Players who ranked high in this category but played a similar amount of games included Chad Ruhwedel and Scott Mayfield.
Canucks Outlook
The Canucks back end is not going to succeed with Sbisa and Gudbranson playing prominent roles. Sbisa was propped up by Tanev, but without a viable partner Sbisa wallows in mediocrity.
Sbisa is a top target to be selected in the upcoming expansion draft. In THW's Ultimate Mock Expansion Draft, Sbisa was selected to join the Vegas Golden Knights. That would be a bonus for the Canucks, to shed his $3.6 million salary, while allowing a prospect like Philip Holm, Andrey Pedan or Jordan Subban to join the team.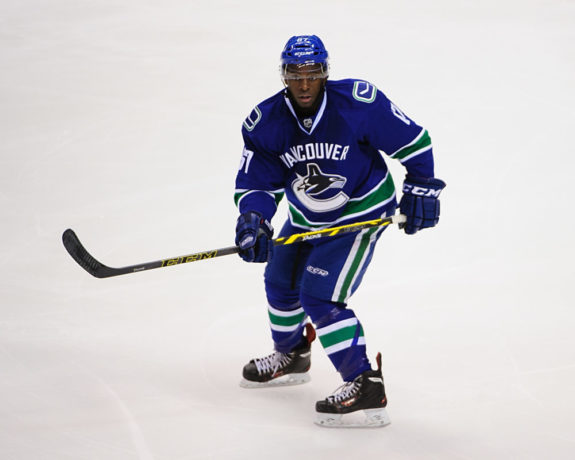 Some will say we shouldn't judge Gudbranson too hastily since he only suited up for 30 games. Others will say that what you see is what you get, considering he's already a veteran of six NHL seasons.
If Gudbranson wants to pride himself on being a reliable defensive defenceman, there's a ton of work that needs to be done. It might be an insurmountable task for someone who has never excelled in his own zone. This is supposed to be the prime of his career, and time is running out for the Canucks to prove that they got fair value for trading a prime prospect and a high draft pick.