The hearts of all Canucks fans collectively dropped when they read this title.
The Canucks acquired Erik Gudbranson from the Florida Panthers along with a fifth-round draft pick in return for Jared McCann, a second-round draft pick and a fourth-round draft pick on Tuesday evening.
Whether you agree with the trade or not, you can see Jim Benning's logic behind the deal. Although they have a need for offensive-minded forwards, you could argue they have a bigger need for defencemen who can suppress scoring changes.
For this reason, McCann became expendable.
If the Canucks chose to keep developing McCann as a centreman, he would have been stuck behind Henrik Sedin, Brandon, Sutter and Bo Horvat for the forseeable future. That's without mentioning bottom-six centers Markus Granlund and Linden Vey. The likelihood of drafting Pierre-Luc Dubois also bumps McCann down the depth chart.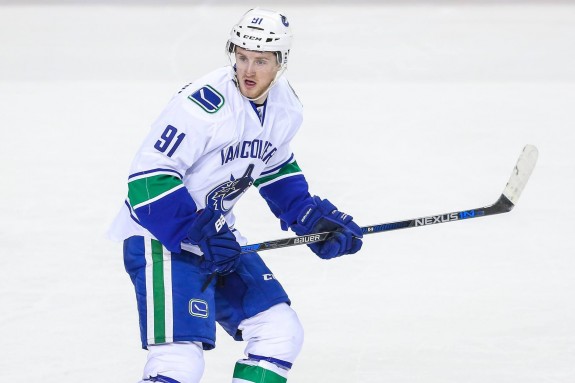 You could classify this as General Manager Jim Benning "selling high" on McCann. That's not totally true considering McCann's age and his untapped potential. However, he either would have been in a bottom six role in Vancouver next season, or he would have been playing in the AHL.
If his AHL production dips at all (which often happens to rookies in the minors) then his value would have decreased as well.
In return, the Canucks receive a big, young, physical blueliner who hasn't reached his full potential and will bolster a mediocre Canucks blueline.
However, what if the young defenceman has already reached his full potential?
If you remember not too long ago, Benning traded for another 24-year-old young defenceman who hadn't hit his ceiling either.
His name was Luca Sbisa.
After two years of being a whipping boy among fans in Vancouver for his poor puck decisions, the idea of Sbisa being anything more than a fifth or sixth defenceman in Vancouver's line up seems laughable.
It's more likely that Sbisa doesn't crack the lineup at all. Is there a chance that Gudbranson endures a similar fate?
Is Gudbranson the New Sbisa?
Deny it all you want, but the similarities between the two defencemen are stark.
Both are in their mid-twenties and are theoretically approaching the prime of their careers. Both are first-round draft picks who have underwhelmed compared to where they were selected. Both are big, physical defencemen who have sustained injuries based on their style of play.
They are also two defencemen who are loathed by the analytics crowd, and for good reason.
Despite playing on a team that won their division and had the best goals for percentage at even-strength, Gudbranson still posted the worst Corsi (46.7%) and Fenwick (46.1%) of his career.
In short, he wasn't an integral part of Florida's terrific season, which by the numbers were attributed to a high shooting percentage at even-strength and solid goaltending from the duo of Roberto Luongo and Al Montoya.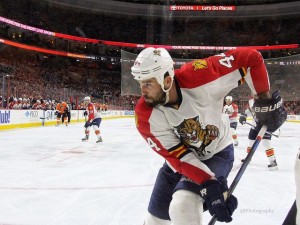 Looking closer at Gudbranson's possession numbers gives us a better idea of what kind of defenceman he is.
His 54.4 Corsi against per 60 minutes is 97th among the 198 defenceman who played more than 500 minutes this season. However his 47.6 Corsi for per 60 minutes was 182nd.
This suggests that Gudbranson is alright at suppressing shots in his own end, but don't expect him to create much in the way of offence at even-strength.
Right below Gudbranson on that list at 183rd, was Sbisa.
Both players aren't expected to create offence. Gudbranson has 43 points in 309 career games, while Sbisa has 75 points in 383 games.
24 of Sbisa's points came in 2011-12 with the Ducks. That offensive outburst seems like an anomaly for Sbisa, and if we discard that season, he has 51 points in 303 games.
Both of these players are now key parts of a Canucks defence that had a combined 23 goals last season.
Sluggish Sbisa
In Vancouver, Sbisa escaped some of the criticism that he faced during his first season on the West Coast.
Mainly, because he only played in 41 games this season. He also had Matt Bartkowski to shoulder the brunt of the criticism for most of the season.
Sbisa was the worst Canucks defenceman in terms of On-ice Corsi at 44.5%. It was another poor season for the 26-year-old, who likely hasn't developed into the defenceman that Benning envisioned.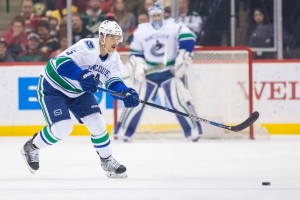 Compared to their teammates, Gudbranson and Sbisa are more harmful than helpful. Of the 200 defenceman who played more than 500 minutes during the regular season, both Gudbranson and Sbisa finished in the bottom 40 in terms of Corsi relative to teammates.
There isn't much time to figure out whether these two players are key cogs for the Canucks moving forward. That time for Sbisa may already be gone, but the Canucks better figure out quickly what they have in Gudbranson. Has he already reached his ceiling, or is there still some untapped potential for Ottawa native?
Neither player is a bargain, or an experiment on the Canucks roster, Sbisa will bring home $3.6 million next season, while Gudbranson makes $3.5 million.
That's seven million for two staples on the blue line who don't produce any offence and draw criticism for play in their own end.
The money is similar, the style of play in similar, and their ineptitude compared to their teammates is also similar.
Benning better hope that the similarities end there, because the last thing the Canucks need is another Sbisa on their blueline.