Goalie Market Prices
According to CapFriendly, Dallas had the highest-salaried goaltender among the #1 seeds in the playoffs this year in Kari Lehtonen at $6 million. When you look at the conference champion teams still playing hockey, the Penguins' Marc-Andre Fleury is raking in $5.75 million while the Sharks have Martin Jones a measly $3 million.
Also according to CapFriendly, the Columbus Blue Jackets paid Sergei Bobrovsky $8.5 million dollars to keep pucks out of the net for the 2015-16 season, poorer only to Henrik Lundqvist at $10 million. The Jackets will pay Bobrovsky $8.5 million again next season, $6.5 million in 2017-18, and $6.2 million in 2018-19. After that, Bobrovsky becomes an unrestricted free agent. The Blue Jackets signed Bobrovsky to a two-year standard contract after his entry-level deal with Philadelphia expired. He became a restricted free agent, but Columbus ponied up the cash for the current four-year monster deal. However, injuries plagued the first year of the contract– Bobrovsky only played 37 games for Columbus in the 2015-16 season.
Futures Market
Joonas Korpisalo is 22 years old with only 31 games under his belt. He will enter year 3 of a 3-year entry-level contract, with an NHL salary of $742,500. CapFriendly shows his "Annual Average Salary" (factoring in bonuses) as $925,000. After completion of the contract, Joonas will become a restricted free agent with less than a full season of NHL hockey to his name, assuming Bobrovsky starts the majority of the 2016-17 season. Korpisalo dazzled in his 31 games for Columbus, showing poise and talent as if he was an everyday NHL goalie. He is also giving strong performances in Lake Erie's Calder Cup playoff run.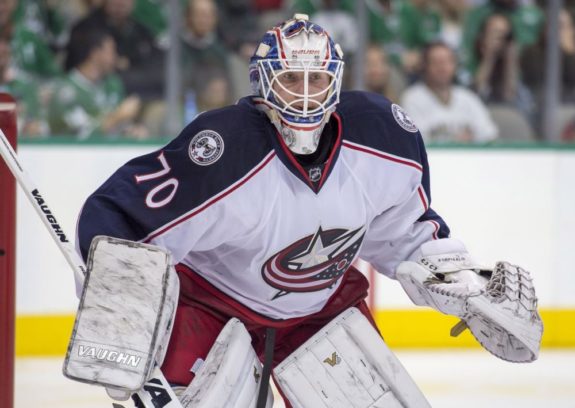 Joonas Korpisalo faced 969 shots during the 2015-16 season and stopped 891 of them (.920 SV%). Using his "Annual Average Salary" from CapFriendly and his stats from Hockey-Reference.com, the Jackets paid Korpisalo $954.59 to stop every shot he faced with 92% success rate. Sergei Bobrovsky faced 1049 shots during the 2015-16 season and stopped 952 of them (.908 SV%). Again using his reported salary and statistics, Bobrovsky was paid $8102.96 to stop every shot he faced with a 90.8% success rate.
Closing Bell
Obviously, that cost-per-shot would go down if Bobrovsky had played the whole season. That being said, Bobrovsky has never played in 60 games in a season before. Theoretically, if Bobrovsky started and finished all 82 games this year, facing all 2532 shots, the Jackets would still be paying him $3357.03 per shot.
With his save percentage in a steady decline, I don't think the Jackets can justify paying that much extra for his experience. He does tend to do well when he gets a change of scenery, and I'm sure there are plenty of teams out there that would love to have Bobrovsky aboard. Not to mention that Columbus would love to have more funds to invest in a better defense or buyout bad contracts.
Also, obviously, Korpisalo provides very little NHL experience for a proper judgement. He could be awful next year (he won't be). However, this season was unique in that both goalies had almost the same amount of games to prove themselves. The Jackets can afford to risk Korpisalo's inexperience due to his substantially cheaper contract.
Sergei Bobrovsky will be the starter going into the 2016-17 season. Barring any offseason trades or injuries, I can say that with confidence. However, I'm sure the Blue Jackets would love to invest more money on the defensive corps if Korpisalo can stay above-average in net. If Bobrovsky regains his Vezina confidence, the Jackets win. What they can't afford to do is let Bobrovsky continue his steady decline while still relying on him to start every game. If Bobrovsky falters again, the Jackets have a much more cost-effective option in Korpisalo and a valuable trade piece in Bobrovsky.