The upcoming Stanley Cup Final features the Pittsburgh Penguins and San Jose Sharks. For Penguins fans wanting to know more about their current opponent, I thought I'd offer some help.
The Sharks are a roll 'four lines and three defense pairs' team. You'll see everyone who skates a good bit. The team loves the forecheck and allows defensemen to be aggressive in the offensive zone. The Sharks are not overly physical but handled three heavy teams to get to the Final. In each series, the Sharks were the better team. The Sharks are a very healthy team, only one player, a depth forward, is injured.
The Sharks struggled the first half of the season but have been one of the league's better teams since early January. That was when a comfort level with head coach Peter DeBoer's system took hold, Logan Couture returned from injury and Brent Burns, the most interesting player in hockey, figured out how to play defense. The Sharks added three players at the trade deadline, all from Toronto. Nick Spaling and Roman Polak are in the daily lineup. James Reimer, the backup goalie, will only see action if needed.
In the playoffs, the only successful line against the Sharks came from Nashville. James Neal, Colin Wilson, and Mike Fisher combined for 19 points and were plus-6. The Sharks have kept lots of talented players at bay. Predators top forward, Ryan Johansen, in check. Against the Kings, Drew Doughty, Tyler Toffoli, Jeff Carter and Milan Lucic were a combined minus-17. Three key Predators, Filip Forsberg, Shea Weber and Roman Josi were a combined minus-19. Against St. Louis, Vladimir Tarasenko, Alex Pietrangelo, and Alexander Steen were a combined minus-11.
Forward Lines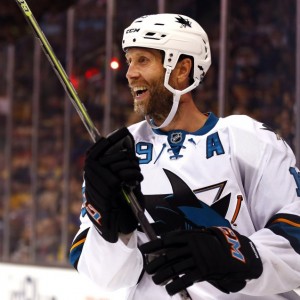 The top forward line features Joe Thornton (jersey number 19), Joe Pavelski (8) and Tomas Hertl (48). Thornton had a Hart Trophy-worthy regular season (if the voters actually watched Sharks games, he'd easily skate away with it). He is an elite set-up man who plays effectively in every zone. His ability to get the puck and keep it might be the best in the game. Pavelski has a terrific all-around game, but with a great set-up guy, he's a goal scorer. His 13 goals are tops in the postseason. You'll see him near the crease, battling defensemen. He gets knocked down a bunch, but it doesn't slow him down. There has been a number of media folk raving about his ability to tip and deflect pucks. They are not exaggerating. Hertl is a smooth skating big body who has blended well with the two stars. In the regular season, these three players were a combined plus-66. In the playoffs, they are a combined plus-22 with 50 points. In the face-off circle, they are a combined 51%, the only Sharks line winning this aspect of the game. In the playoffs, no team has stopped this line. They've rarely even slowed them down.
The second line came together late in their series against Nashville. Couture (39) leads the playoffs in points with 24. Couture is a sniper, but he made a pair of Thornton-esque feeds in the series clincher against St. Louis. He lines up with Patrick Marleau (12), who returned to the second line wing after playing much of the season at third line center. Marleau scored career point 1,000 in Pittsburgh earlier this season. The guy who makes this line work is rookie winger Joonas Donskoi (27), perhaps the Sharks most creative player. He is the perfect complement to the snipers on his line. The Blues gave this line fits, especially Donskoi, early in their series. Later in the series, they became difference makers. Couture and Marleau, both lefties, have taken over 300 face-offs in the playoffs but won only 45% overall. Marleau is playing less in the playoffs while looking more energetic. The clinching game against the Blues was one of his best. This line is a combined plus-9.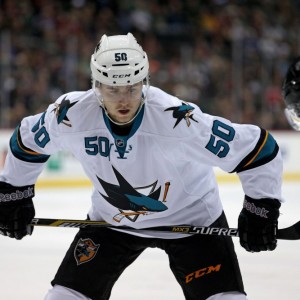 The Sharks third line includes Chris Tierney (50), who resembles Donskoi; both are creative set-up men. Tierney is challenged to compete physically, but he doesn't need much time or space to generate scoring chances. One winger is veteran Joel Ward (42). Ward is physically strong with a well-deserved reputation for scoring critical goals. That was before he scored twice in the series-clinching game against the Blues. He is another blue paint player, good at screening the goalie. Melker Karlsson (68) plays an aggressive game but has found the postseason challenging. He is smaller, but he'll go to the net front and hunt for loose pucks. These players have eight goals, 22 points and are a combined plus-9. The left-handed Tierney and right-handed Ward will handle the face-off duties, but it hasn't been pretty, they are a combined 43% in the playoffs.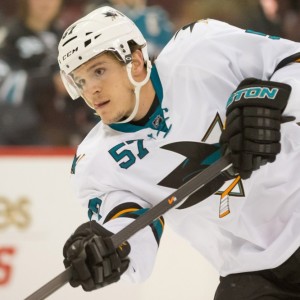 The fourth line settled in against St. Louis following an injury to Matt Nieto (83), one of the Sharks faster skaters. Should Nieto return to health, Sharks coach Peter DeBoer may add his speed to the lineup. It is not a given. Currently, the fourth line is composed of Dainius Zubrus (9), former Penguin Spaling (16) and Tommy Wingels (57). It is a highly experienced, high IQ, physical line. Nearing the end of a productive career, Zubrus, has been very effective. Spaling is defensively responsible and plays a pesky style. He takes almost all face-offs for the line and is at 45%. Wingels is undersized for a player who leads the team in hits. Fourth lines are often 'do no harm' and this line gets it. The three players have combined for just five points but are a combined plus-6. DeBoer does not shy away from using this line, expect 10-12 minutes of ice time for them every game.
On Defense
On defense, the top pair is Marc-Edouard Vlasic (44) and Justin Braun (61). Vlasic is elite. He'll be out there against the top lines. Vlasic has 11 points (10 assists) and is a team best plus-13. Braun has been more problematic, though his best series was the most recent one against the Blues. He has been the guy who loses his coverage a bit too often in his own zone. He has four assists and is plus-7.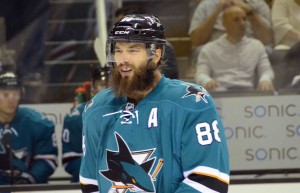 The Sharks other top defensive pair is Burns (88) and former Pen, Paul Martin (7). Burns has transformed his game from chaotic to well, a lot less chaotic and way more effective. A remarkable athlete, the Norris finalist covers ground like no one else. His wrist shot from the point is the best in the game. He has 20 points and is plus-8. Pens fans know Martin well. He is effective, making the basic plays with ease. He sees the game extremely well. He has five assists and is plus-10.
The third defense pair is where the Sharks are most vulnerable. San Jose chose to pair a couple of bigger, slower defensemen together when they traded for Polak (46) and paired him with Brenden Dillon (4). Polak is the Sharks hammer. His physical play, an asset against bigger teams, might be less useful against the faster Penguins. This pairings ability to cleanly exit the defensive zone is an issue. Dillon had a solid season for the Sharks but was more effective with mobile partners. This might be an area the Sharks consider changing personnel. Polak and Dillon are second and third in hits for the Sharks (behind Wingels). Neither Polak or Dillon has a point in the postseason. They are a combined minus-6.
In Goal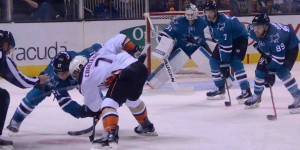 The Sharks have ridden Martin Jones (31). Jones has started all 18 games and finished 17. His backup is the very capable Reimer (34) who has only seen brief duty in the playoffs. Jones is very quiet in the net, moves easily and is rarely out of position. He has shown vulnerabilities at times this postseason. Jones is playing under these bright lights for the first time and has a solid  .919 save percentage. He's shown no signs of letting the pressure get to him. His heavy workload might become an issue at some point.
Special Teams
The Sharks power play topped the NHL in goals scored during the regular season. It has gotten better in the playoffs, with 17 goals in 18 games. The Blues, one of the league's better penalty killing teams all season long, slowed the Sharks power play down (4 for 21), even if they didn't stop it. The Sharks have given up several good chances to their short-handed opponents, including two scores.
The Sharks penalty kill is an area of vulnerability. It has given up ten goals in the postseason on 51 chances. Dainius Zubrus, Brenden Dillon, and Roman Polak all had excellent seasons on the penalty kill. Zubrus has yet to be on the ice for a goal against on the penalty kill in either the regular or postseason. Including all goals scored on special teams, the Sharks are plus-5.
San Jose's effective puck possession and discipline are illustrated in this differential; the Sharks have 63 power plays opportunities compared to just 51 penalty kills.