Even after the regular season has ended, it seems like the Vancouver Canucks can't stop losing.
They went into Saturday night's draft lottery, positioned to snag one of the top two players available. Instead, they tumbled all the way back to fifth place.
Before losing a bonafide young center during the draft lottery, they lost one of their best young defencemen.
Nikita Tryamkin was one of the few reasons why it was worth it watching Canucks games this season. The hulking Russian created intrigue with each game, whether it was through his physical presence, jumping up in the rush, or taking his place as the all-around good guy on the team.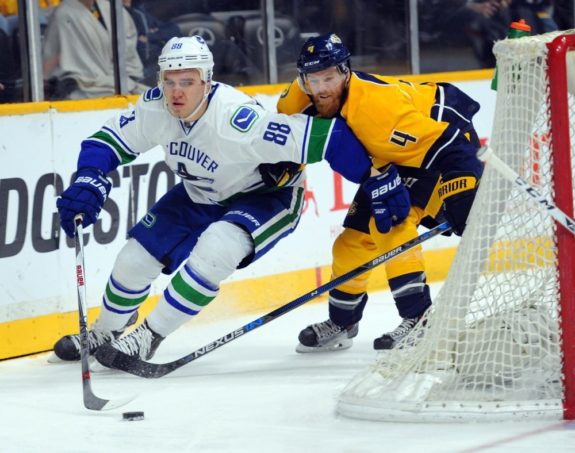 He progressed nicely as the season went along, but it's clear by Willie Desjardins' standards that he was the seventh-best defenceman on the team. Tryamkin averaged 16:44 per game, seventh-highest among Canucks' defencemen, and 13th among skaters. The next-closest defenceman (Luca Sbisa) averaged 18:58.
Tryamkin had his reasons for leaving, and the Canucks must cope in his absence. Unless there are any major additions, players within the organization will have to step up to combat this loss. Two players in particular should be feeling the heat with Tryamkin gone.
Erik Gudbranson
The Canucks' defence was noticeably soft before Tryamkin bolted to Russia. Now, it looks softer than digested baby food.
There aren't many players on this team who can step up and be physical, but one of them is Erik Gudbranson.
After playing 30 ineffective games last season, it's up to Gudbranson to assert himself as a top-four defenceman. That's a huge ask, considering he's been a particularly underwhelming player throughout the majority of his career.
https://twitter.com/draglikepull/status/859121607389974530
He's already a locker-room leader on this young and impressionable Canucks squad, but now he has to be a leader on defence. He needs to polish up his defensive game, and show that he is actually better than Tryamkin. Right now, I don't think many are debating about who the better defender is.
Gudbranson got roasted in terms of shot attempts against, scoring chances against, and goals against last season. Although the Canucks need physical players, Gudbranson often stepped up at the wrong time. He needs to time his hits better, make a better first pass out of his zone, and make sure he doesn't lose his man in his own end. For better or worse, he's a top-four defender on the Canucks. He needs to play like one.
Olli Juolevi
Before Tryamkin's departure, it looked like Olli Juolevi would be hard-pressed to make this team in the fall. There were at least six players ahead of him, if you assume Sbisa gets picked by the Vegas Golden Knights. With Tryamkin and possibly Sbisa gone, the door is wide open for Juolevi to make this team.
The question will be, is Juolevi ready to make the jump? The Matthew Tkachuk comparisons took away from what wasn't an unproductive season for the Finnish defender. He was a leader for the London Knights after the team lost Tkachuk, Mitch Marner and Christian Dvorak.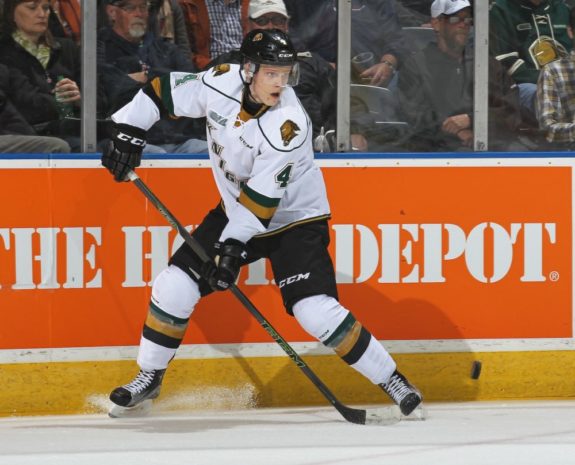 You could also say that he didn't improve upon last season's performance. He recorded the same 42-point total two years in a row, with one extra game played in 2016-17. Juolevi wasn't even the highest-scoring defenceman on his team, as Montreal Canadiens draft pick Victor Mete recorded five more goals and two extra points in eight fewer games. Juolevi also recorded the third-most primary points among defencemen on his team, behind Mete and Evan Bouchard.
It's an overly harsh assessment to criticize the 18-year-old (19 on Friday) for not being the highest-scoring defender on his team. That's the territory that comes with being a fifth overall pick. It does make you question whether Juolevi is ready for the NHL.
While this raises some eyebrows, it shouldn't be a huge concern. Reports indicate that Juolevi took on a more defensive role with the Knights this season, while some of his teammates stepped up in offensive roles. The Canucks need someone who can match up favourably against some of the top players in the NHL. Juolevi is still projecting in the right direction.
If Juolevi and whoever the Canucks select with the 5th pick become cornerstone players, no one will complain about so called "tanking"

— Satiar Shah (@SatiarShah) April 30, 2017
It's a messy situation to throw Juolevi into this mess that is Vancouver, but the organization will likely give him every chance to make the team. That probably wasn't the case before Tryamkin's departure, but Juolevi definitely has a shot at making this team now.
Barring an unbelievable training camp from the Canucks' fifth overall pick, Juolevi should probably return back to junior for another year. He will still be one of the focal points of Canucks training camp in the fall, with a roster spot there for the taking.
KPU Journalism Graduate. Trevor has been writing for The Hockey Writers since October 2014. He has contributed articles related to the Ottawa Senators, Vancouver Canucks, and other issues/stories regarding the game of hockey. Trevor currently lives in White Rock, B.C.