The Edmonton Oilers and their fans can breathe a huge sigh of relief after the team announced they had finally signed restricted free agent Leon Draisaitl to a contract. The deal, as you've probably read, is an eight-year deal worth an $8.5 million AAV. This ends months of speculation of a predatory offer sheet or trade.
Remember, earlier this summer, that there were rumors of a potential $9.8 million per season offer sheet. As TSN's Ryan Rishaug pointed out, the offer sheet would've forced the Oilers to pay nearly $23 million for Connor McDavid and Draisaitl, or risk losing the latter. In the end, the Oilers ended up spending a combined $21 million for both players.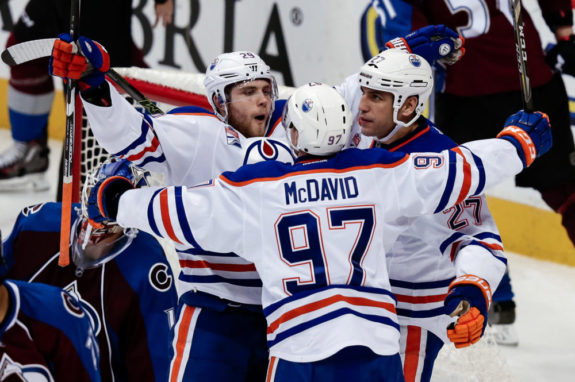 There was no trade, as suggested by NHL Analyst Brian Lawton — Edmonton just bit the bullet instead. With both players now signed, the Oilers have one of the most dynamic duos in the NHL under contract for the next eight years. It's safe to say the Oilers Stanley Cup window is fully open in a win-now state.
Liut Deserves Praise For Draisaitl Deal
As I wrote on July 1, there was no way the Oilers and general manager Peter Chiarelli were foolish enough to trade Draisaitl. The 21-year-old scored 50 goals and 137 points in 191 games over his entry-level contract. Even then, 128 of those points came over the last two seasons. Last season, Draisaitl finished eighth in league scoring with 77 points and was dynamite in the playoffs.
Add up those numbers, and suddenly you have a guy that scored 93 points in 95 games. Draisaitl emerged as one of the top ten players in the world. Thus, the initial asking price in negotiations was naturally going to skyrocket. The rumors of analysts saying the Oilers should either trade him or that another team should offer-sheet him became asinine.
Chiarelli, a GM who plays his cards close to the vest, had to deny the trade rumors at one point emphatically. In all honesty, Mike Liut, Draisaitl's agent, played the media like a fiddle. Luit, who works for Octagon Sports & Entertainment, used to work in close collaboration with Lawton back when the latter was a player agent.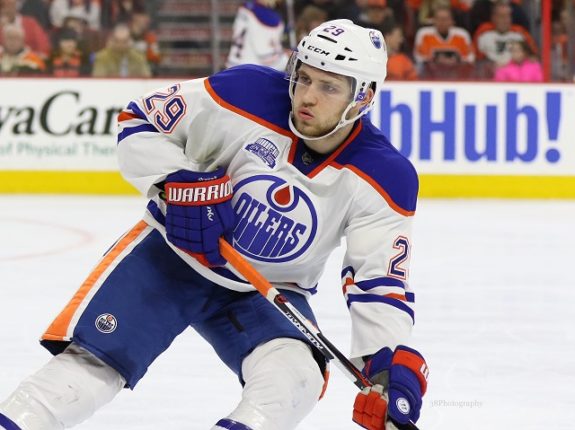 All the rumored threats of offer-sheets and trade inquiries, in one way or another, can be traced back to Lawton's set of tweets. So, were the rumors true or was Liut using the media to position his client into a better deal?
All props for this extension should go to Liut. He was astute enough to know Draisaitl could be better than the 51 points he had in 2015-16 and capitalized. Last summer the window for negotiations on a Draisaitl extension opened on July 1.
Back then the cap comparables for Draisaitl were what Aleksander Barkov got from the Florida Panthers. Barkov signed a six-year deal worth $35.4 million ($5.9 million AAV). Looking back now that would've been a bargain deal for the Oilers. Is it Chiarelli's fault for not pushing more aggressively last summer, or did Liut just play his cards better?
Oilers Have a Salary Cap Dilemma
It's no secret that Edmonton's now walked into a relatively tight situation with the salary cap. The projected cap space for the Oilers is $8.3 million dollars this season. McDavid's extension doesn't kick in until next season (2018-19). So how exactly are the Oilers going to keep everyone together and make a run for the Stanley Cup? The answer is that they can't keep everyone, and someone is getting traded.
With $21 million tied up in two star players, Chiarelli now must trim the fat from a supporting cast of top-six forwards and a top-four defense that equals $33.7 million. Included in that group are Ryan Nugent Hopkins, Milan Lucic, Patrick Maroon and Ryan Strome (for argument's sake). Maroon and Strome are both up for deals this summer, so their respective cap hits will rise.
Both Oscar Klefbom and Adam Larsson are signed long-term to cap friendly deals, so neither of them should be moved. That leaves a decision between Andrej Sekera and Kris Russell being the two cap casualties on defense. That said, Sekera was an integral part of the Oilers blueline over the last two seasons. Remember that Russell signing? It's probably under a whole other level of scrutiny now.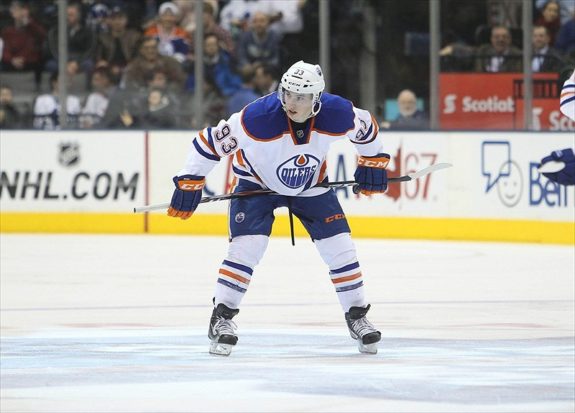 In the long-term, it just doesn't make sense for the Oilers to keep one of the big ticket guys around. Unless the cap exponentially rises next summer, someone's getting traded. If I were a betting man, I'd put my money on the Chiarelli exploring his options on Nugent-Hopkins. The 24-year-old carries a $6 million cap hit for four seasons (including 2017-18) and has struggled offensively. Defensively, Nugent-Hopkins earns plenty of praise, but is it enough to warrant that kind of price tag?
Chiarelli already traded Jordan Eberle this summer to the New York Islanders for Ryan Strome. The hope is that Strome provides offense for a much more digestible cap hit than Eberle's $6 million tag. The Oilers GM will likely have to find a similar deal for Nugent-Hopkins as well.
For all this to work, Edmonton is going to have to hope and pray that Jesse Puljujarvi, Anton Slepyshev and Drake Caggiula all take forward strides this season. Chiarelli needs to surround his two biggest stars with a depth of talent if they're ever going to win a Stanley Cup.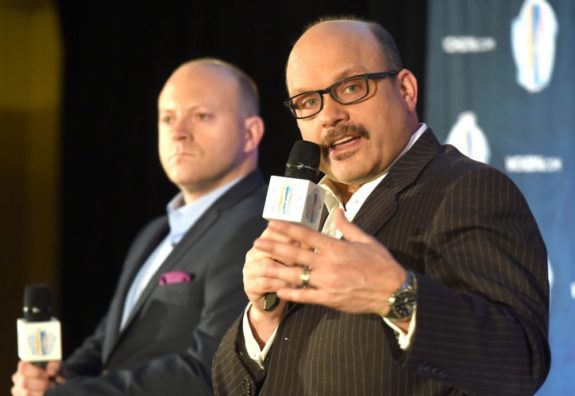 For everyone who's complaining about the Draisaitl price tag, it's the going rate for top end talent in today's NHL. Still individuals don't win championships, it's the team that's built around them that does.
If the Oilers are going to bring Edmonton its first Stanley Cup since 1990, Chiarelli will have to find a way to manage his cap. It was his undoing in Boston, and he'll have to prevent it from happening again in Edmonton. Regardless strap on your boots because this team is ready to make some major noise in 2017-18.
Edmonton Oilers regular contributor providing insight on all things Oilers including club history, prospect profiles, trade breakdowns, and everything else in between. Check back regularly for new and exciting content. Follow on Twitter @SanderTHW.