If there's ever been one player the hockey analytics community seems to have an absolute disdain for it's Edmonton Oilers defenseman, Kris Russell. I'd like to preface this by saying something dirty — I like Kris Russell. There I said it, it's out in the open and I'm not taking it back. What I don't like is the possibility of a four-year commitment that it might cost to retain the blueliner.
TSN's Ryan Rishaug appeared on Edmonton's 1260 radio show, Nielson & Fraser, (32:00-minute mark) and talked about a potential Russell deal. Rishaug speculated a Russell deal might cost in the neighborhood of $16 million over four years.
Listen it's going to cost them (Oilers) $4 million bucks. Just think about it. If you're (Kris) Russell's camp, his agent, how many years are you asking for for the year that his client just had?

– Ryan Rishaug, TSN
It's a number that does create some discomfort, but a number Oilers general manager Peter Chiarelli can maneuver around for a year or two. With that said, it's a number that becomes very uncomfortable in year three or four. Now, I have a lot of respect for Rishaug and want to reiterate that he's speculating. It's not hard to believe that's the cost of doing business if you want to re-sign that player.
Four years might seem a little much, even if that's what it'll take to get a deal done. I get it — the analytics community does not want the Oilers to bring back Russell.
Russell Camp Wants Long-Term Deal
There's never been more material produced about how much a player's overvalued than Russell. At the same time, why do coaches like Bob Hartley, Lindy Ruff and even Todd McLellan seem to lean so heavily on Russell? If he's really that bad, why has he played between 21-24 minutes a game over the last four seasons?
On the flip side, why did it take until October for Russell to get a contract? Were 29 other teams not interested? Or were 29 other teams turned off by the asking price?
KRIS RUSSELL CONTRACT HISTORY

YEARS
AGE
TEAM
LENGTH
VALUE
CAP HIT

2007-10

20

Columbus Blue Jackets

3 Years

$2.33M

$550K

2010-13

23

Columbus Blue Jackets

3 Years

$3.90M

$1.3M

2013-14

26

Calgary Flames

1 Year

$1.50M

$1.50M

2014-16

27

Calgary Flames

2 Years

$5.20M

$2.60M

2016-17

29

Edmonton Oilers

1 Year

$3.10M

$3.10M
Looking at Russell's contract history, he's never had a big deal. That said, the Calgary Flames and Toronto Maple Leafs are also interested and might be willing to offer that deal. Peter Chiarelli touched on one of the reasons why he valued Russell by saying that, when Edmonton signed him, he was second in the league in puck retrievals and clean zone entries.
It just comes down to whether the Oilers are willing to bite the bullet. I think if you throw four over four on the table, you probably lock up Kris Russell. Now you don't need to worry about trying to find a right shot defenseman that can come in and play right away.

– Ryan Rishaug, TSN
For all the analytics talk, teams themselves use their own analytics. It's kept private but some of the resources include Truperformance, HockeyGraphs, SportLogiq. Some teams even have in-house analytics. Within those resources might be the answer for why teams value a defenseman like Russell.
Oilers Don't Need More Salary Cap Issues
I'll leave it to the analytics community to hammer you with the hard fact numbers. What I'll argue is that the potential $4 million price tag is digestible, but becomes a fiasco if you go long-term.
In a year or two, either (or both) of Darnell Nurse and Matt Benning will emerge into being bonafide top four NHL defensemen. If you go past two years on Russell, you're paying a guy $4 million to play on your third-pairing. That's not going to work in Edmonton. We haven't even got into how defenders that play the same style of Russell wear down past the age of 30 (see Dan Girardi).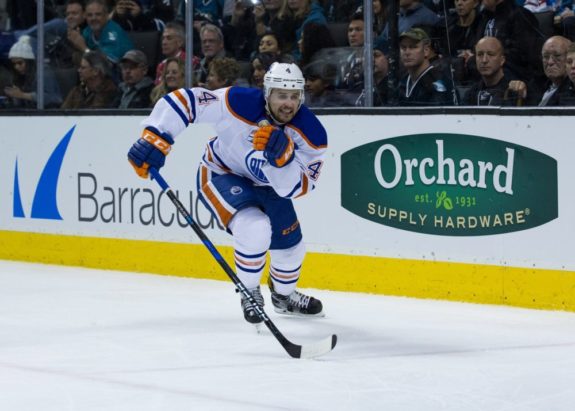 The Oilers are already ravaged with some underperforming contracts and can't be overly generous to Russell. Edmonton has $19.6 million tied up in Jordan Eberle, Ryan Nugent-Hopkins, Benoit Pouliot and Mark Fayne. All four of those players underperformed in 2016-17. This needs to be addressed.
If the Oilers are going to afford Russell long-term, they need to find a way to dump the contracts of Pouliot and Fayne. Buying them out defeats the purpose. That means packaging them with other assets and draft picks to teams trying to get to the cap floor such as Arizona, Buffalo, Carolina and New Jersey.
When you think of the Oilers cap situation, you need to think of it as a two-year window. In the next two years, the Oilers will be flooded with contract renewals, most of which will entail substantial raises. Connor McDavid and Leon Draisaitl highlight the list of pending free agents.
If both of extensions equal to $17 million, plus the $40 million already on the books, that leaves $18 million to re-sign some key players. Mark Letestu, Patrick Maroon, Drake Caggiula,  Zack Kassian, Jujhar Khaira, Matt Benning and Darnell Nurse all need new deals in the next two years. Even if you trade Eberle and Nugent-Hopkins, you're still likely bringing in near equal dollar value in a trade.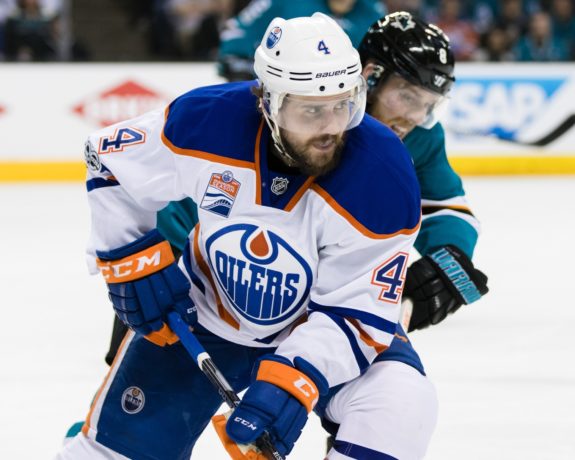 I like Russell, and I have time for Russell. Unfortunately, I just don't think the Oilers have the financial wherewithal to keep Russell more than two years in Edmonton. A year ago Russell's camp was in the same situation, looking for a long-term deal that never materialized. This time around if I'm Russell's camp, I'd be asking what's more important?
The Oilers were arguably one goal, and a bounce or two in their favor from going to the Western Conference Final. Next season they'll be a bonafide Stanley Cup contender. So what's more important — trying to win a Stanley Cup or getting a long-term money deal? If I'm in that Russell camp, I take another short-term deal, even if that means passing on the biggest payday of your career for a chance at hoisting the cup.