A lot of talks have been floating around the NHL regarding the Vancouver Canucks trading away Henrik and Daniel Sedin and gearing up for a full-blown rebuild but frankly, I think that notion is just silly and probably not even feasible in this league. The Canucks are obviously in need of a shakeup but trading the heart and soul of the team is not the answer.
When Brian Burke somehow managed to deal for both of the Sedins at the 1999 NHL Entry Draft, it shocked the hockey world—identical twins not only in the same league, but on the same team and even the same line. It will go down as one of the best deals in NHL history and definitely the best in the history of the Canucks.
After 16 NHL seasons with the Canucks, the Sedins have cemented themselves as the two greatest Canucks of all time, holding down the number one (Henrik) and number two (Daniel) spots of numerous franchise records including games played, assists, points, plus/minus and even a few others.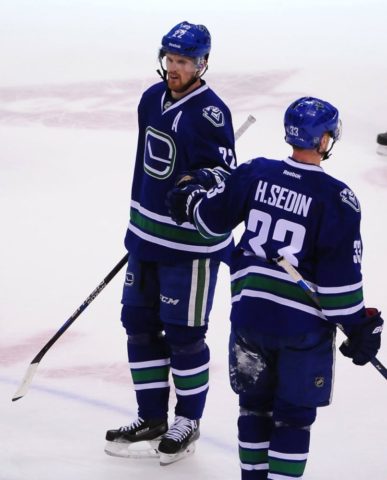 The Problem
The first step to solving the Canucks' troubles is identifying the problem which is first and foremost, a serious lack of offence—the Canucks finished second to last in goals last season (178) and also second to last in goals-per-game (2.17). Needless to say, it's tough to win hockey games when you can't score.
When people hear that issue, they immediately turn to Henrik & Daniel Sedin and start pointing fingers and in some cases call for a trade. It's no secret that the Sedins are not first-line capable players anymore and it's just senseless to expect the twins to perform at the 100-point level that they once did seven or eight seasons ago.
They're still great NHL players but to put that high of an expectation on 16-season veterans is just ridiculous and you're going to end up with a similar result as last season every single time.
It's time for the Canucks to blow it up and rebuild. And that means exploring trade options for the Sedins: https://t.co/ryyp48iZ9C pic.twitter.com/YDfWSObrgw

— The Hockey News (@TheHockeyNews) March 5, 2017
Staying Realistic
As previously mentioned, people have called for a trade of the Sedins—this has come from crazed fans and even credible journalists, but it's important to stay realistic. These men are clearly on the back-nine of their long careers at 36 years of age and have one year remaining on their current contracts, and let's not forget that the contracts have full no-movement clauses.
Each Sedin currently holds a cap hit of $7 million per season and are truly most valuable as a package. So, to receive the most interest for the Sedins, you would have to offer them as a package deal carrying a cap hit of $14 million—I don't think that's going to attract too much interest.
Another option is to try and deal them away individually in hopes for a decent return to further the desired rebuild of the Canucks. Again, I'm not sure that many teams would be interested in taking on $7 million for a player that's probably only going to contribute around 40 points, nor would they deal away any valuable assets for a second-line level of production.
Jeff Paterson: Trade the Sedins? One problem — who'd want them? https://t.co/CwQKDxSC8G #sports pic.twitter.com/IKDIsjrfqF

— The Province (@theprovince) May 6, 2017
The Solution
The solution of this issue is to take a load off of the Sedins' shoulders and slot them in on the second line, putting more of a load on guys like Bo Horvat, Loui Eriksson, Sven Baertschi and Brandon Sutter.
With one season remaining on their contracts, it would be wise to renew the Sedins' contracts for one or two seasons at a very reduced salary and have them play third-line minutes or second-line if they are still capable. Considering they both played out the entirety of last season's 82 games, I see no reason why the Sedins couldn't play another couple of seasons.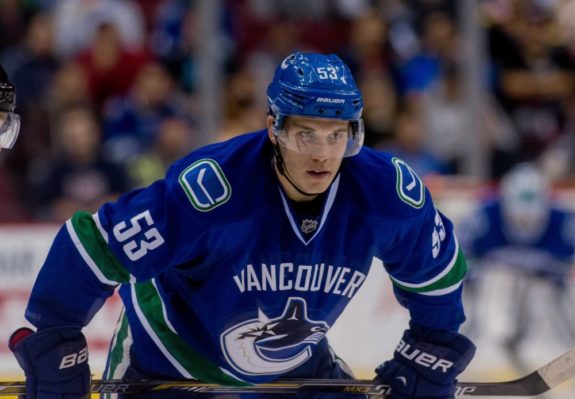 Henrik Sedin is the captain of the Canucks and Daniel is an alternate captain. They have given everything to the Canucks and the city of Vancouver as a whole, on the ice and off. On top of their franchise-record-setting play on the ice, the twins have made countless charitable contributions to Vancouver and earned the reputation of being some of the biggest philanthropists in the NHL. To propose a trade of these two, in my eyes, is borderline disrespectful.
In an interview with Craig Morgan of FanRag Sports, Daniel Sedin was quoted in saying, "For us, it's all about if the team is going in the right direction and if you see there's a place for us on the team. If we're healthy and if management wants us to be a part of the future, we can see ourselves playing more years but for us, it's Vancouver or nothing. We're not going to go anywhere else to play."
Matt is a longtime fan, player and student of the game of hockey. Broadcast and Online Journalism student at the British Columbia Institute of Technology.