It's no easy task to find a permanent spot in the world's most talented hockey league.
That's the case, even if you're a player in the Vancouver Canucks' system.
Make all the jokes you want about the Canucks, but there is an influx of players at multiple positions. There will be tough forward battles for Canucks roster spots come training camp, especially at right wing. On defence, there's a similar logjam.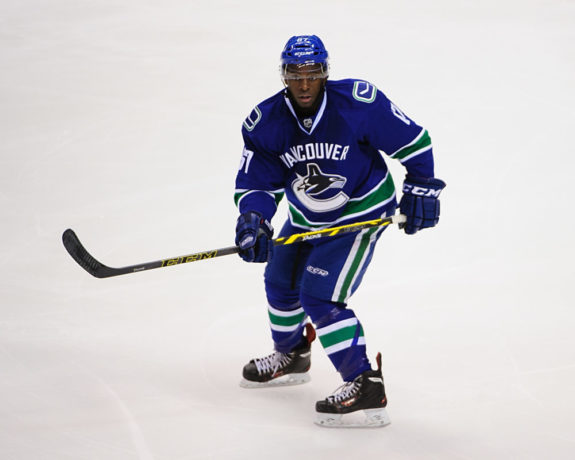 That will make Jordan Subban's journey to the NHL even tougher.
Last year, fans were clamouring for Subban to finally get his first taste of NHL action. It never came to fruition even though Subban had the ninth-most primary points among all AHL defencemen.
There are still questions about his defensive game, but there's no denying that Subban is an immensely talented defenceman.
To get some more insight on Subban, I chatted with Ben Birnell of the Utica Observer-Dispatch. We discussed a number of players, including Cole Cassels, who I wrote about in my last piece for THW.
Subban's Sublime Offensive Skills
If there's one part of the ice Subban shines on, it's the offensive end of the rink. This was evident in Birnell's eyes all season long.
"He's got a lot of speed. That's one thing that's an advantage for him. That's one of the reasons why he put up offensive numbers like he did."
Subban's speed allowed him to excel as one of the most dangerous defencemen in the AHL. He also has a booming shot that was on display all throughout the season. The league took notice of Subban, who participated in the hardest shot competition during the AHL All-Star Skills Competition.
One guy who Subban gets compared to a lot is Canucks defenceman Troy Stecher. While Stecher's defensive awareness is ahead of Subban's, there is no doubt that Subban has the heavier and more accurate shot.
"I've been impressed to see how low his snapshot gets through traffic," said Birnell. "He's good with finding holes and finding a place to put his shot."
You can see from the highlight pack below that Subban knows how to display both a heavy and accurate shot.
Subban finished ninth in the AHL in terms of both primary points at even strength and on the power play. Thirty of his 36 overall points were primary points, according to Prospect Stats. His primary points percentage of 83.3 percent was fourth-best among all AHL defencemen with more than 10 points. The defencemen ahead of him merely surpassed that total, and Subban's closest comparable here was Anaheim Ducks defenceman Brandon Montour.
Defensive Diligence
When he was drafted in the fourth round of the 2013 draft, you figured that size would always be an issue with Subban. However, a shift in today's game towards speed and skill works in his favour.
The sophomore defender still could use work in one-on-one battles along the boards, but he has taken steps in the right since making it to the AHL. Judging by the fact that he hasn't played an NHL game yet, there's still work to be done in that department.
"He's mentioned watching Ryan Ellis from Nashville in an effort to improve his defensive game," said Birnell. "That side has gotten better over the last two years."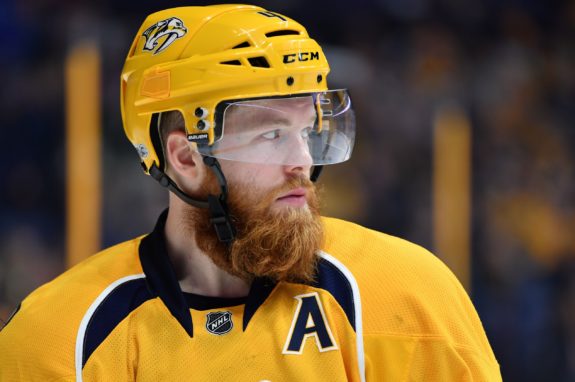 It took Ellis some time to perfect his game at the NHL level. Now, he is one of the most underrated and dynamic defencemen in the league. Ellis did have the notoriety of being a first-round pick and a World Junior standout, which just means Subban has another hurdle to clear.
"Defence is a tough position," said Birnell. "It takes more time to develop. Jordan is still only 22."
Greener Pastures for Jordan Subban?
Fans have been clamouring to see Subban make his NHL debut, but is he NHL-ready?
"It depends on how his work on the defensive side of the puck continues to progress," said Birnell. "If he continues to work on that side of it, he could have a chance like anybody else. But there's a lot of defencemen in the system as well."
Subban will have to leapfrog a few players to make the Canucks. The road to the NHL was dimly lit for Subban, but Jim Benning has punched out nearly every light with the signings of Michael Del Zotto, Patrick Wiercioch, and Philip Holm.
The recent coaching changes in the Canucks system make this an interesting season for Subban regardless. His old head coach Travis Green has been promoted to the big club, which could play in Subban's favour.
However, Birnell notes that Subban didn't see any time on the penalty kill during the regular season. If Green felt that Subban's defensive play was NHL ready, wouldn't he have put him on the penalty kill in the AHL?
Cull on Jordan Subban: I see this guy as a breakout machine. He's got great sense, great awareness, he can snap pucks, and he has great feet

— TSN Radio Vancouver (@TSN1040) June 28, 2017
If Subban does end up back in Utica, he will work with defenceman guru Trent Cull. As an assistant coach with the Syracuse Crunch, Cull oversaw the development of players such as Matt Taormina, Slater Koekkoek, and Jake Dotchin.
"When Trent Cull was introduced, Jordan Subban was one of the first guys that he mentioned he was interested to work with," said Birnell. "If he ends up working with Trent Cull, I think that could ultimately be helpful."
Cull could be the perfect person to oversee Subban's development. The offensive skills and speed are evident. It's now a matter of overcoming his size to become a responsible defender.
KPU Journalism Graduate. Trevor has been writing for The Hockey Writers since October 2014. He has contributed articles related to the Ottawa Senators, Vancouver Canucks, and other issues/stories regarding the game of hockey. Trevor currently lives in White Rock, B.C.