It's hard to imagine the Vancouver Canucks having a surplus of anything in their organization. They've tied the Colorado Avalanche with 61 wins over the last two seasons, the worst total in the NHL.
The Canucks will once again be a bottom feeder next season. Unless Sven Baertschi, Bo Horvat, and their right-winger can rise to first line prominence, it will once again be another long season in Vancouver. That's a lot of pressure on two players, neither of whom are 25 years old yet.
Baertschi and Horvat's success could depend on who they can create the most chemistry with as a winger. Despite the Canucks weak roster, there a plethora of options at right-wing. It's a position where the Canucks will have to make some tough decisions before the start of next season.
Ring-Wing Gridlock
It's clear that the Canucks have to figure out their gridlock at right-wing. Here are eight current right-wingers who could potentially start next season in Vancouver.
Brock Boeser
Reid Boucher
Derek Dorsett
Loui Eriksson
Nikolay Goldobin
Markus Granlund
Anton Rodin
Jake Virtanen
As of now, there are eight right-wingers gunning for NHL jobs in Vancouver, while only two left-wingers (Daniel Sedin & Sven Baertschi) are locks for the roster. Throw Brendan Gaunce in that category if you see the goalless forward playing on the left side next year.
There are some wingers that could be versatile, with Markus Granlund, Loui Eriksson and Reid Boucher all playing some time on the opposite wing last season.
With eight forwards vying for four to six spots, some of those guys clearly won't make the team next year. So which group does each player fall under?
The Locks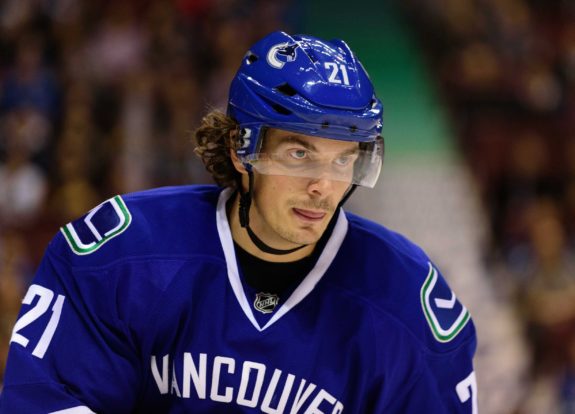 Loui Eriksson is listed as a left-winger on the Canucks website, even though played on the right side for most of the season. He was the right-winger on all the top three lines at some point or another. Even when he played on a line with Brandon Sutter, he was a staple at right-wing while Markus Granlund was on the left side. Eriksson should be more than a third line winger, but he needs to prove otherwise.
Granlund showed the ability to play at all three forward positions last season, although the previous coaching staff didn't like playing him at centre. He started this season mainly on the left side, but found more success on the right side as the season progressed. That's largely due to his promotion up the line-up, rather than his on-ice position.
Unless he gets claimed by the Vegas Golden Knights, Derek Dorsett will be a fourth-line fixture in Vancouver next season, as long as his shoulder is healed. He had great possession stats (team-best 53.3% Corsi), but an ugly goals for percentage (team-worst 28.6%) during his shortened 2016-17 campaign.
On The Cusp
This up is up for debate, but barring an offseason acquisition, Reid Boucher should be penciled in for next season. He was the Canucks leader in shot-attempts both for and against, showing that he can slide into a middle-six role. The Canucks need someone who can produce offensively, and Boucher might be one of the most gifted on the roster.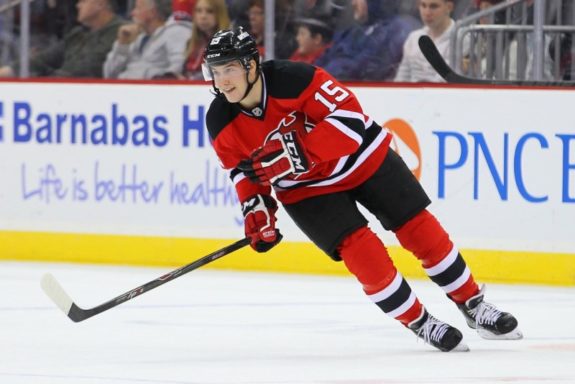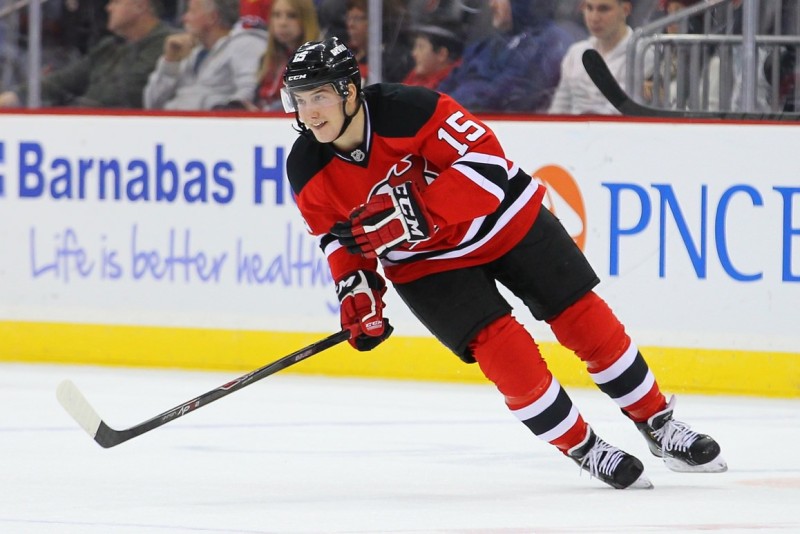 He has shown some flexibility. As a guy who was waived three times, odds are you're willing to be as flexible as an Olympic gymnast. It's worth noting that he could be picked up by Vegas in the upcoming expansion draft. I tend to agree with my THW colleague Larry Fisher when he says that it might be a bit of a pipe dream to expect Vegas to select Luca Sbisa, especially with his contract. Boucher is a cheaper option who has a good chance to provide some goals.
Boucher's ceiling certainly isn't as high as some other prospects who fit into this category. While many will have Brock Boeser penciled into the opening, expectations must be tempered after he only played nine games last season. Still, he scored four goals, and even as a rookie he's one of the Canucks' top scoring threats going into next season. While he's on the cusp, odds are that he will make the team and play in a top-six role.
Nikolay Goldobin is another intriguing option on the right side. There is a lot of offensive flair in his game, although Willie Desjardins didn't trust him defensively last season. Goldobin allowed 14.5 scoring chances per 60 minutes at even strength, which was worst on the team.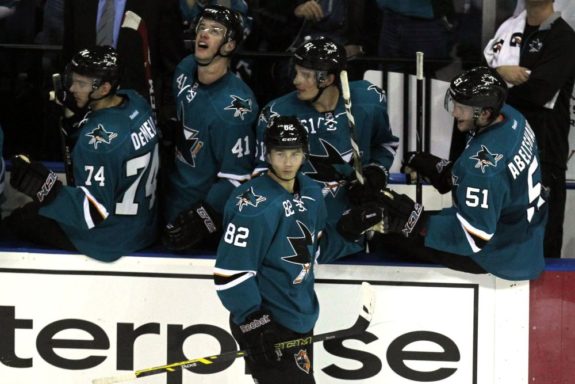 It will be interesting to see what Travis Green thinks of the young Russian winger. Goldobin impressed him in Utica with four goals in three games towards the end of their season. He still needs to show defensive responsibility. He will be relied upon solely for offence, but the coach has to trust him. Hunter Shinkaruk was an example of a player who could score but had troubles in his own end.
Uphill Battle
As much as the Canucks need Jake Virtanen's physical game, he's in an uphill battle to make this team next year. After a solid rookie season, Virtanen had everyone raising eyebrows with 19 points in 65 games down on the farm. Having Green as his head coach could play in his favour, since Green said Virtanen improved his all-around game. Unless the Canucks decide to substitute size for skill, Virtanen probably starts next season in Utica.
Anton Rodin was another wild card for the Canucks, but injuries limited him to three games. He's reportedly still interested in signing with the Canucks next season. After missing an entire season with injury, it would be surprising to see Rodin take anything more than a depth role in the organization. It's unclear if he would accept a two-way contract, but he would have to have an awe-inspiring training camp to make this team.
Rodin wants to re-sign with the #Canucks, "Yes I would like to give it another shot."

— Rick Dhaliwal (@DhaliwalSports) May 8, 2017
How They Ease Gridlock
Hundreds of more roster predictions will come in before the start of next season, but let's get an early one in while we examine the Canucks right side. To determine where forwards will fit, each armchair GM has to fill out their depth chart. Here's mine for next season based on who I think will make the team.
Sven Baertschi – Bo Horvat – Brock Boeser
Daniel Sedin – Henrik Sedin – Markus Granlund
Loui Eriksson – Brandon Sutter – Reid Boucher/Nikolay Goldobin
Brendan Gaunce – Michael Chaput – Derek Dorsett
I'm buying into Boucher as a possible pick for Vegas, although Gaunce and Dorsett are also options. I have Boucher and Goldobin as interchangeable because they play a similar game. Both have obvious defensive deficiencies mixed with enticing offensive potential. If Boucher makes the team, there's a good chance that Goldobin goes down to the farm.
There's a chance that one of them could slip down to the fourth line, but neither is suited for that role. Boucher was marginalized on the fourth line for parts of the season, where he was extremely ineffective. These two players will be relied upon to produce goals, and Green needs to put them in positions to exceed.
Speaking of Goals…
The above lineup doesn't include any significant changes for next season. It paints a scary picture of where goals could come from in Vancouver. Even with some right-wing depth, many of these players are young and unproven.
Below is my 2017-18 Canucks lineup, with their estimated goal totals for next season.
Possible 2017-18 Lines
Sven Baertschi (25) – Bo Horvat (24) – Brock Boeser (18)
Daniel Sedin (16) – Henrik Sedin (12) – Markus Granlund (22)
Loui Eriksson (20) – Brandon Sutter (15) – Reid Boucher/Nikolay Goldobin (15)
Brendan Gaunce (3) – Michael Chaput (4) – Derek Dorsett (5)
Alex Edler (5) – Troy Stecher (6)
Ben Hutton (8) – Chris Tanev (3)
Luca Sbisa (2) – Erik Gudbranson (2)
When you add it all up, it give the Canucks 205 goals for next season. There still isn't a true first line on this team, but there's potential for three lines that can score, albeit inconsistently. The Canucks are also lacking any kind of offensive punch from the blue line. They're still in trouble in that position even if Ben Hutton and Troy Stecher score more next season.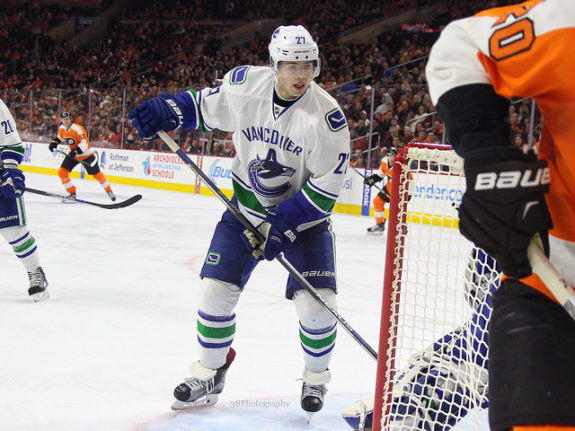 The 205 goals is an upgrade over the 178 they scored this year, and it would have them tied for 23rd in the NHL. That's without accounting for any man games lost.
The Canucks led the league with 436 man games lost last season, but most of those were from players who wouldn't have made an major difference to this team.
Let's say the Canucks have a little more injury luck next season, and they only have 250 man games lost. That would account for 16.9% of 82 games for 18 players. That imperfect math drops the Canucks goal total from 205 down to 170.
Even a surplus of right wingers probably won't come to save Vancouver next season.