Go ahead and Google the search term "Loui Eriksson underrated" and you'll be presented with nearly a dozen articles spanning the years 2012 to 2016 extolling the virtues of the two-way forward and making the case that he's the most underrated player in the entire NHL. Since signing a six-year, $36 million deal with the Vancouver Canucks this past offseason, though, the narrative has flipped on Eriksson to the point where he's considered an overpaid depth winger with limited on-ice impact. In other words: overrated.
What the heck happened here?
Loui Eriksson – Finally Getting His Due
The Eriksson signing was the centrepiece of general manager Jim Benning's offseason. The 31-year-old Swede was brought into the fold to play alongside Henrik and Daniel Sedin and reignite the Canucks' stagnant offence. What ended up happening, however, was the team sunk to 29th league-wide in goal scoring and Eriksson put forth an inconsistent, injury filled and completely underwhelming 24-point season. It was Eriksson's lowest point total in a decade, as not since his rookie season in 2006-7 has he had fewer points. It's hard to believe from a player who produced 30 goals and 63 points just one calendar year ago.
Of course, last season Eriksson played for a much better team, the Boston Bruins. He also played with more skilled linemates, namely Patrice Bergeron and Brad Marchand. Together the trio produced 14.6 more goals per hour for the Bruins than against. So it shouldn't come as a total surprise that Eriksson produced more during his time in Boston. What may come as a surprise, however, is the fact that former Canucks head coach Willie Desjardins actually deployed Eriksson in more offensive situations than Claude Julien had in Boston.
Eriksson (Van) second line scoring, plays all sits, draws penalties, slightly buried, slightly high QoC. pic.twitter.com/jp8XOJWLnu

— Micah Blake McCurdy (@IneffectiveMath) July 1, 2016
While Julien utilized Eriksson equally in offensive and defensive situations, 12-percent offensive and defensive zone starts, Desjardins had Eriksson on the ice for 3-percent more offensive starts than defensive starts in 2016-17. Even more puzzling, Eriksson faced a diminished quality of competition this past season, sometimes facing a team's third line rather than its second line and almost never facing off against first a team's first line, as has been the case in years past. So again…what the heck happened?
Right Back Where We Started From
When Eriksson first broke into the NHL with the Dallas Stars, he was lauded for his defensive ability and his impact on team puck possession. Prior to joining the Canucks, Eriksson had a career Corsi-For of 54.8-percent and his 10.1-percent Corsi-For-Relative from the 2012-13 season proves that he has the ability to raise his teammates level of play, regardless of his usage.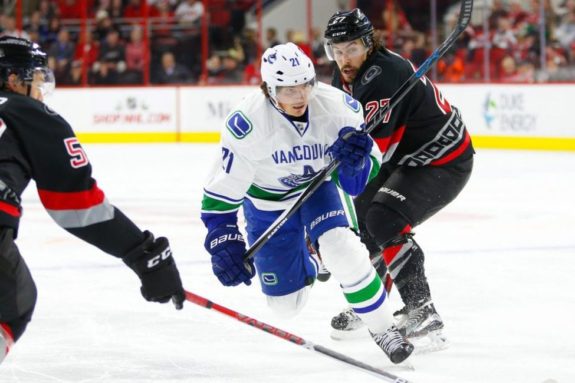 Now ask yourself, does this sound like the player you watched in Vancouver this past season? Eriksson was a passenger in almost every combination. Whether he played alongside the Sedins, Bo Horvat, Brandon Sutter or Markus Granlund, Eriksson was completely underwhelming. Moving forward, what's his value to the team?
Can the Canucks count on him to be a possession monster once again? Or, is it downhill from here on out?
It's Not Me, It's You
Let's assume that Eriksson didn't check his skill and ability at the border when signing with the Canucks. At 31, he should have at least two seasons of productive hockey left to give. In fact, while his goal and point production fell considerably this past season, Eriksson was one of the Canucks' best possession players with a 50.67-percent Corsi-For. This proves that, at the very least, Eriksson isn't costing his team scoring chances against when on the ice. Unfortunately, this statistic is still well off his career average, so it begs the question: Is the problem Eriksson or is it the Canucks? The answer is likely both, as you could make the case that almost anyone on the team would have improved statistics if the team were in fact better.
Unfortunately for Loui Eriksson and the Canucks, the prospects for next season don't look so great. It's possible that the Sedin twins will return to being an offensive threat every game. It's possible that team's young core players like Horvat, Sven Baertschi, Markus Granlund, Ben Hutton and Troy Stecher take the next steps in their careers. It's possible that potential rookies Brock Boeser, Thatcher Demko and Olli Juolevi each make an immediate impact. Of course, the exact opposite is possible in each case as well. No one knows just how good or bad the Canucks will be next season.
If Eriksson puts forth a second consecutive mediocre season, at what point does the team's fanbase begin to turn on him and give him the "Brandon Sutter" treatment? Even if he's able to re-invigorate his defensive game and put up possession statistics like he has in the past, chances are that Canucks fans won't be happy with having Eriksson, who is signed for five more seasons at a $6 million annual cap hit, as a defensive winger. He's paid to be an offensive contributor and anything short of a 30-goal season playing alongside the Sedins would likely be a disappointment. Fair or not, that's the reality of the situation.
One thing's for sure, given the value and term of his contract combined with his lack of production, it's unlikely that Loui Eriksson will ever be called underrated again.
Copywriter and web developer by day, THW contributor by night. Rabid hockey fan, beer-league defenceman and tyke hockey coach always. Covering the Canucks from BC's Sunshine Coast.