OK, so Easter was a few weeks ago, but much of the legwork for this mock expansion draft was done in April at the conclusion of the NHL regular season. And, despite the publishing delay, I wanted to stick with the holiday theme.
Alas, a lot has changed since Christmas.
Golden Knights Mock Expansion Draft: Christmas Edition – https://t.co/RcCuuTtAjp #hockey #THW pic.twitter.com/MyGOL7MIbg

— The Hockey Writers (@TheHockeyWriter) December 15, 2016
Mikael Granlund is obviously a keeper now for Minnesota. In fact, both Granlund brothers are probably going to be protected, with Markus also enjoying a strong finishing kick for Vancouver.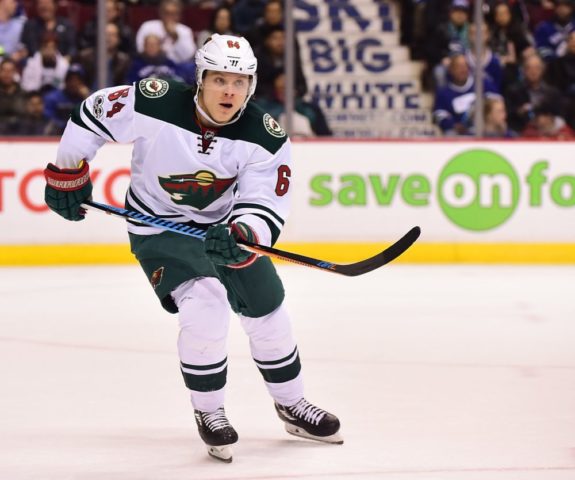 Back in December, when Minnesota seemed likely to protect four defencemen, I had both Granlunds being exposed and becoming Golden Knights in my mock expansion draft. They were going to be linemates in Vegas, but that scenario is no longer realistic.
Roughly five months later, my Vegas roster looks drastically different today — only eight of 30 selections remain the same, with 22 new faces joining the fold.
My December team was better, older and more expensive on paper. This version is younger, cheaper and presumably closer to what we can expect when the Golden Knights are unveiled on June 21.
This time around, using CapFriendly.com's expansion tool again, I factored in the likelihood of trades and the perceived willingness of some players to waive their no-move clauses. The results painted a bleaker picture for Vegas, but also left a little more cap space to pursue free agents on July 1.
I'm no mind-reader, but I tried to think like general manager George McPhee, assistant GM Kelly McCrimmon and head coach Gerard Gallant and picked some players that might appeal specifically to them.
We now also know that the Golden Knights will select sixth overall in the entry draft on June 23 — barring a trade — and that prospect likely won't be ready to step into the lineup as a rookie next season.
Therefore, the entry draft shouldn't influence Vegas' approach to the expansion draft. It may have had something of an affect if the draft lottery awarded the Golden Knights a top-two pick to take Nolan Patrick or Nico Hischier since one of their top-six forward spots would have already been spoken for.
Vegas will have a plan in place for the July 1 free-agency period prior to the expansion draft and depending on those targeted players — or, rather, targeted roster spots — the Golden Knights will be making their picks accordingly.
For example, if Vegas intends to sign a veteran free-agent goalie as its starter for next season, the Golden Knights could be more inclined to select younger, less proven netminders in the expansion draft.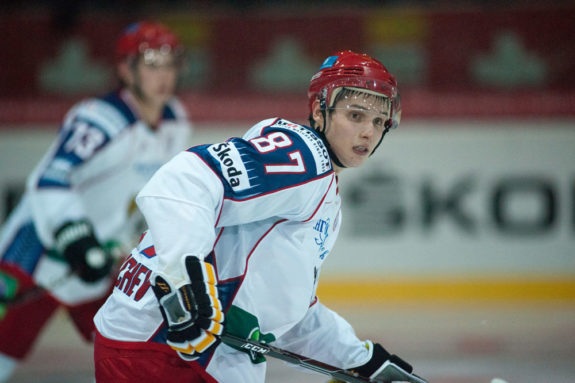 Or if Vegas is going to throw big money at a first-line centre on the open market — like the Golden Knights just did in inking Russian standout Vadim Shipachyov to a two-year, US$9-million contract — it would make sense to focus on finding complementary wingers in the expansion draft. Granted, Vegas is also pursuing Shipachyov's KHL linemate Evgeny Dadonov and has to be considered the frontrunner in those sweepstakes.
There will certainly be a degree of strategy involved beyond simply picking all the best players available.
Plus, there will be plenty of wheeling and dealing before, during and after the expansion draft, with the Golden Knights entertaining the possibility of passing on certain players in exchange for additional picks in the entry draft or packages including prospects.
I'm anticipating at least a half-dozen trades on that premise, where teams will essentially bribe Vegas to avoid picking their leftovers — significant players that exceeded the limits of their protected lists.
Some of those vulnerable teams will also be making trades with other teams between now and June 17 when the protected lists have to be handed over to Vegas. That is being dubbed a "redistribution of players," and it will undoubtedly deplete the talent pool available to Vegas.
So what appears promising now — in comparison to the slim pickings of past expansion drafts — may only be an illusion of what's to come on June 21. And all that talk about the Golden Knights hitting the ground running and icing a playoff-contending roster in their inaugural season might prove misleading. Time will tell.
Nevertheless, here's my latest attempt at a mock expansion draft — complete with a depth chart and lineup. There is also a team-by-team breakdown in alphabetical order, but let me first introduce you to my Vegas Golden Knights in the order that I would announce them:
http://gty.im/671983176
Jason Zucker (LW/RW) — Minnesota Wild
Bobby Ryan (RW/LW) — Ottawa Senators
Mathieu Perreault (C/LW) — Winnipeg Jets
Braydon Coburn (LD) — Tampa Bay Lightning
Adam McQuaid (RD) — Boston Bruins
Michal Neuvirth (G) — Philadelphia Flyers
Michael Grabner (RW) — New York Rangers
Tyler Ennis (C/LW) — Buffalo Sabres
Cody Eakin (C/LW) — Dallas Stars
Mark Pysyk (RD) — Florida Panthers
Ryan Pulock (RD) — New York Islanders
Philipp Grubauer (G) — Washington Capitals
Curtis Lazar (C/RW) — Calgary Flames
Darren Helm (C/LW) — Detroit Red Wings
Eric Fehr (RW/C) — Toronto Maple Leafs
Trevor van Riemsdyk (RD) — Chicago Blackhawks
Griffin Reinhart (LD) — Edmonton Oilers
Nail Yakupov (RW/LW) — St. Louis Blues
Calle Jarnkrok (C) — Nashville Predators
Reid Boucher (LW) — Vancouver Canucks
Derrick Pouliot (LD) — Pittsburgh Penguins
David Schlemko (LD) — San Jose Sharks
Joonas Korpisalo (G) — Columbus Blue Jackets
Mark Barberio (LD) — Colorado Avalanche
Jon Merrill (LD) — New Jersey Devils
Teemu Pulkkinen (RW) — Arizona Coyotes
Jacob De La Rose (C) — Montreal Canadiens
Brock McGinn (LW) — Carolina Hurricanes
Michael Mersch (LW) — Los Angeles Kings
Jaycob Megna (LD) — Anaheim Ducks
---
Anaheim Ducks
PROTECTED (7 F, 3 D, 1 G): Ryan Getzlaf (NMC), Corey Perry (NMC), Ryan Kesler (NMC), Rickard Rakell, Jakob Silfverberg, Andrew Cogliano, Antoine Vermette, Cam Fowler, Hampus Lindholm, Sami Vatanen, John Gibson
PREFERRED PICK: Jaycob Megna
ALTERNATIVES: Kevin Bieksa (NMC waived), Josh Manson, Nic Kerdiles, Nick Sorensen, Logan Shaw, Chris Wagner, Corey Tropp, Simon Despres, Dustin Tokarski, Emerson Etem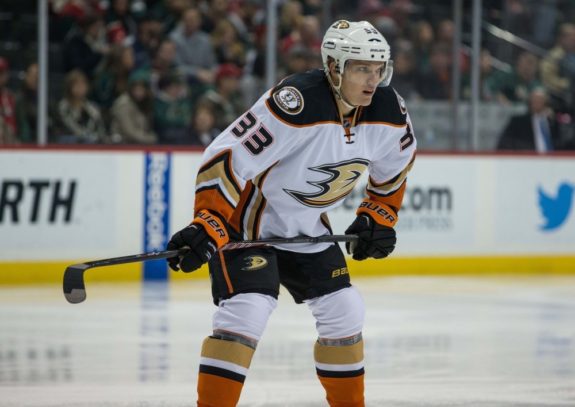 ANALYSIS: It looks so much more promising when you follow CapFriendly's template and check the boxes — Vegas could have options such as Silfverberg, Vatanen and/or Manson. The thought of Megna wouldn't even register. Not a sexy first pick to start this mock off, I know, but unfortunately this is me being a realist — and realizing that Anaheim will find a way around exposing any of those studs.
Expect some funny business here, starting with the Ducks convincing Bieksa to waive his no-move clause in order to be exposed. That would allow Anaheim to protect Fowler, Lindholm and Vatanen on defence. The Ducks would also want to hang onto Manson on the back end, possibly valuing him more than Vatanen. So Bob Murray would need to make a trade of some sort between now and June 17 when the protected lists are due. He could trade Vatanen to a team that needs a puck-moving, power-play quarterback. Or he could make a deal with Vegas to ensure the Golden Knights don't pick Manson or Vatanen. Either way, I don't see Anaheim losing any of Vatanen, Manson or Silfverberg through the expansion draft — sorry Golden Knights fans, it's not happening.
There is a chance the Ducks would protect Shaw over Vermette, so maybe the Golden Knights get a veteran middle-six centre out of Anaheim. That might be the best-case scenario, but I could also see Vegas extorting a decent draft pick or quality prospect from the Ducks in order to pass over a superior player. If Despres could overcome his latest concussion and pass a physical, he might be another possibility, but that would be a very high-risk option.
@JaycobMegna Pre-game warm ups #ANAvsLAK Look out in the future for this one! The force is strong in him 🏒#NHLDucks #SDGulls pic.twitter.com/bsuuFqfOAQ

— Hockey Is Better Than Politics (@patrioit_david) April 10, 2017
Megna is a big defenceman — listed at 6-foot-6 and 225 pounds — who had something of a breakout season in the AHL with five goals and 27 points as a second-year pro and a late-blooming 24-year-old. Notably, he led the entire AHL with a plus-33 rating this season and his next highest-rated teammate was only a plus-19. Megna also made his NHL debut this season — plus-1 in 15 minutes of ice-time in his only game with the Ducks — and will be a restricted free agent but should be willing to sign another two-way contract as a bubble guy who could see some more NHL games next season if injuries hit Vegas.
Kerdiles and Sorensen have been impressive in the AHL playoffs, so either of them could be the pick here if the Golden Knights go with a forward from Anaheim. Or maybe Vegas would want Bieksa? He only has one year left at $4 million, so that's another possibility since he's obviously more proven than Megna and has leadership intangibles. I'm most intrigued about Megna.
---
Arizona Coyotes
PROTECTED (4 F, 4 D, 1 G): Alex Goligoski (NMC), Tobias Rieder, Anthony Duclair, Jordan Martinook, Alexander Burmistrov, Oliver Ekman-Larsson, Connor Murphy, Luke Schenn, Louis Domingue
PREFERRED PICK: Teemu Pulkkinen
ALTERNATIVES: Mike Smith, Jamie McGinn, Peter Holland, Kevin Connauton, Josh Jooris
ANALYSIS: Smith and McGinn are more established but have much bigger salaries and more term left on their contracts. Holland is quite pricey to qualify at $1.3 million too. Connauton deserves consideration, with another year left at an affordable $1 million, but Pulkkinen is a pure goal-scorer and a project for Gallant. The book on Pulkkinen is that he doesn't skate well enough to make an impact at the NHL level, but if he can improve his quickness and acceleration in the offseason, he could prove some critics wrong with the Golden Knights.
Nice to meet you, Teemu. pic.twitter.com/3ZXjAeYYCS

— Arizona Coyotes (@ArizonaCoyotes) March 3, 2017
---
Boston Bruins
PROTECTED (7 F, 3 D, 1 G): Patrice Bergeron (NMC), David Krejci (NMC), David Backes (NMC), Zdeno Chara (NMC), Brad Marchand, David Pastrnak, Ryan Spooner, Riley Nash, Torey Krug, Colin Miller, Tuukka Rask
PREFERRED PICK: Adam McQuaid
ALTERNATIVES: Malcolm Subban, Jimmy Hayes, Matt Beleskey, Tim Schaller, Joe Morrow, Kevan Miller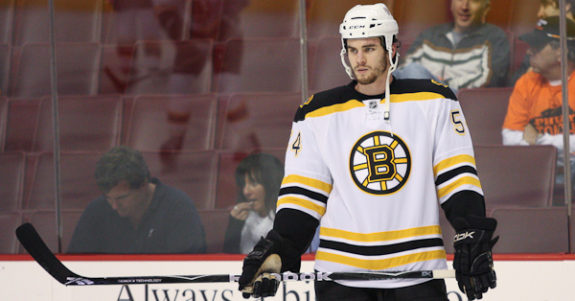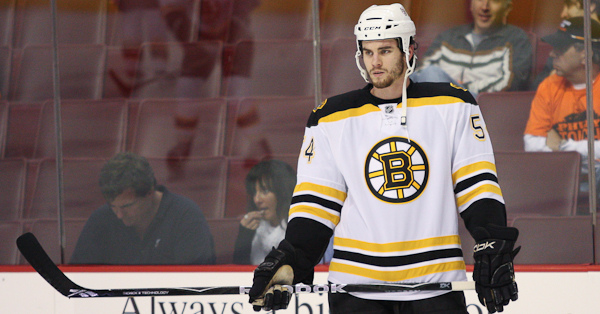 ANALYSIS: Lots of decent options here and McQuaid isn't the sexiest pick, but he's the smart pick and seems like the best fit. McQuaid is a physical, shutdown defenceman who has two years left at a bargain $2.75-million salary. Subban was a top goaltending prospect coming out of junior, but he hasn't exactly been shining in the pro ranks. A case can also be made for Hayes, Beleskey and Schaller as forwards or Morrow and Miller as blueliners, but I would take McQuaid.
---
Buffalo Sabres
PROTECTED (7 F, 3 D, 1 G): Kyle Okposo (NMC), Ryan O'Reilly, Evander Kane, Marcus Foligno, William Carrier, Johan Larsson, Zemgus Girgensons, Rasmus Ristolainen, Jake McCabe, Zach Bogosian, Robin Lehner
PREFERRED PICK: Tyler Ennis
ALTERNATIVES: Linus Ullmark, Matt Moulson, Josh Gorges, Nicolas Deslauriers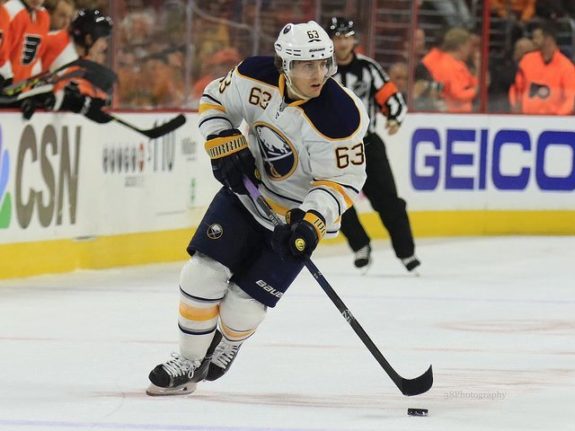 ANALYSIS: This one was pretty easy for me. Despite the $4.6-million price tag (for two more seasons), Ennis could be one of the more talented forwards available in the expansion draft even if his stat-line left a lot to be desired this season with only five goals and 13 points in 51 games. Ennis has had his share of injury issues too, so this pick wouldn't be without risk, but he's a guy that I'd roll the dice on.
Ullmark has been one of the AHL's better goalies the past two seasons and is likely in line to be Lehner's backup next season if Vegas doesn't steal him. If not Ennis, Ullmark would be my second choice ahead of another expensive veteran like Moulson or Gorges.
---
Calgary Flames
PROTECTED (7 F, 3 D, 1 G): Johnny Gaudreau, Sean Monahan, Sam Bennett, Mikael Backlund, Michael Frolik, Troy Brouwer, Micheal Ferland, Dougie Hamilton, T.J. Brodie, Mark Giordano, Tom McCollum
PREFERRED PICK: Curtis Lazar
ALTERNATIVES: Alex Chiasson, Brett Kulak, Tyler Wotherspoon, Matt Stajan, Lance Bouma, Freddie Hamilton, Hunter Shinkaruk, Linden Vey, Emile Poirier, Matt Bartkowski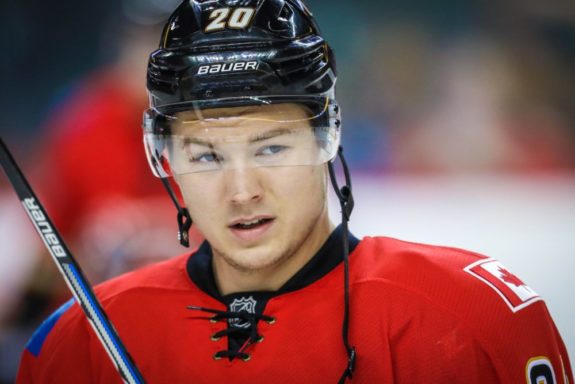 ANALYSIS: No shortage of options here, but nobody jumps off the page more than Lazar, who is only 22 years old and could still develop into a productive forward. Chiasson is further along the development curve and contributing more in the present, while Kulak and Wotherspoon have decent potential on defence. I'd consider those three, but Lazar would be my pick.
That said, there is a chance that Calgary could protect Lazar over Ferland in which case I'd take Ferland instead — somebody McCrimmon mentored in Brandon on his way to making the NHL. Brouwer struggled in his first season with the Flames, so it'll be interesting to see if he gets exposed in order to protect both Lazar and Ferland, or whether Calgary GM Brad Treliving will feel a sense of loyalty toward Brouwer. McPhee has acquired Brouwer once before — bringing him to Washington from Chicago — but his current contract (three more years with a salary of $4.5 million) could be a deterrent for Vegas. Shinkaruk is another name of potential interest out of Calgary if Lazar and Ferland aren't available.
---
Carolina Hurricanes
PROTECTED (7 F, 3 D, 1 G): Jordan Staal (NMC), Jeff Skinner, Victor Rask, Elias Lindholm, Teuvo Teravainen, Joakim Nordstrom, Phil Di Giuseppe, Justin Faulk, Ryan Murphy, Trevor Carrick, Scott Darling
PREFERRED PICK: Brock McGinn
ALTERNATIVES: Lee Stempniak, Cam Ward, Eddie Lack, Andrej Nestrasil, Connor Brickley, Erik Karlsson, Klas Dahlbeck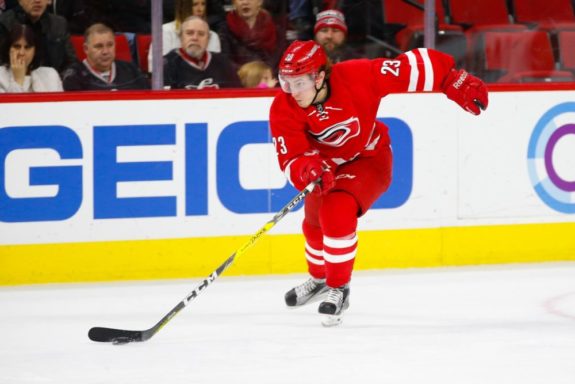 ANALYSIS: This team is lucky that the majority of its good young defencemen are exempt, leaving a scattering of depth forwards, mediocre prospects and a couple goalies for Vegas to choose from. The Hurricanes might protect McGinn over Nordstrom. I would likely take either of those two, whoever ends up being exposed, but Brickley is making a late case for himself in the AHL playoffs with Charlotte too.
Stempniak could be a veteran presence as a guy who is no stranger to settling in new cities. Now that Darling is the man between the pipes for Carolina — acquired from Chicago and signed to a four-year, $16.6-million contract on Friday — Ward will be exposed and could be a decent option for Vegas. Lack is another capable backup and a good character guy, but there should be better netminders available for the Golden Knights.
---
Chicago Blackhawks
PROTECTED (7 F, 3 D, 1 G): Jonathan Toews (NMC), Patrick Kane (NMC), Marian Hossa (NMC), Artem Anisimov (NMC), Duncan Keith (NMC), Brent Seabrook (NMC), Niklas Hjalmarsson (NMC), Corey Crawford (NMC), Richard Panik, Ryan Hartman, Tomas Jurco
PREFERRED PICK: Trevor van Riemsdyk
ALTERNATIVES: Ville Pokka, Jordin Tootoo, Marcus Kruger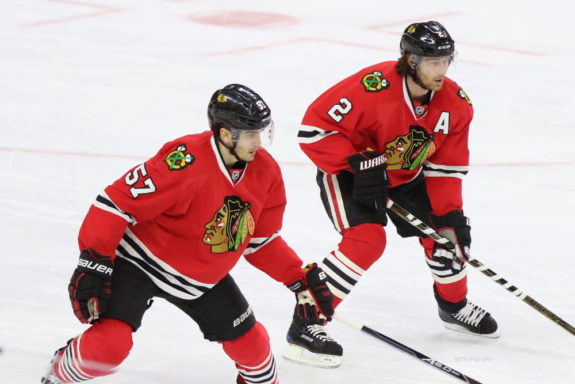 ANALYSIS: This is another easy decision, but don't be surprised if Chicago sends a pick or prospect to Vegas to make the Golden Knights pass on TVR. Kruger is expensive without much offensive upside, but Tootoo could be a fun player for an expansion team. Tootoo played junior for McCrimmon in Brandon, so there's that connection. Pokka has potential as a defence prospect, but van Riemsdyk is the obvious selection unless the Blackhawks persuade Vegas to take somebody else.
---
Colorado Avalanche
PROTECTED (7 F, 3 D, 1 G): Erik Johnson (NMC), Nathan MacKinnon, Matt Duchene, Gabriel Landeskog, Sven Andrighetto, Mikhail Grigorenko, Matt Nieto, Rocco Grimaldi, Tyson Barrie, Nikita Zadorov, Semyon Varlamov
PREFERRED PICK: Mark Barberio
ALTERNATIVES: Francois Beauchemin (NMC waived), Calvin Pickard, Carl Soderberg, Joe Colborne, Blake Comeau, Felix Girard, Patrick Wiercioch, Eric Gelinas, Duncan Siemens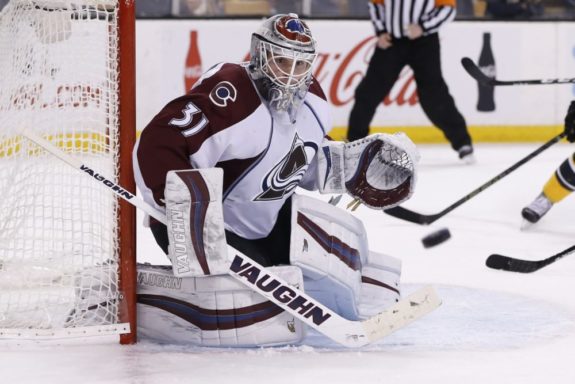 ANALYSIS: Pickard was my pick at Christmas, but the way the second half of the season played out, with Varlamov undergoing hip surgery, I really thought Colorado would opt to protect Pickard over the expensive, injury-prone Russian under the assumption that Vegas would pass on Varlamov anyway. However, connected Avs writer Adrian Dater recently reported that Varlamov will be protected after all, leaving Pickard exposed.
The Golden Knights would have got a good look at Pickard after Christmas when he became Colorado's starter, but his performance was pretty hit and miss. Pickard struggled with consistency much like the team in front of him and may have hurt his expansion-draft value more than he helped it. Pickard probably isn't ready to be a No. 1 next season, but he could be a 1B type in a platoon system and still has starter potential having just turned 25 years old.
Avalanche's Mark Barberio: From odd man out at Montreal, to top pairing with Colorado https://t.co/p4QBqf0Tg5 #avs

— Denver Post – Avs (@avsnews) March 23, 2017
If Vegas isn't sold on Pickard anymore, I'd suggest Barberio, who looked good in a late-season offensive role on the blue line and has another year left on his contract at a bargain $750,000. Soderberg is an expensive underachiever. Colborne is a big-but-soft centre, though he's got enough skill to be attractive to an expansion team. Comeau would be another decent vet if needed, while Girard seems like a younger version of Tootoo. Colorado may protect Girard over Nieto, sacrificing a bit of offence for more long-term grit. Wiercioch, Gelinas and Siemens are other defence possibilities, but I really liked what I saw from Barberio and I'm taking him over Pickard this time.
Mark Barberio has been dominant in this third period. Every single shift hes made a play. How did Montreal not need this guy??

— AJ Haefele (@AJHaefele) March 16, 2017
Glad to see he's contracted with us another season. Hope that doesn't change with the expansion draft. I'd be sad to see him go.

— Crystal Palace (@LadyRedCrest) April 22, 2017
---
Columbus Blue Jackets
PROTECTED (7 F, 3 D, 1 G): Nick Foligno (NMC), Brandon Dubinsky (NMC), Sergei Bobrovsky (NMC), Cam Atkinson, Brandon Saad, Alexander Wennberg, Boone Jenner, Josh Anderson, Seth Jones, Ryan Murray, David Savard
PREFERRED PICK: Joonas Korpisalo
ALTERNATIVES: Jack Johnson, Scott Hartnell (NMC waived), Matt Calvert, William Karlsson, Lukas Sedlak, Scott Harrington, Anton Forsberg, Oscar Dansk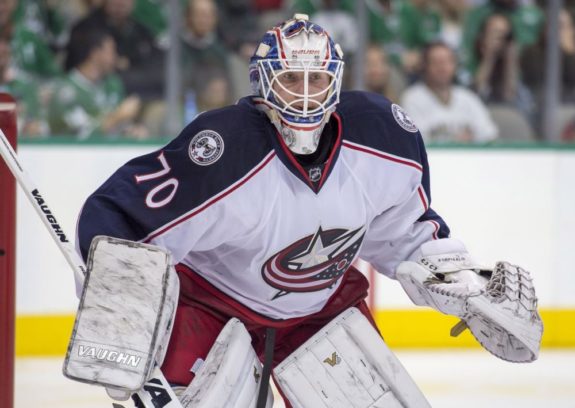 ANALYSIS: This was one of the more difficult decisions for me. Johnson is the best player available, but he's an unrestricted free agent after next season and may not be willing to sign an extension with Vegas. Hartnell has an extra year on his contract, but he has hard miles on his body and doesn't seem to have much ability left. Calvert has the Brandon connection to McCrimmon, but Karlsson is probably the better talent.
I contemplated each of those four, but decided to go with Korpisalo, who showed plenty of promise behind Bobrovsky. This is a bit of a surprise pick considering who was all available from Columbus, but I'm happy with my selection. It wouldn't be shocking if Vegas went with any of Johnson, Hartnell, Calvert or Karlsson instead.
---
Dallas Stars
PROTECTED (7 F, 3 D, 1 G): Jamie Benn (NMC), Jason Spezza (NMC), Tyler Seguin, Antoine Roussel, Radek Faksa, Brett Ritchie, Valeri Nichushkin, John Klingberg, Esa Lindell, Stephen Johns, Kari Lehtonen
PREFERRED PICK: Cody Eakin
ALTERNATIVES: Jamie Oleksiak, Curtis McKenzie, Matej Stransky, Dan Hamhuis, Antti Niemi, Patrik Nemeth, Mattias Backman, Ludwig Bystrom, Maxime Lagace, Gemel Smith, Mark McNeill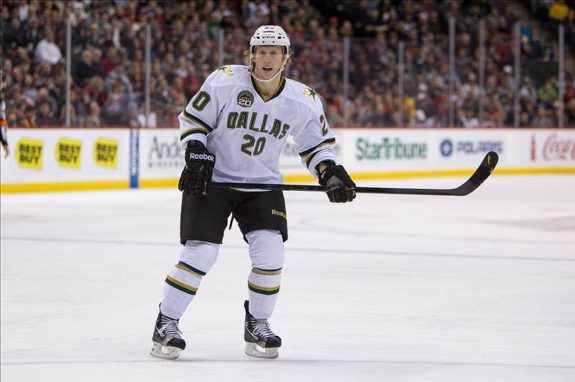 ANALYSIS: Dallas could be an intriguing team since the Stars could protect Eakin, McKenzie or even Stransky, their leading goal-scorer in the AHL, over Nichushkin, who still has another year left on his KHL contract. Oleksiak could be protected over Johns too. If Eakin is exposed, he'd be tough to pass up despite coming off a poor season (only three goals and 12 points in 60 games) with plenty of term left on his contract (three more years at $3.85 million). Ken Hitchcock might consider Eakin a keeper over Nichushkin, and if Jim Nill listens to his new coach, then Vegas could afford to wait on the talented but enigmatic Russian. He'd be an ideal winger for Shipachyov whenever he returns. Oleksiak, McKenzie, Stransky and even Hamhuis are worthy of consideration, but I'm betting on Eakin bouncing back under Gallant.
---
Detroit Red Wings
PROTECTED (7 F, 3 D, 1 G): Frans Nielsen (NMC), Henrik Zetterberg, Gustav Nyquist, Tomas Tatar, Justin Abdelkader, Anthony Mantha, Andreas Athanasiou, Mike Green, Danny DeKeyser, Nick Jensen, Petr Mrazek
PREFERRED PICK: Darren Helm
ALTERNATIVES: Jimmy Howard, Riley Sheahan, Luke Glendening, Martin Frk, Tomas Nosek, Niklas Kronwall, Jonathan Ericsson, Ryan Sproul, Xavier Ouellet, Jared Coreau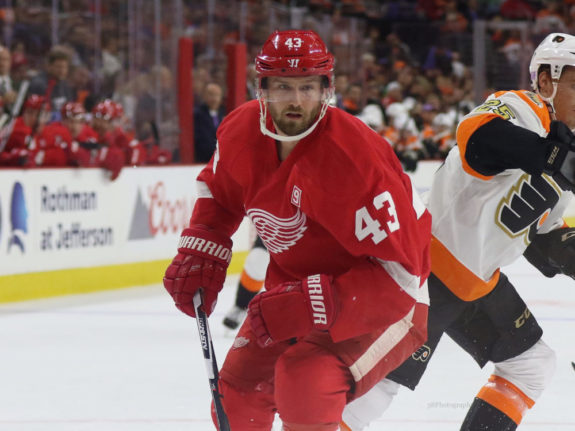 ANALYSIS: I stuck with Helm here, from my Christmas mock, because I think he's the perfect veteran to help lead this team on and off the ice. A modern-day Murray Craven and they both came up through the WHL's Medicine Hat Tigers. Helm has been injury prone, but he has a quality contract with four more years at $3.85 million. Helm and Ennis have a history too, so I like the fit for both.
A lot of mocks have Vegas taking Howard, which is a viable option in net, but I prefer a couple others. I don't see the Golden Knights going after Kronwall or Ericsson, but Sproul and Ouellet would be intriguing young defencemen with offensive upside. Sheahan had a rough season, not scoring until the finale, but he's a big-bodied, two-way centre that could be on Vegas' radar too. Detroit might try to make a side deal for the Golden Knights to avoid any or all of Sheahan, Sproul and Ouellet. Detroit could also protect Sproul and Ouellet over Jensen and perhaps even DeKeyser, who didn't have a very good year and has a bigger contract. Regardless, Helm would be my guy assuming he's available.
---
Edmonton Oilers
PROTECTED (7 F, 3 D, 1 G): Milan Lucic (NMC), Andrej Sekera (NMC), Cam Talbot (NMC), Leon Draisaitl, Ryan Nugent-Hopkins, Jordan Eberle, Patrick Maroon, Zack Kassian, Mark Letestu, Oscar Klefbom, Adam Larsson
PREFERRED PICK: Griffin Reinhart
ALTERNATIVES: Benoit Pouliot, Jujhar Khaira, Anton Lander, Iiro Pakarinen, Dillon Simpson, David Musil, Laurent Brossoit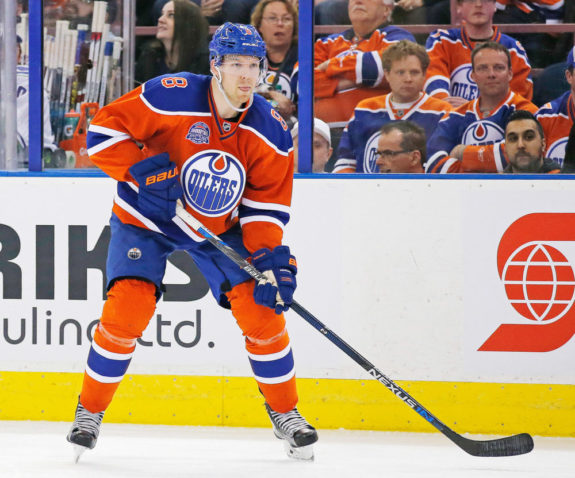 ANALYSIS: Pouliot had a bad year and comes with a pretty big contract — two more years at $4 million. Reinhart spent the entire season in the minors but made significant strides as Bakersfield's top defenceman. He should finally be NHL-ready next season and Vegas should have a roster spot for him. I like the fit there, but Edmonton might try to sell Vegas on Pouliot, Khaira or even Lander, who is committed to the KHL next season (but may have an out-clause). The Oilers wouldn't want to lose Reinhart for nothing — considering the steep price they paid to acquire him — but they won't be protecting four defencemen. He's the best bet for Vegas.
---
Florida Panthers
PROTECTED (7 F, 3 D, 1 G): Keith Yandle (NMC), Aleksander Barkov, Jonathan Huberdeau, Vincent Trocheck, Jonathan Marchessault, Nick Bjugstad, Reilly Smith, Jussi Jokinen, Aaron Ekblad, Jason Demers, James Reimer
PREFERRED PICK: Mark Pysyk
ALTERNATIVES: Roberto Luongo, Alex Petrovic, Colton Sceviour, Michael Sgarbossa, Derek MacKenzie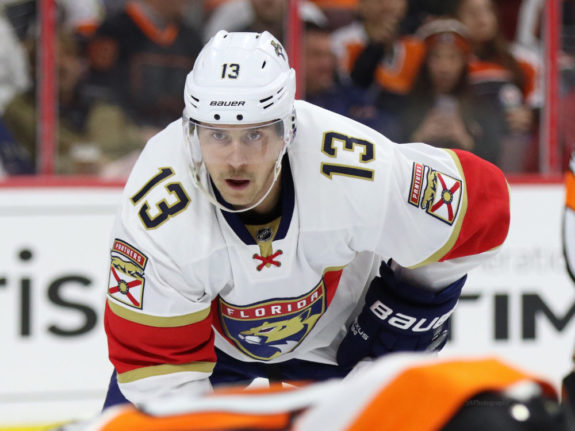 ANALYSIS: Flip a coin between Pysyk and Petrovic, two similar right-handed defencemen who established themselves as top-four options this season. This decision will probably come down to who Vegas' scouting staff prefers. I took Pysyk because there was more opportunity to scout him this season — he played all 82 games, Petrovic only played 49 due to injury — but Petrovic is a bit bigger if the Golden Knights want to build a towering blue line. Both are good options.
Many have Reimer being selected — he was my Christmas pick — but now I think the Panthers will protect him over Luongo. Reimer had a strong season (finishing with two straight shutouts) and he has a good contract too, which probably makes him a keeper for Florida. Luongo would have name value for Vegas and he's still very capable in the crease, plus a good character guy, so the Golden Knights might kick tires on him. Possibly on Sceviour as well, but Pysyk/Petrovic would be tough to pass up.
---
Los Angeles Kings
PROTECTED (4 F, 4 D, 1 G): Anze Kopitar (NMC), Jeff Carter, Tyler Toffoli, Tanner Pearson, Drew Doughty, Jake Muzzin, Alec Martinez, Derek Forbort, Jonathan Quick
PREFERRED PICK: Michael Mersch
ALTERNATIVES: Brayden McNabb, Marian Gaborik, Dustin Brown, Trevor Lewis, Kyle Clifford, Nick Shore, Nic Dowd, Jack Campbell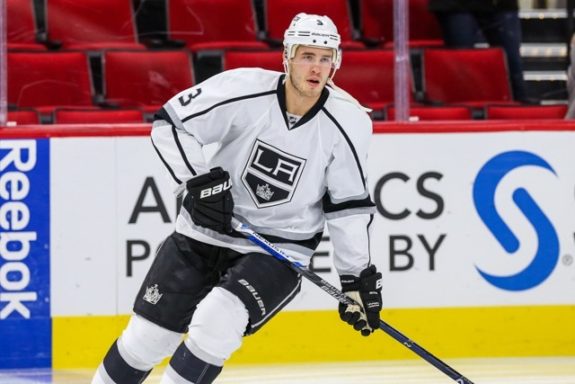 ANALYSIS: The Kings seem likely to protect four defencemen, though they will probably look to trade McNabb or Forbort before exposing either of them. If they had to choose between them, Forbort has cost control as a restricted free agent after next season whereas McNabb will be unrestricted. My guess is McNabb is moved prior to June 17, but who knows what Rob Blake is thinking as the new GM in L.A.
Assuming that's the case, the Golden Knights could take Gaborik or Brown for their name value, but they are both expensive, aging and depreciating assets. I'll admit that I was tempted to take Gaborik — I still think he's got a bit of game left, more so than Brown — but hearing he underwent another knee surgery following the season and may not be recovered in time for training camp, I took a hard pass. Gaborik has a history of injuries and Brown's contract is basically untouchable. If Vegas passes on Gaborik and Brown in the expansion draft, I wonder whether the Kings would buy them out and make them free agents?
Campbell is an intriguing option as a goalie who enjoyed a resurgence this season after being written off as a bust in Dallas' system. He's trending upward and might still have starter potential, so that wouldn't be a shocking pick by any means.
Lewis is a relatively cheap depth forward — three more years with a salary of $2 million — but his upside is limited. Shore and Dowd are worth consideration too, but I've always liked Mersch's skill-set as a shoot-first winger who can clean up on garbage goals around the crease. His skating may hold him back a bit at the NHL level, but he knows where to go to score goals. I'd take a chance on Mersch.
@mayorNHL Is it possible Mersch remains stashed in AHL to keep the Vegas scouts off his case, or is it too late for that?

— Benjamin Carlson (@BossmanBDC) January 6, 2017
---
Minnesota Wild
PROTECTED (7 F, 3 D, 1 G): Zach Parise (NMC), Mikko Koivu (NMC), Jason Pominville (NMC), Ryan Suter (NMC), Eric Staal, Mikael Granlund, Charlie Coyle, Nino Niederreiter, Jared Spurgeon, Jonas Brodin, Devan Dubnyk
PREFERRED PICK: Jason Zucker
ALTERNATIVES: Matt Dumba, Marco Scandella, Christian Folin, Gustav Olofsson, Chris Stewart, Erik Haula, Jordan Schroeder, Alex Stalock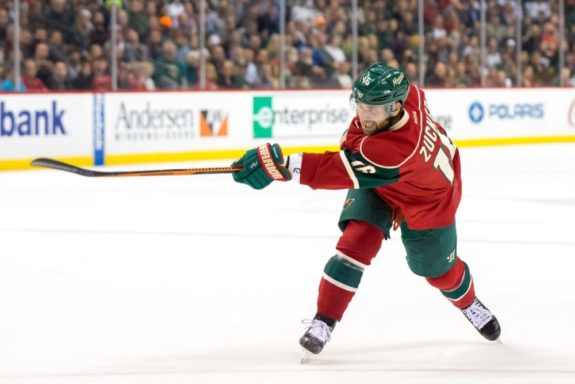 ANALYSIS: Minnesota is going to lose a good player no matter what but, like with Anaheim, a trade seems inevitable here — perhaps multiple trades. The Wild aren't going to expose Dumba, and they aren't going to protect four defencemen either since they have too many quality forwards — especially with Granlund emerging as a star this season. He was my pick at Christmas when I went with the 4-4-1 protected list, but Granlund is obviously off limits and Minnesota will almost certainly go 7-3-1 and trade at least Dumba for a younger player who is exempt from the expansion draft and/or futures (picks and prospects).
Zucker was always the default pick from Minnesota, being the hometown boy and one of the only Las Vegas products playing professional hockey. It helps that he had a career year with 22 goals and 47 points, making Zucker a legitimate option and not just a marketing ploy. He did undergo surgery for a sports hernia last week but should be recovered in time for training camp in the fall.
In saying that, Scandella, Folin, Olofsson, Stewart and Haula — not necessarily in that order — are all good options too, and if Zucker wasn't from Vegas, I'm not convinced he'd be my pick. But he is, so he is.
---
Montreal Canadiens
PROTECTED (7 F, 3 D, 1 G): Carey Price (NMC), Jeff Petry (NMC), Max Pacioretty, Alex Galchenyuk, Brendan Gallagher, Paul Byron, Andrew Shaw, Phillip Danault, Charles Hudon, Shea Weber, Nathan Beaulieu
PREFERRED PICK: Jacob De La Rose
ALTERNATIVES: Tomas Plekanec, Jordie Benn, Brandon Davidson, Nikita Nesterov, Torrey Mitchell, Daniel Carr, Max Friberg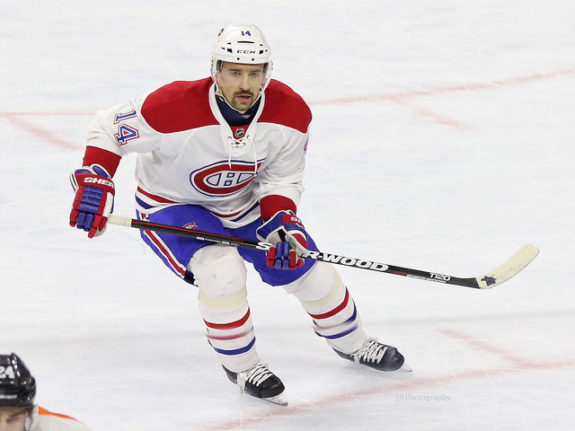 ANALYSIS: Montreal is going to lose a very serviceable player and may leave Plekanec exposed as a salary dump of sorts. He only has one more season left on his contract, but it pays him $6 million. Vegas has to reach the cap floor through the expansion draft and Plekanec should still be a productive player despite being limited to 10 goals and 28 points in 78 games this season.
If the Canadiens re-sign Alex Radulov and/or Andrei Markov between now and June 17, they would need to be protected as well, which would give Vegas additional options. If that happens, chances are Montreal would trade the likes of Beaulieu and/or Hudon before exposing them. They would presumably have decent value around the league.
If the Golden Knights aren't interested in Plekanec, then a depth defenceman like Benn, Davidson or Nesterov could make sense. All three are NHL-calibre with considerable upside. Benn was the most impressive of the three in their late-season auditions for the Canadiens, but I prefer the other two. If Vegas is going defence here, I flip a coin between Davidson and Nesterov assuming Beaulieu is protected or traded in advance of the expansion draft.
You know who would be a fantastic bottom 6 forward in the playoffs? Jacob de la Rose. Who by the way has found quite a bit of offence. #Habs

— Nick Horack (@Nick_Horack97) April 14, 2017
Jacob de la Rose continues to own the Syracuse Crunch, this is de la Rose's first goal of the playoffs. pic.twitter.com/rhumUsCF6M

— Scott Matla (@scottmatla) April 22, 2017
However, De La Rose is the name that keeps jumping out at me for some reason. He's got size, speed and offensive upside, the type of player who could work his way up the depth chart over the next couple seasons and be a key contributor by the time Vegas is a playoff contender.
---
Nashville Predators
PROTECTED (4 F, 4 D, 1 G): Pekka Rinne (NMC), Ryan Johansen, Filip Forsberg, Viktor Arvidsson, James Neal, P.K. Subban, Roman Josi, Ryan Ellis, Mattias Ekholm
PREFERRED PICK: Calle Jarnkrok
ALTERNATIVES: Colin Wilson, Craig Smith, Colton Sissons, Austin Watson, Miikka Salomaki, Pontus Aberg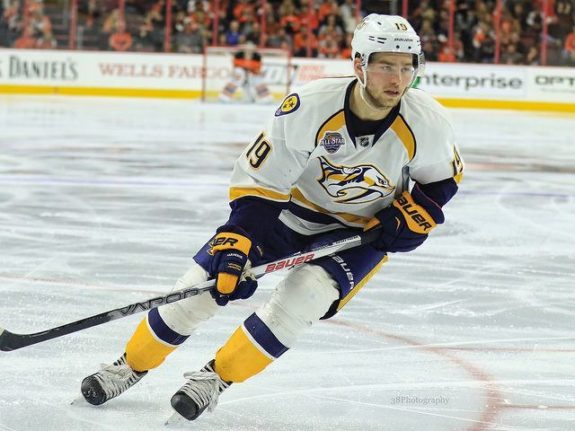 ANALYSIS: Nashville will almost certainly be protecting four defencemen, which most likely means losing a quality forward. It might be a coin flip between Wilson and Smith, two established top-six wingers. Wilson had a slightly better season and comes slightly cheaper, but Smith is under contract for an extra year until 2020. However, Jarnkrok scored more goals than either of them this season, with 15, and has an attractive contract with five years left at a salary of $2 million. Jarnkrok is also two years younger than both of them, just entering his prime. Sissons still has nice upside too as showcased by this year's playoffs, and he might be more versatile than Jarnkrok. Any of those four would be a good fit for Vegas, but Jarnkrok would be my pick.
---
New Jersey Devils
PROTECTED (7 F, 3 D, 1 G): Taylor Hall, Adam Henrique, Mike Cammalleri, Travis Zajac, Kyle Palmieri, Jacob Josefson, Stefan Noesen, Damon Severson, John Moore, Andy Greene, Cory Schneider
PREFERRED PICK: Jon Merrill
ALTERNATIVES: Beau Bennett, Devante Smith-Pelly, Ben Lovejoy, Dalton Prout, Scott Wedgewood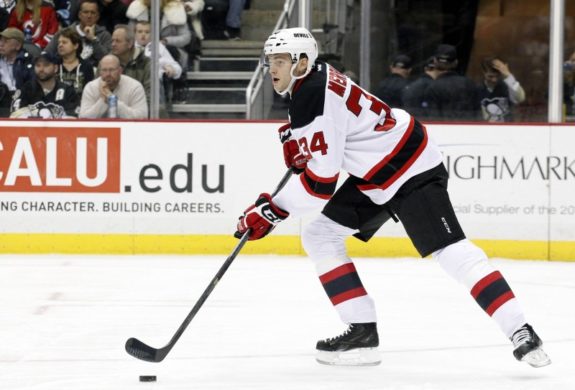 ANALYSIS: Not much to choose from here, but Merrill could be a late-bloomer on defence. He had a lot of upside coming out of college but hasn't done much as a pro. Bennett had a decent season, but he's made of glass. Smith-Pelly had a strong finish to last season but fell off the radar over the course of this season. Lovejoy and Prout are nothing special, and Wedgewood's future is uncertain after undergoing season-ending shoulder surgery. Assuming the decision comes down to Merrill, Bennett or Smith-Pelly, I'd take a chance on Merrill.
---
New York Islanders
PROTECTED (7 F, 3 D, 1 G): John Tavares (NMC), Andrew Ladd (NMC), Johnny Boychuk (NMC), Anders Lee, Josh Bailey, Ryan Strome, Brock Nelson, Casey Cizikas, Nick Leddy, Travis Hamonic, Thomas Greiss
PREFERRED PICK: Ryan Pulock
ALTERNATIVES: Jaroslav Halak, Calvin de Haan, Thomas Hickey, Jason Chimera, Cal Clutterbuck, Nikolai Kulemin, Alan Quine, Shane Prince, Adam Pelech, Scott Mayfield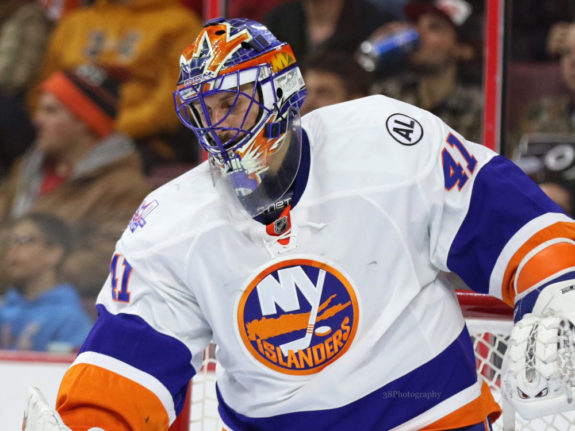 ANALYSIS: Next to Anaheim and Minnesota, the Islanders stand to lose the most meaningful player and the Golden Knights will have no shortage of options here. One thing to keep in mind is that McPhee has a relationship with Islanders GM Garth Snow — having worked together in recent years, when McPhee was an advisor for Snow — so they could very well work something out in advance of the expansion draft.
Halak could become Vegas' goalie, with one year left at $4.5 million. It was strange that Halak wasn't moved at the trade deadline, though the Islanders ended up turning to him again down the stretch.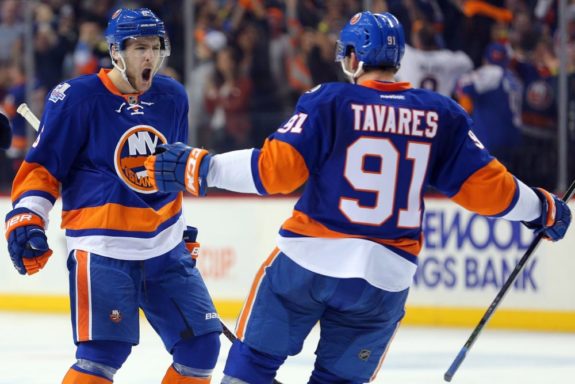 De Haan had the best offensive season of his career, while Hickey fell out of favour after a strong showing in last year's playoffs. Pulock came through McCrimmon's pipeline of talent in Brandon, so there is that connection and he has top-pairing potential. Pulock is right-handed and has a booming point shot. Any of those three defencemen could work well for Vegas, but the Islanders might make a trade with the Golden Knights as a means of retaining all three at the cost of a pick or prospect.
The Islanders could also protect Pulock as a fourth defenceman, but that would leave forwards like Strome, Nelson and Cizikas available to Vegas, along with de Haan, Hickey and Halak. Either way, the Golden Knights are getting a key player out of Brooklyn.
---
New York Rangers
PROTECTED (7 F, 3 D, 1 G): Henrik Lundqvist (NMC), Rick Nash (NMC), Marc Staal (NMC), Derek Stepan, Chris Kreider, Mats Zuccarello, J.T. Miller, Mika Zibanejad, Kevin Hayes, Ryan McDonagh, Nick Holden
PREFERRED PICK: Michael Grabner
ALTERNATIVES: Antti Raanta, Kevin Klein, Dan Girardi (NMC waived), Oscar Lindberg, Jesper Fast, Brandon Pirri, Matt Puempel, Adam Clendening, Nicklas Jensen, Daniel Catenacci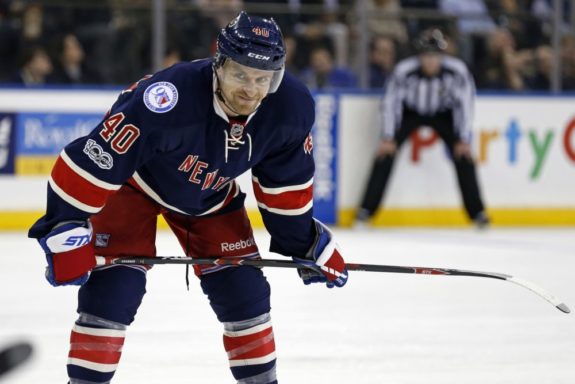 ANALYSIS: Somebody is going to have to score goals for the Golden Knights and Grabner scored more than anybody else on my roster — 27 times in the regular season and he continued to light the lamp in the playoffs. That makes Grabner a popular pick for Vegas, especially since he's got another year left on his contract at a team-friendly $1.65 million.
In saying that, I wouldn't label Grabner a lock to be selected. He's been a streaky player throughout his career — Grabner only scored nine goals the previous season for Toronto — so if the Vegas brass doesn't believe his success with the Rangers is sustainable, they may have a surprise up their sleeve here.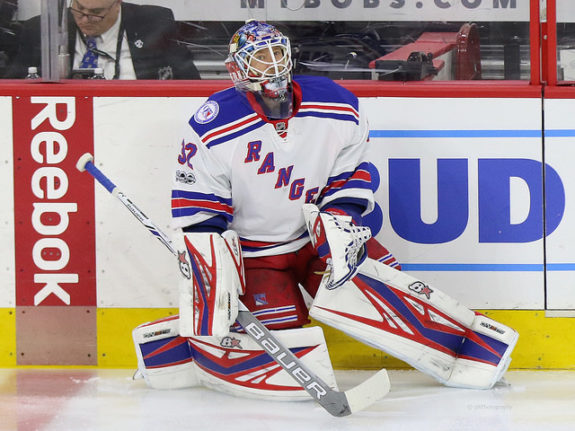 Klein was my pick at Christmas, but he had a miserable season and fell off the radar. Raanta, on the other hand, showed a lot of promise in spelling Lundqvist and played his way into the expansion-draft conversation. Raanta could be the next Cam Talbot and only has a $1-million cap hit for next season. I'm still second-guessing myself, but Grabner's 27 goals were too much to pass up.
If Girardi refuses to waive his no-move clause, Holden would have to be exposed and he really should have been my Christmas pick over Klein in hindsight. Then again, the Rangers would probably buy out Girardi before exposing Holden, who emerged as a bright spot on the back end this season.
Up front, the likes of Lindberg, Fast, Pirri and Puempel would make for serviceable bottom-six forwards too, but Grabner almost had as many goals as the four of them combined (28-27). Grabner would fill a top-six role for the Golden Knights, but Raanta is tempting too.
---
Ottawa Senators
PROTECTED (7 F, 3 D, 1 G): Dion Phaneuf (NMC), Mike Hoffman, Mark Stone, Kyle Turris, Derick Brassard, Zack Smith, Jean-Gabriel Pageau, Ryan Dzingel, Erik Karlsson, Cody Ceci, Craig Anderson
PREFERRED PICK: Bobby Ryan
ALTERNATIVES: Alex Burrows, Clarke MacArthur, Marc Methot, Chris Wideman, Mark Borowiecki, Jyrki Jokipakka, Fredrik Claesson, Andrew Hammond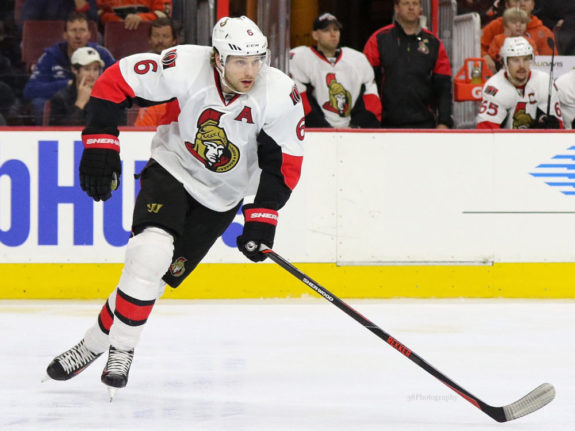 ANALYSIS: Ryan might be playing himself back onto Ottawa's protected list with his playoff performance, but he's also playing his way onto Vegas' radar. Ryan has five more years at $7.25 million on his contract, so he'd be a salary dump for the Senators, who function on a tight budget. Ryan had a down year, with only 13 goals and 25 points in 62 games, but he's redeeming himself in the post-season and could be protected over Dzingel.
If Ryan isn't available, Methot has been pencilled into the Golden Knights' depth chart by many, but I'm not sure he'd be my second choice. I think I prefer Wideman and Jokipakka, but I'd be hoping to see Ryan's name on the exposed list.
---
Philadelphia Flyers
PROTECTED (7 F, 3 D, 1 G): Claude Giroux (NMC), Valtteri Filppula (NMC), Jakub Voracek, Brayden Schenn, Wayne Simmonds, Sean Couturier, Nick Cousins, Shayne Gostisbehere, Brandon Manning, Radko Gudas, Anthony Stolarz
PREFERRED PICK: Michal Neuvirth
ALTERNATIVES: Matt Read, Michael Raffl, Pierre-Edouard Bellemare, Scott Laughton, Taylor Leier, Dale Weise, Andrew MacDonald, Greg Carey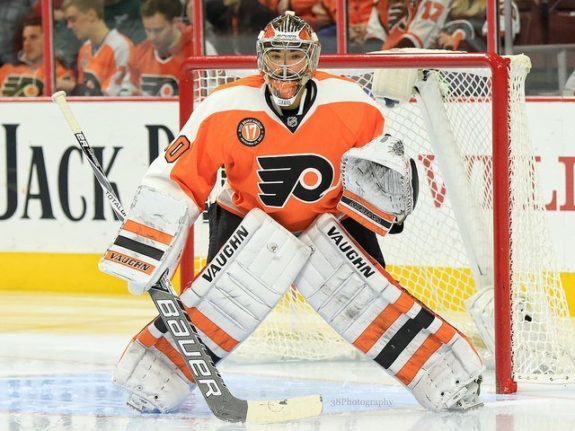 ANALYSIS: I'm not a big conspiracy theorist, but I'm thinking Ron Hextall signed Neuvirth to an extension with the intention of exposing him in the expansion draft. Neuvirth's former goalie coach from his Washington days is employed by Vegas, so the Golden Knights will likely have interest and Neuvirth's new contract is very reasonable too (two years at $2.5 million per). It's my belief that Hextall and the Flyers will protect Stolarz, a solid goaltending prospect, over Neuvirth despite pumping the latter's tires upon announcing that extension. Call it a pump and dump. Providing Neuvirth can pass a physical after that scary collapsing incident late in the season, the Golden Knights might very well take the bait.
Philadelphia wouldn't mind shedding Read, who has been a popular pick for Vegas, but the Flyers probably don't want to lose Laughton or Leier, who still have upside as middle-six forwards. Raffl is more of a proven option but seems to need the right linemates. MacDonald's contract, with three more years at $5 million, takes him out of the equation. Bellemare and Weise aren't bad, but Neuvirth is just too tempting. It would be the second time that McPhee drafted him, having been Washington's GM when Neuvirth was selected in the second round of the 2006 entry draft.
---
Pittsburgh Penguins
PROTECTED (7 F, 3 D, 1 G): Sidney Crosby (NMC), Evgeni Malkin (NMC), Phil Kessel (NMC), Kris Letang (NMC), Patric Hornqvist, Carl Hagelin, Bryan Rust, Josh Archibald, Justin Schultz, Olli Maatta, Matt Murray
PREFERRED PICK: Derrick Pouliot
ALTERNATIVES: Marc-Andre Fleury (NMC waived), Brian Dumoulin, Frank Corrado, Tom Kuhnhackl, Oskar Sundqvist, Scott Wilson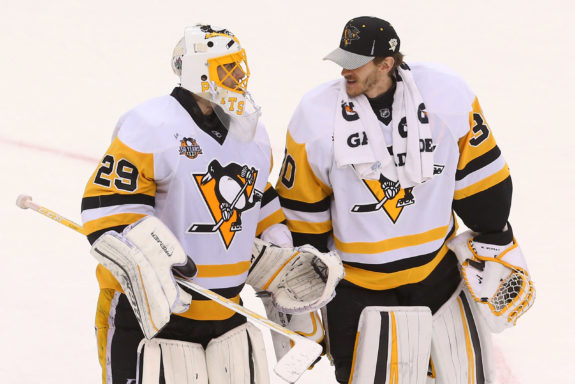 ANALYSIS: The assumption is Fleury would waive his no-move clause to allow the Penguins to protect Murray, but there is also a belief that Fleury will be traded elsewhere before June 17. If he's available, Vegas may very well take Fleury to be its starter — especially after watching his ongoing playoff performance, outduelling Vezina finalists Sergei Bobrovsky and Braden Holtby.
Dumoulin might be preferred over Pouliot, but it would appear one of them will join the Golden Knights if not Fleury. Pouliot has more offensive upside, but Dumoulin is more established and could step right into Vegas' top four. There aren't as many options here as one might think. Pittsburgh could potentially protect four defencemen — Dumoulin being the fourth — but that would expose Hagelin, Rust and Archibald. Any of those three coud work for Vegas too.
There it is! Derrick Pouliot emerges the overtime hero to tie the series up 1-1. #WBSvsPRO pic.twitter.com/n9EYPMNyBK

— American Hockey League (@TheAHL) April 23, 2017
---
San Jose Sharks
PROTECTED (7 F, 3 D, 1 G): Joe Pavelski, Logan Couture, Tomas Hertl, Jannik Hansen, Chris Tierney, Melker Karlsson, Mikkel Boedker, Brent Burns, Marc-Edouard Vlasic, Justin Braun, Martin Jones
PREFERRED PICK: David Schlemko
ALTERNATIVES: Paul Martin, Brenden Dillon, Mirco Mueller, Dylan DeMelo, Joel Ward, Aaron Dell, Barclay Goodrow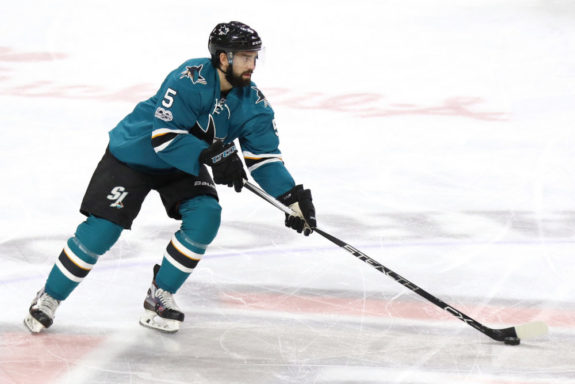 ANALYSIS: Schlemko has been a bit of a journeyman, but he shined for San Jose in the playoffs. So much so that maybe the Sharks would protect him as a fourth defenceman, exposing Tierney, Karlsson and Boedker instead. Boedker has been a disappointment for the most part, but Vegas might have interest in a talent like him if the Sharks go that route.
Martin and Dillon are experienced blueliners, while Mueller still has good potential. Dell quietly had a nice rookie season as a backup goalie behind Jones, but there are better options at that position. Schlemko just strikes me as an expansion-type player, but he could play a pretty prominent role for Vegas.
---
St. Louis Blues
PROTECTED (7 F, 3 D, 1 G): Vladimir Tarasenko, Paul Stastny, Alex Steen, Jaden Schwartz, David Perron, Patrik Berglund, Vladimir Sobotka, Alex Pietrangelo, Jay Bouwmeester, Joel Edmundson, Jake Allen
PREFERRED PICK: Nail Yakupov
ALTERNATIVES: Jori Lehtera, Dmitrij Jaskin, Magnus Paajarvi, Ty Rattie, Carl Gunnarsson, Kyle Brodziak, Ryan Reaves, Robert Bortuzzo, Petteri Lindbohm, Carter Hutton, Jordan Binnington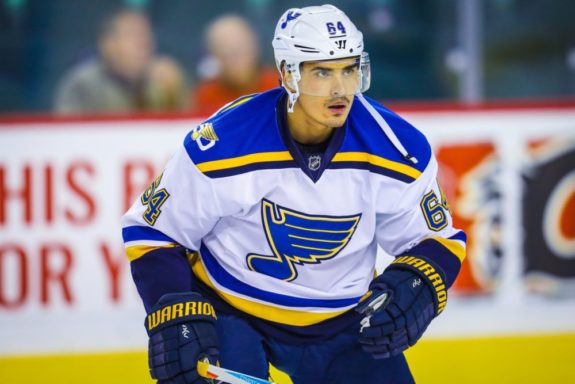 ANALYSIS: Call me crazy, but I think Gallant would welcome the challenge of a reclamation project like Yakupov. Or any of Paajarvi, Jaskin or Rattie, for that matter. Paajarvi has been putting himself on the radar with his playoff performance and Jaskin made the most of his opportunity to keep St. Louis' season alive on Friday night, opening the scoring and firing eight shots in a 2-1 win. Jaskin and Rattie had seen their stock plummet this season, but I've always been a fan of both and still think they could be players in the right situation.
At the end of the day, Yakupov offers the most name value here — even though he's been a bust so far as the first overall pick from 2012. Contrary to popular belief, Yakupov does have a good work ethic and a great personality, a marketable guy who would sell some jerseys. Plus, now that the Golden Knights are bringing over Shipachyov, it would be nice to have another Russian on the roster to ease the transition and any language barriers.
Lindbohm and Binnington could be under-the-radar options with decent upside, while Lehtera, Brodziak and Gunnarsson are veteran types. It really depends what Vegas wants, but I would roll the dice on one of those four younger forwards.
https://twitter.com/TKirkpatrickYLL/status/860358794001494016
Yakupov is the biggest gamble, especially since his KHL rights were recently traded and there are rumours he's headed home to Russia. But this is Vegas we're talking about, so go big or go home, right? I'm assuming Yakupov's agent, former NHL great Igor Larionov, will advise him to wait and see whether the Golden Knights want him before bolting. Even if he ends up leaving, Yakupov is a restricted free agent and Vegas would retain his rights for a future NHL return. He might come back a better and rejuvenated player. He'd probably stay for a chance to be Shipachyov's wingman, although there could be Radulov sightings in Vegas soon if Montreal doesn't get that deal done. Ilya Kovalchuk apparently wants a second shot at the NHL too and he's already been the face of one expansion franchise in Atlanta. The other 30 teams, including New Jersey, would have to sign off on Kovalchuk to Vegas, but they probably don't see the Golden Knights as a threat in the immediate future with or without Kovalchuk.
---
Tampa Bay Lightning
PROTECTED (7 F, 3 D, 1 G): Steven Stamkos (NMC), Victor Hedman (NMC), Nikita Kucherov, Jonathan Drouin, Tyler Johnson, Ondrej Palat, Alex Killorn, Vladislav Namestnikov, Anton Stralman, Slater Koekkoek, Andrei Vasilevskiy
PREFERRED PICK: Braydon Coburn
ALTERNATIVES: Ryan Callahan (NMC waived), Jason Garrison, Andrej Sustr, Jake Dotchin, Cedric Paquette, J.T. Brown, Erik Condra, Henri Ikonen, Kristers Gudlevskis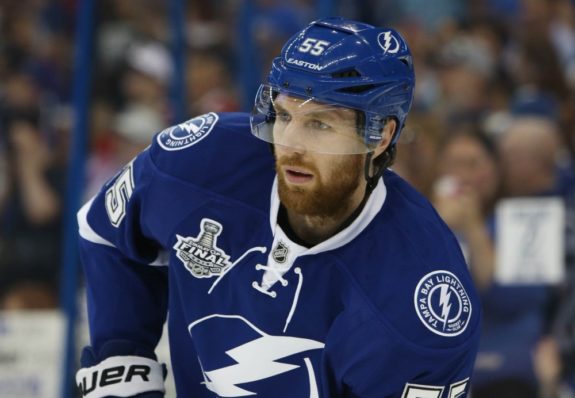 ANALYSIS: A defenceman would seem likely from the Lightning, with Sustr and Dotchin possessing decent upside, but Coburn is a proven commodity with a fair contract (two more years at $3.7 million).
Coburn should have some mileage left in him and he brings size and leadership as well. Paquette and Brown could be bottom-six role players for the Golden Knights, but Coburn is the best player available here. If Koekkoek is exposed, perhaps with Coburn protected instead, then I'd consider the young blueliner as another piece for the future.
---
Toronto Maple Leafs
PROTECTED (7 F, 3 D, 1 G): Nazem Kadri, James van Riemsdyk, Tyler Bozak, Connor Brown, Leo Komarov, Matt Martin, Kerby Rychel, Morgan Rielly, Jake Gardiner, Connor Carrick, Frederik Andersen
PREFERRED PICK: Eric Fehr
ALTERNATIVES: Brendan Leipsic, Josh Leivo, Seth Griffith, Martin Marincin, Alexey Marchenko, Antoine Bibeau, Garret Sparks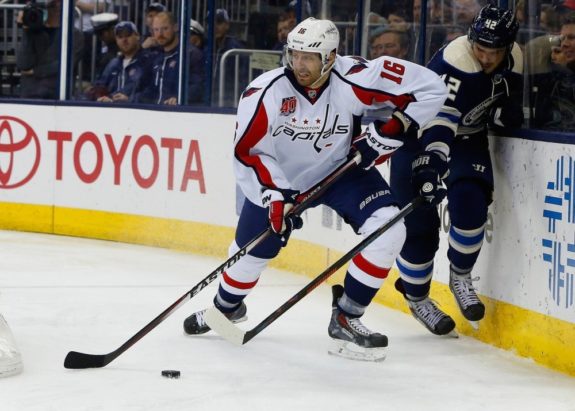 ANALYSIS: Fehr could very well be the guy here, and it's entirely possible that Toronto could be throwing in a second-round pick for Vegas to take Fehr instead of Leipsic, Leivo, Marincin or Bibeau, among other arguably better options than Fehr.
Here's the deal. McPhee and Fehr have a long history together in Washington. McCrimmon and Fehr go way back to Brandon. With all that familiarity, a reunion in Vegas almost seems inevitable. Certainly plausible and I'm thinking probable. Fehr isn't the player he used to be, but he could still carve out a role on an expansion team and be another leader for the Golden Knights.
Fehr wouldn't be in my top four or five picks from Toronto, but the belief is that the Leafs acquired Fehr with the intention of flipping him to Vegas, so I'm not going to overthink things. That deal might already be done, but I'd be tempted to take Leipsic or Leivo here. I like Leipsic and he'd be my first choice from Toronto, but I'm convinced Fehr is Vegas bound.
---
Vancouver Canucks
PROTECTED (7 F, 3 D, 1 G): Henrik Sedin (NMC), Daniel Sedin (NMC), Loui Eriksson (NMC), Bo Horvat, Brandon Sutter, Sven Baertschi, Markus Granlund, Alex Edler, Chris Tanev, Erik Gudbranson, Jacob Markstrom
PREFERRED PICK: Reid Boucher
ALTERNATIVES: Brendan Gaunce, Derek Dorsett, Jayson Megna, Joseph Cramarossa, Michael Chaput, Michael Zalewski, Luca Sbisa, Alex Biega, Andrey Pedan
ANALYSIS: Boucher has bounced around a bit, but he has a big-league shot and he started to produce offensively towards the end of the season in an increased role with the Canucks. Vegas likely took notice and bumped Boucher to the top of its list from Vancouver. Gaunce hasn't taken that step forward and Dorsett is coming off a serious injury. Many in Vancouver expect Sbisa to be selected, but that might be wishful thinking given his fairly pricey contract. Boucher would be a no-brainer for me here and hopefully he could finally find a home in Vegas.
If I was Vegas I'd take Reid Boucher from Canucks, he low-key gonna be a 20 goal scorer no doubt in this league. #NHL

— Hughe𝕊𝕂𝕐 (@CanuckSyko) May 5, 2017
---
Washington Capitals
PROTECTED (7 F, 3 D, 1 G): Alex Ovechkin, Nicklas Backstrom, Evgeny Kuznetsov, Marcus Johansson, Andre Burakovsky, Tom Wilson, Chandler Stephenson, John Carlson, Matt Niskanen, Dmitry Orlov, Braden Holtby
PREFERRED PICK: Philipp Grubauer
ALTERNATIVES: Brett Connolly, Lars Eller, Jay Beagle, Liam O'Brien, Nathan Walker, Nate Schmidt, Brooks Orpik, Taylor Chorney, Aaron Ness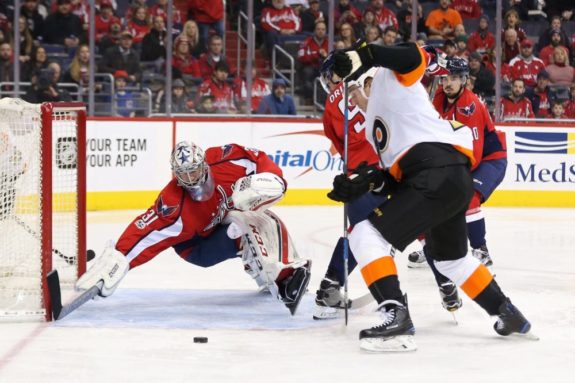 ANALYSIS: Schmidt, Connolly and Eller are appealing, but Grubauer is one of those younger backups capable of becoming a bona fide starter. All he needs is the opportunity and Vegas can offer that. Grubauer has a history with Neuvirth and that Washington-turned-Vegas goalie coach, so he'd be a good fit — assuming he has a good relationship with Neuvirth despite their battles to be Holtby's backup.
Schmidt appears to have top-four potential and Connolly made progress this season. Eller hasn't been great for Washington but would still seem to have value around the league. All things considered, Grubauer makes the most sense here.
---
Winnipeg Jets
PROTECTED (4 F, 4 D, 1 G): Blake Wheeler, Mark Scheifele, Bryan Little, Adam Lowry, Dustin Byfuglien, Jacob Trouba, Tyler Myers, Tobias Enstrom, Connor Hellebuyck
PREFERRED PICK: Mathieu Perreault
ALTERNATIVES: Joel Armia, Marko Dano, Andrew Copp, Shawn Matthias, Scott Kosmachuk, Mark Stuart, Ben Chiarot, Michael Hutchinson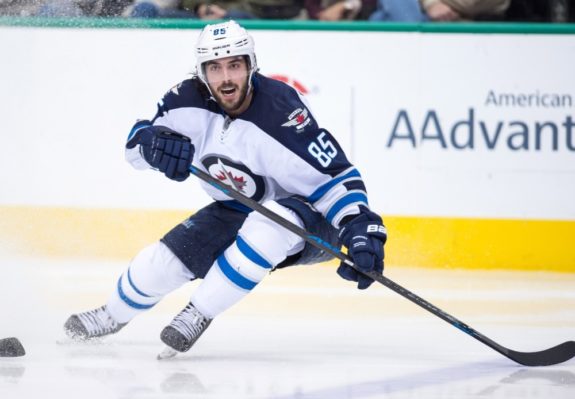 ANALYSIS: Armia and Dano would be solid selections too, but McPhee drafted and developed Perreault in Washington, so he's the most logical choice from Winnipeg. Perreault had a strong finish to the season, proving he can produce in an elevated role and on the power play. Perreault will be starting a four-year extension at an annual salary of $4.125 million next season and Vegas would be counting on him to be a top-six forward.
I really like Armia's upside and he'd be tough to pass up for Vegas, but Perreault is still the better player as of today. I'm thinking McPhee will agree.
---
Vegas Golden Knights Depth Chart
Forwards (17)
Bobby Ryan ($7.25 million x 5 years)
Tyler Ennis ($4.6 million x 2 years)
Vadim Shipachyov ($4.5 million x 2 years)
Mathieu Perreault ($4.125 million x 4 years)
Darren Helm ($3.85 million x 4 years)
Cody Eakin ($3.85 million x 3 years)
Nail Yakupov ($2.5 million RFA)
Calle Jarnkrok ($2 million x 5 years)
Jason Zucker ($2 million x 1 year)
Eric Fehr ($2 million x 1 year)
Michael Grabner ($1.65 million x 1 year)
Jacob De La Rose ($925,000 RFA)
Curtis Lazar ($894,167 RFA)
Teemu Pulkkinen ($812,500 RFA)
Brock McGinn ($811,667 RFA)
Michael Mersch ($786,667 RFA)
Reid Boucher ($715,000 RFA)
Salary: $43.27 million
Defencemen (11)
Braydon Coburn ($3.7 million x 2 years)
Adam McQuaid ($2.75 million x 2 years)
David Schlemko ($2.1 million x 3 years)
Jon Merrill ($1.138 million x 1 year)
Mark Pysyk ($1.125 million RFA)
Griffin Reinhart ($863,333 RFA)
Derrick Pouliot ($863,333 RFA)
Ryan Pulock ($863,333 x 1 year)
Trevor van Riemsdyk ($825,000 x 1 year)
Jaycob Megna ($786,667 RFA)
Mark Barberio ($750,000 x 1)
Salary: $15.76 million
Goaltenders (3)
Michal Neuvirth ($2.5 million x 2 year)
Philipp Grubauer ($750,000 RFA)
Joonas Korpisalo ($742,500 RFA)
Salary: $3.99 million
Total Salary: $63.02 million
Projected Cap Space: $9.98 million
---
Vegas Golden Knights Lineup
Forwards
Jason Zucker-Vadim Shipachyov-Bobby Ryan
Cody Eakin-Mathieu Perreault-Michael Grabner
Tyler Ennis-Darren Helm-Eric Fehr
Reid Boucher-Calle Jarnkrok-Nail Yakupov
Brock McGinn-Curtis Lazar-Teemu Pulkkinen
Jacob De La Rose/Michael Mersch
Defencemen
Braydon Coburn-Trevor van Riemsdyk
David Schlemko-Adam McQuaid
Griffin Reinhart-Mark Pysyk
Derrick Pouliot-Ryan Pulock
Mark Barberio-Jon Merrill
Jaycob Megna
Goaltenders
Michal Neuvirth
Philipp Grubauer
Joonas Korpisalo
---
For comparison sake, and for those who have yet to click any of the links to my Christmas mock, here's the lineup that I envisioned for the Golden Knights back in December (the eight players drafted in both are bolded and obviously this pre-dated the Shipachyov signing):
Forwards
Craig Smith-Tomas Plekanec-Marian Gaborik
Markus Granlund-Mikael Granlund-Jakob Silfverberg
Benoit Pouliot-Vladislav Namestnikov-Nail Yakupov
Tyler Ennis–Darren Helm-Matt Read
Micheal Ferland-Curtis Lazar-Joel Armia
Joakim Nordstrom
Defencemen
Jack Johnson-Kevin Klein
Paul Martin-Dan Hamhuis
Derrick Pouliot-Luke Schenn
Martin Marincin-Ryan Pulock
Jon Merrill-Ville Pokka
Goaltenders
James Reimer
Calvin Pickard
Philipp Grubauer
Malcolm Subban
---
Closing Thoughts
The only difference between those rosters from a positional standpoint is that I drafted one extra defenceman and one fewer goaltender this time. Despite that discrepancy, I still think Vegas is likely to select a fourth netminder, a younger prospect (similar to Subban) who could develop in the AHL next season where the Golden Knights are planning to share an affiliate with another NHL team, though that partnership has yet to be announced.
If my mock teams were to play each other, Christmas would probably beat Easter nine times out of 10. I realize that but, again, I was trying to draft the most realistic roster possible this time around as opposed to the "best" roster possible. I feel I succeeded in that regard, but we'll have to wait and see how far off I still am when the results are revealed on June 21.
If my Easter roster came to fruition, the likes of Helm, Fehr, Coburn and McQuaid would wind up wearing letters and comprise the leadership group for Vegas.
What do you think? Would you cheer for this team? Could these Golden Knights make some noise? Would they be worth the price of admission?
Larry Fisher is a senior writer and head scout for The Hockey Writers, having been an at-large contributor for THW since August 2014. Fisher covers both the NHL and the WHL, specializing in prospects and NHL draft content, including his annual mock drafts that date back to 2012. Fisher has also been a beat writer for the WHL's Kelowna Rockets since 2008, formerly working as a sports reporter/editor for The Daily Courier in Kelowna, British Columbia, Canada from 2008-2019. Follow him on Twitter: @LarryFisher_KDC.