George McPhee's Christmas wishlist is comprised of names, not material things, this year.
Unfortunately for the Vegas Golden Knights' general manager, Santa Claus won't be delivering any gifts until June — at least not in the form of the 30 players who will comprise the inaugural roster for the NHL's 31st franchise.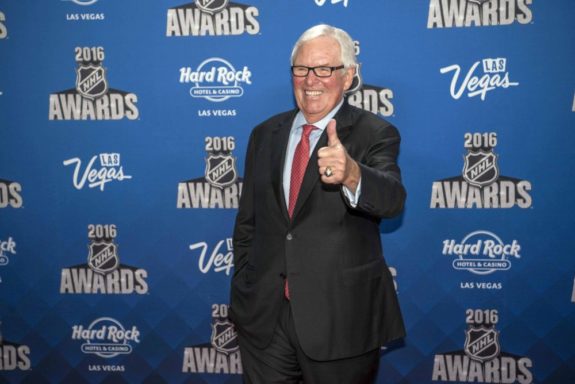 June 21 will be Christmas morning for McPhee and Golden Knights owner Bill Foley, as they get to handpick their team for the 2017-18 season and finally put faces to all those names dancing in their heads.
The waiting will be the hardest part for McPhee, much like the month of December for children anticipating what's under the tree.
Nobody could blame McPhee for stashing multiple Advent calendars in his Vegas office to count down the days until the expansion draft. And he's certainly trying to sneak a peek at the ever-changing protection lists around the league.
Rest assured, McPhee is as antsy as everybody else when it comes to constructing the roster for the Golden Knights — assuming that name withstands the recent trademark issue.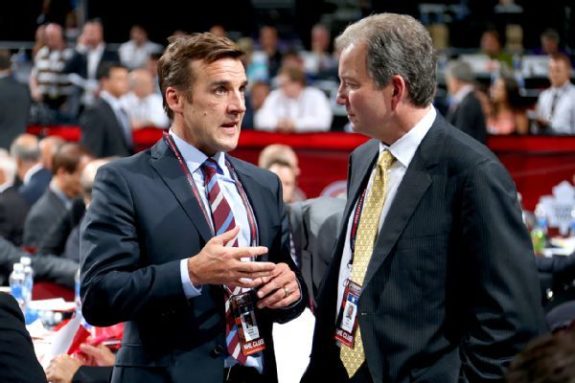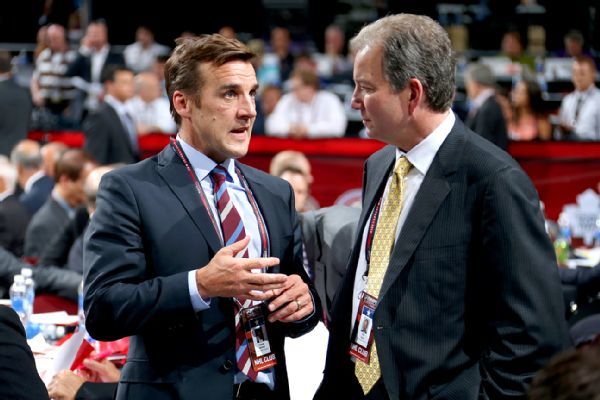 To pass the time and to make sure they get it right when the time comes, McPhee and his support staff are conducting monthly mock drafts. So are many fans and media types thanks to CapFriendly.com's expansion draft tool.
It only takes a couple clicks, though, to realize that Vegas will be thrift-store shopping this holiday season, searching not for the fanciest new toys fresh off the assembly line — those will have to come through the entry draft — but for the finest of leftovers and perhaps a few hidden gems.
A fascinating process nevertheless, one that leaves so much to the imagination and can produce such wildly different results depending on the GM's wishlist.
Putting myself in McPhee's shoes, here are the coveted names on my letter to Santa in the order of my choosing or the order that I would announce them:
Marian Gaborik — Los Angeles Kings
Nail Yakupov — St. Louis Blues
Mikael Granlund — Minnesota Wild
Jack Johnson — Columbus Blue Jackets
Ryan Pulock — New York Islanders
James Reimer — Florida Panthers
Jakob Silfverberg — Anaheim Ducks
Tomas Plekanec — Montreal Canadiens
Curtis Lazar — Ottawa Senators
Dan Hamhuis — Dallas Stars
Derrick Pouliot — Pittsburgh Penguins
Malcolm Subban — Boston Bruins
Darren Helm — Detroit Red Wings
Vladislav Namestnikov — Tampa Bay Lightning
Craig Smith — Nashville Predators
Paul Martin — San Jose Sharks
Kevin Klein — New York Rangers
Calvin Pickard — Colorado Avalanche
Tyler Ennis — Buffalo Sabres
Benoit Pouliot — Edmonton Oilers
Matt Read — Philadelphia Flyers
Luke Schenn — Arizona Coyotes
Ville Pokka — Chicago Blackhawks
Philipp Grubauer — Washington Capitals
Markus Granlund — Vancouver Canucks
Joel Armia — Winnipeg Jets
Micheal Ferland — Calgary Flames
Joakim Nordstrom — Carolina Hurricanes
Martin Marincin — Toronto Maple Leafs
Jon Merrill — New Jersey Devils
Here is the long version of how those names came to mind — my latest attempt at the expansion draft on a team-by-team basis in alphabetical order:
Anaheim Ducks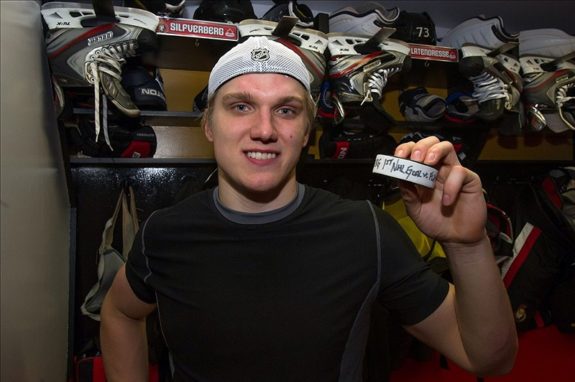 PROTECTED (4 D, 4 F, 1 G): Ryan Getzlaf (NMC), Corey Perry (NMC), Ryan Kesler (NMC), Kevin Bieksa (NMC), Hampus Lindholm, Sami Vatanen, Cam Fowler, Rickard Rakell, John Gibson
PREFERRED PICK: Jakob Silfverberg
ALTERNATIVES: Andrew Cogliano, Josh Manson
ANALYSIS: Most have singled out Silfverberg here, but most also believe the Ducks will find a way to make room for him on their protected list. That would likely mean getting Bieksa to waive his no-movement clause, either to be traded ahead of time or to be exposed in the expansion draft, but Fowler's name continues to come up in trade rumours as well. Silfverberg could be Vegas' leading scorer, but if he's not available, Cogliano or Manson would make for nice consolation prizes.
Arizona Coyotes
PROTECTED (7 F, 3 D, 1 G): Alex Goligoski (NMC), Oliver Ekman-Larsson, Connor Murphy, Anthony Duclair, Tobias Reider, Jamie McGinn, Jordan Martinook, Brad Richardson, Peter Holland, Henrik Samuelsson, Mike Smith
PREFERRED PICK: Luke Schenn
ALTERNATIVES: Louis Domingue, Kevin Connauton
ANALYSIS: It is slim pickings here since the likes of Shane Doan, Martin Hanzal and Michael Stone are all pending free agents and won't need to be protected. That takes away an option like Martinook and even Holland, a recent trade acquisition, plus Samuelsson, the oft-injured 2012 first-round pick. Those three wouldn't make most teams' protected lists, but they might make the cut for the Coyotes. Then again, don't be surprised if Arizona becomes a dumping ground, or rather a buyer in terms of upgrading its keepers ahead of the draft as part of that "redistribution of players" that McPhee continues to mention. Schenn was a high pick but hasn't amounted to more than a physical third-pairing defenceman. Connauton has more offensive upside as a depth blueliner, while Domingue is an intriguing goaltender, though there should be better options for Vegas at that position too.
Boston Bruins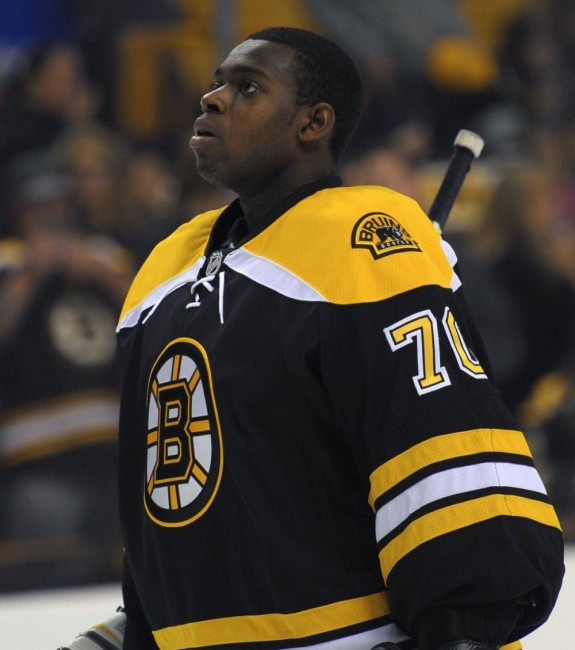 PROTECTED (7 F, 3 D, 1 G): Patrice Bergeron (NMC), David Krejci (NMC), David Backes (NMC), Zdeno Chara (NMC), Brad Marchand, David Pastrnak, Matt Beleskey, Ryan Spooner, Torey Krug, Colin Miller, Tuukka Rask
PREFERRED PICK: Malcolm Subban
ALTERNATIVES: Joe Morrow, Tim Schaller, Adam McQuaid, Jimmy Hayes
ANALYSIS: This is one of the more interesting teams, both in terms of who will be protected and who could be picked. Spooner is supposedly on the trade block and Beleskey could be underwhelming enough to be exposed instead of Schaller, who has been a revelation this season. Miller isn't a lock on the back end either, with McQuaid's seniority and Morrow's potential to make for much debate among the Bruins' brass. Regardless, Subban makes sense for Vegas as an elite goaltending prospect, though he's had his struggles this season in the AHL and has been torched in his two NHL appearances to date. If not Subban, Morrow and Schaller still seem to have upside, while McQuaid and Hayes offer more experience and size.
Buffalo Sabres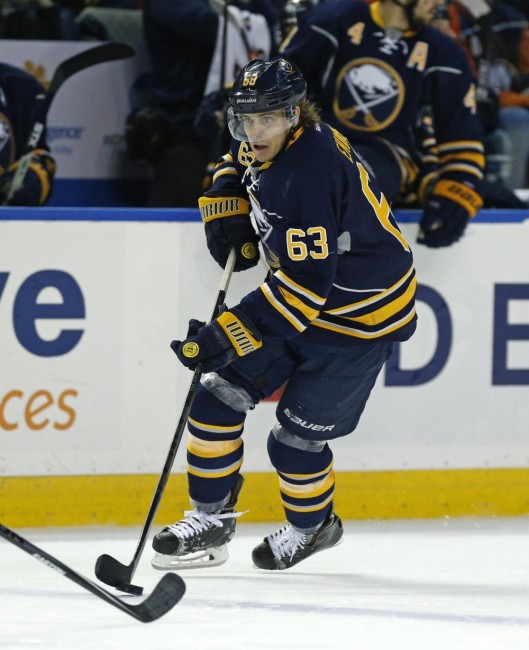 PROTECTED (7 F, 3 D, 1 G): Kyle Okposo (NMC), Ryan O'Reilly, Evander Kane, William Carrier, Marcus Foligno, Zemgus Girgensons, Johan Larsson, Rasmus Ristolainen, Jake McCabe, Zach Bogosian, Robin Lehner
PREFERRED PICK: Tyler Ennis
ALTERNATIVES: Matt Moulson, Josh Gorges, Daniel Catenacci
ANALYSIS: If the Sabres do expose Ennis, that should be an easy pick for Vegas. Sure, he's injury-prone, but Ennis would be one of the better offensive talents available. If Ennis were to get healthy and enjoy a productive second half of the season, it's possible he could be protected over Larsson. Moulson could too, or maybe both become keepers with Girgensons or Foligno left off the list. Any of those four forwards would be decent additions for Vegas. Gorges is a steady defenceman but there will be enough of those available elsewhere. Catenacci is a forward prospect with good offensive instincts, but not good enough to overlook those veterans.
Calgary Flames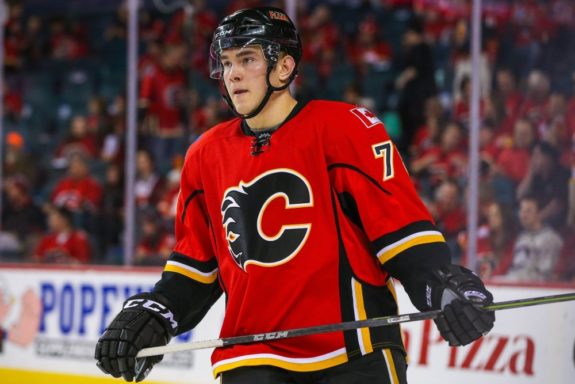 PROTECTED (7 F, 3 D, 1 G): Johnny Gaudreau, Sean Monahan, Sam Bennett, Mikael Backlund, Michael Frolik, Troy Brouwer, Alex Chiasson, Mark Giordano, Dougie Hamilton, T.J. Brodie, Chad Johnson
PREFERRED PICK: Micheal Ferland
ALTERNATIVES: Jyrki Jokipakka, Brett Kulak, Tyler Wotherspoon, Hunter Shinkaruk, Lance Bouma, Emile Poirier
ANALYSIS: No shortage of options here, and it's interesting that, as of today, Johnson would be the goaltender getting protected over Brian Elliott. Both are free agents, but Johnson's recent run is increasing the likelihood that he'll earn a contract extension prior to the expansion draft. Chiasson seems to be playing his way onto that protected list too, surpassing the likes of Ferland, Shinkaruk and Bouma. As for the pick, Ferland has drawn favourable comparisons to a young Milan Lucic and Ferland has a history with Vegas assistant GM Kelly McCrimmon from their junior days in Brandon. McCrimmon knows the Western Hockey League as well as anybody and Calgary will be exposing plenty of WHL alums, likely including Kulak, Wotherspoon, Shinkaruk and Bouma. That said, Jokipakka might end up being the pick, considering he cracked Finland's roster for the World Cup of Hockey and could develop into a top-four defenceman.
Carolina Hurricanes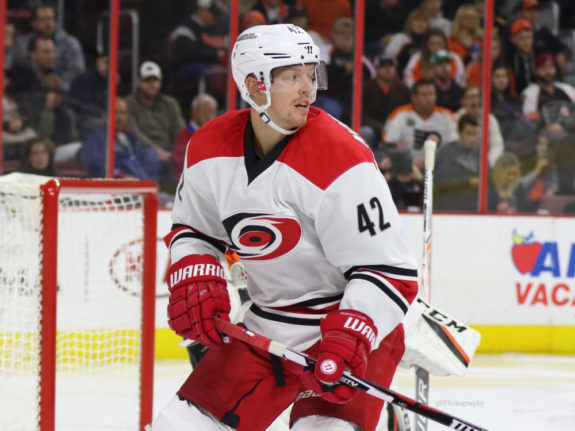 PROTECTED (7 F, 3 D, 1 G): Jordan Staal (NMC), Jeff Skinner, Victor Rask, Elias Lindholm, Teuvo Teravainen, Lee Stempniak, Phil Di Giuseppe, Justin Faulk, Trevor Carrick, Keegan Lowe, Cam Ward
PREFERRED PICK: Joakim Nordstrom
ALTERNATIVES: Ryan Murphy, Klas Dahlbeck, Brock McGinn, Andrej Nestrasil, Eddie Lack
ANALYSIS: The defence decisions will be of the utmost interest here. Murphy might get a change of scenery between now and the expansion draft. If not, will he get protected over Carrick or Lowe? Or would Murphy get picked by Vegas? The Hurricanes could protect Murphy and Dahlbeck instead of Carrick and Lowe — that's a possibility too. Those four are essentially battling for two spots for the rest of the season. Nordstrom is the safer pick for Vegas, but Murphy's offensive upside might be too much to pass up. The only thing working against Murphy if he's exposed is that there will be so many other quality defencemen available for Vegas, much more so than forwards. McGinn, the younger brother of Jamie and Tye, is close to becoming an NHL regular and could offer some scoring punch down the road.
Chicago Blackhawks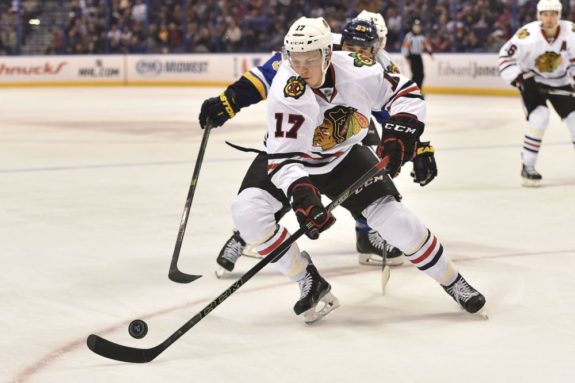 PROTECTED (7 F, 3 D, 1 G): Patrick Kane (NMC), Jonathan Toews (NMC), Marian Hossa (NMC), Artem Anisimov (NMC), Duncan Keith (NMC), Brent Seabrook (NMC), Niklas Hjalmarsson (NMC), Corey Crawford (NMC), Richard Panik, Ryan Hartman, Marcus Kruger
PREFERRED PICK: Ville Pokka
ALTERNATIVES: Trevor van Riemsdyk, Mark McNeill, Dennis Rasmussen
ANALYSIS: These decisions are mostly made for the Blackhawks, with a league-high eight no-movement clauses. Fortunately for Chicago, all those players are proving to be keepers this season. That narrows it down to protecting a fourth defenceman — be it van Riemsdyk or Pokka — or three additional forwards. Panik and Hartman are both proving their worth, while Pokka's value has taken a hit in getting surpassed on the depth chart by fellow prospect Gustav Forsling. If Vegas is passing on the likes of Morrow, Jokipakka and Murphy, then Pokka perhaps makes the most sense here over TVR, who is more experienced at the NHL level but doesn't have as high of a ceiling. McNeill, a 2011 first-round pick, is having another decent season in the AHL but has been passed over by several prospects in Chicago's system too. Better to go with one of the defencemen.
Colorado Avalanche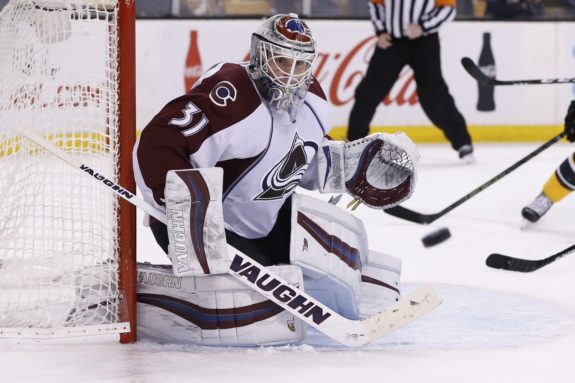 PROTECTED (4 D, 4 F, 1 G): Erik Johnson (NMC), Francois Beauchemin (NMC), Tyson Barrie, Nikita Zadorov, Nathan MacKinnon, Matt Duchene, Gabriel Landeskog, Mikhail Grigorenko, Semyon Varlamov
PREFERRED PICK: Calvin Pickard
ALTERNATIVES: Carl Soderberg, Joe Colborne, Blake Comeau, Duncan Siemens, Patrick Wiercioch, Eric Gelinas, Rocco Grimaldi
ANALYSIS: Decisions, decisions. Colorado may try talking Beauchemin into waiving his no-movement clause to be exposed but, failing that, it must decide between Zadorov as a fourth defenceman or the forward trio of Soderberg, Colborne and Comeau. Tough call, but Zadorov types don't grow on trees, while the others are always available through free agency and more easily replaceable. From Vegas' perspective, this is one of the goalie situations to keep close tabs on as the season progresses. Right now, it's looking like Pickard would be available and he'd be a great option for the Golden Knights. Varlamov obviously would be too if Colorado opted to keep Pickard instead. If Vegas prefers other goaltending options, then Soderberg would seemingly be the fallback selection here, though Colborne has flashed glimpses of being an impact player, albeit an inconsistent one. Comeau could bring some much-needed leadership, while Siemens was the 11th overall pick in 2011 but is trending towards bust status. Siemens is 23 years old now, but a guy like Thomas Hickey didn't emerge until he was 24. There are some similarities between them. There is also a chance Soderberg could be protected over Grigorenko, but that seems unlikely right now. Grigorenko would be intriguing, but Pickard or Varlamov would still be the best bet.
Columbus Blue Jackets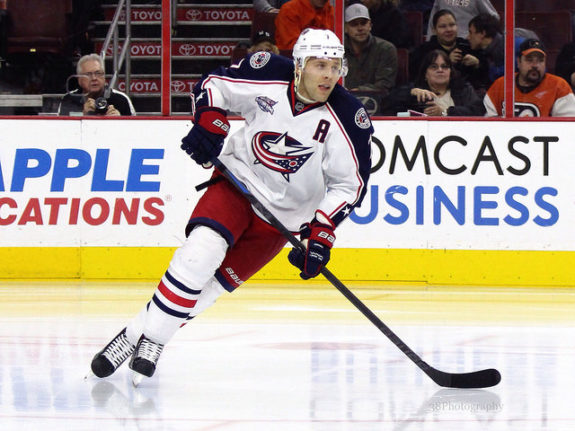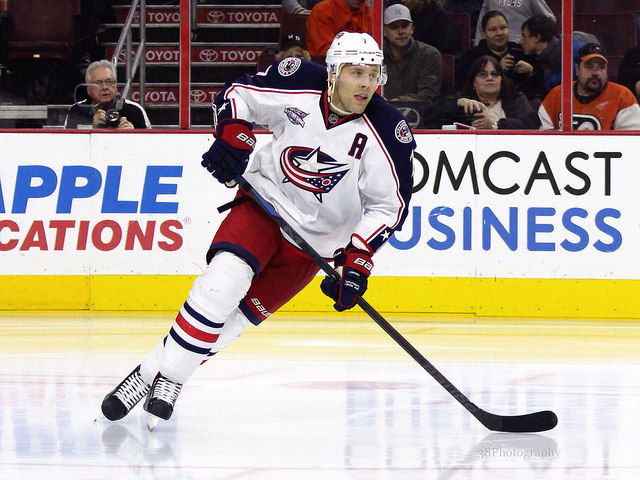 PROTECTED (7 F, 3 D, 1 G): Sergei Bobrovsky (NMC), Nick Foligno (NMC), Brandon Dubinsky (NMC), Scott Hartnell (NMC), Alexander Wennberg, Brandon Saad, Cam Atkinson, Boone Jenner, Seth Jones, Ryan Murray, David Savard
PREFERRED PICK: Jack Johnson
ALTERNATIVES: Josh Anderson, Matt Calvert, William Karlsson, Lukas Sedlak, T.J. Tynan, Scott Harrington, Joonas Korpisalo, Anton Forsberg
ANALYSIS: Lots to choose from here, with so many Blue Jackets making positive impressions this season. Columbus has to choose between Savard and Johnson on defence, and will probably look to move Hartnell as a means of keeping Anderson, who is turning a lot of heads lately. Vegas has surely taken notice, but Johnson is the kind of minute-munching defender the Golden Knights will need and his salary ($4.357 million) would help meet those requirements too. Vegas' roster selections must exceed 60 percent of the current salary cap ($73 million), which equates to $43.8 million. Calvert, another of McCrimmon's boys from Brandon, and Karlsson are solid bottom-six forwards, but there will be no shortage of those types for Vegas to choose from. Korpisalo and Forsberg are quality goaltending prospects, but there will be plenty of those available too.
Dallas Stars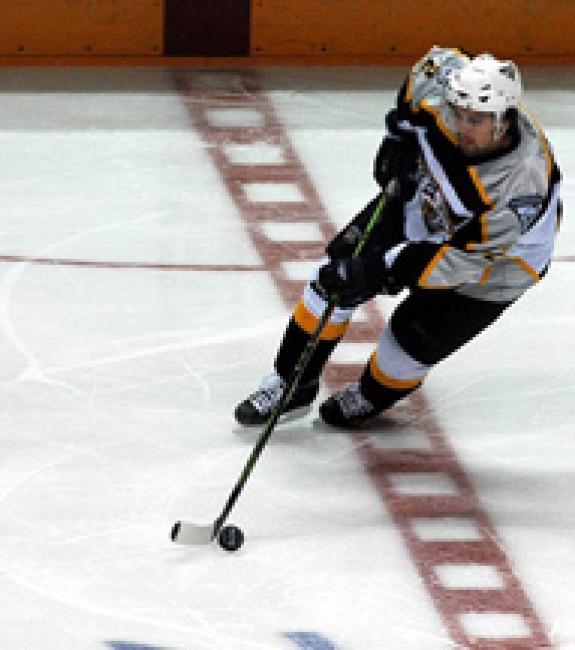 PROTECTED (7 F, 3 D, 1 G): Jamie Benn (NMC), Jason Spezza (NMC), Tyler Seguin, Antoine Roussel, Cody Eakin, Brett Ritchie, Radek Faksa, John Klingberg, Esa Lindell, Stephen Johns, Kari Lehtonen
PREFERRED PICK: Dan Hamhuis
ALTERNATIVES: Valeri Nichushkin, Jamie Oleksiak, Curtis McKenzie, Patrik Nemeth, Matej Stransky, Mattias Backman, Ludwig Bystrom
ANALYSIS: This would obviously be a controversial pick. Again, Vegas is going to need some veterans to lead the way and Hamhuis could certainly wear a letter for the Golden Knights. Passing on Nichushkin and Oleksiak would be difficult and may seem short-sighted given their potential, but it might also be the right move. Nichushkin is back in Russia without a contract and who knows if he'll ever return. Oleksiak offers a pretty unique package of size and skill, and he's arguably been outperforming Hamhuis this season. Oleksiak might even overtake Johns for a spot on the protected list. Still, Hamhuis is a proven top-four option for the Golden Knights, something these other alternatives aren't yet at this point in their careers.
Detroit Red Wings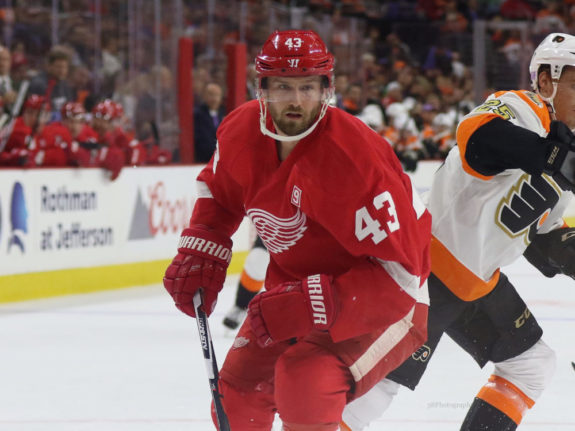 PROTECTED (7 F, 3 D, 1 G): Frans Nielsen (NMC), Henrik Zetterberg, Gustav Nyquist, Tomas Tatar, Justin Abdelkader, Anthony Mantha, Andreas Athanasiou, Mike Green, Danny DeKeyser, Ryan Sproul, Petr Mrazek
PREFERRED PICK: Darren Helm
ALTERNATIVES: Jimmy Howard, Riley Sheahan, Xavier Ouellet, Niklas Kronwall, Jonathan Ericsson, Tomas Jurco, Martin Frk, Mitch Callahan
ANALYSIS: More controversy here, with Helm known as a checking centre and penalty killer with a history of injuries. There is some risk on the latter front, but remember that Vegas is building a hockey team, not a fantasy team. Helm brings a lot to the table that may not show up on the stats sheet. He was also a junior teammate of Ennis in Medicine Hat, so that familiarity could help unite the dressing room and give this team an identity. In saying that, if Howard keeps playing as well as he has to date this season, then he'd deserve consideration as the Golden Knights' starting goaltender. Sheahan and Ouellet — or Sproul, if Ouellet takes his spot on the protected list — would certainly factor into the conversation too. Kronwall could be calling it a career after this season due to chronic knee problems, and Ericsson probably isn't what Vegas needs or wants either.
Edmonton Oilers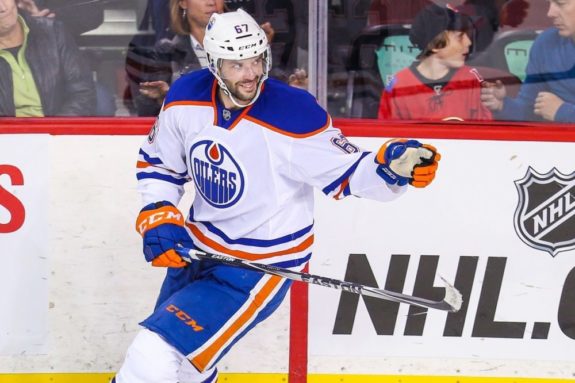 PROTECTED (7 F, 3 D, 1 G): Cam Talbot (NMC), Milan Lucic (NMC), Andrej Sekera (NMC), Leon Draisaitl, Ryan Nugent-Hopkins, Jordan Eberle, Patrick Maroon, Mark Letestu, Zack Kassian, Oscar Klefbom, Adam Larsson
PREFERRED PICK: Benoit Pouliot
ALTERNATIVES: Tyler Pitlick, Griffin Reinhart, Brandon Davidson, Juhjar Khaira, Laurent Brossoit, Anton Lander
ANALYSIS: It's all about earning their keep with this team and, as of today, Letestu, Maroon and Kassian are all outperforming Pouliot, who may be viewed as a superior talent around the league. Some would keep Pouliot, Pitlick and Khaira over the aforementioned three. Others might opt to keep a fourth defenceman in Davidson or Reinhart, the latter of whom the Oilers paid a steep price to acquire. As far as Vegas is concerned, Pouliot stands out as the best player available and that BPA approach could serve the Golden Knights well if their goal is to be competitive right out of the gate. If they are building for the future as opposed to the present, then Pitlick, Reinhart or Davidson probably make more sense.
Florida Panthers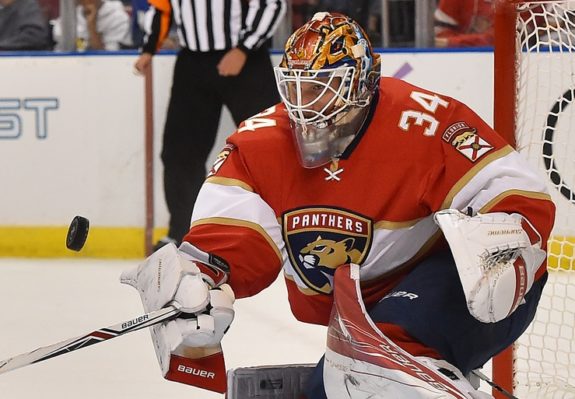 PROTECTED (7 F, 3 D, 1 G): Keith Yandle (NMC), Aleksander Barkov, Jonathan Huberdeau, Vincent Trocheck, Nick Bjugstad, Jussi Jokinen, Reilly Smith, Jonathan Marchessault, Aaron Ekblad, Jason Demers, Roberto Luongo
PREFERRED PICK: James Reimer
ALTERNATIVES: Alex Petrovic, Mark Pysyk, Seth Griffith, Colton Sceviour
ANALYSIS: Bit of a tough call here, with a couple of real solid defencemen available in Petrovic and Pysyk, but Reimer has an attractive contract for an expansion team with four seasons remaining at a cap hit of $3.4 million. He's also handled a starter's workload in the past and seems like the perfect partner and mentor for Pickard. If Varlamov had been exposed by Colorado and thus selected to be Vegas' starter, then pass on Reimer and flip a coin between Petrovic and Pysyk.
Los Angeles Kings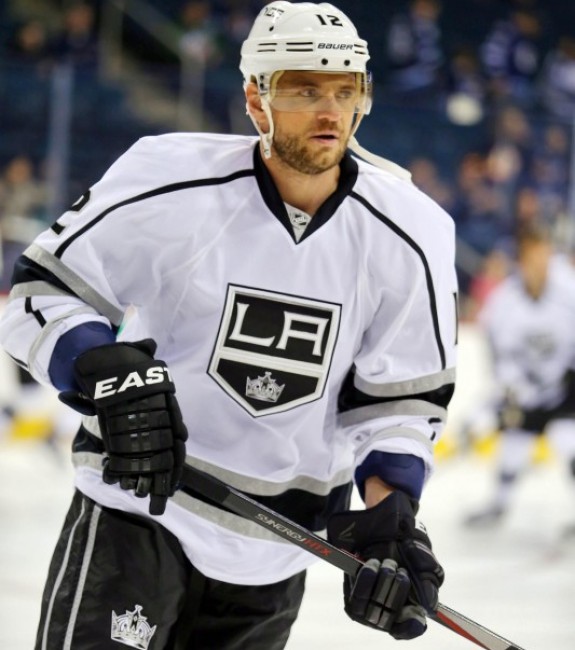 PROTECTED (4 D, 4 F, 1 G): Anze Kopitar (NMC), Jeff Carter, Tyler Toffoli, Tanner Pearson, Drew Doughty, Jake Muzzin, Alec Martinez, Brayden McNabb, Jonathan Quick
PREFERRED PICK: Marian Gaborik
ALTERNATIVES: Dustin Brown, Derek Forbort, Trevor Lewis, Michael Mersch
ANALYSIS: This might be as close as Vegas comes to landing a star player. While many are protecting Gaborik, Lewis and another forwards like Mersch, Andy Andreoff, Dwight King, Nick Shore or Nic Dowd, maybe even Brown, the Kings could very well go the four defencemen route by protecting McNabb or perhaps Forbort. If so, that would leave Vegas to choose between Gaborik, who is injury prone but an offensive catalyst, and Brown, who has leadership abilities but seems to be bouncing back without the captaincy this season. Forbort, Lewis and Mersch are less "sexy" picks but all serviceable in their own right. Ultimately, Gaborik will score the most goals and sell the most jerseys, which are equally important traits for a franchise starting from scratch. Gaborik is a bit cheaper and comes with a year less of commitment too.
Minnesota Wild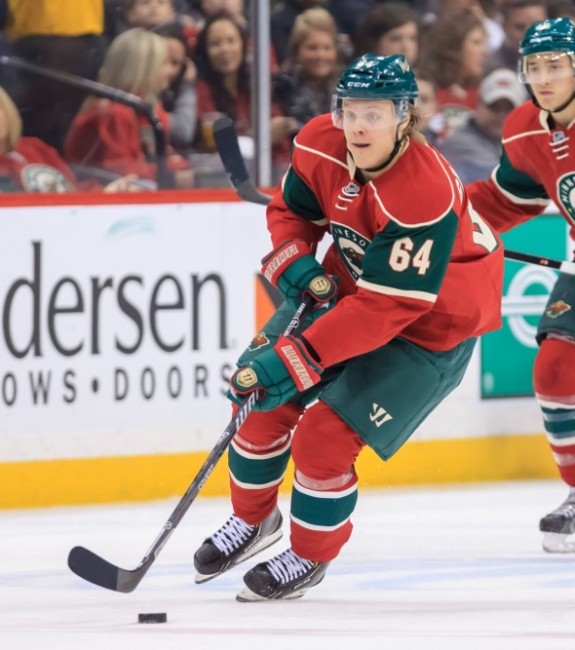 PROTECTED (4 D, 4 F, 1 G): Ryan Suter (NMC), Zach Parise (NMC), Mikko Koivu (NMC), Jason Pominville (NMC), Jared Spurgeon, Jonas Brodin, Matt Dumba, Charlie Coyle, Devan Dubnyk
PREFERRED PICK: Mikael Granlund
ALTERNATIVES: Eric Staal, Nino Niederreiter, Jason Zucker, Marco Scandella, Erik Haula, Christian Folin, Gustav Olofsson, Teemu Pulkkinen
ANALYSIS: The Wild are going to lose a really good player, it's just a matter of who. They could protect three more forwards — likely Granlund, Staal and Niederreiter — but that would mean exposing and certainly losing either Brodin or Dumba. As mentioned before, good defencemen are harder to find, especially young ones with top-pairing potential, which both Brodin and Dumba have been showcasing this season. Minnesota might be able to convince Koivu and Pominville to waive their no-movement clauses for the greater good of the team, allowing Granlund and Niederreiter to be protected instead. Assuming that won't be the case, Vegas would have a handful of attractive options here. Granlund would give the Golden Knights an offensively gifted top-six centre. Staal could easily come in and be their captain. Niederreiter is a budding power winger, Zucker is a rare Las Vegas local boy, which makes him the sentimental favourite to be picked, and Scandella is another proven top-four defender. The Golden Knights can't really go wrong here, but they're going to need all the offence they can get and Granlund offers the most from Minnesota. All that said, Coyle isn't a lock by any means to be the fourth forward protected. That is an open competition with Granlund, Staal, Niederreiter and Zucker until season's end.
Montreal Canadiens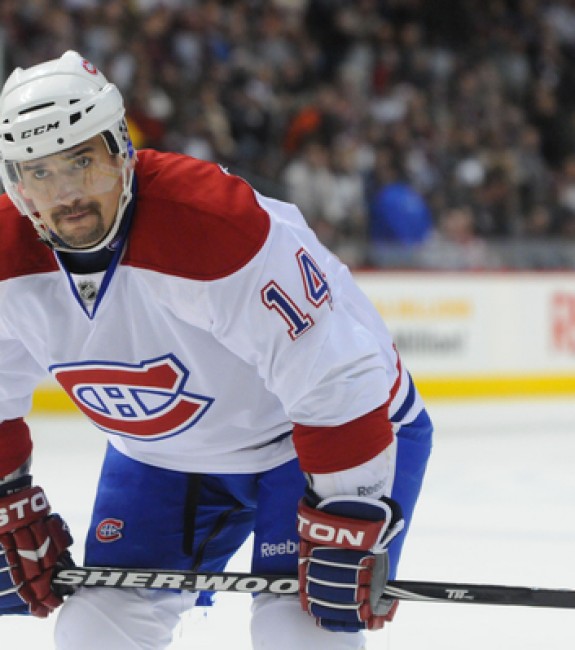 PROTECTED (7 F, 3 D, 1 G): Carey Price (NMC), Jeff Petry (NMC), Alex Galchenyuk, Max Pacioretty, Brendan Gallagher, Andrew Shaw, Paul Byron, Phillip Danault, Charles Hudon, Shea Weber, Nathan Beaulieu
PREFERRED PICK: Tomas Plekanec
ALTERNATIVES: David Desharnais, Sven Andrighetto, Daniel Carr, Alexei Emelin, Jacob De La Rose
ANALYSIS: If Plekanec is exposed, as rumoured, then Vegas would be wise to snatch him up as another offensive weapon and salary-cap booster. He got off to a slow start this season but seems to be rising to the occasion now that Galchenyuk and Desharnais are sidelined by injuries. Plekanec could play his way onto the protected list again, bumping one of the French Canadian kids in Danault or Hudon, or perhaps Byron, who has been a pleasant surprise for Montreal thus far. Vegas would likely take any of those three if available, although Andrighetto could be in that mix as well.
Nashville Predators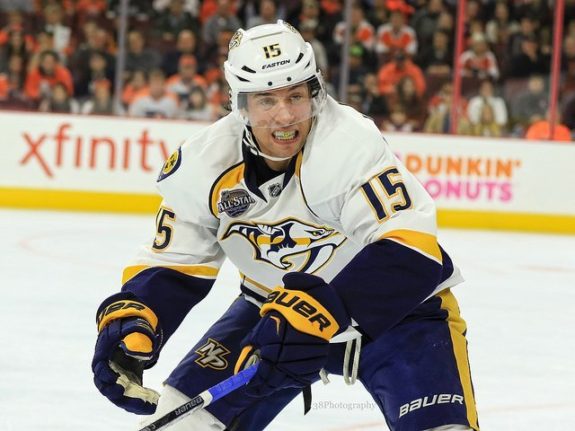 PROTECTED (4 D, 4 F, 1 G): Pekka Rinne (NMC), P.K. Subban, Roman Josi, Ryan Ellis, Mattias Ekholm, Ryan Johansen, Filip Forsberg, James Neal, Viktor Arvidsson
PREFERRED PICK: Craig Smith
ALTERNATIVES: Colin Wilson, Calle Jarnkrok, Colton Sissons
ANALYSIS: Flip a coin between Smith and Wilson, that's likely what it will come down to here. Vegas probably has tunnel vision when scouting Nashville games, focusing primarily on those two. Jarnkrok and Sissons are good young players too, but not yet on that level. Smith and Wilson are the same age (both 27) and somewhat similar as scoring wingers. They are also both Americans and Vegas will want a few U.S. products on the roster. This decision will likely be made over the second half of the season, but give Smith a slight edge based on their careers to date.
New Jersey Devils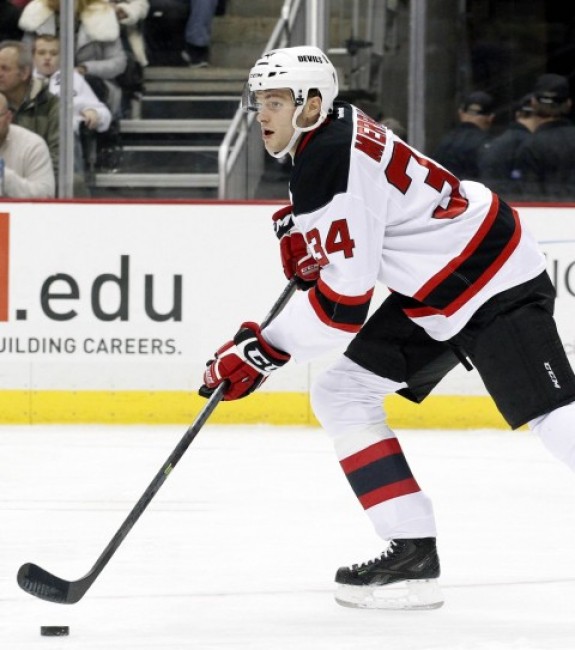 PROTECTED (7 F, 3 D, 1 G): Taylor Hall, Mike Cammalleri, Adam Henrique, Travis Zajac, Kyle Palmieri, Devante Smith-Pelly, Beau Bennett, Damon Severson, Andy Greene, John Moore, Cory Schneider
PREFERRED PICK: Jon Merrill
ALTERNATIVES: Ben Lovejoy, Jacob Josefson, Brandon Gormley, Scott Wedgewood
ANALYSIS: Yikes, not much for Vegas to get excited about here. Merrill might benefit from a change of scenery, but he's just barely staying afloat and avoiding the waiver wire in New Jersey — and the Devils don't exactly have the deepest defence corps either. Merrill will turn 25 in February and hasn't lived up to his draft stock as a second-round pick. The fact he's American could help him get picked by Vegas, but he'd be a fringe player for the Golden Knights as well. Gormley is even more of a bust and Josefson is probably redundant as a bottom-six forward. Wedgewood might have been the selection here, but he had to undergo shoulder surgery and is done for the season, so there's too much risk attached to him now. Lovejoy is a veteran blueliner, but the Golden Knights will have enough of those too.
New York Islanders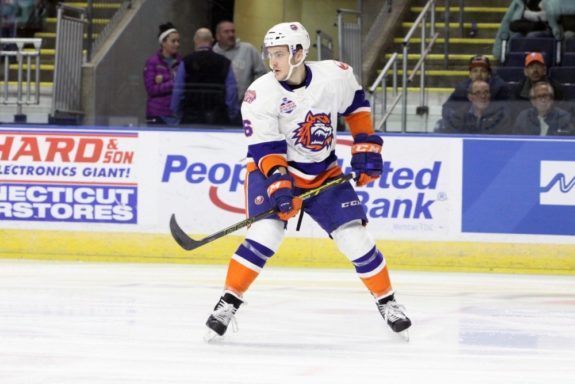 PROTECTED (4 D, 4 F, 1 G): John Tavares (NMC), Andrew Ladd (NMC), Johnny Boychuk (NMC), Brock Nelson, Anders Lee, Nick Leddy, Travis Hamonic, Thomas Hickey, Jaroslav Halak
PREFERRED PICK: Ryan Pulock
ALTERNATIVES: Calvin de Haan, Ryan Strome, Josh Bailey, Casey Cizikas, Thomas Greiss, Cal Clutterbuck, Shane Prince, Alan Quine
ANALYSIS: This has to be the toughest team to figure out — at every position — which suggests the Islanders will be doing some serious wheeling and dealing between now and the expansion draft. As it stands, they almost certainly will protect four defencemen but that might change depending on the moves that seem inevitable. Assuming the Isles do keep four D, Hickey appears to have the upper hand on de Haan and Pulock, a top prospect, for that final spot as of today, but that competition is far from over. Vegas would be lucky to land any of those three and, barring trades, would seemingly have its choice between two of them. That said, Strome and Bailey could be top-six forwards for the Golden Knights, with Strome really needing a change of scenery right now to get his career back on track. McCrimmon is very familiar with Pulock from Brandon and McPhee would be wise to take his word in taking this budding blueliner. If Pulock is protected, which is possible if not probable, then take either Hickey or de Haan instead as tempting as Strome might be.
New York Rangers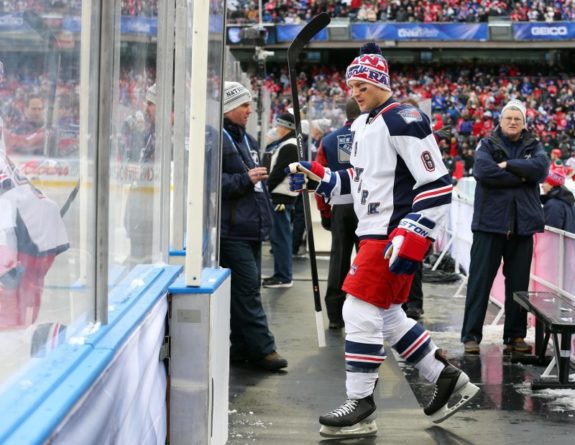 PROTECTED (7 F, 3 D, 1 G): Henrik Lundqvist (NMC), Rick Nash (NMC), Marc Staal (NMC), Dan Girardi (NMC), Derek Stepan, Chris Kreider, Mats Zuccarello, J.T. Miller, Mika Zibanejad, Kevin Hayes, Ryan McDonagh
PREFERRED PICK: Kevin Klein
ALTERNATIVES: Antti Raanta, Nick Holden, Michael Grabner, Brandon Pirri, Jesper Fast, Oscar Lindberg
ANALYSIS: Lots of options here on a team that has been exceeding expectations through the first third of the season. Raanta is likely playing his way into the goaltending conversation for Vegas, but it would be quite the dice roll to go with a Raanta-Pickard type tandem instead of drafting a more proven starter such as Reimer or Howard. Klein is a solid top-four defender, but Holden is giving him a run for his money on Vegas' radar. Grabner and Pirri are scoring more than enough to get noticed too, while Fast and Lindberg are two of the underrated Rangers. Klein is probably still the odds-on favourite to be picked here, but he's not a lock with the others nipping at his heels.
Ottawa Senators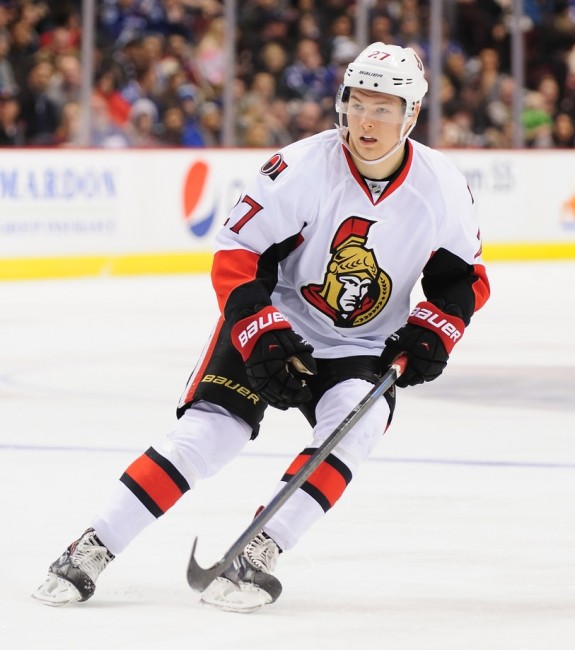 PROTECTED (7 F, 3 D, 1 G): Dion Phaneuf (NMC), Bobby Ryan, Mike Hoffman, Derick Brassard, Mark Stone, Kyle Turris, Jean-Gabriel Pageau, Ryan Dzingel, Erik Karlsson, Cody Ceci, Craig Anderson
PREFERRED PICK: Curtis Lazar
ALTERNATIVES: Clarke MacArthur, Chris Wideman, Marc Methot
ANALYSIS: This could get interesting, with Dzingel's emergence possibly pushing Lazar from the protected list. There will only be one spot between the two of them, and Pageau could be on the bubble too but seems the safest of that bunch. Lazar would be a logical choice for Vegas, considering his upside as a first-round pick from 2013. MacArthur could be a nice fit, joining former junior teammates Ennis and Helm with the Golden Knights, but his concussion history will likely scare off Vegas. Wideman and Methot are decent defencemen but no better than what Vegas is already working with.
Philadelphia Flyers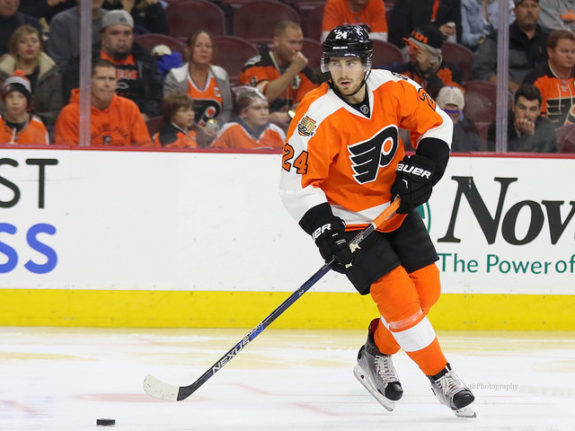 PROTECTED (7 F, 3 D, 1 G): Claude Giroux (NMC), Jakub Voracek, Wayne Simmonds, Brayden Schenn, Sean Couturier, Nick Cousins, Scott Laughton, Shayne Gostisbehere, Radko Gudas, Brandon Manning, Steve Mason
PREFERRED PICK: Matt Read
ALTERNATIVES: Michal Neuvirth, Anthony Stolarz, Michael Raffl, Taylor Leier, Greg Carey, T.J. Brennan
ANALYSIS: Grabbing another goaltender might be an option here, with Neuvirth and Stolarz both warranting consideration. However, if the Golden Knights are already set between the pipes, then the conversation shifts to Read or Raffl. One or both of them could be protected ahead of Laughton and/or Cousins, but Philadelphia might prefer to retain some of its youth and may value those younger centres over more experienced wingers in Read and Raffl. Read has a little better track record than Raffl and seems to generate more offence on his own without being reliant on linemates. Raffl is locked up for an extra year at a cheaper rate, which could come into play with regards to that decision.
Pittsburgh Penguins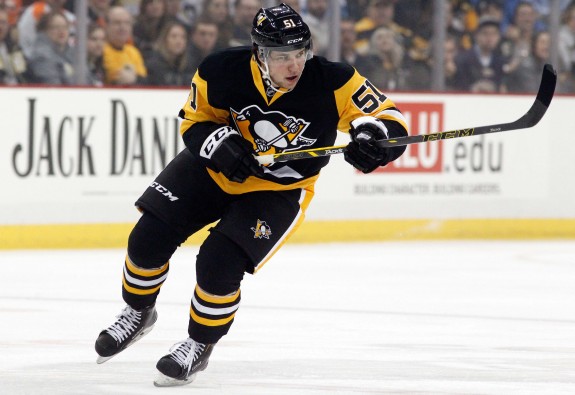 PROTECTED (7 F, 3 D, 1 G): Sidney Crosby (NMC), Evgeni Malkin (NMC), Phil Kessel (NMC), Kris Letang (NMC), Marc-Andre Fleury (NMC), Patric Hornqvist, Carl Hagelin, Bryan Rust, Scott Wilson, Olli Maatta, Justin Schultz
PREFERRED PICK: Derrick Pouliot
ALTERNATIVES: Brian Dumoulin, Eric Fehr, Matt Murray
ANALYSIS: Sorry Vegas, Murray won't be available as an alternative. The Penguins will absolutely find a way to move Fleury in order to protect Murray, and might go as far as buying out Fleury if he refuses to accept a trade. Dallas seems the likeliest landing spot for Fleury at some point, though Calgary could potentially be another fit if the Flames don't plan on extending Johnson or Elliott. Nevertheless, Vegas will probably be picking between a pair of defencemen here in Pouliot or Dumoulin. The latter is more proven, but Pouliot has more upside. Fehr is another Brandon alum who could be a good fit for a checking line. The surprise here is Schultz being protected over Dumoulin or Pouliot, but he's earned it as of late. If Schultz ends up being available, Vegas has probably taken a liking to him as well.
San Jose Sharks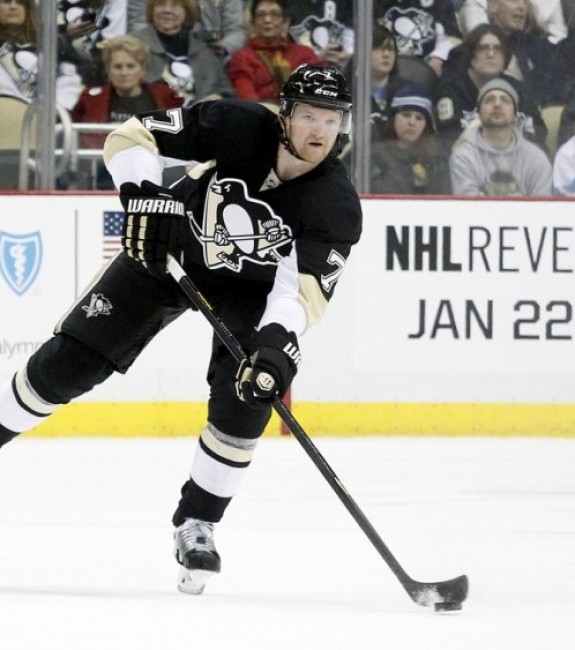 PROTECTED (7 F, 3 D, 1 G): Joe Pavelski, Logan Couture, Tomas Hertl, Chris Tierney, Joel Ward, Mikkel Boedker, Melker Karlsson, Brent Burns, Marc-Edouard Vlasic, Justin Braun, Martin Jones
PREFERRED PICK: Paul Martin
ALTERNATIVES: David Schlemko, Brenden Dillon, Mirco Mueller, Matt Nieto
ANALYSIS: This has defenceman written all over it. It just depends on Vegas' preference between Martin, Schlemko, Dillon and Mueller. A case can be made for each of them, and the Golden Knights are probably watching them all closely, including Mueller in the AHL. Martin is another one of those solid top-four defencemen with plenty of experience. Schlemko and Dillon haven't been able to handle those heavier minutes to date but are younger and could still get to that level, whereas Martin could be dropping off soon. Mueller has the most upside but hasn't been able to stick with the Sharks since surprisingly making the jump from junior as a 19-year-old rookie in 2014-15. He's still only 21, so Vegas may go young in Mueller rather than old in Martin with this pick. Martin is turning 36 in March and will have two years left on his contract.
St. Louis Blues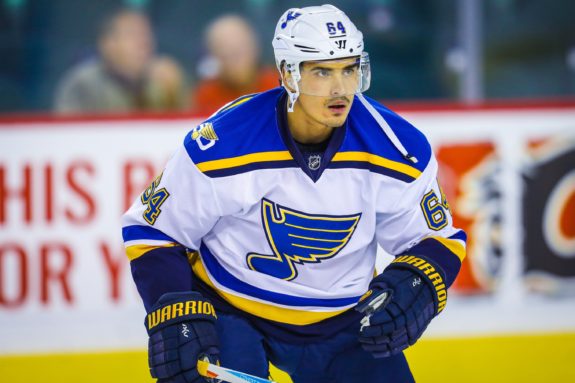 PROTECTED (7 F, 3 D, 1 G): Vladimir Tarasenko, Paul Stastny, Alex Steen, Jaden Schwartz, David Perron, Jori Lehtera, Dmitrij Jaskin, Alex Pietrangelo, Jay Bouwmeester, Joel Edmundson, Jake Allen
PREFERRED PICK: Nail Yakupov
ALTERNATIVES: Ty Rattie, Carl Gunnarsson, Petteri Lindbohm, Magnus Paajarvi
ANALYSIS: The final forward spot here will come down to Jaskin, Rattie and Yakupov. So far, none of them have really stepped up to claim it. All of them have been healthy scratches at times, but Jaskin seems to be gaining the most momentum of the three. Mike Yeo, and not Ken Hitchcock, might get to make the final call on that keeper. If Yakupov is available, and assuming Hitchcock isn't coaching the Golden Knights, then he'd be the guy to go after. Yakupov is an exciting talent and an excitable personality, another guy who could generate some excitement around the team. Even if he sells more jerseys than he scores goals, that might not be such a bad thing. The first overall pick from 2012 may prove to be a bust, but he still has name value — more so than Rattie anyway. Rattie should have upside as a scoring winger, but he hasn't been able to establish himself in St. Louis. The Blues may expose Gunnarsson rather than Edmundson in hopes that the Golden Knights gush over Gunnarsson's availability, but Yakupov is worth taking a chance on and could pay off from a marketing standpoint.
Tampa Bay Lightning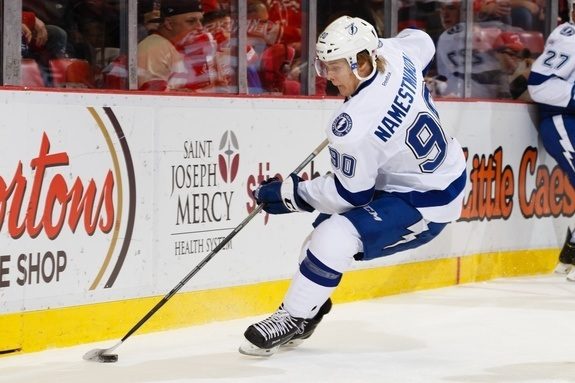 PROTECTED (7 F, 3 D, 1 G): Steven Stamkos (NMC), Victor Hedman (NMC), Ryan Callahan (NMC), Valtteri Filppula (NMC), Nikita Kucherov, Jonathan Drouin, Tyler Johnson, Ondrej Palat, Anton Stralman, Slater Koekkoek, Andrei Vasilevskiy
PREFERRED PICK: Vladislav Namestnikov
ALTERNATIVES: Alex Killorn, Braydon Coburn, Jason Garrison, Nikita Nesterov, Andrej Sustr
ANALYSIS: This is a bit of a strange situation, with the Lightning likely hoping Callahan and/or Filppula will waive their no-move clauses to be traded or exposed. Tampa would probably prefer to protect Killorn and/or Namestnikov. So it is tough to tell who will really be available from Tampa following that "redistribution of players." Most believe Steve Yzerman will find a way to keep Killorn, who signed a lengthy contract extension this past summer. If you scratch him off the list of available players, Namestnikov becomes the best bet, but Vegas shouldn't count on that either. When draft day rolls around, one of those defencemen — Coburn, Garrison, Nesterov or Sustr — could end up being the pick. Just a hunch, but it might be Nesterov if Killorn and Namestnikov aren't available.
Toronto Maple Leafs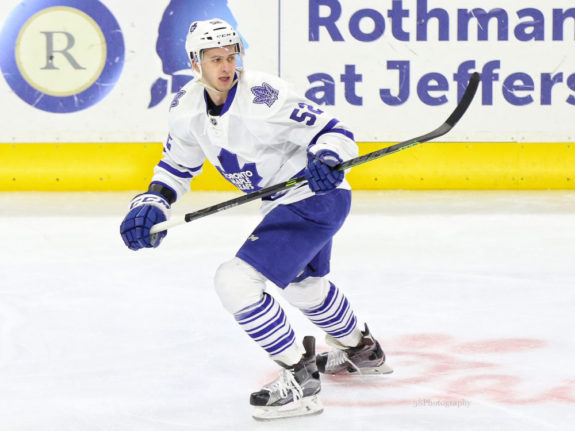 PROTECTED (7 F, 3 D, 1 G): Nazem Kadri, James van Riemsdyk, Tyler Bozak, Leo Komarov, Connor Brown, Brendan Leipsic, Kerby Rychel, Morgan Rielly, Jake Gardiner, Connor Carrick, Frederik Andersen
PREFERRED PICK: Martin Marincin
ALTERNATIVES: Frank Corrado, Josh Leivo, Byron Froese, Matt Martin
ANALYSIS: Not much to choose from here, be it a depth defenceman or a depth forward. The Leafs might protect Martin instead of Rychel, but Vegas would probably jump all over that. The Golden Knights are more likely to pass on Martin than Rychel and the Leafs know that too. So they expose Martin, and Vegas is forced to go in a different direction. There's a slight chance that Marincin or Corrado could overtake Carrick for the final defence spot, but one of those three could be Vegas bound. Leivo or Froese could be too, it just depends on the Golden Knights' positional preference towards the end of their draft.
Vancouver Canucks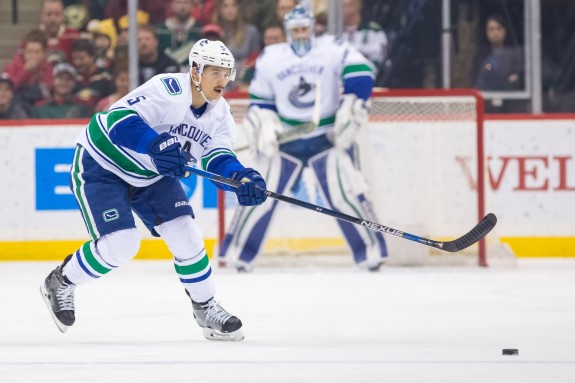 PROTECTED (7 F, 3 D, 1 G): Henrik Sedin (NMC), Daniel Sedin (NMC), Loui Eriksson (NMC), Brandon Sutter, Bo Horvat, Sven Baertschi, Jannik Hansen, Alex Edler, Chris Tanev, Erik Gudbranson, Jacob Markstrom
PREFERRED PICK: Markus Granlund
ALTERNATIVES: Derek Dorsett, Luca Sbisa, Brendan Gaunce, Anton Rodin
ANALYSIS: Vegas decides to unite the Granlund brothers here, hoping their chemistry can help form another scoring line. Dorsett's physicality and energy could be an asset, but he just underwent neck surgery and may have to change his playing style upon returning. Sbisa is a decent but redundant defender, while Gaunce and Rodin will surely be scouted as forward prospects. Rodin, especially, is intriguing and it'll be interesting to see how his knee responds from a lengthy recovery. Rodin could potentially spoil the Granlund reunion if he shines in the second half of the season.
Washington Capitals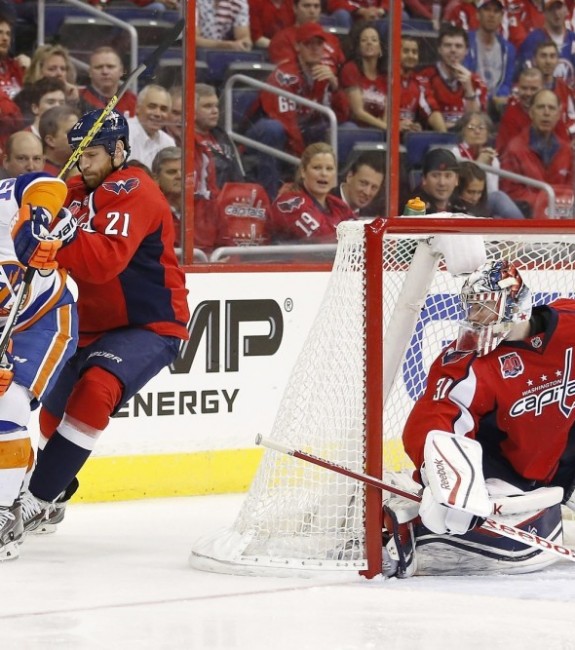 PROTECTED (7 F, 3 D, 1 G): Alex Ovechkin, Nicklas Backstrom, Evgeny Kuznetsov, Marcus Johansson, Andre Burakovsky, Tom Wilson, Lars Eller, John Carlson, Matt Niskanen, Dmitry Orlov, Braden Holtby
PREFERRED PICK: Philipp Grubauer
ALTERNATIVES: Nate Schmidt, Jay Beagle, Brooks Orpik, Brett Connolly, Chandler Stephenson, Aaron Ness
ANALYSIS: This would be a bit of a curveball from both sides. This is the team McPhee knows best, having served as Washington's GM for 17 years (1997-2014). It's widely believed that Vegas is coveting Orlov, but the Capitals could sense that and choose to protect Orlov rather than Orpik and Schmidt. In that case, McPhee might go after their backup goalie who has been quietly pushing Holtby for playing time. Grubauer would be joining a crowded crease with Reimer and Pickard, plus Malcolm Subban waiting in the wings, but Vegas is going to be crowded at every position when this draft is done. Schmidt is showing promise as a defender, though not as much as Orlov, while McPhee might also have a soft spot for Beagle, who has worked his way into an increased role in Washington. Connolly and Stephenson still have some potential too, but Grubauer really is the BPA if Orlov is off limits.
Winnipeg Jets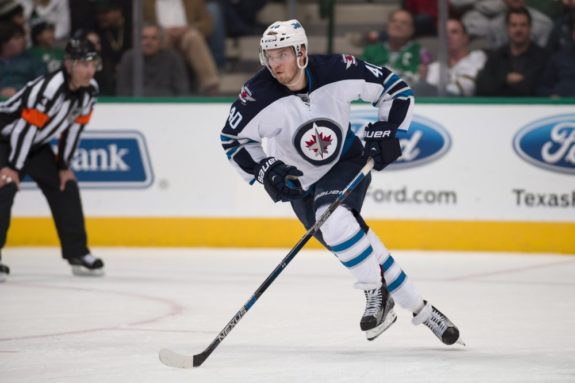 PROTECTED (4 D, 4 F, 1 G): Dustin Byfuglien (NMC), Toby Enstrom (NMC), Tyler Myers, Jacob Trouba, Mark Scheifele, Blake Wheeler, Bryan Little, Mathieu Perreault, Connor Hellebuyck
PREFERRED PICK: Joel Armia
ALTERNATIVES: Adam Lowry, Shawn Matthias, Marko Dano, Andrew Copp, Scott Kosmachuk, Brenden Kichton, Michael Hutchinson
ANALYSIS: Look for Winnipeg to approach Enstrom about waiving his no-movement clause in order to protect three additional forwards — likely Lowry, Armia and Dano. If that happens, and assuming Enstrom is moved as part of that "redistribution of players" rather than being exposed, that would make Vegas' decision more difficult. Matthias would be the safe pick, but there would be more upside with Copp, Kosmachuk or even Kichton. If the Jets do end up protecting four defencemen, including Enstrom, then Armia would be a nice addition for the Golden Knights. As would Lowry or Dano. The Vegas scouts have no doubt been watching that trio closely this season.
---
Here is my depth chart for the Golden Knights, listed from highest to lowest salary by position:
Forwards (16)
Tomas Plekanec ($6 million)
Marian Gaborik ($4.875 million)
Tyler Ennis ($4.6 million)
Craig Smith ($4.25 million)
Benoit Pouliot ($4 million)
Darren Helm ($3.85 million)
Jakob Silfverberg ($3.75 million)
Matt Read ($3.625 million)
Mikael Granlund ($3 million)
Nail Yakupov ($2.5 million)
Vladislav Namestnikov ($1.937 million)
Joakim Nordstrom ($1.275 million)
Joel Armia ($925,000)
Markus Granlund ($900,000)
Curtis Lazar ($894,167)
Micheal Ferland ($825,000)
Salary: $39,987,500
Defencemen (10)
Paul Martin ($4.85 million)
Jack Johnson ($4.357 million)
Dan Hamhuis ($3.75 million)
Kevin Klein ($2.9 million)
Luke Schenn ($1.25 million)
Martin Marincin ($1.25 million)
Jon Merrill ($1.137 million)
Ville Pokka ($925,000)
Derrick Pouliot ($863,333)
Ryan Pulock ($863,333)
Salary: $20,357,976
Goaltenders (4)
James Reimer ($3.4 million)
Calvin Pickard ($1 million)
Malcolm Subban ($863,333)
Philipp Grubauer ($750,000)
Salary: $4,400,000
—
Total Salary: $64,745,476
Projected Cap Space: $8,254,524
---
Lastly, here is my official lineup for the Golden Knights:
Forwards
Craig Smith-Tomas Plekanec-Marian Gaborik
Markus Granlund-Mikael Granlund-Jakob Silfverberg
Benoit Pouliot-Vladislav Namestnikov-Nail Yakupov
Tyler Ennis-Darren Helm-Matt Read
Micheal Ferland-Curtis Lazar-Joel Armia
Joakim Nordstrom
Defencemen
Jack Johnson-Kevin Klein
Paul Martin-Dan Hamhuis
Derrick Pouliot-Luke Schenn
Martin Marincin-Ryan Pulock
Jon Merrill-Ville Pokka
Goaltenders
James Reimer
Calvin Pickard
Philipp Grubauer
Malcolm Subban
---
Closing Thoughts
If that roster came to fruition, Hamhuis could be named captain, with Helm and Gaborik his assistants at home and Plekanec and Johnson the assistants on the road.
That would be one of the better offensive lineups I've seen for Vegas, but it wouldn't leave much cap space for signing free agents. Maybe one impact player, perhaps somebody like Joe Thornton, but that might not even be necessary.
There is also a decent chance that Vegas' first-round pick — guaranteed to be a top-six overall selection — could step right into the NHL to help sell tickets. Regardless, this roster could be competitive but would still be a playoff long-shot.
What do you think? Would you cheer for this team? Could these Golden Knights make some noise? Would they be worth the price of admission? Would that roster be better than a lump of coal for Christmas for McPhee and Co.?
Larry Fisher is a senior writer and head scout for The Hockey Writers, having been an at-large contributor for THW since August 2014. Fisher covers both the NHL and the WHL, specializing in prospects and NHL draft content, including his annual mock drafts that date back to 2012. Fisher has also been a beat writer for the WHL's Kelowna Rockets since 2008, formerly working as a sports reporter/editor for The Daily Courier in Kelowna, British Columbia, Canada from 2008-2019. Follow him on Twitter: @LarryFisher_KDC.