Ron Francis, GM of the Carolina Hurricanes, has youth in the spotlight. The former fan-favorite as a player with the Hartford Whalers, Pittsburgh Penguins, and the Hurricanes, has gotten a serious amount of grace as the team's general manager. Having replaced current Penguins GM Jim Rutherford three years ago, Francis has been granted patience from the fans as he tries to rebuild his struggling franchise. He is doing so with youth.
Francis Goes Young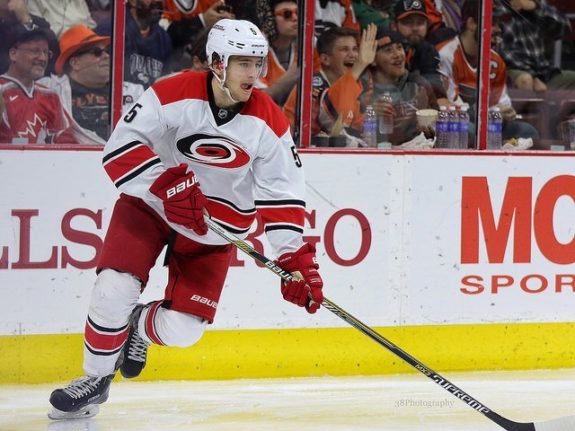 The strategy Francis has employed has largely been one that focuses on bringing young players with great upside potential to the team. Either the youngest or near-youngest team in the NHL for the past couple of seasons, Francis has put the majority of his eggs in the basket of youth. For example, Noah Hanifin was drafted two years ago and immediately made the team, giving the Hurricanes a young player on defense with a huge upside.
While at times Hanifin seemed to be struggling with positioning on the ice, his output went up a bit from last season to this one, from 22 to 29 points. Hanifin enjoyed tremendous favor from the fans and the media during his first season. This season, there was more expected of him, and at times it seemed he was not the defensive prodigy he appeared to be in 2015-16. Hanifin should have a breakout season in 2017-18, silencing critics and figuring significantly in head coach Bill Peters' defensive system.
Last season, Francis brought up Sebastian Aho, another young player who made an indelible impact on the Hurricanes' offense. At the young age of 19, Aho wound up second on the team in goals scored (24) and total points, (49). Aho took a while to get going, not scoring in the first 13 games of the season. But, once he got going, he got going extremely well. He has the footwork, stick work and sense of being where he should be to score that cannot be taught. Absent of some kind of sophomore slump, Aho could realistically score 30-plus goals in 2017-18. He and Hanifin are the best examples of going young that Francis has employed.
More Going Young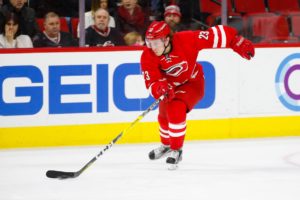 A look at the Hurricanes' roster vividly illustrates how young Francis's team is. Elias Lindholm, 22, struggled at times this season, but has the wholehearted support of Peters. Lindholm seems to be having a hard time finding the "it" that is impacting his game. Like Aho, he has the ability to score. If he can find the "it" and return to form, he will be a considerable offensive threat for the 'Canes.
Brock McGinn is 23. He played in 57 games and slowly began to show that he belongs in the NHL. He's not yet fully cemented his spot in the manner of Aho, but he seems to have good upside and figures to be in the lineup in the fall.
Joakim Nordstrom is 25 and played in all 82 games for the Hurricanes this season. Last season, he, Jordan Staal and Andrej Nestrasil teamed up to become quite a formidable line in the second half. This season, Nordstrom was moved around and, while likely to stay a second or third-line forward for Peters, has not garnered the kind of attention that his teammates like Hanifin and Aho have earned. The former Chicago Blackhawk may or may not be a part of the long-term plans of Francis, but for now, he is part of the youth of his team.
I have written extensively about Victor Rask, 24. He grabbed my attention in 2014 and I have loved his determination ever since. However, this season was tough for the normally steadfast Rask. He did wind up tied for third in overall points on the team at season's end, joining Staal and Lindholm at 45. But, Rask seemed to be struggling in the same way Lindholm was throughout much of the season.
Rask scored more in 2015-16, netting 21 goals. This season, he put in 16. As with Lindholm, a return to form for Rask would make the Hurricanes extremely potent on offense.
At 25, Jeff Skinner may be the wily veteran of these young guns. He led the team in points with 37 goals and 26 assists. When Skinner is hitting on all cylinders, he is as much of a threat to score as anyone in the NHL. As the season progressed, Skinner seemed to dial in even more. He is a player that has proven that, when healthy, he is dangerous and difficult to defend.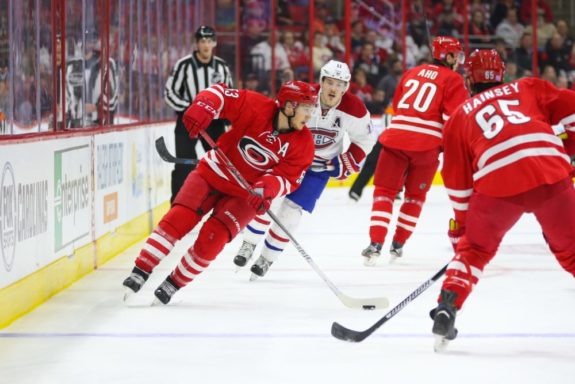 Skinner still looks like he belongs in the conversation regarding "young guns," and it is hard to believe he has already completed seven seasons in the NHL. Francis has a hot commodity in the still-young Skinner, and another 30-plus goal season would greatly enhance the team's playoff chances.
There's More
Teuvo Teravainen, Justin Faulk, Ryan Murphy, Brett Pesce and Jaccob Slavin round out the 25-and-under club for Francis. Out of 22 players currently listed on the Hurricanes' online roster page, 54.5 percent are under 25. The conclusion can be made that the future looks bright for Francis and his young guns. After all, the team has nearly made the playoffs the past two seasons.
What is abundantly clear is that these young guns need some help now if the playoffs are to become a reality for them. Francis has already brought in Scott Darling at goaltender to address the problems he mentioned at that position during his postseason press conference. Most believe that a seasoned scoring forward is a must-have if the team is to be competitive for postseason play. With multiple draft picks in his pocket, Francis is in a position to deal.
For now, Francis has gone with youth, and it is paying off slowly as his Hurricanes mature under Peters. As his young guns like Hanifin and Aho grow more into their potential, this team could have a legitimate shot at making the playoffs in 2017-18.