Boston Bruins fans may see a number of new faces on the roster for the 2017-18 season, in particular among the forwards. Leading the wave of potential new faces up front could be members of the Bruins' 2015 draft class.
The Bruins had three first-round picks in a row after trading Milan Lucic and Dougie Hamilton. On the day of the draft, GM Don Sweeney attempted to trade up, with the hopes of snagging a defenseman, but was unable to get a deal done. As the first round rolled on, things lined up nicely for Sweeney as forwards Kyle Connor and Mathew Barzal remained on the board, but the Bruins went in a different direction.
The forwards Sweeney drafted in 2015 are now in line to start competing for roster spots, and these three forwards might have the best chance to wear the black and gold at the start of next season.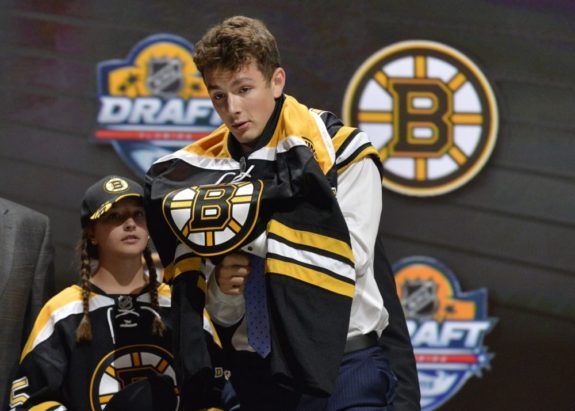 Zach Senyshyn
With the 15th overall pick, the Bruins surprisingly selected Zach Senyshyn, a right wing from the Ontario Hockey League's Sault St. Marie Greyhounds. The pick was met with a lot of criticism because Senyshyn was not expected to be picked so early. Joe McDonald of ESPN reported Sweeney saying, "Zachary, in some people's eyes, might be a bit of a jump. Our guys had really gone to work on this player." It appears the work Sweeney and his staff put in will pay off this season, considering he is now one of the most exciting prospects in the Bruins' system.
In the two seasons since he was drafted, the right winger has posted 87 goals and 130 points over 125 games for the Greyhounds. Senyshyn has good size and excellent speed, which he uses to get the net and score bunches of goals. He is also a smart player, which helps him find open lanes and create offense.
With the Bruins lacking talented right wingers outside of David Pastrnak, Senyshyn could make a real run at a top-six slot on the roster next season. If he can translate his scoring ways to the NHL game, he will be exactly what the doctor ordered for the Bruins. All the pieces seem to be there; now only time will tell if Senyshyn can be an impact player for the Bruins.
Jake DeBrusk
Much like Senyshyn, the selection of Jake DeBrusk with the 14th overall pick came as a surprise, but as time passes, more and more fans are becoming happy with Sweeney's choice. Of the prospects on this list, DeBrusk was the only player to make the jump to professional hockey last season when he joined the Bruins' AHL affiliate club in Providence.
His season started off slow as he attempted to adjust to the professional game. In the middle of December, he hit his stride and rattled off an eight-game point streak, propelling him to finish the final 47 games of the regular season with 37 points. At the conclusion of the season, he had posted 49 points in 74 games, ranking him second on the club.
DeBrusk plays the left wing and is considered to be an intelligent two-way forward who makes good plays both with and without the puck. He has a strong open-ice speed burst that enables him to find lanes and get open consistently. To top it off, he battles for loose pucks and possesses some creativity with a decent shot.
At this point, the Bruins only have two left wingers, Brad Marchand and Frank Vatrano, with secure spots on the roster. DeBrusk will most likely be competing with Matt Beleskey, Tim Schaller and other hopeful prospects for a roster spot. If he can bring the momentum he generated at the end of the AHL season to training camp, he will have a good chance to impress the Bruins' coaching staff.
Jesse Gabrielle
A name most fans may not be familiar with but should remember is left-winger Jesse Gabrielle. Gabrielle was drafted with the 105th overall pick in the fourth round out of the Western Hockey League's Prince George Cougars.
During his time in the WHL, he suited up for 250 games and recorded 209 points. His last two seasons were his most successful, as he racked up 75 goals and 139 points in 133 games. Gabrielle combined an interesting set of skills to achieve his success at the highest level of junior hockey. Overall, he is a tough, scrappy player who forechecks very efficiently, but he also has serviceable hands and good skating ability. Having the ability to make skilled plays and be physical are attributes that translate well to the NHL game.
He has an outside shot at cracking the Bruins' roster next season, but with his recent surge in the WHL, it would not be too surprising if he can. His best chance at making the team is probably to prove he can play fourth-line minutes by showcasing his physical forechecking ability. It also would not hurt if he can provide a few goals as well.
If we want to go further outside of the ballpark, if he is able to spark chemistry with David Krejci, he could end up sliding onto the second line because Krejci tends to have more success with gritty wingers lining up next to him. At the end of the day, Gabrielle is a player to keep an eye on as a potential pleasant surprise.
Anthony Pagliarulo is a Boston Bruins contributor for The Hockey Writers. He is a Massachusetts native and a Worcester State University alumni. You can follow Anthony on Twitter @APags87.