As an organization, the Boston Bruins took a big step forward in 2016-17. The mid-season firing of Claude Julien electrified the team, as they finished 18-8-1 down the stretch. For the first time in three seasons, the team qualified for the playoffs. Once there, an undermanned Bruins squad displayed an admirable amount of character and resilience before being dispatched in six games.
Brandon Carlo and Charlie McAvoy made their debuts for the club and showed the Boston faithful that the future of the blue line is tremendously bright. David Pastrnak had a breakout season, looking like a bona fide star in the making. Meanwhile, Brad Marchand proved that he is already a star, falling one goal shy of 40.
Though there are many positives to glean from the 2016-17 season, there is a $6 million ($6.1 million, technically) shadow hanging over the team. I speak, of course, of the collective shadow of wingers Matt Beleskey and Jimmy Hayes.
Both Hayes and Beleskey fell woefully short of expectations this season. In the process, their underachievement torpedoed Boston's third line. Their inability to get anything going put them in the pressbox for a combined 34 games, and forced Boston into a revolving door of line combinations.
Together, the two registered five goals and 13 points in 107 games. This means that Boston spent over $1 million on the two for every goal scored. That's not money well spent.
Hoping that George McPhee and the Vegas Golden Knights will select either in the upcoming Expansion Draft is an exercise in futility. In fact, it's hard to imagine any of the league's 30 general managers touching either with a ten-foot pole.
While teams might not be lining up to secure either's services, the Bruins do have options.
Jimmy Hayes
Through two seasons, the Dorchester native has failed to live up to Boston's relatively moderate expectations. After registering 19 goals and 35 points with Florida in 2014-15, Hayes's production dropped to 13 goals and 29 points in 2015-16. Though the numbers aren't terrible, consider the fact that Hayes scored 3 points or more in a game on three separate occasions. Remove those contests and what's left is 19 points in 72 games.
Underwhelming? Certainly. But not inexplicable. Hayes was hardly the first player to see his numbers regress in his first year with a new team. Furthermore, it was assumed the pressure was magnified by playing for his hometown team, in front of friends and family. Surely he was due for a bounce back…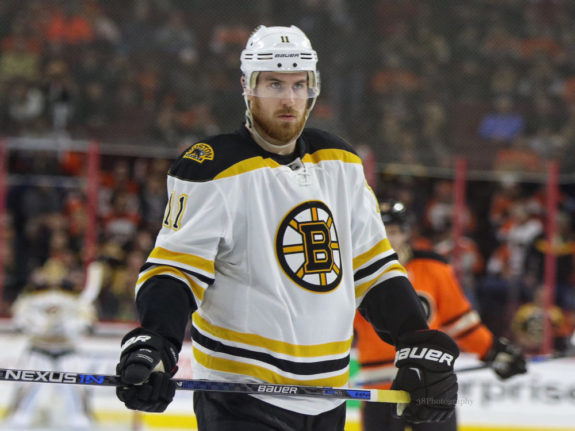 It was not to be. Hayes' second campaign was significantly worse, as he donned the look of a player who'd lost all confidence in himself. With just two goals and five points in 58 contests, it's hard to imagine a worse follow-up campaign. Moreover, despite standing six-foot-six and weighing 220 pounds, Hayes has yet to provide the team with a reliable, physical presence.
In just two shorts seasons, Hayes has gone from a $7 million homecoming to a reclamation project. Signed for one more season with a $2.3 million cap hit, his future with the B's is in jeopardy. With his contract becoming an albatross for his employer, a change must be made.
Buyout or Bury Contract
Buying-out or burying Hayes' contract are the two most likely courses of action. Either way, his time in Boston has drawn to a close.
Were Sweeney and the Boston Brass to decide to pursue a buyout, the team would be responsible for two-thirds of the contract, spread out over two seasons. This means that Hayes would account for $866,667 of cap space each year for the next two years. While it's never ideal to pay someone to go away, the extra $1.4 million in cap space this season would give Boston a bit more breathing room.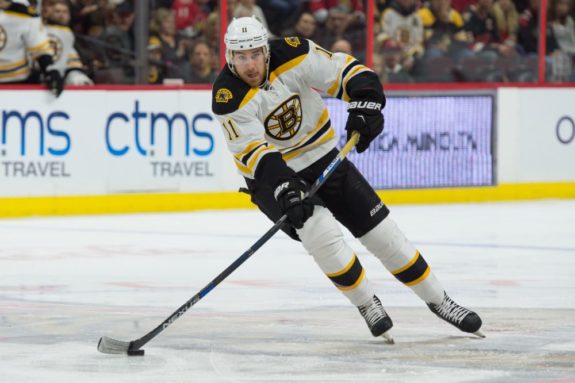 Should the team decide to bury Hayes' contract in the AHL, the process is somewhat different. Hayes' one-way deal means Boston won't be able to fully rid themselves of his cap hit. Cap relief in the case of a buried contract is determined by adding $375,000 onto the NHL minimum-salary for the season in question. With the league's minimum-salary for 2016-17 set at $650,000, Boston would save just over $1 million in cap space ($1,025,000).
A Hayes Trade After All?
Beyond these two options, there's a remote possibility that Hayes could be used as a throw-in on a prospect/pick-laden trade. I know I said that GMs wouldn't touch Hayes with a ten-foot pole, but there are circumstances in which a team would take on his contract for one more season.
After all, teams with ample space could bury his contract themselves. Should Boston revisit chats with the Colorada Avalanche to obtain Gabriel Landeskog, for example, Don Sweeney would attempt to include Hayes as a way to balance out Landeskog's $5.571 million cap hit. Though the deal is unlikely, this is an example of how Boston could at least attempt to fully rid themselves of Hayes' contract.
Matt Beleskey
When Beleskey was signed to a five-year, $19 million contract following the 2014-15 Season, few eyebrows were raised. He was coming off a career-best 22 goals, with another eight goals in 16 playoff games. Beleskey was a large component of Anaheim's run to the Western Conference Finals, and the feeling around the league was that Boston got him at a fair (if not friendly) price.
Though his goal scoring regressed by seven goals, Beleskey's first campaign in Boston established a new career-high in points (37). He provided the team with physicality, infectious energy, and he was consistently difficult to play against. Able to play on either of the team's "Middle Six" lines, Beleskey was a solid (if unspectacular) addition to the team.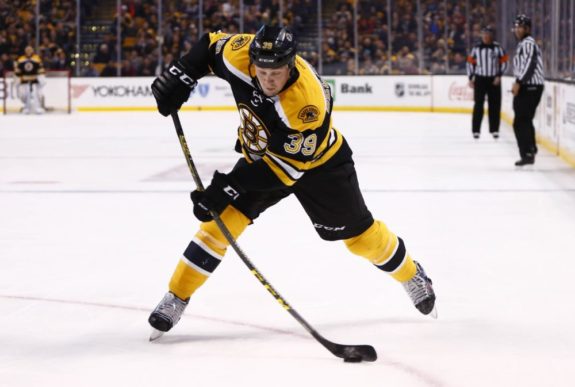 Somewhere, somehow, that version of Beleskey vanished this season. Now, in his defense, missing 23 games in the middle of the season would throw most players out of sync. However, in the 24 games prior to his knee injury, Beleskey recorded just five points (two goals, three assists). He was pointless through his first 12 games.
For the entire season, he seemed to be moving in slow motion, constantly chasing the play. Ten times, a healthy Beleskey watched from the pressbox. In the playoffs, he added three more DNPs to the list while playing less than 10 minutes in the three games he dressed. To his credit, Beleskey owned-up to his shortcomings this season to CSNNE's Joe Haggerty:
[This season] is not who I am. That's not what I signed to do here. You know, this is going to be a big summer for me with sticking around here," Beleskey said at Bruins break-up day last week. "I'm going to train here with all of the facilities and everything available to me. I think this will be a great summer here in Boston, and I'm looking forward to next season.

-Matt Beleskey (Joe Haggerty, Comcast Sports New England) May 4, 2017
Not Much to Do but Hope
Beleskey's situation is more complicated than that of Hayes'. With three years remaining on a contract with a $3.8 million AAV, a buyout is out of the question. Burying his contract would remove less than one-third of his cap hit from the books, so that's out too. With just eight points in 49 contests last season, there isn't a team in the league who would take on his contract.
Basically, Beleskey isn't going anywhere.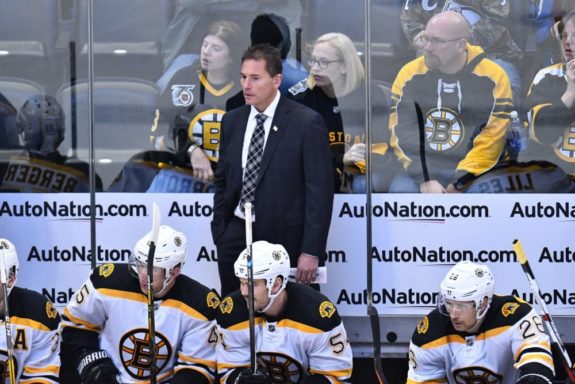 That's not exactly the end of the world, however.
For starters, he is a much better player than he showed last season. A slow start was followed by a knee injury, and he never quite got back up to speed. Things can snowball quickly in sports, even for professionals. A clean slate and a new season could go a long way toward redemption.
Secondly, improved conditioning could hold the key to a return to form:
I'll be perfectly honest, we sat down [and said] we need you to be at this level, conditioning-wise, health-wise, right out of the gate.

I think it will benefit him because when he's able to get there, he's a very effective player. I think obviously certain things limited him this year, so we've got to get him to that particular point.

Bruce Cassidy (Joe Haggerty, Comcast Sports New England) May 4, 2017
A healthy, in-shape, motivated Beleskey would quickly turn him back into an asset for the Black & Gold. While he may never live up to initial expectations or his price tag, that doesn't mean he won't again be a viable, physical, third line forward with a little scoring touch.
Recap
The Bruins are in a less-than-enviable position with these two contracts. After signing David Pastrnak to an extension, cap space will be a little tight. Moreover, David Seidenberg's buyout fee will be doubling this season. Fortunately, the roster will likely be receiving another infusion of young talent on entry-level deals.
While Boston will be forced to wait and hope regarding Beleskey, there are avenues through which the team can jettison Hayes, recoup some flexibility toward the cap, and open up a roster spot for one of their prized forward prospects.
Despite being New England's Son (hailing from the Great State of Connecticut), Joe currently resides in Los Angeles, California. One of his earliest memories is of the Bruins losing in the 1990 Stanley Cup Finals, setting up a lifetime of crushing disappointments. He feels genuine sadness for those without a passion to rival his unwavering love for the greatest game on earth.