Even though training camps open in a few weeks, notable free agents remain without a job. That includes 33-year-old Thomas Vanek, who doesn't have a contract despite posting solid numbers last season.
With the Detroit Red Wings, Vanek posted 38 points in 48 games. After posting numbers like that, there's no reason why Vanek should still remain a free agent.
Vanek's time in the Sunshine State certainly hurt his value. The Florida Panthers acquired Vanek in hopes of a late-season playoff push. Instead, they posted a middling record down the stretch and finished 23rd overall in the league. Vanek wasn't great with the Panthers, posting two goals and 10 points in 20 games.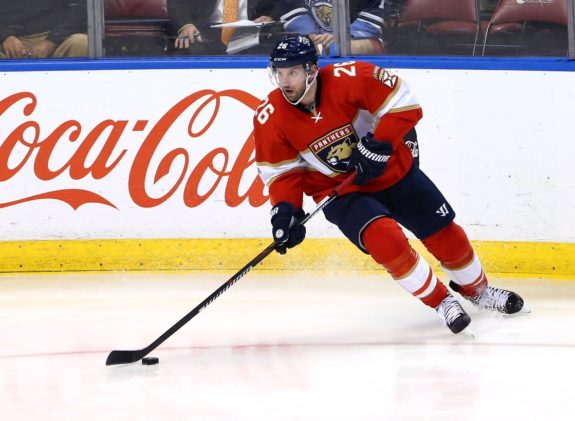 His age, lack of foot speed, and poor play down the stretch have led to Vanek's inclusion among the list of players still looking for work. Vanek's agent Stephen Bartlett has reportedly been talking to a few teams, including the Canucks. Camp competition will already be tough in Vancouver, so should Jim Benning make room for the veteran?
Veteran Lineup With Vanek
Discussion about the Canucks going all-in on a rebuild had fans screaming, "FINALLY." After Benning's shrewd trade-deadline moves and decent drafting, the Canucks have finally stockpiled young players who could contribute to a brighter future.
However, that doesn't mean they will be contributing in Vancouver this season, and that's okay.
With the signings of Sam Gagner, Michael Del Zotto, Alex Burmistrov, and Patrick Wiercioch, the Canucks' young players will be hard-pressed to make the team. The veteran presence of the Sedins, Loui Eriksson, and Brandon Sutter creates a similar issue. The lineup becomes archaic with Vanek in the mix.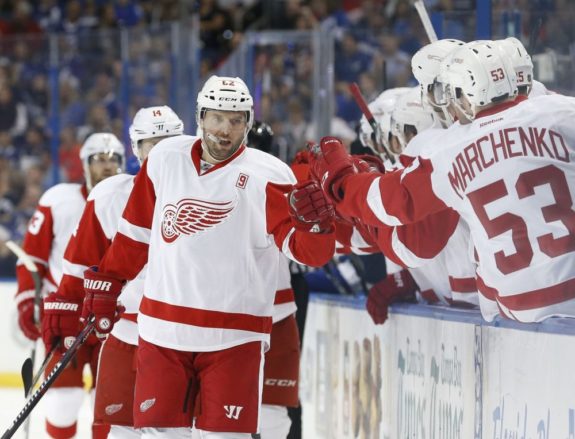 That shouldn't mean much for a Canucks team that's unlikely to make any noise this year. While ownership might want young players up with the big club to help sell tickets, there's nothing wrong with icing a dangerous lineup in Utica to let that group jell together.
If Vanek has a decent season in Vancouver, he could be parlayed for a mid-round pick. Don't expect much more than a third-round pick. That's what the Red Wings got for Vanek at the deadline last season.
Vanek's Contributions
It's no secret that Vanek is not just an offence-first guy, but an offence-only guy.
Before he was traded to the Panthers, Vanek did lead the Red Wings in goals despite missing some time earlier in the season. He was also the team's leader in power-play goals, and he tied for the team lead in power-play points.
Something that would raise eyebrows if Vanek is signed, is that his role sounds eerily similar to one that Gagner was supposed to fill. Gagner was signed as a middle-six contributor who would also garner some power-play time. Even though Gagner had more power-play points last season (eight goals, 18 points), you could argue that he was supported by a better power play. The Columbus Blue Jackets had the league's 12th-best power play while the Red Wings had the league's 27th-best unit. If Vanek becomes a Canuck, one of these players will lose out on power-play time.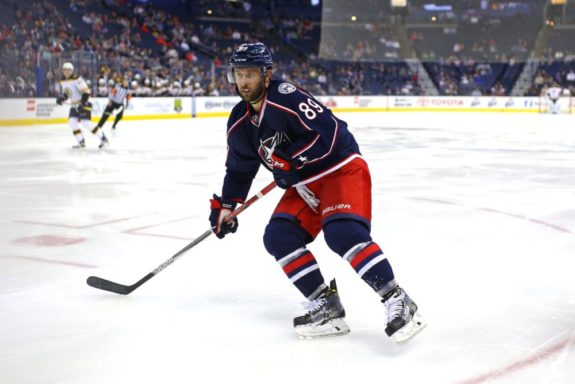 At the time of his trade, Vanek's 3.25 points per 60 minutes in all situations was almost a full point ahead of his next closest teammate, Henrik Zetterberg. While Vanek led this team offensively, his possession numbers were middling. His Corsi in close situations was 47.68 percent, good enough for 12th on the team. With the Panthers, Vanek's Corsi was second-worst on the team at 43.56 percent, trailing only Nick Bjugstad. Vanek's HERO chart paints a similar picture of his possession numbers.
Last season, Willie Desjardins had the Canucks try to grind out wins due to a lack of talent on their roster. Signing a player like Vanek goes against that logic, but it would make the Canucks more enjoyable to watch.
Where Does Vanek Fit?
Adding Vanek does throw a significant wrench into the forward outlook. If the Canucks use Vanek in an offensive role and give him some power-play time, he should find success. He's another right-handed shot, which would effectively end Sutter's dismal reign on the power play.
Someone will lose his spot in the Canucks' lineup if Vanek signs. There isn't a clear spot for Vanek in the top-six, even if Markus Granlund is unable to start the season after undergoing wrist surgery.
Step 1) Canucks sign Vanek to cheapish deal
Step 2) Vanek outscores Loui Eriksson
Step 3) Sit back and watch the Twitter fun

— Wyatt Arndt (@TheStanchion) August 30, 2017
Slotting Vanek into the lineup means that the two most likely players to move down to the fourth-line would be either Gagner or Sutter. Other options could be Granlund, although that would be a surprise after last year. There is also the slim chance that Brock Boeser doesn't make this team out of camp.
I did make roster predictions for the Canucks earlier in the summer, and here's my version below with Vanek included:
Sven Baertschi – Bo Horvat – Brock Boeser
Daniel Sedin – Henrik Sedin – Markus Granlund
Loui Eriksson – Alex Burmistrov – Thomas Vanek
Brendan Gaunce – Brandon Sutter – Sam Gagner
It's not the perfect lineup by any means, but you can't expect to strike perfection with this roster. I bumped down Sutter and Gagner with the addition of Vanek, giving the Canucks a fourth-line unit that's stronger than last year's. Since Burmistrov has more offensive upside than Sutter, he gets a look with Eriksson and Vanek.
If Granlund can't start the season, the Canucks could try Nikolay Goldobin beside the Sedins. Goldobin could easily start the season in Utica if Vanek signs in Vancouver. The same goes for Reid Boucher. Utica would definitely get a scoring boost, and that's still a win for the organization. Vanek could give the team a veteran presence to aid the young players currently in Vancouver. It would also benefit this organization to have a group of young players growing together in the AHL.