If you saw the 1-3-0 start to the season for the Edmonton Oilers, you'd think you were looking back to their decade of darkness. No, that's the start the Oilers are off to in 2017-18. Edmonton's been slow out of the gate this season despite being picked to win the Stanley Cup by multiple Las Vegas gambling lines. Games aren't won in October though, and it's no time to panic for the Oilers and their faithful just yet.
In an attempt to spark their lineup, and give the other guy some rest, Edmonton announced backup Laurent Brossoit would get the start versus the Carolina Hurricanes. It's Brossoit's first start of the season despite already relieving Cam Talbot twice. Talbot had an incredible Team MVP-worthy season in 2016-17 playing 73 games and setting the franchise record for wins with 42. Yes, that's more wins than Grant Fuhr ever had in a single-season with the Oilers.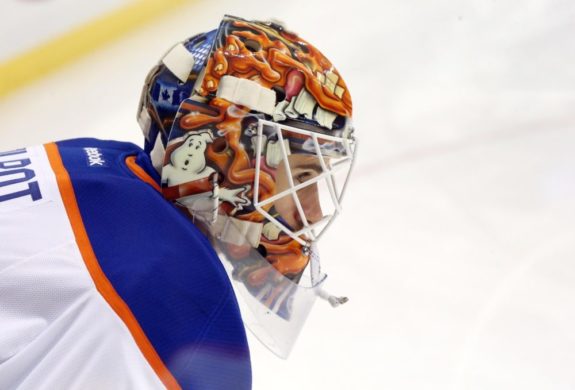 However, Talbot's had some early struggles and is 1-3-0 to start the year accompanied by a 3.96 goals-against average (GAA) and a .880 save percentage (SV%). Talbot's allowed three or more goals in three of the four games he's played in so far. He's also been pulled twice in those games. Brossoit hasn't looked bad in relief, something that was a concern for the Oilers. He's provided competent netminding from their backup meaning Edmonton can allow Talbot some more rest in 2017-18.
Numerous NHL No. 1 Goalies Having Slow Starts
Talbot's not the only starter to have a slow start to 2017-18. Carey Price, a perennial Vezina Trophy candidate and former Hart Trophy winner, is having the worst start of his career. Price, 30, is 1-3-1 with a 3.45 GAA and a .885 SV%. He's been yanked once and has allowed three or more goals in three games, similar to Talbot. In Price's worst game of the year so far he allowed four goals on 14 shots against the Washington Capitals, all in the first period.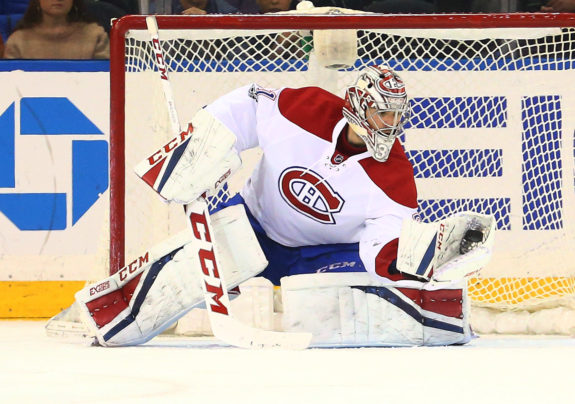 Frederik Andersen might be enjoying a 4-1-0 record right now, but he's far from the reason the Toronto Maple Leafs are succeeding. The Leafs have been this good despite their goaltending. Andersen has a 3.76 GAA and a .880 SV%. He's allowed three or more goals in four of his games, in fact, he's allowed five or more goals in two games.
Add Boston Bruins' starter Tuukka Rask to that list. He's allowed three or more goals in three straight games before his last start. The list goes on and even includes a goalie that won a Stanley Cup last year named Matt Murray.
OTHER NHL STARTING GOALIES STRUGGLING IN 2017-18

PLAYER
NHL TEAM
GP
W-L-T
GAA
SV%

Steve Mason

Winnipeg Jets

2

0-2-0

6.56

.831

Frederik Andersen

Toronto Maple Leafs

5

4-1-0

3.76

.880

Martin Jones

San Jose Sharks

3

1-2-0

3.92

.881

Tuukka Rask

Boston Bruins

4

1-3-0

3.30

.882

Brian Elliott

Philadelphia Flyers

4

3-1-0

3.25

.884

Carey Price

Montreal Canadiens

5

1-3-1

3.45

.884

Scott Darling*

Carolina Hurricanes

3

1-1-1

2.58

.893

Devan Dubnyk

Minnesota Wild

3

1-1-1

3.70

.894

Petr Mrazek

Detroit Red Wings

2

1-1-0

3.08

.898

Matt Murray

Pittsburgh Penguins

5

3-0-1

3.29

.899
*NOTE: Darling wasn't a starting goalie in 2016-17.
The point is there isn't a time to panic, and there's plenty of starters around the league that are off to a slow start. If we're expecting the likes of Price, Andersen, and Rask to bounce back, we can expect the same from another elite goaltender in Talbot.
Talbot's Slow Start Is Normal
Talbot's always generally taken a little while to find his groove. If you remember back to his stellar year in 2016-17, it didn't get off to a dazzling start. Edmonton's starter allowed 13 goals in his first three starts for a 4.33 GAA. Talbot stabilized and went on to have a sparkling 2.39 GAA and a .919 SV%. Both those numbers ended up being amongst the league's best.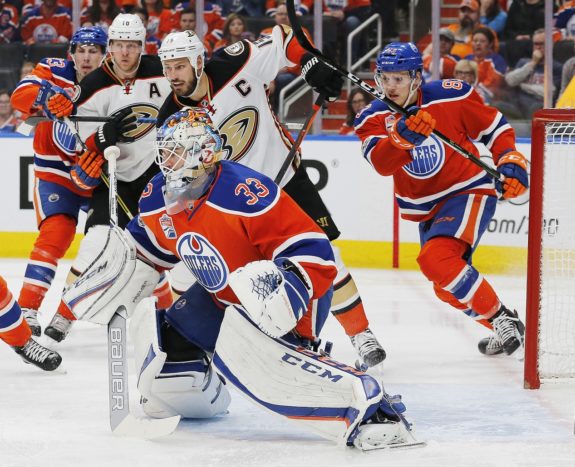 If you look at his start in 2014-15 when he was with the New York Rangers, Talbot started the season as the number one. Henrik Lundqvist was injured, and the net defaulted to Talbot. He was abysmal in his first three starts allowing 12 goals and having a .864 SV%. The only reason those numbers below look any good is because he followed those up with back-to-back shutouts against the Philadelphia Flyers.
CAM TALBOT: HISTORY OF FIRST FIVE GAMES

SEASON
GP
W-L-T
GAA
SV%

2016-17

5

4-1-0

3.20

.905

2015-16

5

2-3-0

2.20

.920

2014-15

5

2-2-1

2.40

.917

2013-14

5

4-1-0

1.60

.943
The point is, there's no need to panic with Talbot's slow start. He's characteristically had slow starts in October, but that's not unusual for an NHL goaltender. The Oilers, however, don't need to play him all 82 games, or even 73 games either. Laurent Brossoit has looked good in the early going, and his overall stock status has risen over the past few seasons. At the very least, Brossoit has proven he can provide some relief for the Oilers to rest Talbot.
Brossoit was stellar once he came in last year despite sometimes going a month between starts. In eight games he had a 1.99 GAA and a .928 SV%. In the two games he's come into this year, he's stopped 25 of 27 shots. He's shown stability, and that's all Edmonton needs in net. Give Talbot some time, and he'll work his way back into being a stabilizing force. The real issue with the Oilers is their lack of defensive support from their entire roster in their zone.
Edmonton's been allowing the opposition more clean shots and has been around the league average this year for shots against. Last year the Oilers were in the top ten of the league in the least amount of shots allowed. Talbot hasn't been great, but it's not all his fault, the team around him needs to be better.
Edmonton Oilers regular contributor providing insight on all things Oilers including club history, prospect profiles, trade breakdowns, and everything else in between. Check back regularly for new and exciting content. Follow on Twitter @SanderTHW.