What a difference one week makes.
From outplaying and beating the defending Western Conference Champs to dropping both ends of a back-to-back versus last season's cellar-dwelling Avalanche, the Boston Bruins have taken their fans on a roller coaster of early season emotions.
Charlie McAvoy, Jake DeBrusk, and Anders Bjork have gone from the toast of the town to looking like…rookies. David Krejci saw his opening night eruption devolve into consecutive contests of floundering versus Colorado's top six. Tuukka Rask's uneven play has once again brought questions regarding his status and value to the surface.
And Boston's blue line? Some troubling gaps and lapses in coverage.
Predictably, many around New England are throwing their hands up in consternation or taking to Twitter to vent their frustration. With 79 games remaining on the docket, hitting the panic button just yet would be an overreaction befitting Bruins fans. But while the past two contests are hardly panic-worthy, they have undoubtedly raised a few questions and concerns.
Having said that, let's play fact or fiction with some early season narratives.
Patrice Bergeron Will Right the Ship
There isn't a single team in the NHL who would be better off without their best center, and the Boston Bruins are no different. As one of the best two-way players (let alone forwards) in the league, Patrice Bergeron's absence has undoubtedly played a large role in the team's struggles.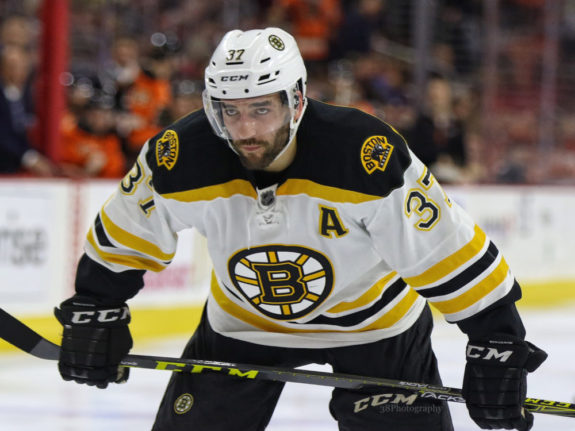 We see it at five-on-five, where David Krejci, Ryan Spooner, and Riley Nash have been called upon to play above their heads in situations for which they're ill-suited. We see it on the power play, with the team connecting on just two of their 13 opportunities. That 15% success rate is even flattering considering the lack of flow and consistency they've displayed with the man advantage. Moreover, they've already conceded a shorthanded tally, halving the unit's effectiveness and cumulative plus/minus.
Boston's hearty bottom six has done an admirable job filling in on the penalty kill in Bergeron's absence. However, Colorado's one goal in five chances Wednesday night does not paint an accurate picture of how well they moved the puck with the man advantage, frequently catching Bruins defenders out of position or chasing the play.
And once again, David Krejci has a revolving door on his wings as Bruce Cassidy tinkers to find something, ANYTHING resembling consistency in the wake of Bergeron's absence.
Verdict: Fiction
Bergeron's return can only make the Bruins better, that much is blatantly obvious. But Boston's issues as of late extend well beyond his absence.
Getting '37' back will aid in slotting players back into their more appropriate groupings and matchups. It will be a boon to Boston's special teams and will give the club its superstar-nullifier; something they've clearly lacked while Matt Duchene and Nathan Mackinnon ran roughshod in consecutive contests.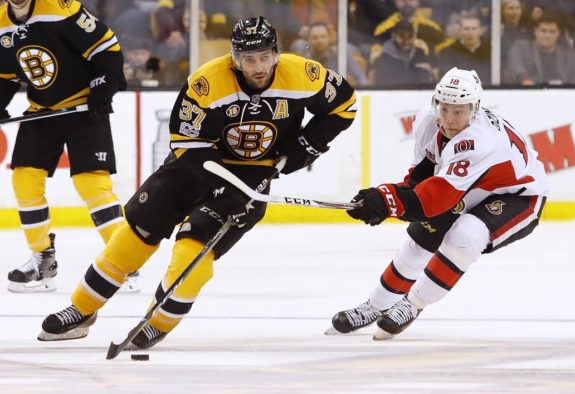 But it's important to remember that Bergeron's average ice-time sits around 19 minutes per game. That's only one-third of each contest. He'll likely win the vast majority of his shifts, but that still leaves 40 minutes of hockey wherein even the mighty Saint Patrice can't help.
Moreover, after missing last season's first three contests to injury he managed just three goals and six points in his first 20 games upon return. Expecting an immediate return to excellence this season in the wake of a vague and cryptic injury is probably foolhardy.
He'll make the team better, but even Patrice Bergeron can't do everything.
Rask Giving Cause for Concern?
Tuukka Rask is quite possibly the most polarizing athlete in Boston. Perhaps even more so than David Price. Ever since Boston's championship window closed following the 2013-14 season, his talent level, price tag, focus and even commitment (please) have regularly been called into question by fans and media alike.
A few things are undeniable: He's supremely talented. He's won a Vezina Trophy. Had Boston defeated Chicago in the 2013 Cup Final he was UNDOUBTEDLY the presumptive Conn Smythe winner – his 1.88 goals-against-average and .940 save percentage were otherworldly. The blue line in front of him endured significant departures from 2014-2016, and his numbers declined sharply with them.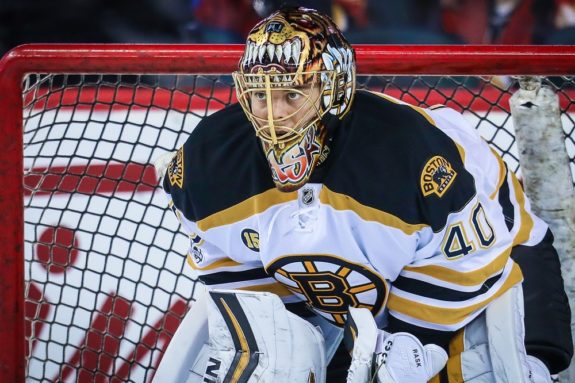 And, through three games this season, his play has left something to be desired.
So, once again we tread that familiar ground – is Tuukka Rask elite? Is he overrated and overpaid?
Where your team's goaltender stands in the league's pecking order, or on some arbitrary list is irrelevant. All that matters is whether or not your goaltender is a strength or a weakness compared to the rest of the team.
Going beyond the box score and the basic end of year GAA and SV% numbers is an absolute must when adjudicating a goaltender's worth. What kinds of goals are they giving up? Where are the shots coming from? How many saves did the goaltender make in one sequence before finally letting one in?
Rask gave up four goals and was pulled from Wednesday's affair, sure. But take a look once again at the goals he conceded: A deflection through traffic. A rocket of a one-timer on a two-on-one following a bad pinch from Torey Krug. A top-shelf finish from eight feet out, courtesy of a coverage breakdown while shorthanded. Finally, a laser from below the dot following a turnover.
Verdict: Fiction
Rask has not been at his best to this point. He has yet to steal a contest for the Black and Gold. But a better question than "Why hasn't he stolen a contest yet?" would be "Why has he needed to in consecutive games against last season's cellar-dwelling Avalanche?"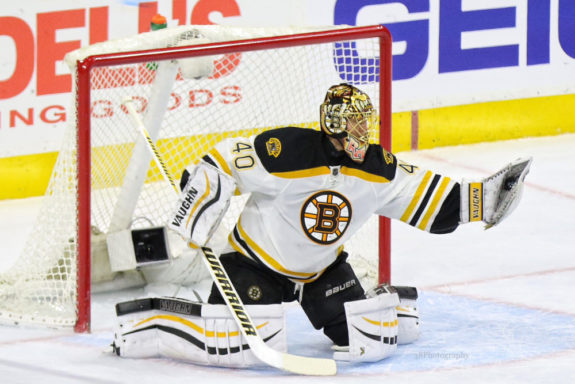 Would you criticize a quarterback for failing to compensate for his defense giving up 30 points per game? Would he deserve criticism for interceptions and incompletions when his offensive line is letting someone into the backfield every snap? Does that quarterback deserve to be held accountable when his receivers are dropping catchable balls?
Rask spent the first 50 minutes of the season opener playing lights-out hockey. One bad turnover and two multi-man advantages late were the only reasons Nashville was able to get the puck past him. After conceding two goals (of which he probably should have stopped one) Monday, he singlehandedly kept his lifeless team in the game, making several excellent saves in the second frame. As mentioned above, all four of Colorado's goals Wednesday were certifiable Grade-A chances.
Had he made two extra saves Monday and two more Wednesday before being pulled his team STILL would have been losing both contests.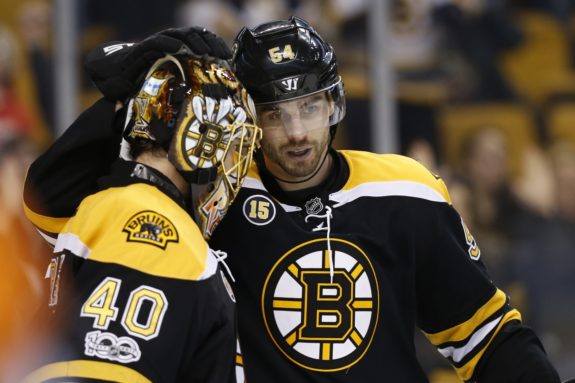 Has he been excellent? No. Has he been better than average? No. Has his team put him in a position where anything shy of perfect would fail to secure a win? Absolutely.
Playing a specialized position, be it goaltender, quarterback, pitcher, etc, brings the spotlight with it, so I understand why we must continuously walk this road regarding Rask's play. But with defensive breakdowns left and right and one goal of support through five periods I don't see how one can bring Rask's aptitude into question at this point.
It's Just Three Games…Relax!
"It's so early in the season…"
(How early is it?)
"It's so early in the season that Alex Ovechkin is on pace for 164 goals and the Golden Knights are on pace to win all of their 82 games."
As Johnny Carson would suggest, this NHL season is very young. Anyone calling for firings, trades, or Stanley Cup tickets deserves to lose their internet connection and possibly running water.
The mantra of "Relax" or "Don't panic" surrounds all teams who have stumbled out of the gate, and rightfully so. In Boston's case, they're missing a world-class center, a steady middle-six veteran forward, and a useful, penalty-killing fourth-line forward. Torey Krug has played less than three games in the last six months and is playing with a broken jaw. Three rookies are playing prominent roles while learning the ropes, et cetera, et cetera.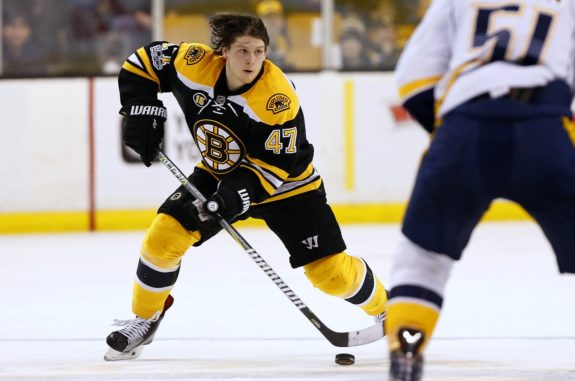 However, the fact that it's not yet time to burn down the house and head for Mexico doesn't mean there aren't pertinent questions worth asking, or storylines worth monitoring.
Verdict: Fact…with a dash of Fiction
There are plenty of legitimate excuses for losing two games in a row, even to the same mediocre team. What I cannot account for is this – how can a team that supposedly has an inordinate amount of players battling for several roster spots not only come out flat for the season's second game but somehow start even slower and play even worse during the rematch?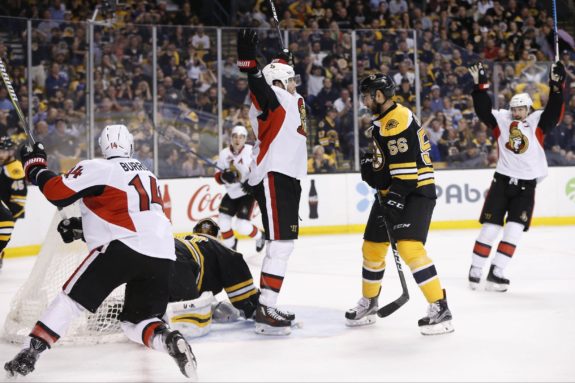 After being humbled 4-0 at home, one would expect the Bruins to show up to Denver with something to prove. Instead, they were outshot 26-10 through two frames. That dog won't hunt.
That's not about talent, or aptitude, or injuries…the Bruins weren't playing the Red Army in Moscow. To me, that looks like a lack of passion and drive.
Case in point: Look at the two goals Boston scored halfway through the third period. Where were they scored from? Literally from inside the crease. Because, when desperation finally set in, the team started getting gritty and playing with passion, and, in a 90-second span, they trimmed the deficit from three to one.
The Bruins began the season with 50 minutes of tremendous hockey. They followed with 120 minutes of play vacillating between ineffective and disinterested before closing out their back-to-back with ten minutes of purposeful, impassioned hockey.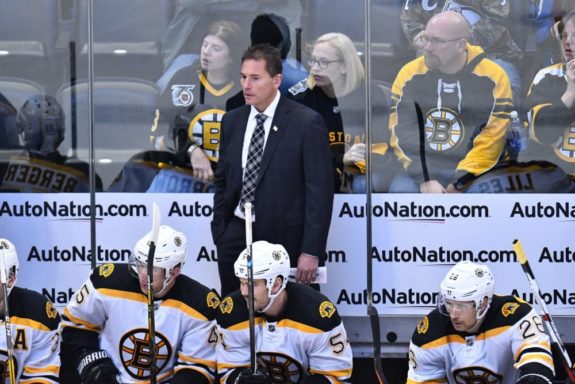 I'm not concerned they lost two in a row, and I'm not even concerned they lost two in a row to Colorado. I'm concerned that they came out flat, lost to Colorado and then came out flat again against the same Colorado team that just embarrassed them at home. That's far more concerning to me than two losses in three games.
Time and a return to health will help to get this team heading back in the right direction. But if Patrice Bergeron and Tuukka Rask need to be messiahs while their teammates require humbling losses and boots in their rears in order to play with purpose and passion then "It's Early, relax" will quickly give way to much less measured and "chill" reactions.
The winless Arizona Coyotes are up next. What say you, Boston Bruins?
Despite being New England's Son (hailing from the Great State of Connecticut), Joe currently resides in Los Angeles, California. One of his earliest memories is of the Bruins losing in the 1990 Stanley Cup Finals, setting up a lifetime of crushing disappointments. He feels genuine sadness for those without a passion to rival his unwavering love for the greatest game on earth.