The last time the Boston Bruins defeated the Avalanche within Boston city limits Charlie McAvoy was three months old. Think about that.
Colorado's baffling mastery over the Bruins in their own barn continued Monday afternoon with a 4-0 win. Despite dominating possession for large swaths of time and outshooting their opponents, Boston was ultimately doomed by a near total lack of flow and finish. Moreover, an uneven start and one bad read in the third period from Tuukka Rask sandwiched his solid second frame, giving Colorado more than enough goals to walk out of Boston with another 'W'.
On Thursday night against the Nashville Predators, the Bruins appeared to have 19 drivers. Monday afternoon against the Avs, they appeared to have 19 passengers.
In all, Boston's performance was reminiscent of those last season under Claude Julien — they owned every statistical advantage except for the one that counts. A six-game stretch of winnable contests at the start of the 2016-17 season got off to a rocky start.
Lack of Flow
It wasn't so much that the Bruins failed to generate any scoring opportunities, but rather they were too few and far between. Boston's passing, both in transition and in the offensive zone, lacked any kind of crispness or decisiveness. Colorado did an excellent job of keeping Boston's attack on the perimeter for the majority of the contest, and a Bruins lineup filled with youth and inexperience couldn't quite break through to the middle of the ice.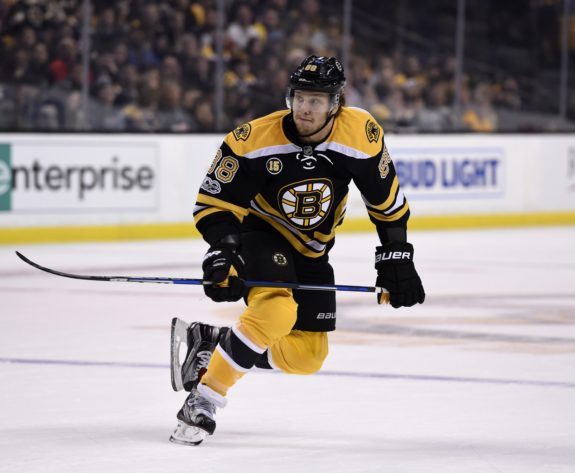 The lack of flow was most evident with the man-advantage, as the B's put up a goose egg over four opportunities. Again, it's not that Boston failed to generate ANY chances (both Riley Nash and Anders Bjork got great looks) but rather those chances came amidst a sea of predictability, lack of decisiveness and severely limited zone time. Not once did Boston's power play keep Colorado's penalty killers hemmed in their own zone, capitalizing on fatigued defenders. At best, one-and-done was the story of the Boston power play.
This was in stark contrast to Colorado's lone power play opportunity, in which Colorado kept the puck in Boston's zone for the entire two minutes, generating several quality chances.
Boston had their legs and the requisite energy to win. They battled hard in the corners and were heavy on pucks. However, their inability to string together anything resembling precision kept the goals at bay.
Related: Curtain Rises on the Bruins 2017-18 Season
Getting Their Groove Back
Patrice Bergeron's absence was barely noticeable in the contest versus Nashville, as Boston was able to get the puck to the net with authority, due in large part to David Krejci's Bergeron-esque performance. Versus Colorado it was clear for all to see how significantly he is missed.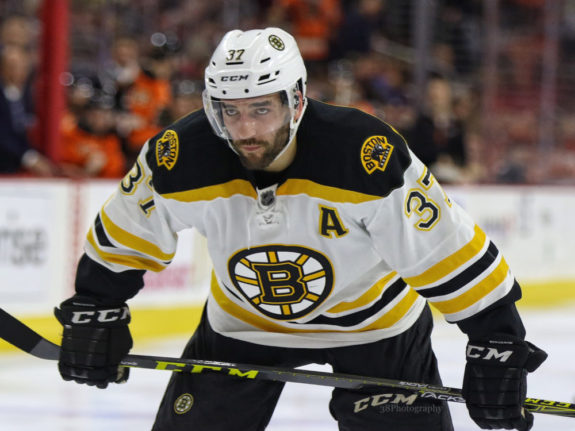 With Bergeron out, neither Brad Marchand nor Anders Bjork were able to generate much of anything — Marchand finished with just one shot on goal. This led to a seemingly never-ending string of tweaks and adjustments to the lineup from Bruce Cassidy, desperate for a spark.
Both Torey Krug and Austin Czarnik returned to Boston's lineup, but displayed the rust one would expect. In just his second game in nearly six months, Krug was not the transition and power play dynamo the team sorely needed. Czarnik, having had his successful preseason cut short due to illness, lacked the explosiveness he'd displayed throughout the preseason.
Getting Bergeron back as quickly as Wednesday  would be a major stabilizing force to Boston's lineup. One would hope that the reps received by Krug in Monday's loss can scrape off some rust and get the power play back on track.
Lack of Finish
When the Bruins WERE able to get the puck into danger areas and on net they were met by a Russian wall. Semyon Varlamov brought his A-game with him, turning aside all 29 shots he faced.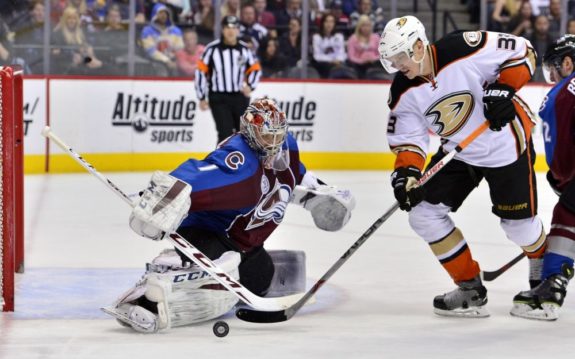 His post-to-post, sprawling pad save on David Pastrnak nullified Boston's best chance of the night, stuffing the Czech winger on the goal line. If that puck goes two inches deeper it's a 2-1 contest, and who knows where the game goes from there.
That was unfortunately the extent of Boston's 'Grade A' chances, and a microcosm of the game itself — JUST not quite good enough.
Adding the Finishing Touch
With little flow to speak of and a red-hot goaltender in net, Boston needed to make life more difficult for Varlamov. When a team is being largely kept to the perimeter an increased premium is placed on taking away the goaltender's eyes. Driving to the net and creating traffic in front can turn a lifeless shot into a seeing-eye goal or a glorious second chance opportunity.
This is an area in which another shelved Bruins player, David Backes, was sorely missed. Though the veteran's personal stats took a dip during his first season in Boston his net-front presence played big role in Brad Marchand's statistical surge.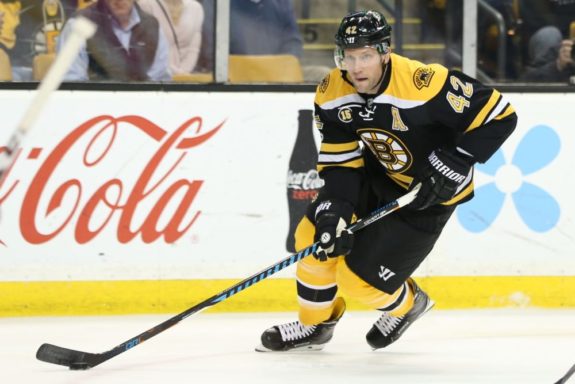 Creating havoc at the top of the crease is what he does best. But with Backes set to miss roughly one month of action the onus will fall on Jake DeBrusk, Matt Beleskey and anyone else with the gumption and the notion to get dirty.
Related: Does Backes Have More to Offer the Bruins?
Lack of Finnish
By no means was Tuukka Rask the biggest reason Boston came up short Monday afternoon. He probably wasn't the second or third biggest reason either. But with his team failing to get much of anything started in the first period his team could have used one (if not two) more saves. Colorado's first shot of the contest glanced off Rask's glove and into the net. Nine minutes later J.T. Compher beat Rask shorthanded on a shot the veteran netminder wanted back:
We didn't give them much, but it seemed like they had a lot of quality opportunities when they had them. The second one was more of a my-bad. I wasn't squared to the puck.

-Tuuka Rask (Bill Doyle, Worcester Telegram) October 9, 2017
The two goals put Boston in a hole from which they couldn't escape. But in a game such as this Rask would have had to have been as good as….well, the other guy in net.
In the second period he was just that, keeping the Bruins alive with several big saves while his teammates couldn't muster much of anything at the opposite end of the ice.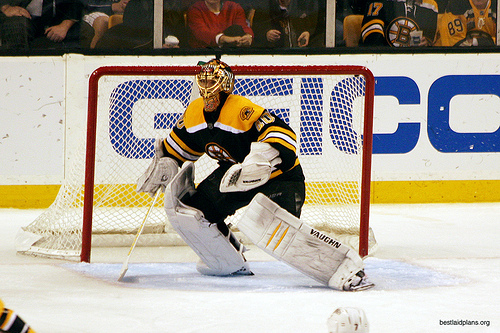 Colorado's third tally, however, was a back-breaker. Rask grossly misjudged the distance he needed to cover to beat a streaking Nail Yakupov to a loose puck. Yakupov easily deposited the puck into the Boston net, ending any chance of a comeback given the listless performance from Rask's teammates.
He made a mistake. A big one. Had his teammates played with more urgency and precision (and had the opposing goalie not been SO good) it would have been only a mistake and not the final nail in the coffin.
Getting Back on Track
Rask was far from sharp on Monday, but the same can be said for everyone wearing Black and Gold. He made one big mistake and probably should have stopped one of Colorado's two first period tallies, but this was a game in which he needed to be perfect, and nothing short, just to salvage one point, let alone two.
There's really nothing to see here in terms of what "needs to be done." Anyone sounding the alarms because the Bruins allowed three goals (empty net goal aside) and lost a game should probably find a more relaxing way to spend their time. Maybe reading books about old wooden ships…
After the kids kicked Nashville's doors down in the opener it's possible we all got a little ahead of ourselves. Monday the trio were a combined minus-8 and recorded just five shots on goal and played… well, like rookies. When you hear the experts and prognosticators talk about the bumps in the road for all rookies this game was exactly what they're referring to. What matters isn't that these games don't occur, but that the kids (and their veteran counterparts) regroup for the following tilt.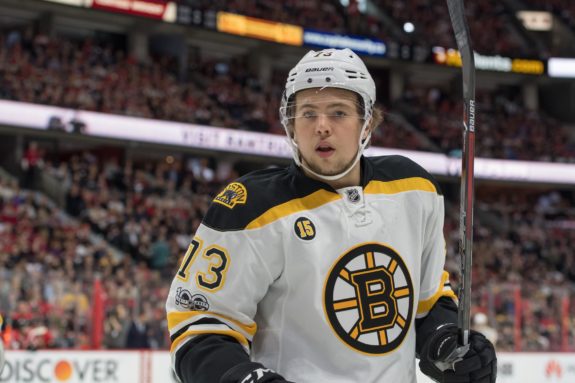 That next contest will be against the same Avalanche team that just left Boston with yet another win. What a perfect opportunity for redemption.
The young season has already ushered in highs and lows for this Bruins squad. With the emotions and success having already run the full spectrum the team can now reset. They can get back to the basics and play with urgency to their game. The urgency that existed Thursday night and was not-so-coincidentally missing on Monday.
Every game is its own season. And a fresh start awaits them Wednesday in Denver.
Despite being New England's Son (hailing from the Great State of Connecticut), Joe currently resides in Los Angeles, California. One of his earliest memories is of the Bruins losing in the 1990 Stanley Cup Finals, setting up a lifetime of crushing disappointments. He feels genuine sadness for those without a passion to rival his unwavering love for the greatest game on earth.