The brunt of the accolades following Boston's season-opening 4-3 win has been bestowed upon Boston's trio of rookies, and for good reason. Charlie McAvoy, Jake DeBrusk, and Anders Bjork all had tremendous debuts for the Bruins, living up to lofty expectations. All three cracked the score sheet, with McAvoy and DeBrusk doing so multiple times and notching their first career goals. In a season in which Boston's youth will be heavily leaned upon, the trio did nothing to temper expectations or excitement.
The images of Louie DeBrusk fighting back tears and the McAvoy family jumping up and down following their respective son's goals won't soon be forgotten.
Not to be outdone by the kids, the play of 12-year veteran David Krejci was equally impressive and encouraging. With both Patrice Bergeron and David Backes sidelined for the opener, Krejci turned in a vintage performance, thriving in all three zones and situations.
Fully healthy for the first time in several seasons, he was the best player on the ice in a contest filled with star power. Moreover, he was the best player on the ice when his team needed him the most.
Getting Offensive
Generating offense against a stout defensive team such as Nashville is no easy task, with or without Ryan Ellis. Couple that defensive aptitude with the fact that the Bruins were missing their top-line center, best puck-moving defenseman and grittiest net-front presence at forward, and you appear to have a recipe for offensive impotence.
David Krejci answered the bell like Rocky Balboa, registering three assists on the night, including two primary helpers.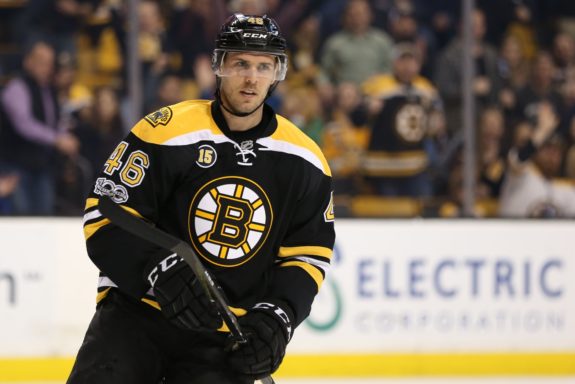 His one-handed touch pass past Mattias Ekholm on DeBrusk's goal was a deft thing of beauty. On McAvoy's goal, Krejci exploded up the ice in transition, putting the defense on its heels before finding the trailer at the top of the slot. He almost had a goal of his own, catching Nashville snoozing on a delayed penalty. He took a beautiful 60-foot seam pass from Pastrnak before firing a dart on net.
Perhaps the most encouraging thing about the aforementioned plays is that they all occurred on the rush. We know how dangerous Krejci can be on set plays during the power play, executing crisp, precise passes. Seeing the 31-year-old get up and down the rink with players a decade younger than him and registering multiple primary assists in the process bodes well for both his own personal health as well as the team's ability to play a more up-tempo style.
As for his impact on the power play, he recorded one assist with the man advantage and picked up another just seconds after a subsequent power play had expired.
This season the Czech pivot will be asked to shepherd DeBrusk through his first NHL campaign while feeding David Pastrnak a steady diet of pucks. In the season opener, he did just that, against an excellent defensive team no less.
Getting Defensive/Facing Off
Krejci's night of excellence extended far beyond his offensive production and play.
On a night when perennial Selke Trophy winner Patrice Bergeron watched from above, Krejci picked up the slack. He won a staggering 77 percent of his faceoffs (17 of 22). Seldom called upon to take defensive zone draws when Bergeron is in the lineup, he won five of seven in his own end. He took six of nine from Ryan Johansen, who won roughly 55 percent of his faceoffs a year ago. Moreover, he was a perfect eight-for-eight in the offensive zone.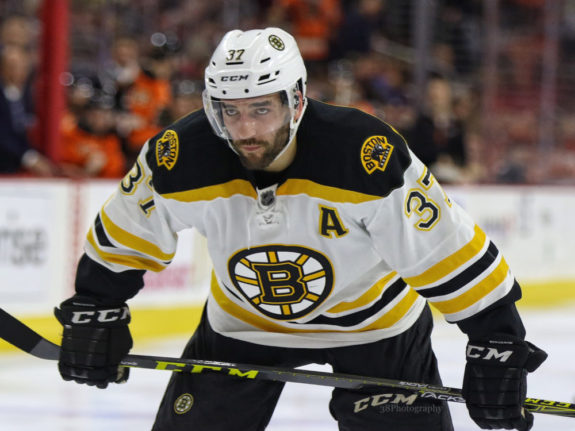 The playoffs are the time of year when the importance of winning draws and gaining possession is most magnified. Now, game one of the regular season may not carry quite the same weight. But again, with both Bergeron and David Backes (no slouch himself) in street clothes, Krejci's dominance on the dot was all the more needed and impressive.
In over 21 minutes of ice time, matched primarily against Nashville's top line, he was solid all night. He committed zero of Boston's seven minor penalties in spite of the difficult assignments. Furthermore, his 2:36 of shorthanded ice time ranked fourth amongst Bruins forwards.
Sure, he was on the ice for all three of Nashville's goals. However, on Viktor Arvidsson's goal in the waning seconds of the first period, Krejci had actually won the defensive zone faceoff cleanly; it was Pastrnak's costly turnover in the slot which put the puck in Boston's net.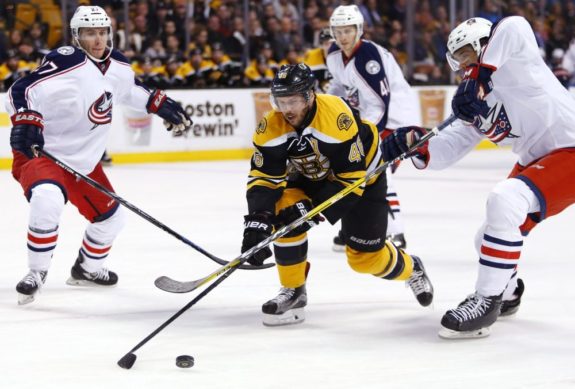 Nashville's two subsequent goals in the final moments of the contest came at six-on-three and six-on-four. Pinning either on Krejci simply because he was on the ice while significantly disadvantaged would be an unfair and inaccurate assessment.
Outlook
In previewing the season opener, I urged fans to not get too high or too low based on the outcome. Though I maintain that plea, the performances from Krejci and the kids were extremely encouraging.
One could make a case for David Krejci being this season's X-factor amongst Boston's forwards. Steady and ample production from Bergeron and Brad Marchand is a foregone conclusion; like body odor on public transportation and bad music emanating from an Acura Integra, it can be counted on. The same now goes for David Pastrnak, as he appears destined for inclusion amongst the league's most dangerous forwards.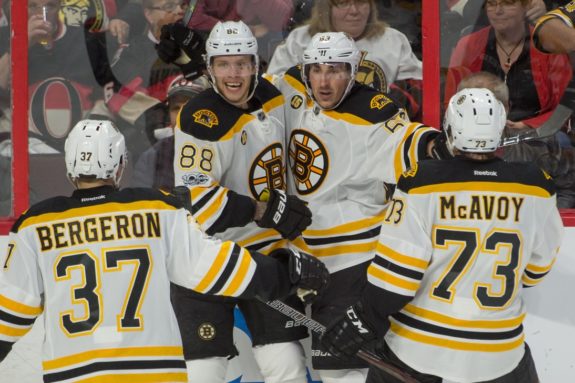 During the organization's heyday of recent past, the Bergeron and Krejci lines formed a "1A/1B, pick your poison" for the opposition. To prevent teams from throwing the kitchen sink at the former, the Krejci line must represent at least a near-equal threat.
The majority of Pastrnak's production a season ago came while playing alongside one of the league's most dominant duos. The onus this season falls on his fellow countryman to stave off a decline by feeding him pucks with regularity.
Jake DeBrusk will be going to the danger areas on a nightly basis; he has proven this in short order. Making sure the puck is getting there as well will enable the 20-year-old to consistently play to his strengths and contribute nightly, leading to the swelling of confidence and points in the standings.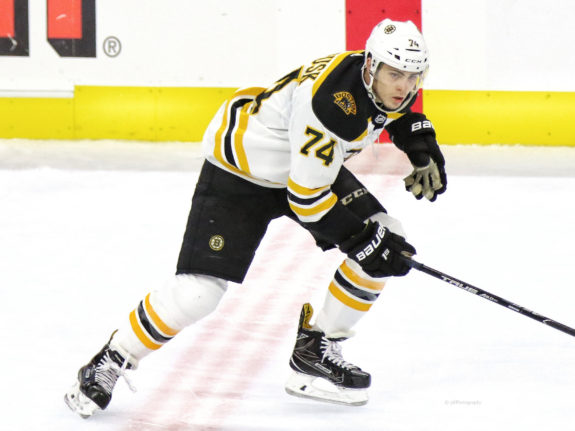 Moreover, as just one of six Bruins remaining from the 2011 team, Krejci's influence on the young players cannot be overstated. In addition to leaning on him for production, the team's youth can also look to him as a consummate professional. One who knows what it takes to stay, produce and win in this league.
On a night when his team needed him the most, David Krejci looked like the dynamic pivot of yesterday. The one who parlayed five 60-point seasons and multiple postseason runs of excellence into the team's most lucrative contract.
For one night, David Krejci was the best player on the ice…no matter what the headlines say.
Despite being New England's Son (hailing from the Great State of Connecticut), Joe currently resides in Los Angeles, California. One of his earliest memories is of the Bruins losing in the 1990 Stanley Cup Finals, setting up a lifetime of crushing disappointments. He feels genuine sadness for those without a passion to rival his unwavering love for the greatest game on earth.