After suffering an 8-2 loss to the Philadelphia Flyers Saturday, the Washington Capitals entered Tuesday's match-up with a mission: to not only play a better game but to tighten up their defensive game, especially with Auston Matthews and the high-flying Toronto Maple Leafs in town.
And despite a 2-0 loss to Toronto Tuesday, Washington appeared to accomplish their goal on the backend. After letting the Leafs get a couple of good looks in a high-shooting frenzy early in the first period, the Capitals hunkered down and were outstanding in shutting down Toronto's young, skilled offense.
"I think if we play like that defensively, we're gonna win a lot of hockey games," Tom Wilson said.
Blue Line Improvement
Overall, the Capitals appeared more composed and ready to handle the Leafs' offense, especially in regards to their disappointing performance against Philadelphia.
"They're the number one offense in the league and they're real dangerous," Trotz said. "I thought there were a lot of improvements from our game in Philadelphia, that's for sure."
In the first period, the Maple Leafs came at the Capitals with a lot of pressure. And as the blue line locked in and adjusted to Toronto's fast youth, Braden Holtby stood tall between the pipes. He ended up stopping 29 of 30 shots on goal.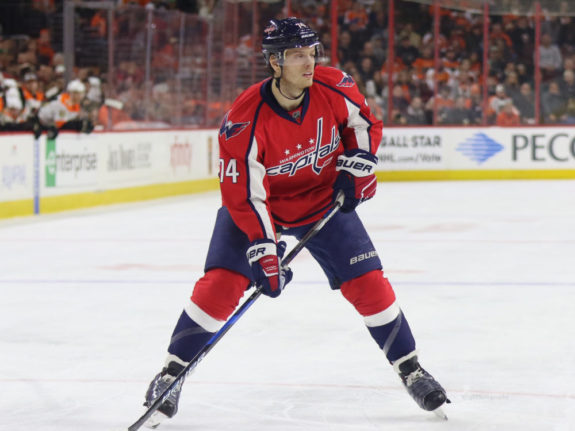 "I think we gave up a lot of chances, too many from what we're used to," John Carlson, who led all Capitals skaters with 27:33 minutes of ice time, said. "I think Holts was dialed in, saved our butts numerous times, especially getting through the first 10 minutes. I think it's about effort for sure. We had way better effort tonight."
Holtby also mentioned that he took away a lot of positives despite the outcome of the game, and was impressed with the defense.
"Any loss is tough, but we did some things better today. It could have been a little worse if luck wasn't on our side today on a few plays… there were a lot of good things tonight," Holtby said. "I thought the defense did a really good job of handling [Toronto's] speed and their size."
Related: Penalty Problems Plague Capitals but Djoos Shines
Finding Offense
Despite Washington's stability on the backend, the team did struggle when it came to scoring. The Capitals managed 30 shots on goal and had a number of opportunities, but they couldn't seem to get anything past Frederik Andersen.
"I think we had some good offensive chances…" Jay Beagle said. "The offensive chances were there, we just have to capitalize."
Evgeny Kuznetsov said that he thought that the game was "pretty even" in regards to scoring chances, but that the Capitals need to figure out how to get the puck in the back of the net.
"We had good power play and didn't execute this time," Kuznetsov said. "We got pretty good looks, we just have to score."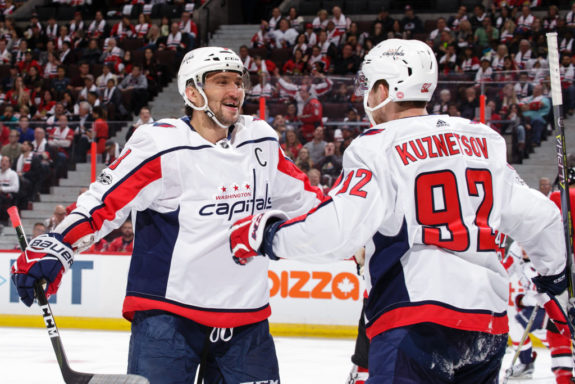 While Carlson was pleased with the Capitals performance defensively and believes that the team looked a lot better than they did over the weekend, he emphasized the need for offense, and how finding the balance between good defense and offense is challenging but vital.
"We want to win every game," Carlson said. "It's normal for us to play like that defensively, but I think we gotta score goals. You're not gonna win if you don't score."
In the end, Beagle believes that the Capitals played a hard-fought game against a tough competitor, but there are still areas to improve in.
"Every loss is a missed opportunity, but we played a really good, strong game in our d-zone after not playing a good, strong game against Philly," Beagle said. "It's just a matter of finding the back of the net."
Related: Penalty Kill Huge in Capitals Strong Start
Tyler Graovac
Graovac got the opportunity to draw back into the lineup Tuesday, with Lars Eller sidelined with an illness. However, his chance to prove his worth in the lineup was cut short due to an upper-body injury suffered in the first period. While it is unclear what happened, he left the game early on after skating just 2:42 minutes of ice time, and would not return.
"I'll have a better idea for you tomorrow, but he's gonna miss a little bit of time," Trotz said of Graovac's injury and the severity of it.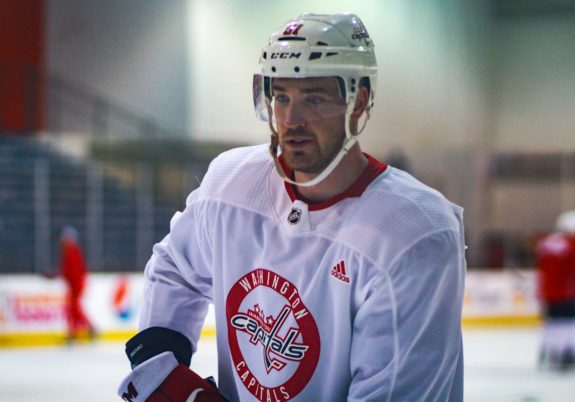 He also added that he was impressed with his performance against the Leafs, even though it was short-lived.
"On the few shifts he was in, he looked pretty good," Trotz said. "It's just a tough start for him."
The 24-year-old center was traded to Washington from Minnesota days before the expansion draft this offseason, and following an impressive training camp, he cracked the opening night roster. However, he had been a healthy scratch for a few games, and now, will have to recover from an injury before drawing back in.
Sammi Silber covers the Capitals beat for The Hockey Writers and is an NHL contributor with Sporting News. She has also contributed to USA TODAY College, Huffington Post, FanSided and the Nation Network. Silber has written four books and recently worked on graphics for the film, The California Golden Seals Movie.