This off-season the Washington Capitals lost a number of their players to free agency and the trade market. However, no area of the team suffered more than their blue line.
The Capitals lost long-time defenseman Karl Alzner and puck-mover Kevin Shattenkirk to free agency and lost one of their most promising blueliners in Nate Schmidt to the expansion draft. Not only that, but the team is in a battle with the salary cap and can't afford to pay for players to replace them.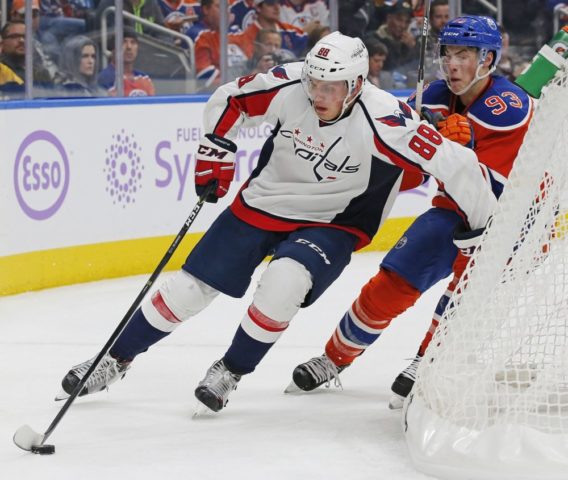 While they still have their core defensemen in John Carlson, Matt Niskanen and Dmitry Orlov, they lack the depth they had last year. Brooks Orpik could make a running for the top four. Though the veteran didn't have the worst 2016-17 campaign, one can only wonder how much gas is left in the tank as he had his share of struggles on the ice. Taylor Chorney is still with the team, but the 30-year-old is not necessarily a standout talent who can take on a bigger role.
With a lack of depth on their main roster, as well as limited funds, the Capitals will have to rely on their slew of young prospects to step up and fill the voids on defense.
New Kids on the Block
From up-and-coming AHL blueliners to promising WHL defensemen, the Capitals have options when it comes to entrusting their defense corps with young players from within the organization.
First off, Washington has built impressive organizational depth thanks to wise draft decisions over the years. Some of their blueliners in the system have not only been developing their game for years but have grown accustomed to the Capitals organization and know what to expect as they prepare for NHL-level hockey.
In addition, the defensemen on Washington's roster are experienced NHLers who can help mentor the younger prospects coming in, and could benefit from having young players on their pairings.
However, with a lot of youth coming in, can the kids carry the Capitals' defense?
Capitals Candidates for Roster Spots
One player that is catching the eye of the organization is Hershey Bears defender Christian Djoos. Washington re-signed the 22-year-old blueliner to a two-year, $1.3 million deal earlier this offseason and the team is expecting him to be amongst the top competitors for a roster spot this year.
The Swedish-born defenseman is coming off a breakout season with the Bears, where he finished with an impressive 13 goals and 58 points in 66 games. Djoos ranked as the AHL's third highest-scoring blueliner in 2016-17 and also led all Bears' defensemen in scoring.
While he is an outstanding passer and puck-moving defenseman, he is undersized. The 6-foot, 161-pound blueliner doesn't have the ideal frame for an NHL defenseman, which could make him prone to injury, as it is unknown whether or not he can stand the rough-and-tumble NHL environment, let alone stack up against bigger opponents.
Madison Bowey is another option for the Capitals' blue line this season. He's a right-handed defenseman who has shown upside and offensive potential, especially after trasnition to Hershey after outstanding years with the Kelowna Rockets.
Bowey was limited to 34 regular season games this past year, but still put up three goals and 14 points. He returned for the Bears' postseason run, playing 10 playoff games and scoring two goals and four points. Overall, he is a reliable, trustworthy defenseman who has his priorities straight and makes smart decisions on the ice.
Another Hershey Bear who could make the cut is Tyler Lewington, who finished with four goals and 17 points through 72 AHL games this season. However, he does not shine as bright as Djoos and Bowey.
The Capitals will likely look to their more experienced prospects to make the jump to the main roster first. However, no roster spot is guaranteed, and there are a lot of other players who will also compete for NHL ice time this year.
Connor Hobbs and Lucas Johansen are two WHL defensemen who are ready to move on from junior hockey, and though Washington is not looking to rush their prospects straight into the NHL, Hobbs and Johansen are two players who could make enough noise in the preseason to earn a spot on the Capitals' blue line.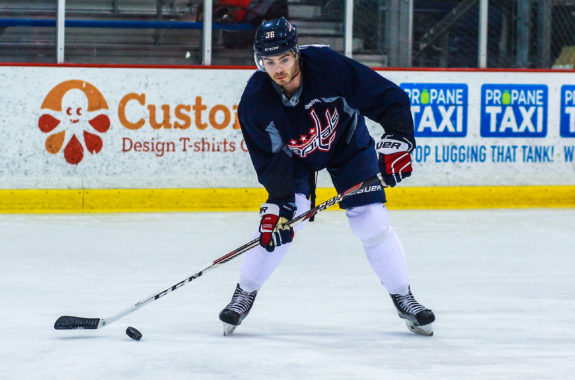 Hobbs was a late-round pick in the 2015 draft and is looking to take the patient road to the NHL. He is coming off a career year and a breakout season that makes him a standout prospect in the Washington system. In 67 games with the Regina Pats, the 20-year-old blueliner recorded 31 goals and 85 points. His successful season and the momentum carried into development camp make him one of the team's standout prospects.
In fact, Hobbs had a meeting with Capitals head coach Barry Trotz at the end of camp, where Trotz told the young blueliner that the organization is keeping a close eye on him and that he could fight for a spot on the team if he put the effort in. His best attribute is his rocket of a point shot.
Hobbs is not only a goal scorer but a proven playmaker, and he can serve as an asset on special teams. The 6-foot, 199-pound defenseman has been keeping in shape and using his size to his advantage while becoming more of a physical presence.
He does not shy away from battles for the puck and he knows how to take care of his own zone. With that, as well as his confidence, work ethic and skating ability, Hobbs could be a serious contender for a spot with the Capitals this season, just as long as he stays in shape and puts in the extra effort.
Johansen is not as experienced as Hobbs, but is coming off a strong year with the WHL's Kelowna Rockets, where he finished with six goals and 41 points through 68 games. The younger brother of NHL star Ryan Johansen, Lucas is a complete all-around defenseman who is ready to make an impact at the higher level.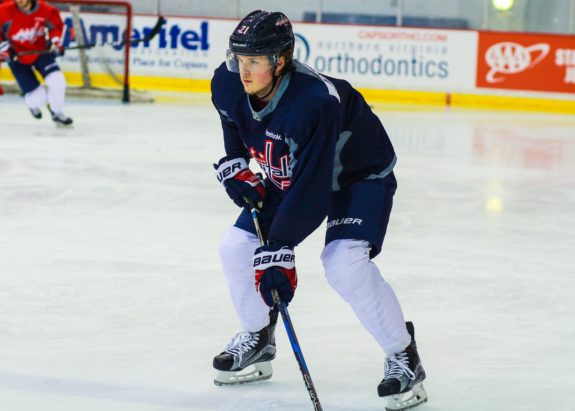 He was Washington's first-round pick in 2016 and has garnered a lot of praise for his excellent skating ability and puck-moving acumen. Not only does Johansen own a good shot from the point, but he is a good passer and knows how to start the rush.
In addition, to his ability, Johansen has been adding more bulk to his 6-foot-1, 188-pound frame, gaining 10 pounds and eating a lot of protein. Adding size and strength, combined with his speed and overall game, Johansen believes he is ready to compete for a roster spot this season.
[miptheme_quote author="Lucas Johansen, per The Washington Post" style="text-center"]"It's exciting. There is never too many spots open like this in the NHL and I guess we could, in a way, thank the expansion draft for that. The young guys here, it's an exciting opportunity and I think everyone in this room, including myself, is looking forward to the challenge. I would be lying to you if I said I didn't want to play here, but I know I have a lot of things to improve on."[/miptheme_quote]
Overall, considering the Capitals' plans to strengthen their d-corps from within the organization, they have plenty of options. However, they need to make sure that their younger players can add the depth they need, especially if they want to keep their Stanley Cup aspirations alive.