You want star power? The Vegas Golden Knights have star power. In net at least.
The NHL's 31st franchise is less than two months away from hitting the ice for the first time. I doubt any NHL city has the buzz that Las Vegas has for three preseason games. While there's a lot that can happen between now and then in the way of roster changes, we've let enough time pass since the expansion draft that you can feel comfortable learning who you'll be watching. What is not in debate is who will be manning the crease for VGK when the games matter. That man is Marc-Andre Fleury.
Golden Knights management also called Calvin Pickard's name at T-Mobile Arena last month. You'll see plenty of him in net, but the face of the franchise, at least in the early going, will be Fleury. Simply put, if you're a new fan in Las Vegas and you want to get invested in the local sporting club, the VGK selection from Pittsburgh is where you need to start.
How Did Fleury Get Here?
Fleury got here by turning back more shots than the vast majority of goalies in NHL history. He's constructed a spectacular career, by any measure.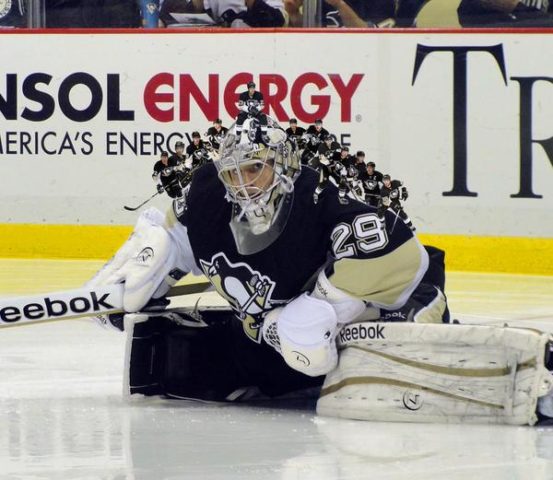 "Flower" was drafted by the Penguins with the number one overall pick in the 2003 NHL Draft. He'd see the ice early, and at 18-years-old was the youngest goalie in the league. That rookie season was a struggle for Fleury, he'd appear in 21 games in Pittsburgh before receiving a QMJHL assignment.
Then his career took off.
Fleury was with the Penguins for 13 seasons. He's a two-time All-Star and three-time Stanley Cup champion. He captured the cup in 2009 before back-to-back championships in 2016 and 2017. The role he played in Pittsburgh's last title may be his most impressive performance of all.
Fleury's name had been connected to Vegas for some time. It's been clear for awhile that Matt Murray is the future in net for the Pens, and assuming he'd waive the no-movement clause in his contract, Fleury was destined to become a Golden Knight.
Not all players would accept that news well, particularly one with a history as storied as Fleury's. Pittsburgh suffered a setback in its playoff run, though. Murray was injured before Game 1 of the Penguins' first-round matchup with the Columbus Blue Jackets. His predecessor was called back into duty.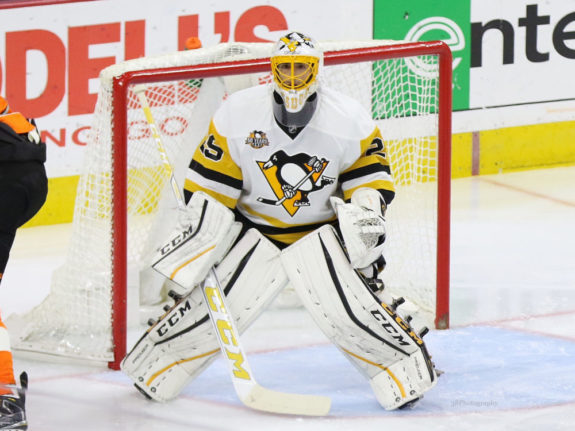 Fleury led Pittsburgh past Columbus, then the Washington Capitals, before he was replaced by a recuperated Murray in Game 4 of the Eastern Conference Final against the Ottawa Senators. On June 11 Flower hoisted his third Cup. Ten days later he joined the Golden Knights.
Where Does Fleury Fit In?
Now for the fun stuff. Where does Fleury fit in with the Golden Knights during their infancy?
If you're a hockey newbie, make this guy your favorite player, but be advised. It's debatable how long he'll continue his career in Vegas. Presently he has two years remaining on his contract that will pay him $5.75 million each season. There may be plenty of conversation before that contract expires, though.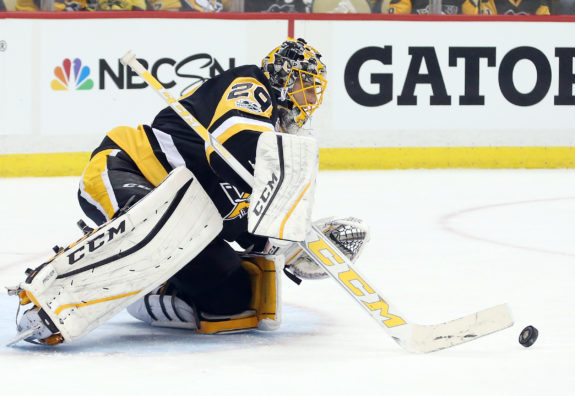 Fleury's played multiple roles throughout his remarkable career. He's been the guy. He's been the guy behind the guy. He's been the guy behind the guy that's called into action when the top guy goes down. His willingness to play multiple roles in the interest of team success make him very attractive to other teams.
If at the trade deadline, this year or next, Vegas finds itself well out of the playoff conversation, which is a distinct possibility, Fleury may be on the move. He's exactly the kind of veteran presence a team may add for depth, or gear up for a playoff run at the trade deadline. Golden Knights general manager George McPhee aims to work towards long-term Vegas success by building through the NHL Entry Draft. If another team comes calling with a hefty package, McPhee could pull the trigger on a deal—particularly with Pickard waiting in the wings.
That's not to take the wind out of your sails. Until that day comes, feel free to make Fleury one of your favorite players. He's a supreme talent, and if his career in Vegas does span multiple seasons, it could end with the Quebec product working his way onto the very short list of most wins all-time for NHL goalies. How short? Maybe second all-time.
If those numbers aren't enough to get you to root for the guy, know that he's widely thought of as one of the best teammates in the league. Likeable by all accounts, and perhaps more importantly, he seems genuinely excited to be the number-one guy in net in Las Vegas. Many locals already know that, as Fleury's name garnered the most enthusiastic reaction of all fans in attendance at the expansion draft. He was a fixture around town for the days following. He's an easy one to root for. Most simply:
Buy the jersey.