Thrown into the throes of NHL action, Washington Capitals defenseman Christian Djoos made his rookie debut in style. His first time seeing NHL ice would be in a high-stakes rivalry showdown with the Pittsburgh Penguins, a team that, in their last visit to Capital One Arena, ousted the Capitals from the Stanley Cup playoffs with a 2-0 Game 7 win.
Washington wouldn't see victory Wednesday, falling 3-2 to Pittsburgh, but the team got what they needed out of Djoos: a solid NHL debut. Though it was a bit nerve-wracking for the 23-year-old at first, he eased into the game and went from taking a costly penalty in the second period to being a key difference maker in the losing effort.
"Yeah, first game in the NHL, for sure," Djoos said of his nerves. "Took some shifts, then felt better."
The Djoos is Loose
His first NHL goal came on a quick shot from the right circle, finally putting the Capitals on the board late in the second period. Not only did the goal add energy and momentum back for Washington, but it would help Djoos earn more responsibility and trust from the coaching staff. And that was evident throughout the final frame, when he doubled his ice time from around six minutes heading into the third to 13:20 TOI by the end of regulation. He also picked up a primary assist on an Alex Ovechkin goal in the third period.
Related: Christian Djoos to Make Capitals Debut
"First game in NHL, and you get goal and assist so, that wasn't my plan really when I showed up at the rink, I was gonna play good and play structured game, play detailed game," Djoos said. "I'm happy with the goal and assist, but couldn't get the win, so not good enough."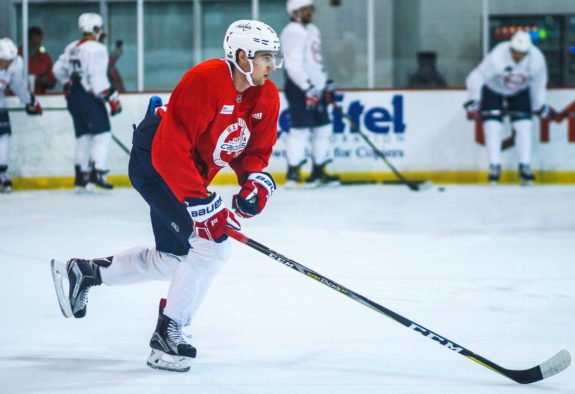 Throughout the night, the Swedish defenseman saw time with a plethora of different defensive partners. He started on the bottom-pairing alongside Aaron Ness, but also saw time with John Carlson, Brooks Orpik and at one point, even Matt Niskanen, who was impressed with his performance.
"I thought he was awesome," Niskanen said. "A lot of confidence. Wasn't afraid. Moved the puck really good out of the zone and then scored his first goal in his first game, that's pretty unbelievable."
While he did have a strong debut, head coach Barry Trotz emphasized the importance of patience, and not jumping to conclusions right away in regards to where he slots in moving forward.
"That's the thing with Christian, we know that he's a good hockey player," Trotz said. "He's going to have to continue to get stronger and continue to play at this level. You can see the instincts are really good, he's got a real good sense for the game and his IQ is really good, but it's a process. It's one game, and we'll be patient, for sure."
Penalties Plague Capitals
Washington took six penalties throughout the night, including one from Braden Holtby, where he skated to the blue line and illegally covered the puck far out from his crease in order to shut down a breakaway from Carl Hagelin. Pittsburgh would score on half of those power-play opportunities, with all three of their goals coming off the man advantage.
"That's probably our biggest Achilles heel," Niskanen said. "You can't give [them] that many chances. They're gonna find a way to get some good luck and they capitalized on a few tonight. Some good things in the game, and that was one of the negatives."
Holtby, who stopped 33 of 36 shots on goal, also addressed the excessive amount of penalties and how the Capitals must address the situation moving forward.
"There's been, obviously, a lot that we deserved, some strange calls too that happen, that's just the way it is," Holtby said. "But it's obviously something that we need to get better at if we're going to consistently win games."
Related: Chirped – NHL to Implement One-Minute "Sorta" Penalties
Backstrom agreed, saying that it's "obviously something we've gotta clean up," but that it goes beyond simply staying out of the box.
"That starts with execution in our own zone," Backstrom said. "We're getting stuck in our own zone."
In the end, Trotz ultimately said that the team not only gave up a number of scoring chances, but lost many as well due to the amount of times the Capitals found themselves shorthanded.
"I thought from our standpoint, it didn't really allow our top players to get going," Trotz said. "Every time we started getting rhythm, we took a penalty."