The sky isn't falling in Buffalo. It's not time to panic. Then again, that all depends on your expectations.
If you thought players brought together who were jettisoned by other teams, deemed expendable and not part of their future, would somehow flourish in the birthplace of chicken wings, you were a cockeyed optimist.
If you expected first-year head coach Phil Housley to implement his free-wheeling yet responsible system in a few weeks to a completely overhauled roster–one with the most new faces since 1971 (Jason Pominville, Benoit Pouliot, Jacob Josefson, Jordan Nolan, Seth Griffith, Marco Scandella, Victor Antipin, Nathan Beaulieu, Matt Tennyson and Chad Johnson), you're an eternal optimist.
Early Results
It's only three games into the season, but this captain-less squad is certainly a mess right now. If you listen carefully, you can hear former coaches Ron Rolston, Ted Nolan and Dan Bylsma talking about dialing up 'compete level.'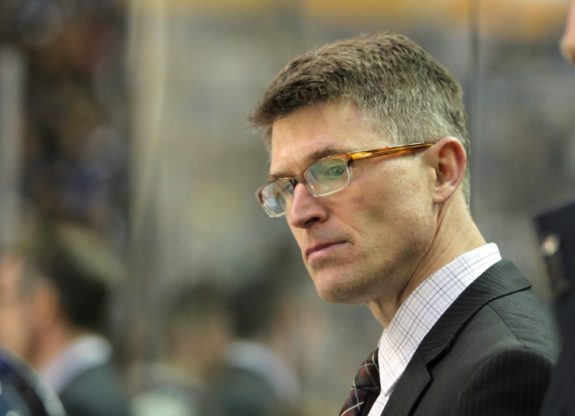 Since Jason Botterill and Phil Housley took the reins of the franchise, this team has not won a game in regulation. Nine games, zero regulation wins. Add in the team's 1-4-1 preseason record and this organization is 1-6-2 under their watch. Granted the sample size is small, but before you know it, it's 15 games in, or halfway into the season and this team will have dug a hole deeper than any pothole that will soon riddle the Scajaquada. It'll be seven years playing golf instead of postseason hockey.
The last two games were worse hockey than the tank years. With loss after loss, fans are left hearing "we've got to be better and it starts with me" apologies from players. It's unacceptable.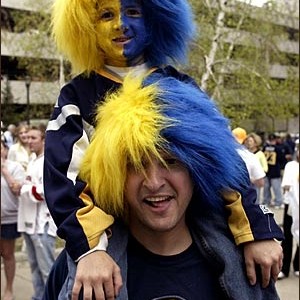 These athletes are playing a game—A GAME—for a living. For hundreds of thousands, and in some cases, MILLIONS of dollars. Sabre fans who go to work taking care of patients at ECMC, going into public high school early to give extra help to their students, and delivering packages in big brown trucks from sun-up to sun-down, etc., don't understand a "lack of effort."
This city loves its teams. But of anywhere, fans in Buffalo won't accept grown men getting paid massive amounts to play a game, yet losing for lack of effort. Work hard every shift or you'll get booed.
Matinee
The Sabres lost their opener in overtime to the Montreal Canadiens, lost an ugly affair to the 6-3 New York Islanders, then were trounced by the New Jersey Devils in a Columbus Day matinee, losing 6-2. It's rumored that kids at the game were begging to go to school.
The second period against the Devils was plain awful. They looked confused, with turnover after turnover, breakdown after breakdown. They earned every boo they heard after leaving the ice.
Related: Thanksgiving Came Early for Okposo
Best Players are No-Shows
Where is the effort from Jack Eichel, Ryan O'Reilly, Kyle Okposo and Sam Reinhart? The team's best players need to be much better. There's confusion, coasting, and a lot of puck watching. What happened to finishing checks? What happened to taking control, going to the net and daring the opposition to keep up or try to stop them?
Right now, only Evander Kane is playing with that chip on his shoulder. Although his defensive-zone game needs to be cleaned up, the rest of the leadership group should take note. Especially Eichel. If he wants to be in the conversation of the league's best with Connor McDavid and Auston Matthews, he's got to take matters into his own hands. He has to power into the zone, determined to score.
Eichel went so far as to say the game against the Devils was "a must-win game." He then was a virtual no-show, not even registering a single shot on goal in 19 minutes and 59 seconds of ice time.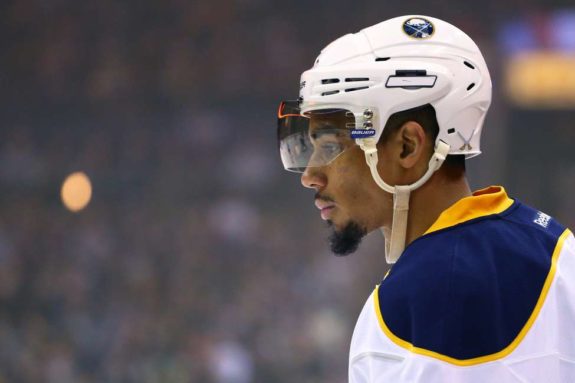 "Our effort was unacceptable," Housley said. "We are making mistakes at key times that end up in our net. Our resilience needs to be better."
Related: New Sabres GM Will Have His Hands Full
Goalie Shuffle
Robin Lehner was pulled in the loss to the Isles. After six goals, Chad Johnson was mercilessly replaced against the Devils. That's back-to-back games in which starters were replaced. The sad part is, both goalies made some phenomenal saves. Even Dominik Hasek would've had his hands full the way these netminders were left to face countless breakaways and odd-man rushes.
"I think the goaltending has been pretty solid," Housley said. "The two-on-ones, the odd-man rushes, we've got to clean that up and clean that up in (a) hurry. At times in the game we're leaving them out to dry back there. We've got to tighten it up for sure."
"It's funny because you can have a game plan, you can have strategy, but it starts with the work. It's so hard in this league to win. Every team is very good and everybody's fighting for something. We have to understand that, how hard it is to win." – Phil Housley
Wanting A Winner
The ever-so-patient Sabres fans who have endured six long years of terrible, if not pathetic hockey, want a winner. Trouble is, it's not going to happen this week or this month. It could take a lot longer.
Success rarely comes to a team that doesn't deserve it. And this team doesn't. It could very well get worse before it gets better. There are still dead-weight salaries and slow-footed players on this team.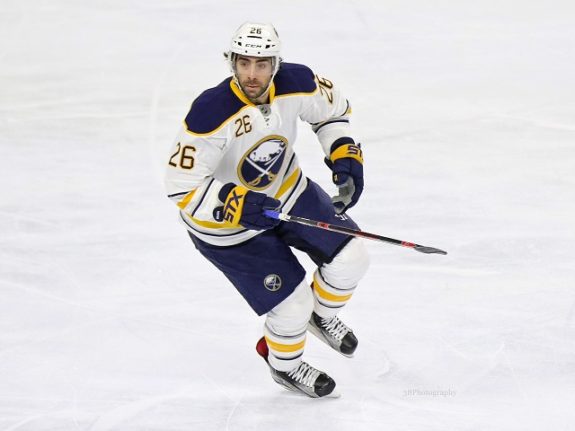 Optimists
Even those trying to find positives in this team are once again growing tired of searching for moral victories. Right now, they look as bad as they did during the tank years.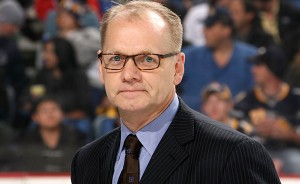 Is this a new version of Darcy Regier's 'suffering' as the team tries to figure things out again?
"The fortunate part is we're only three games into the season," said Kane. "We have a big trip out west we need to be ready for because if we play like that, it's going to be 10-0.
The Sabres embark on a four-game west-coast road trip that will have them visit four teams in the Pacific Division: San Jose, Los Angeles, Anaheim, and Vegas. Odds are they'll win a game. But the fact that it's come to wondering if they'll get one win on a four-game roadie, well, that speaks to how much work is ahead before this team is a true contender.