The Lehigh Valley Phantoms have had their fair share of high-end prospects making their way through town over the past few seasons, and this season is no different for the AHL team—three high-powered offensive prospects have been added to their ranks.
Oskar Lindblom
Oskar Lindblom, a 6-foot-1, 198-pound left winger, has American Hockey League experience, having played in eight games and scored seven points during his amateur tryout (ATO) at just age 19 in 2015-16, following his Swedish hockey season with Brynäs IF. Lindblom returned to Sweden after his ATO, but he still qualifies as an AHL rookie under the league's requirements.
While in 2014 the Swede fell to the fifth round (138th overall) of the NHL entry draft because of issues scouts had with his skating (he was ultimately picked by the Philadelphia Flyers), last season, he took both the hockey world and the Swedish Hockey League by storm. He finished fourth in league scoring, adding 22 goals and 25 assists in 52 games, which was good enough for a 0.90 points per game.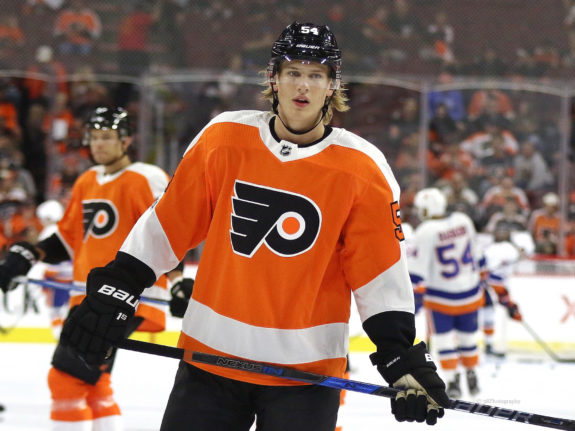 Lindblom's impressive season didn't stop there. Though his team would end up losing in the finals, he continued to score, netting 14 points in 20 postseason matches. He was named Forward of the Year in Swedish Hockey. The now-21-year-old signed his entry-level contract with the Philadelphia Flyers this summer and is ready to make his mark in North America. But his path to success here starts in the AHL with the Phantoms.
After two games, Lindblom has yet to find the score sheet this season, but it's just a matter of time and adjustment. The young Swede has scored everywhere he has been.
Mike Vecchione
At 24, Vecchione, who hails from Saugus, MA, is the oldest of the Phantoms' rookies. He was signed last spring following his standout college career at Union College, where he won a National Championship his freshman year and went on to score 71 goals along with 104 assists and 125 penalty minutes in 147 games played. The 5-foot-10, 203-pound player had his most productive season last year, scoring 29 goals along with 34 assists, tied for most in the NCAA.
The Union College captain was also a finalist for college's most precious hockey award—the Hobey Baker. After signing The Hockey News' top-rated college free agent, the Flyers placed him in the lineup twice last season. However, the two-way center ended up caught in a battle of numbers, resulting in getting nudged out of an NHL roster spot this year.
So far, Vecchione has performed as advertised in Lehigh Valley's first two games this season, sitting tied for second in scoring with two points, both assists.
Mikhail Vorobyev
The young Russian joins the Lehigh Valley Phantoms following an impressive World Juniors with the Russian team last season, where he led the tournament with 10 assists and finished fourth in tournament scoring, ultimately helping Russia clinch the bronze. The 6-foot-2, 206-pound center has professional experience playing in the KHL, Russia's top league, where he scored three goals and eight assists in 44 games last season for Salavat Yulaev Ufa.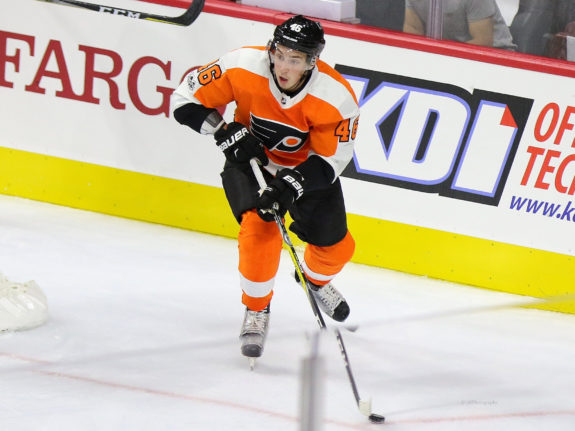 The playmaking center left his native Russia this offseason to sign an entry-level contract with the Flyers. The Ufa native has found the score sheet this season for Lehigh, collecting his first North American pro point; he has one point in two games thus far. Like Lindblom, Vorobyev will also need to get acclimated to the North American hockey style and rink size.
Highly Skilled Trio of Rookies
The Lehigh Valley Phantoms look to continue their momentum following their first playoff berth in the franchise's history a season ago. The Phantoms have improved each season since they arrived from Philadelphia, but have yet to surpass the first round of the postseason. They hope the returning deep roster of veterans and their trio of highly skilled rookies can provide this spark.