When you look at the prospects the Philadelphia Flyers have massed over the years, it's easy to be blinded by the names of Travis Sanheim, Phillippe Myers, Samuel Morin, Robert Hagg, Carter Hart and newly introduced NHLers Ivan Provorov and Travis Konecny. Most are aware of those prospects and the impact they will have on the franchise, but here is one that some may not know yet.
His name is Oskar Lindblom. He was selected 138th overall in the 2014 NHL Entry Draft and has been making strides in the SHL over the last few years.
Expectations & Bright Future
Lindblom never had high expectations, which is normal considering he was only chosen in the fifth round, but he has been turning heads with his impressive performances for Brynas in the SHL and for Team Sweden at the World Junior Championships. Lindblom's first eye-opening moment was in 2013 when his Swedish team won the under-17 World Hockey Challenge that saw him collect a tournament-best eight goals and 13 points in six games. Lindblom demonstrated his solid two-way game by scoring twice on the power play and tallying one shorthanded goal during the tournament.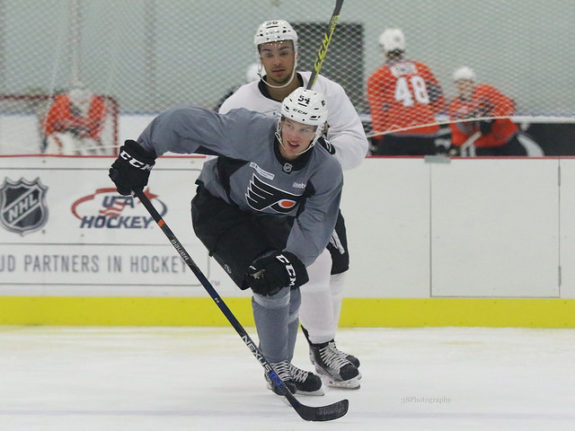 In his draft year, Lindblom had a fantastic season for Brynas in the J20 SuperElit league, winning the bronze medal and posting 33 points in 43 games, tied for third on his team. He was also a part of Team Sweden during the U-18 IIHF World Championships, a tournament that featured some high-end talent like William Nylander, Jack Eichel, Auston Matthews, as well as future Flyers draft picks Sanheim, Konecny and David Kase. Lindblom played a good tournament, recording six points in seven games. Later that season, he suited up for four SHL games with Brynas, ready to make the leap next year.
The 2014 Draft & Development
Lindblom was ranked 23rd among European skaters by NHL Central Scouting. Despite the high ranking, he slipped to the fifth round, where the Flyers snatched him up. His biggest weaknesses was his skating. In an era where skating is everything, GM's can't afford to use a high draft pick for a player who lacks skating ability and is average in every other facet of the game.
In 2014-15, Lindblom played his first season for Brynas in the SHL, tallying 15 points in 37 games. Playing against bigger, stronger, faster and overall better competition was good for his development. The Swedish Hockey League is one of the best hockey league's in the world behind the NHL and the KHL. In addition to his first SHL season, he also tallied nine points in seven games, at the World Juniors, good for seventh in tournament scoring.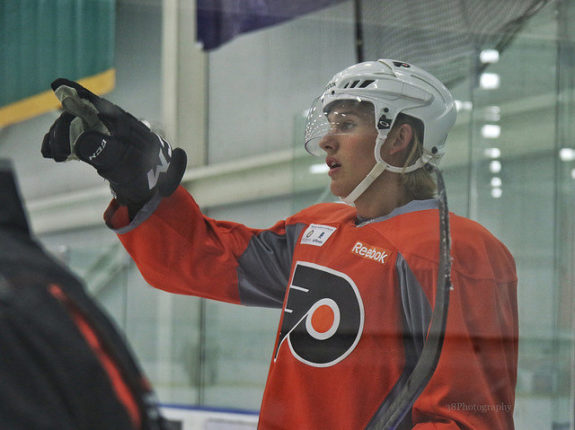 He followed up his rookie season by putting up 25 points in 48 games and playing for Sweden, once again, at the World Juniors. He notched six points in seven games on a weak Swedish squad that failed to medal. After being swept in the SHL playoffs, Lindblom got his first taste of pro hockey in North-America. He laced up for eight games for the Flyers' AHL affiliate, the Lehigh Valley Phantoms, playing a very good all-around game and posting seven points.
His SHL Breakout Season
Even though Lindblom is more accustomed to the ice in Europe, his gritty, two-way game is suited for the North American ice. He works hard along the boards to win puck battles and has improved his skating tremendously since being drafted in 2014.
All these improvements helped Lindblom break out in his third SHL season, where he put up dazzling numbers as a 20-year-old. He combined for 61 points in 72 games (regular season and playoffs), one point shy of beating Henrik Sedin's point record for a 20-year-old. His team lost in the final, but Lindblom was named SHL Forward of the Year, a tremendous accomplishment.
#flyers prospect Oskar Lindblom named Forward of the year in Swedish Hockey. Lindblom, 20, had a great year with Brynäs, scoring 61P in 72GP

— Linus Hugosson (@linushugosson) May 3, 2017
The young Swede is set to start in North America next season and many would be shocked if he didn't make the Flyers' roster out of camp. The expansion draft will play a large role in this decision, but Lindblom has shown Ron Hextall and the Flyers staff what he is capable of providing to the lineup. He signed his entry-level contract on May 30.
Former intern at The Hockey News. Young, passionate hockey writer with a wealth of hockey knowledge. Journalism graduate. Always following the current hockey news in the NHL and CHL. Primarily write about the Philadelphia Flyers.