While most of us enjoyed an extra day off and a Thanksgiving feast this past week, the Chicago Blackhawks were taking care of some business down in sunny Florida. The Hawks went head-to-head with one of the best teams in the league in the Tampa Bay Lightning last Wednesday night. They ended up dropping a hard-fought contest in overtime, 3-2. Saturday night was a little more fun, as the Hawks beat the Florida Panthers by a score of 4-1. They picked up three of a possible four points in the standings. So, what can we take away from the Florida trip? Let's take a look.
Related – Blackhawks Weekly: 2 in a Row!
Winner of the Week: Patrick Kane
One could argue many winners for this week. Brandon Saad finished Saturday night with a goal, an assist, and a phenomenal eight shots on net. Jonathan Toews had a goal and two assists. But the most consistent player continues to be Kane.
Kane posted two goals against the Lightning and was "oh so close" to a third goal in overtime. While his teammates helped him out a little more against the Panthers, Kane scored another goal from a difficult angle in the second period to bring the lead to two goals ahead instead of one.
Kane currently leads the team with 13 assists and 22 points, and his nine goals are only one behind leader Artem Anisimov. He's now only six goals away from 300 in his career.
Loser of the Week: Nick Schmaltz
Poor Schmaltz had a rough week. He got busted for a slashing penalty in overtime against Tampa Bay. It was their ensuing goal on the power play that won them the game. Against the Panthers, Schmaltz was called for hooking, which was his third penalty in the last four games.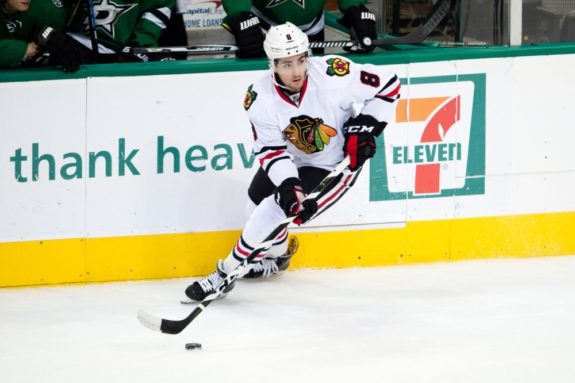 Offensively, he just can't seem to get anything going. In the last two games, he's had zero points and only managed three shots on goal. Schmaltz was recently moved from center to wing so he could be freed up to make more plays. He needs to start doing that.
What Went Right for the Blackhawks: Balance
Rolling four lines is a phrase you love to hear because it usually means your team is doing things right. If every line can have balanced playing time, as well as make positive contributions with their time, it's usually a recipe for success. The Blackhawks have been doing just that of late.
In Tampa Bay, the forward with the least amount of playing time was Ryan Hartman, who logged 10:42 minutes. In comparison, Toews had the most time on the ice, with 19:18 minutes. Moving on the contest against the Panthers, Patrick Sharp had the least TOI (10:50 minutes), and Saad had the most (21:02 minutes).
As you can see, everyone had more than 10 minutes of playing time, and almost no one had over 20 minutes of playing time. Toews and Saad were both an exception to that because they were the hot hand that night. But for the most part, all the lines were balancing their time.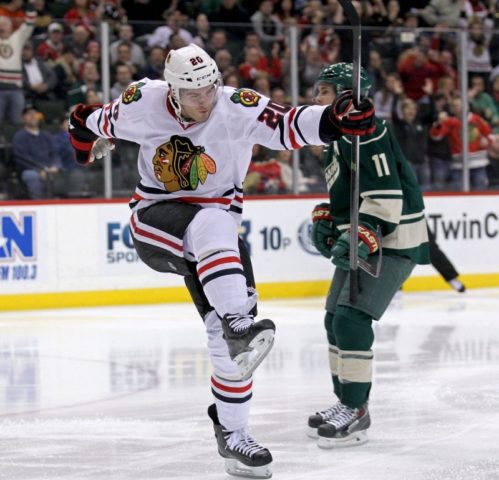 The same can be said for the defense. Duncan Keith is still logging heavy minutes, and Connor Murphy is being sheltered a bit. But Brent Seabrook, Cody Franson, and especially the third pairing of Gustav Forsling and Jan Rutta are all playing healthy and balanced minutes.
Let's move on to the contribution part. In Tampa Bay, it was all about Kane and the defense. Kane tallied two goals, and Keith, Franson, and Rutta picked up assists. The matchup against the Panthers is what you really like to see – after struggling to produce, the Hawks' top line finally broke through. Saad and Toews each contributed a goal, and they were actually on the ice with Kane when he scored. The first goal of the game was from John Hayden of the fourth line, with an assist from his fellow linemate Tommy Wingels.
All in all, contributions from the first, second, fourth lines, and the defense is good to see.
What Went Wrong for the Blackhawks: Shot Retention and 60-Minute Effort
I'd like to touch base on a few things here.
First, the Hawks are still giving up a ton of shots. In these last two contests, they allowed their opponent 38 shots on goal. It can't be stressed enough that the Hawks are lucky to have Corey Crawford between the pipes. Of 76 shots, Crow only gave up four goals.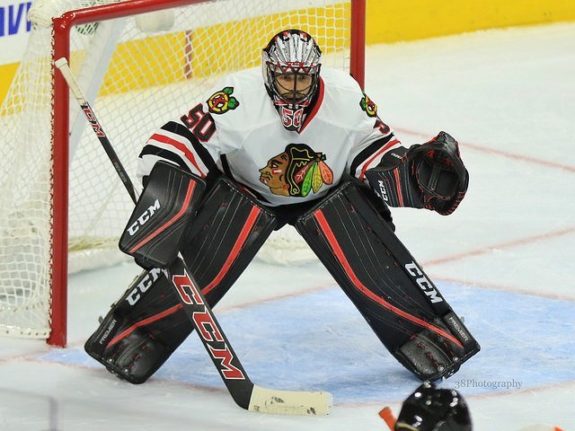 Second, the Hawks still need to work on putting in a full 60-minute effort. The good news is they've come out strong in the last two games, scoring two unanswered goals in the first period of both contests. But now, the theme is they let up in the second frame, allowing their opponent to get back into the game. The third period is still seeing mixed results. In one game, they gave up their lead and then lost in overtime. In the other contest, they put the game away.
Related – Blackhawks' Must-See Games in 2017-18
Final Observations
Besides that darned overtime power-play goal Wednesday night, the Hawks have killed seven of their last eight penalty kills. Five of those were against the best power play team in the league. They currently rank third in the league when down a man, at 85.2%.
The Blackhawks' power play has only been able to convert one of five tries this past week, and they gave up a shorty. But they're creating more chances. Taking Seabrook and Patrick Sharp off the power play, and adding Franson and Alex DeBrincat, and even Forsling has been encouraging.
The third line of Sharp, Hartman, and DeBrincat is the latest trio to be in a rut. They have been awfully quiet, as they struggle to make a contribution. Accordingly, they're seeing the least amount of ice time on the team. Can they make something happen soon, or will Coach Q get impatient and change things up?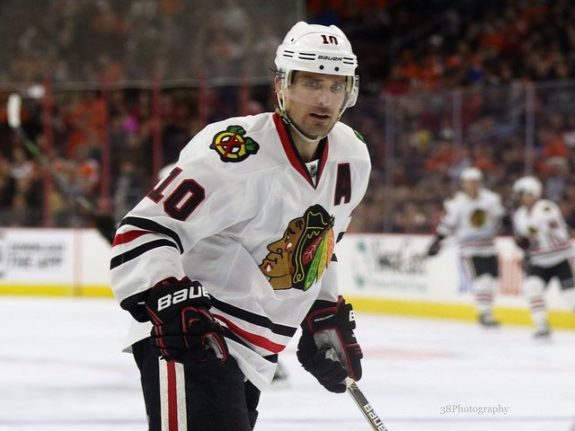 The Hawks held their own against a very good Tampa Bay team this past Wednesday night. Then they did what they were supposed to do, and dominated a struggling Florida Panthers team. The question remains, can they keep this up against stiffer competition?
Wrapping It Up
Over the last two weeks, the NHL schedule has simply been toying with the Hawks, giving them only two matchups each week. This coming week, however, will make up for it. The Hawks play five games in seven days, starting on Monday against the Anaheim Ducks. Then they take on the Nashville Predators Tuesday, the Dallas Stars on Thursday and Saturday, and finally the L.A. Kings Sunday.
With a record of 11-8-3, the Blackhawks currently have 25 points. This gives them the final Wild Card spot in the Western Conference, for now. Three other teams also have 25 points with one less game played, and two teams trail with 24 points. The Hawks will need all the points they can get in this tough upcoming stretch to keep up in a competitive conference.