Although it's been a slow week, it's been a good one for the Chicago Blackhawks. They only suited up for two games, but won them both. Wednesday night saw the Hawks victorious over the New York Rangers, 6-3. On Saturday, they beat the Pittsburgh Penguins 2-1 at PPG Paints Arena. It marked their eighth straight win over the defending Stanley Cup champions, and their third two-game winning streak of the season.
Last week, the Hawks were struggling to find their way. This week, it seems they may have discovered some of the answers. Let's discuss the good and the bad from this seventh week of the season.
Winner of the Week: Artem Anisimov
Anisimov is currently leading the Hawks in goals, with 10 tallies. He recorded a hat trick on Wednesday versus the Rangers and then scored the game-winning goal against the Penguins. It was his fourth game-winning goal of the season.
After spending some time as the third-line center, he's again secured his spot in the middle of the second line between Nick Schmaltz and Patrick Kane. It's a good spot for him, as he uses his big body to create time and space for the other two. His willingness to park himself in front of the net continues to be an asset for the Hawks.
Anisimov has helped a sputtering power play as well. In the last two games, the Hawks have tallied three times on the man-advantage, with two of those coming from Arty. By the way, have you seen his Movember mustache? It's a thing of beauty. Check out the video above for the goal and the 'stache.
Related – Blackhawks Weekly: The Roller-Coaster Continues
Loser of the Week: Patrick Sharp
Sharp's point drought continues. He's accumulated only two goals and two assists in 20 games, with a minus-9 plus/minus rating. His last point was way back on Oct. 14, when he scored a goal against the Nashville Predators. He's simply not been effective.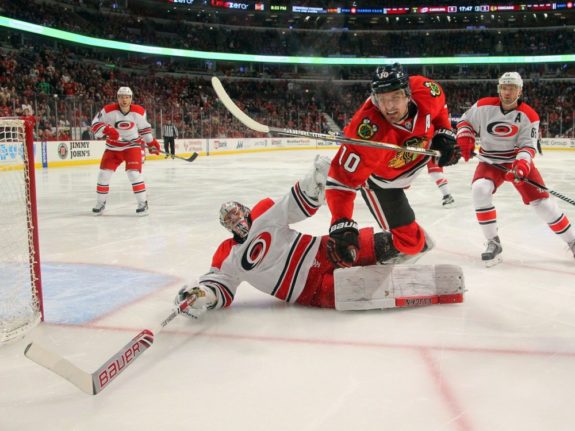 Sharp's had a number of linemates, but he's a seasoned veteran; that shouldn't matter. For the most part, he's held down a spot on the third line. He's managed a decent quantity of shots on goal; it's the quality that's been the issue. He doesn't make it hard on the goaltender, and he just seems a step slow out there.
Meanwhile, Vinnie Hinostroza is tearing it up in the AHL. He's leading the Rockford IceHogs in goals (eight), assists (nine), and points (17). Is it time to give him a shot at the big leagues, and send Sharp down?
Vinnie Hinostroza is too good for the AHL pic.twitter.com/cHiMyBnJCO

— Satchel Price (@SatchelPrice) November 19, 2017
What Went Right for the Blackhawks: Consistency
In recent weeks, coach Joel Quenneville has made a habit of constantly tinkering with the lines and defensive pairings, trying to find the right combinations. Many would agree it's been a detriment to the team. But it appears he's finally liking what he sees, because he's left things alone of late.
The first line of Brandon Saad, Jonathan Toews, and Richard Panik hasn't been putting up many points recently, but they're tilting the ice in the right direction while taking on the toughest competition. Schmaltz looks more effective and comfortable on the wing than he did at center, while Anisimov has proclaimed his center spot back next to Kane on the second line.
Sharp, Ryan Hartman, and Alex DeBrincat offer a tantalizing scoring threat on the third line (just think what Hinostroza could do here). Finally, Lance Bouma, Tommy Wingels, and John Hayden make up a grinding and physical fourth line that opponents loathe playing against.
Moving on to defense, Coach Q has finally determined he likes Duncan Keith and Cody Franson together on the first pairing. Franson complements Keith well, and the two can be defensively responsible while still pitching in offensively.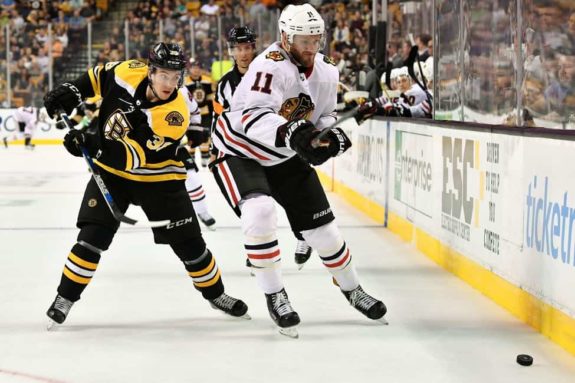 Connor Murphy has been tasked with playing on his off side next to Brent Seabrook. Many people (including myself) thought this was a recipe for disaster. But so far it's turned out surprisingly well. It helps that Seabrook has been taken off the power play, and the third pairing of Gustav Forsling and Jan Rutta have been reliable enough to carry more minutes. This gives Seabrook a much-needed break in his responsibility.
Never fear, there will still be changes and tweaks in the future. But for now, Quenneville is leaving things alone, and giving the team a chance to breathe a little easier as they get used to their current assignments.
Related – Blackhawks Weekly: A Tale of 3 Shutouts
What Went Wrong for the Blackhawks: Giving up Too Much
I don't want to get nitpicky here, but there's always room for improvement. The Hawks continue to give up way too many shots attempts against. The Rangers recorded 28 shots on goal against the Hawks, and the Penguins logged 36. According to Scott Powers of the Athletic, "Saturday marked the ninth time the Hawks allowed 35-plus shots on goal. This only happened 20 times last season." (from 'What we know about the Blackhawks after 20 games', The AthleticCHI – 11/19/17) Bear in mind, Saturday's game was their 20th, so the Hawks are only one-quarter of the way through their season.
The Hawks are banking on scoring more goals than they give up. But this is dependent on them continuing to stay hot on offense and relying on goaltender Corey Crawford's strength in net.  It's a delicate balance.
Food for Thought
The Blackhawks' penalty kill continues to be strong. They currently rank sixth in the league, at 84.9 percent. Combine this with an improved power play, and the Hawks are winning the special teams battle.
Super stars Toews, Kane, and Saad have all been relatively quiet lately. But that won't last forever. In the meantime, some of the youngsters are taking over. DeBrincat has been the forerunner of late, but it will be interesting to see who continues to step up as the season progresses.
While Forsling and Rutta are currently doing well on defense, Michal Kempny is still waiting in the wings. He's made some positive contributions and deserves another look in the future. Will he find a role with the team?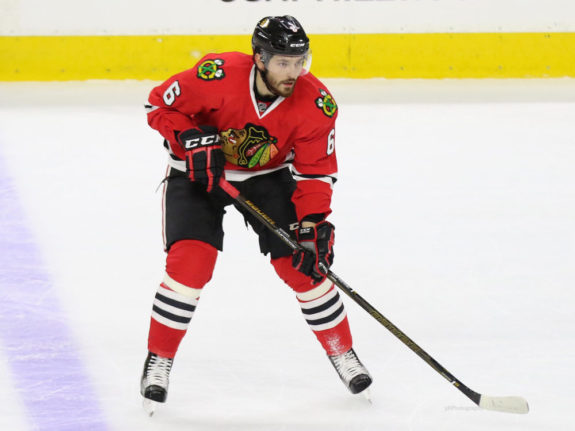 Crawford continues to be one of the most important contributors to this team's success. A concussion protocol scare this past Saturday reminded us all how detrimental it would be if Crow were injured.
Wrapping It Up
The Hawks are now 10-8-2, which is good for 22 points and the first wild-card spot in the Western Conference. They've won three out of their last four games. If they can manage to take their next contest, it will be their first three-game winning streak of the season. But it won't be easy.
The Hawks continue their three-game road trip as they head to Florida to take on the Tampa Bay Lightning on Wednesday. Tampa Bay is red hot right now. They have a record of 15-3-2, which stands as the best in the league. Beating them on their home ice will be no easy feat. Finally, the Hawks meet the struggling Florida Panthers on Saturday night, rounding out another slow week in their schedule. They should bask in their light calendar while they can, as the following week brings five games and two back-to-backs.
Have a happy Thanksgiving, everyone. Let's go Hawks!