In a bitter rivalry that is beginning to develop between the Buffalo Beauts and the Metropolitan Riveters, there is a quieter, highly reliable player who is outside of the limelight in most instances. A worker bee, and a good one at that. Buffalo has now dropped both of its games to the Riveters, including a most recent 6-3 loss on Nov. 18.
While the penalties were nowhere near as many as their first meeting, the nastiness and chippiness are still obviously there. This is likely to continue all season long. Beauts rookie forward Katherine Donohue has had two solid showings in the two meetings with the Rivs. Thus far they are her only NWHL regular-season action. With her play, though, she may have just earned a permanent spot.
Donohue Is a Well-Conditioned Hockey Player
Surprisingly enough, Donohue opened the scoring for Buffalo in the Nov. 18 game. There was a scramble in front of Riveters goalie Katie Fitzgerald, and Donohue chipped it home. Donohue is not widely known for her scoring, but she is demonstrating that she may be an ace in the hole for the Beauts when it comes to her defensive responsibility.
In an interesting line combination, co-coaches Ric Seiling and Craig Muni placed Donohue on a line with Kristin Lewicki and Jess Jones. With that trio, you have the crafty speedster (Lewicki), the bullish sniper (Jones), and the defensive-specialist (Donohue). They demonstrated potential. For high-wheeling players like Lewicki and Jones, a player like Donohue is the perfect linemate—one who can forecheck and backcheck without any worry.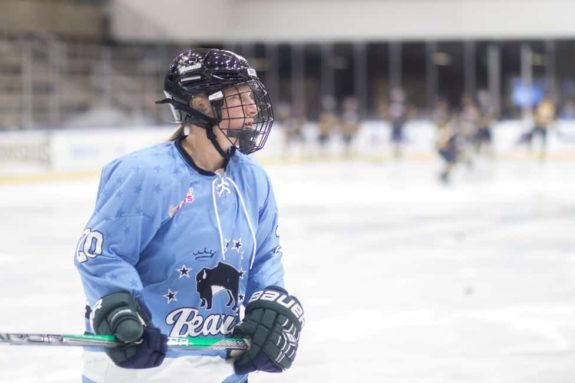 Coach Seiling was asked by THW after this particular Beauts game about what he thought Donohue added to his roster and her line in particular. He responded:
"We had specific lines that we were trying to match, and when we matched them we had success. I felt that that line wasn't getting as much ice time. Lewicki is very explosive on the offense and so is Jones, and we need to get them out there. I think that (Donohue) has a lot of speed. She's a personal trainer herself, and we know that she's in shape. We know that she's got a lot of speed. We were quite surprised when we actually got on the ice in practices just how much speed she really has, and we think that she can be a good anchor there."
Donohue's Ability to Win Face-Offs
Donohue was also in the lineup for the Beauts/Riveters penalty-filled affair on Nov. 4. She was one of the positives for Buffalo that they could take away from that particular game. Perhaps that also had something to do with why she was reinserted into the lineup for round two.
During the Nov. 4 game, Donohue won the second-most faceoffs (four) of any Beauts player and had the best faceoff winning percentage for the team on that night (75-percent). THW asked Donohue about what makes her so solid on the draw.
"I just try to get a gauge for how the opposing center is positioned and focus on how I can get the most leverage once the ref drops the puck," Donohue shared. "We have very active wingers on the draw, too, so winning faceoffs is a complete team effort. There's times when you're not going to win it cleanly and I have full confidence in everyone on the ice to gain possession".
Related: Beauts' Physicality Still a Plus in Spite of Penalty Laden Game
Other Defensive Work and Responsibilities
Donohue also led all Beauts forwards in blocked shots that same game with two, and those were the second most on the team. She attributes her defensive-zone prowess and her undertaking of those associated responsibilities with the amount of time she has spent playing center throughout her career.
"I've played a lot of hockey as a center and with that position you're expected to work with your defenseman in the D-zone quite a bit," Donohue explained. "So I think having that as my background has made me very defensive-minded. We have spectacular defensemen on this team and that makes it that much easier to play a strong defensive system."
Donohue is certainly well familiar with the Beauts defenders. Like Donohue herself, defenders Colleen Murphy and Kayla Parsons attended high school at the North American Hockey Academy (NAHA). The familiarity that she has with her new teammates has definitely carried over onto the ice.
NEWS: Mercyhurst ➡️ Buffalo

We've signed Taylor Accursi and Kathy Donohue for the upcoming @NWHL season! #DefendTheCrown pic.twitter.com/ce2aKVZPu6

— Buffalo Beauts (@BuffaloBeauts) July 5, 2017
"I was lucky enough to already have known a few girls coming into this season," Donohue said. "I played with Hayley Scamurra when I was 14, Colleen Murphy in high school at NAHA, and Julia DiTondo and Taylor Accursi in college at Mercyhurst. With the type of girls that make up this team, it was so easy to feel welcomed and to get along with everyone. We all enjoy spending time with each other even off the ice so I definitely think that helps our connection as a whole."
Donohue's Solid Work for the Better Part of a Year
Seeing as that Donohue is a personal trainer, there are integral concepts on and off the ice that she does not need to be taught. Rather, she is likely the one to be teaching them to others. Things like discipline, commitment, striving, and setting goals. Buffalo got its first glimpse of Donohue back in June at the Beauts' free-agent camp.
Now Donohue's teammate, goaltender Kelsey Neumann noticed her efforts at the camp. Neumann told THW at the time, "There were a few players who definitely stood out. (Donohue) played on the red team the first day, and then the white team on Sunday. She is really fast, good with the puck; she knows how to move it. Just a good two-way player."
Dunkin' FTW! Thanks, @DunkinDonuts for your support this season! #TheBeautsRunOnRunkin pic.twitter.com/PPeXPF3etJ

— Buffalo Beauts (@BuffaloBeauts) November 18, 2017
It is certainly interesting in retrospect to see how Donohue's two-way skills were noticeable even then. Since that time though, she has further honed her abilities and her training. Part of that was done while working alongside her teammate Hayley Scamurra and under the tutelage of Scamurra's father, Peter.
"It's been fun and exciting since that tryout," said Donohue. "Being able to train on the ice with a few of the other girls and Hayley Scamurra's father, Pete, took up most weeks in the summer and those helped a lot. Then before I knew it our team had our first practice and a team bonding weekend to kick off the start of the season. Everything happened pretty quickly and it made the transition go smoothly."
Related: Beauts Banner Raising Invigorates Team & Fans Alike
Fitting Right at Home in Buffalo
Now Donohue has her first NWHL goal too. For those who watched the game, they would know she nearly had a second one on the night as well. There will still be many more opportunities for her to grab additional goals. From her play in the two games, it will be difficult for Seiling and Muni to justify sitting her, especially when considering the fact that Buffalo has twice now given up six goals. They may need to keep a forward with Donohue's defensive capabilities in the lineup.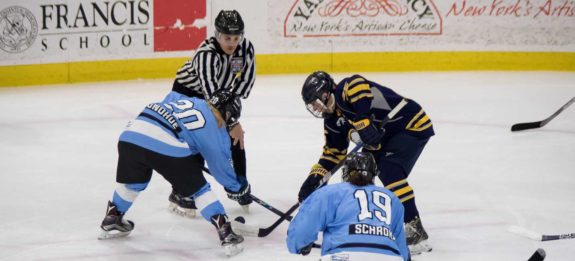 Regardless of the playing time she has received so far, Donohue is at home in Buffalo. Growing up in Rochester, it is not like she had to travel very far. Still, to be playing professional hockey in the "City of Good Neighbors" has been pretty special for Donohue and also sentimental.
"I grew up in Rochester but my dad was born and raised in Buffalo so this city has been special to me since I was a little kid," she shared. "He'd always take me to Sabres and Bills games, or to visit my grandmother. Plus travel hockey constantly had me playing in Buffalo. This city is considered home for me as much as Rochester is. The one-hour distance makes it easy for friends and family to be able to watch me play so I'm very lucky for that."
Being Part of a Team Again
The Beauts have long had an affinity for players from Mercyhurst University. In Donohue's 132 college games with the Lakers, she scored eights goals and 22 assists. Those numbers speak true to a defense-first mindset. The defensive-forward is a most necessary aspect of the game. If it was not, awards like the Frank J. Selke Trophy or the Women's Hockey East's Best Defensive Forward Award would not exist. Donohue is much like a Michael Peca. Given her Rochester and Buffalo roots, Donohue likely would not mind the comparison.
But no matter what her role is, what Katherine Donohue is most excited for is being part of a strong hockey club and the unity that comes with it.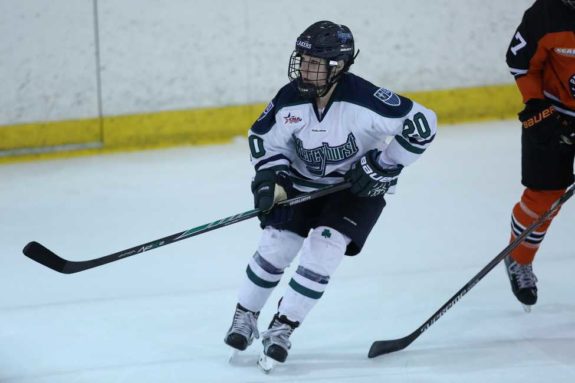 Asked what has been the most enjoyable part of being a Beaut since the season got underway, Donohue shared the following:
"It's probably to be a part of a team again. Taking a year off from hockey makes you realize how much that simple aspect of the game is what makes it so enjoyable. I love the competition that hockey brings and being able to share that bond with a group of 20 plus teammates is something I don't want to take for granted."
Donohue's teammates certainly won't take her for granted either. She fills a vital role on this hockey club. Donohue is well-conditioned and committed. Getting her into more games this season would most certainly behoove Buffalo.