For a city—a true hockey town if there ever was one—that needed a professional championship, the proverbial icing on the cake took place at the HarborCenter on Saturday night, Nov. 11. Early (and unexpected) indicators inclined one to think that as the Buffalo Beauts raised their "2016-17 Isobel Cup Champions" banner and the championship rings were distributed to the players, that it would be a memorable night for everyone in attendance.
More than that took place. The game ended up being a night of togetherness that swelled in the hearts of players, coaches and fans alike. The Beauts fed off of the festivities, and the crowd fed off of the Beauts. Not surprisingly, the energy built saw Buffalo skate to a 5-3 victory over the Boston Pride.
Presence of Beauts Alums Sets the Stage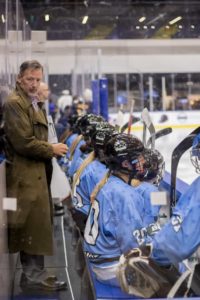 Prior to the opening faceoff, the Beauts' management and coaching staff from the Cup run assembled on the ice. Ric Seiling, Craig Muni, and Linda Groff-Mroz welcomed the players to receive their rings with hugs and handshakes. The Isobel Cup was perched in the center of a black-clothed table with the rings surrounding it. The players were announced one by one and included some old friends. Recently retired Beauts Brianne McLaughlin, Morgan Beikirch-Savino, and Kelley Steadman came to Buffalo to take part in the ceremonies. Current Boston Pride defender Paige Harrington did as well, even in full Pride uniform as she would be playing for the opposition after the banner was raised.
Loud applause came down from the crowd as each player's name was announced. It rang out even more as the banner was unfurled. It was a cheerful sight to see the team almost entirely together for one more time.
Coach Seiling spoke about the ceremony with the media after the game:
"It was a nice a touch. The girls got their rings presented to them," he said. "The banner out and the trophy. We really haven't seen it here on the ice. We've seen it around town and everything else like that, but our fans haven't seen it on the ice. We haven't had a home playoff game or a championship game, so our fans haven't seen it. It was nice to share it with the fans and see the support from them tonight."
Togetherness Among Players, Coaches and Fans
Here is where a small twist comes in for the better. As a young singer (Maddie Radwan) came onto the ice to perform the national anthem, her microphone died after only a word or two. Not missing a beat, the entire Buffalo faithful continued to sing "The Star-Spangled Banner" along with her. Mic or no mic. That included players, coaches, media, even the Beauts public address announcer.
Not only was it a splendid showing of compassion and national pride, but it typified what the 2016-17 Beauts had been about. Togetherness, unity, don't-count-them-out, never-give-up. The spirit of the city of Buffalo. It was one of those moments where one could not help to think, "Jeepers, did God have that one planned in advance?"
✌️ Beauts. ✌️first goals. #DefendTheCrown pic.twitter.com/MpiYXAijSw

— Buffalo Beauts (@BuffaloBeauts) November 12, 2017
Regardless, from the banner raising, to the ring distribution, and then the anthem saving, the Buffalo Beauts were energized once the puck was dropped.
The leading goal scorer in the NWHL, rookie Taylor Accursi, talked about what seeing the banner raising and the ring presentation meant to the new Beauts such as herself.
"I think being able to see all of the returning players out there being able to get their rings and the banner raising definitely gives a lot of the new players something to look forward to," Accursi said. "If that doesn't give you something to look forward to, then this definitely isn't the spot for you. Everybody in the room definitely wants those rings."
"The Magnificent Accursi" Strikes Again
A forward who is seemingly a wizard with the puck, Accursi potted two more on this night against the Pride. In the 5-3 victory, she tallied the second and the fifth goals of the game for the Beauts. This young lady is simply on fire right now and is running with it.
Accursi's solid play in both the preseason and the two prior regular season games saw her receive a bit of a promotion. With Beauts sniper Jess Jones serving a single-game suspension, coaches Seiling and Muni moved Accursi to the top line with Corinne Buie and Rebecca Vint. That line clicked from the get-go and had multiple scoring opportunities during the night. Buie led all Beauts with eight shots on goal, while Accursi fired seven and Vint had five.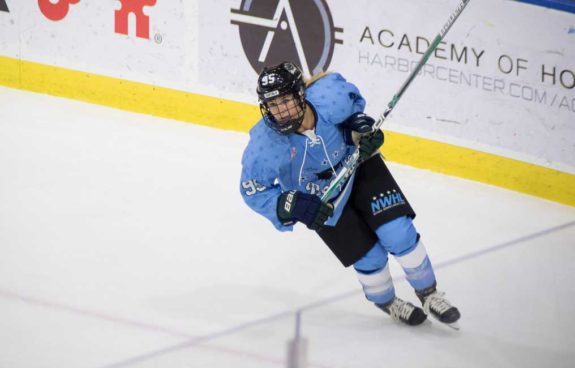 Asked about how she feels about leading the league in goal scoring, Accursi shared the following:
"Honestly, it feels great to be able to fill a role that is really special on the team. I know that a lot of the girls who scored last year have left. Being able to fill that void and having my teammates there to help me and support has definitely allowed me to fill that role."
Accursi Is a Goal-Scoring Machine for Buffalo
It seems that all coaches Seiling and Muni need to do is play Accursi. Get her out onto the ice. Accursi has scored at least one goal in each of her three NWHL regular season games. Three of her five tallies have come on the power play and one has held up to be the game-winner.
On this particular night, Accursi felt that she was clicking best with the team captain for the Beauts.
"I felt like tonight me and Buie," she explained. "We definitely were feeling really good with the puck. Tonight I was on the first line. I usually play with Scamurra and Elia. We were vibing really well. But tonight I was revved up and I felt like me, Buie and Vint worked really hard."
Elia Is the New "Little Ball of Hate"
There were two Beauts who scored the first goals of their pro careers during the game as well. Kaylyn Schroka, one-third of the "Adrian Line", scored Buffalo's first goal of the game and her first.
The other first-time scorer was one of Buffalo's most ferocious players, Maddie Elia. The 5-foot-10 Elia rifled six shots of her own on Pride goalies Brittany Ott and Brianna Laing.
Asked about her first NWHL goal, Elia said, "Feels awesome. Especially because we won it makes it a lot better."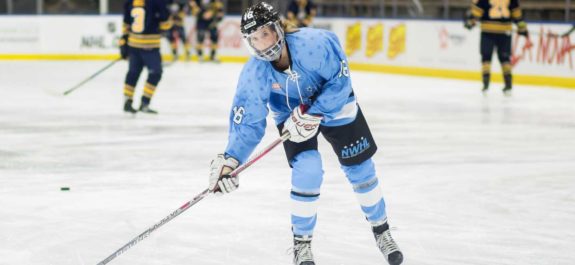 Elia plays the game with a controlled chaos. She is completely fearless of collisions or sticks that may come up into her face. Elia goes full bore every shift she takes. It is plain fun to watch her skate and forecheck.
"Obviously it's a huge adjustment from college," Elia explained about the style of NWHL play. "We only practice twice a week here, and in college we practiced every day. Trying to get back in shape. Trying to get used to playing games again. It's been a long summer. It's been a good transition, but I think today really mobilized the team. You really see progression through the first two games."
The Veteran Presence of Kunichika
Elia's goal was set up off of a beautiful pass from Buffalo veteran Kourtney Kunichika. The two formed a forward line with Hayley Scamurra, and all three clicked together most nicely. Kunichika is the only Beauts player on the club who has remained with the team since day one. She has not missed a single regular-season or playoff game for Buffalo since their inception. Elia spoke very highly of her veteran linemate.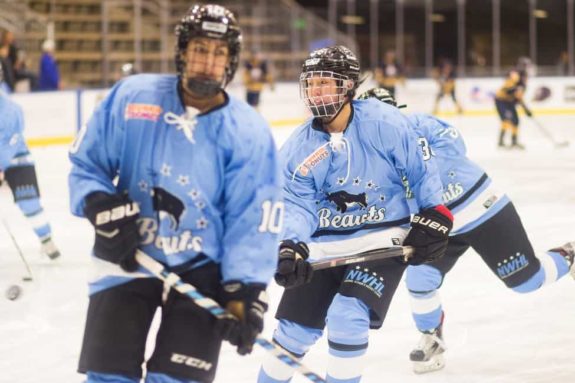 "Gave me an awesome pass on my goal," Elia said. "She's a really good player. She sees the ice well, and finds me and Scamurra open a lot, so that definitely helps out a lot."
Elia would go on to say, "She's very composed. She knows what to do and is very calm. In situations where we're down, she is pumping us up on the bench by telling us that we can come back. It's good to see such a great leader like her and on my line as well."
Leveille Receiving the Bulk of the Goaltending Work
Beauts goaltender Amanda Leveille pitched arguably her best performance of the regular season thus far. Leveille has made three consecutive starts. While she did have a better save percentage and goals-against in the first game of the season against Connecticut, she faced more shots in the game against Boston and still posted comparable numbers.
Leveille turned aside 29 of the Pride's 32 shots. She would have a .906 save percentage on the night and now has a mark of .879 on the season through the first three games.
"I felt pretty good," Leveille shared with the media after the game. "The bottom line is we just want to win. Ideally, I don't want to give up three goals. That's not what my personal goals are. I'd like two or less and I think the team can agree with that. But when a team scores five goals—I'm not going to give up five goals. With this defense in front of me at least."
Will Leveille Get the Start Again in Week 4?
With the three straight starts and an upcoming rematch with the Metropolitan Riveters, one cannot help but wonder if Seiling and Muni will go with Leveille once more, or if they may give either Kelsey Neumann or Julia DiTondo a look. Leveille does not seem to mind the workload in the least, and she even discussed the difference between this current season and last year's Cup-winning season.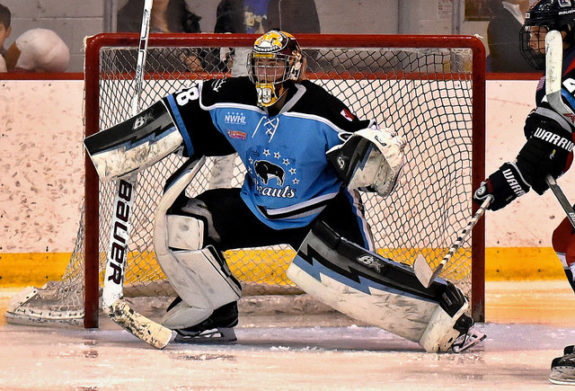 "It's definitely been different. Bri(anne McLaughlin) is one of the best goaltenders in the world. It was so cool to be on the same team as her. She was a mentor for me. I got to ask her anything, and she would tell me about her experiences with the Olympics. It's definitely been a different dynamic but I have two awesome goaltending partners this year that are pushing me and being great teammates to me as well."
Beauts Still Have to Be Vigilant Gearing up for Metropolitan
The pomp and circumstance have now come to a conclusion. The banner is up, the players have their rings, and the Buffalo fans and community have had their ceremony. It is only natural now that time and life go on. The Beauts have some business to take care of if they wish to retain the Isobel Cup. There are 13 more regular-season games to go, including a rematch with the Riveters on Nov. 18. The last time the two clubs met, the Beauts sustained a loss and a slew of penalties in a poorly officiated game. But it is time to move on. As Seiling agreed, it is what it is.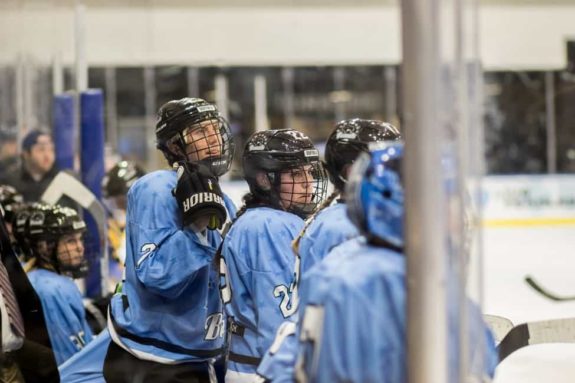 "We have always taught and preached a disciplined game. We have always taught that from day one." Seiling said.
Speaking to what took place the prior week when the Beauts and Riveters played in Rochester he shared, "What happened the last game we did not like. We did not like it from our standpoint. We did not like it from the overall standpoint—we weren't happy with it, we weren't proud of it. And we have our feelings about what went down, but again, it is what it is. I told the girls tonight that's in the past. We can't help that today. We can only move forward, and move forward in a positive manner."
Buffalo Beats Boston but Still Room for Improvement
Buffalo's 5-3 victory on its banner-raising night was not a walk in the park by any stretch. Yes, the victory belonged to the Beauts, but Boston rallied in the third and in the final 10 minutes. All Pride goals came in the third, and from a point when Buffalo was once up 4-0, things got a bit uncomfortable when the score became 5-3 at the 11:31 mark on a Mary Parker goal for Boston.
Accursi shared, "Our third period was really sloppy. Especially those rims along the boards. (My)self included, we have got to get those pucks out deep and just make smart five foot plays."
WHAT A NIGHT!

Thank you to all of our incredible fans who made last night extra special! Buffalo, we are forever #IsobelCupChamps! pic.twitter.com/s9qvwXuuum

— Buffalo Beauts (@BuffaloBeauts) November 12, 2017
Seiling recognizes that the season is still very young and his team is still learning. He and Muni have an interesting problem on their workbench—too many good players to try to insert into the lineup. In the victory over Boston, solid Beauts players like Jordan Ott, Kathy Donohue, and Jessica Sibley were not even suited up as Seiling and Muni try to be both fair and find the right chemistry for a winning hockey club. It was made slightly easier for them because of the suspensions to Jones and Sarah Casorso, but that is essentially a one-time free pass.
"We are still a team that's learning," Seling said. "Learning each other, trying to get the chemistry right. We made some changes to the lineup. We've got some really good players that didn't play tonight too. We're trying to find that chemistry and make it work. I just said that to the girls, 'Every game is a learning experience. We came out with the win, but what can we take away?' When you go into the third period up four-nothing, you know you're going to get pushback. The question is how are you going to deal with it? And that's what we've got to do. We saw some tendencies that we have to work on as coaches to help them be better."
Stay tuned to see who plays in the upcoming game against Metropolitan, including a decision on the goaltenders.
General Manager of the Buffalo Beauts (NWHL). Hockey history writer "The Hockey Writers". Credentialed media for the NHL Combine and 2018 IIHF World Junior Championships in Buffalo, NY, USA. Born and raised in Buffalo, NY. Lifelong hockey fan for over 40 years. Proponent of the women's game.