Say what you want about the general manager of the Detroit Red Wings, but we've seen a different Ken Holland over the past year.
For someone who has scarcely traded in the past, Holland has managed to unload Brendan Smith, Tomas Jurco, Steve Ott, Thomas Vanek, Riley Sheahan and Ryan Sproul in six separate deals over the past nine months. Even more impressive, Holland acquired a slew of draft picks and prospects for these players instead of more veterans or additional bad contracts.
However, there is still work to be done to improve Detroit's future — and Holland's job security. Before the 2018 NHL Trade Deadline is reached, we might see a few more moves out of the Red Wings' GM. Just temper your expectations.
Trading Mike Green
It's no secret that defenseman Mike Green could be dealt. He's a rental, puck-moving, right-handed defenseman who's been scoring at nearly a point-per-game pace. Plus, Detroit has the ability to retain half of his salary if need be.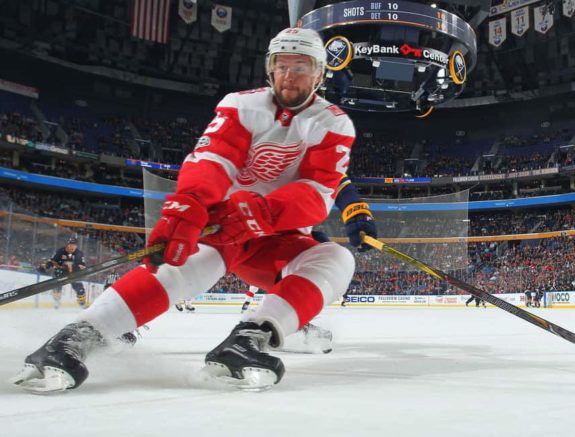 Regardless of how the Red Wings are performing, Green should and likely will be traded. The possible return for Green is too good to pass up – even if the playoffs are within reach. Any conversation about the fleet-footed defenseman would likely start with a first-round pick coming back to Detroit if Green continues to tear it up. And considering the talent in this year's draft, Holland should by no means pass this up.
Green's contributions to the blue line will not be easily replaced. He's been the sole offensive threat from the back end over the past few seasons, but moving Green will allow the Red Wings to give the likes of Joe Hicketts or Filip Hronek a shot with the big league team. That, or Detroit could bring in a defenseman from the outside.
Trading Another Defensemen
Green aside, the Red Wings are in rough shape when it comes to their present blue line. They could use a long-term upgrade if the opportunity presents itself. However, they should only acquire a defenseman if Green is traded AND another defenseman can be moved. Detroit does not have the roster space otherwise. Here's why:
Niklas Kronwall is highly regarded within the organization and will play every night, despite his slowed place.
Danny DeKeyser was signed to be a top-pairing defenseman and will be given the opportunity to fulfill that expectation.
Jonathan Ericsson is a valued member of the penalty kill and hasn't been bad five-on-five this year.
Trevor Daley was just signed to play top-four minutes.
Unless there's a significant injury, or the Red Wings really hit the skids, the above usage will not change.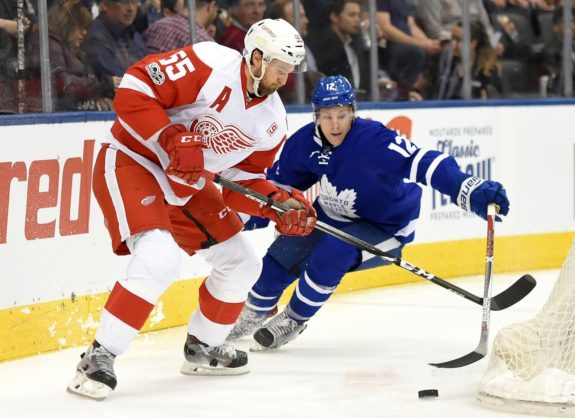 With those four solidly entrenched in the lineup, Xavier Ouellet and Nick Jensen remain behind them. Neither are amazing players by any means, but are useful in the lineup. Jensen has fantastic speed and Ouellet is a smart defenseman. However, both Jensen and Ouellet have yet to make themselves indispensable on the ice. One of these two will likely sit if Hicketts or Hronek get called up.
With all of this being said, improvements are still needed. Hronek, Hicketts, Dennis Cholowski, and Vili Saarijarvi are still years away from hitting their prime and won't play top minutes right away. Adding a defenseman like Jacob Trouba or Brandon Montour will make the blue line stronger now and in the future when the prospects are truly NHL-ready.
It only makes sense for Detroit to add a defenseman like Trouba or Montour if another roster blueliner is dealt. Otherwise, you'll see Ouellet or Jensen in the stands and Hicketts still in the minors. Also, keep in mind that those defensemen will cost an arm and a leg to acquire – potentially a defensive prospect, a good roster player, and a pick, depending on who comes back to Detroit.
Rooting for Jonathan Ericsson
Strangely, Ericsson has had a decent season so far. He and Daley have been solid as the top pair, despite not producing terrific offensive numbers.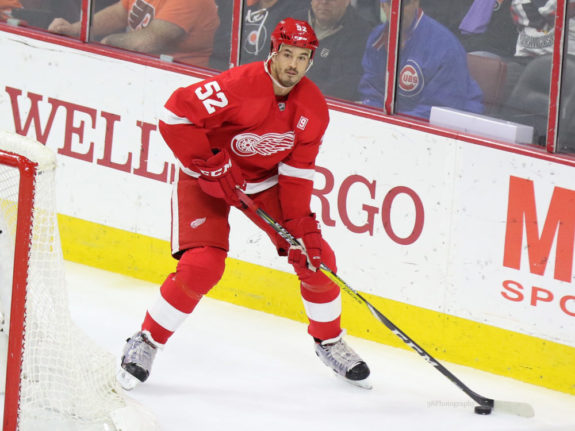 Many would love to see Ericsson go, but you simply can't trade the veteran for next to nothing. That would be an irresponsible move on Holland's part. It's not the right time to trade Ericsson with the sole goal of opening up cap space, especially with the Swedish defender playing such a vital role at the moment.
In Detroit's eyes, Ericsson is worth more in the lineup than not. The best case scenario would be for Ericsson to continue to play well and generate some interest from other teams. There's a big difference between the Red Wings trying to trade Ericsson and another team trying to acquire him. He'll only be moved if the latter scenario arises. And Detroit will get more in return than if they were just trying to dump his contract.
Will the Detroit Red Wings trade Mike Green regardless? Comment below with your thoughts.