The Arizona Coyotes appeared to take a step forward two weeks ago as they picked up their first two victories of the season, but they regressed last week with four straight losses.
One Step Forward, Two Steps Back
After a home-ice shootout victory over the Carolina Hurricanes on Nov. 4, the Coyotes headed out on their second trip to the East Coast in as many weeks. They began their three-game roadie against the Washington Capitals on Monday night and got off to an outstanding start, as Clayton Keller and Christian Fischer both scored on Braden Holtby in the opening minutes of the first period. However, Holtby shut things down the rest of the way, enabling his teammates to score two goals of their own to force overtime, where John Carlson beat Scott Wedgewood with less than a minute remaining to give Washington the 3-2 victory.
Following their disappointing loss in the nation's capital, the Coyotes made the short flight to Pittsburgh to take on the two-time defending Stanley Cup champion Penguins on Tuesday night. Arizona quickly found themselves in a hole, as Justin Schultz and Evgeni Malkin struck in the first period to give the Pens a two-goal lead after just 3:07 of hockey. Tobias Rieder made things interesting early in the third as he cut the lead in half 26 seconds into the frame, but Phil 'the Thrill' Kessel iced the game with a power-play goal and Pittsburgh breezed to a 3-1 victory.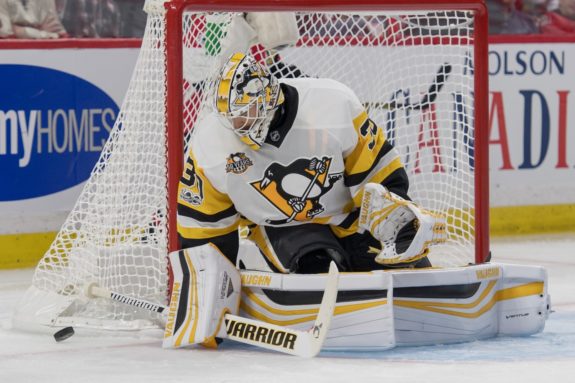 The Coyotes then traveled to the Gateway to the West and wrapped up their road trip on Thursday night against the Blues. St. Louis has given the Coyotes fits over the last few seasons, as Arizona entered the game with zero points in their last 11 games against the Bluenotes. The 'Yotes did manage to end that lengthy pointless streak on the night, but they were unable to get the victory as the Blues prevailed in a shootout, 3-2.
Arizona finished out their week with another Saturday night home game, their fifth in six weeks, against the Winnipeg Jets. Things started out well enough, as the 'Yotes held a 1-0 lead after 20 minutes of hockey and looked good defensively. However, things went downhill in the final 40, as the Jets scored four unanswered goals, including three in the third period, to pick up the 4-1 victory. Goaltender Antti Raanta addressed the media following the game:
"How we played today, it's really frustrating." — Antti Raanta, after the @ArizonaCoyotes' 4-1 loss to the #Jets. pic.twitter.com/rRSCS6kzGX

— FOX Sports Arizona (@FOXSPORTSAZ) November 12, 2017
Heading North of the Border
Following the Jets' victory over the Coyotes on Saturday in Glendale, the two teams will head up to Winnipeg for a grudge match at Bell MTS Place on Tuesday. The 'Yotes haven't won a road game against the Jets since the team was still in Atlanta – they're 0-5-2 in seven visits to Winnipeg since the franchise relocated following the 2010-11 season. Puck drop is scheduled for 7:00 P.M. local time (6:00 P.M. in Arizona) in Manitoba.
After wrapping things up in Winnipeg, the Coyotes will head eastward to Quebec for a Thursday night matchup against the Montréal Canadiens. Le Bleu-Blanc-Rouge got off to an absolutely brutal start to the season, but they've been better lately, as they're 7-3-0 in their last 10 despite being without the services of Carey Price since Nov. 2. The Coyotes will also have to contend with the red-hot Max Pacioretty, who has seven points in his last five contests. Puck drop is scheduled for 7:30 P.M. local time (5:30 P.M. in Arizona) at the Bell Centre.
The Coyotes will then make the short trip to Canada's capital city for a Saturday afternoon contest against the Ottawa Senators. The Sens are fresh off of a trip to Sweden, where they defeated the Colorado Avalanche in both games of this year's edition of the NHL Global Series. Puck drop is scheduled for 2:00 P.M local time (12 noon in Arizona) at the Canadian Tire Centre.
Raanta Heating Up
Despite their continued inability to win games, the Coyotes have significantly improved on the defensive end of the ice over the last few weeks. Excluding Patrik Laine's empty-netter on Saturday night, Arizona has allowed three goals or fewer in each of their last five games. While still not great, these numbers represent a marked improvement over the Coyotes first 14 games (from the start of the season through Nov. 2), during which they went 1-12-1 and allowed a league-worst 61 goals.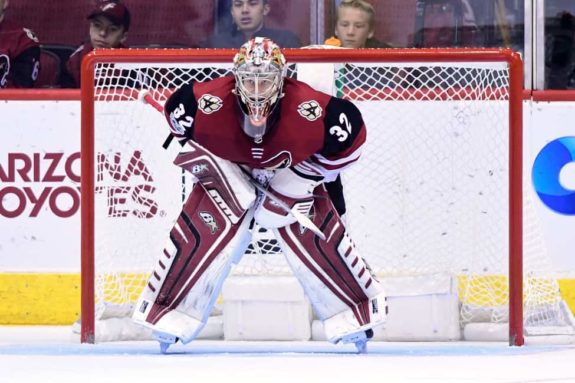 The recent uptick in the 'Yotes defensive play began at around the same time Antti Raanta returned to the lineup, and that's no coincidence – Raanta has been sensational in goal this season for the Coyotes. His 1-4-2 record this year isn't all that impressive, but he leads the Coyotes in save percentage (.913) and goals-against average (2.90) despite having missed three weeks of the season due to injury.
With all due respect to Scott Wedgewood, Louis Domingue, and Adin Hill, Raanta is undoubtedly the Coyotes' number-one goaltender and they're clearly a different team when he's on the ice. He was outstanding in Arizona's shootout victory over the Hurricanes on Nov. 4 and was arguably the only reason that the 'Yotes earned a 'loser point' against Vegas on Oct. 10 and St. Louis last Thursday.
If Raanta is able to stay healthy for the rest of the season, it wouldn't be a stretch to say that the Coyotes are capable of playing respectable, defensively-sound hockey the rest of the way.
Pacific Division Roundup
We're five weeks into the season, and the Los Angeles Kings still find themselves in the top spot in the Pacific Division. The Vegas Golden Knights and San Jose Sharks continue to creep closer, though, and both are within striking distance. Here's how Arizona's other division rivals fared last week:
Anaheim Ducks (7-7-3, 17 points)
Last week: 1-1-1 (4-3 OTL vs LA, 4-1 W vs VAN, 2-1 L vs TB)
Analysis: The Ducks are within a point of a playoff spot in the Western Conference, but they'll have to stay afloat without the services of Ryan Getzlaf. The Ducks' captain, who has seven points in six games this season, suffered a fractured left cheekbone on Oct. 29 when was struck in the face by a puck. He'll reportedly miss two months after undergoing surgery.
Player of the week: Rickard Rakell – Goal, 4 assists
This week: Wed vs BOS, Sun vs FLA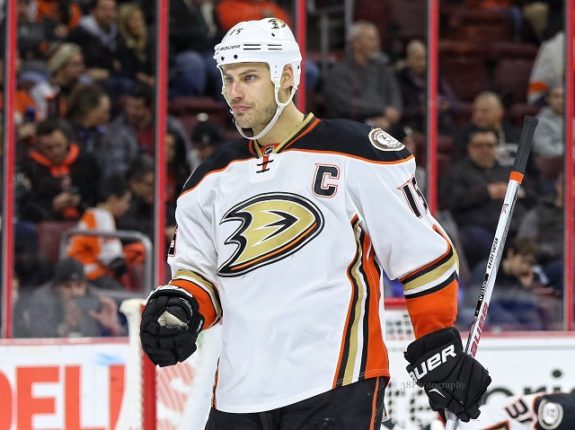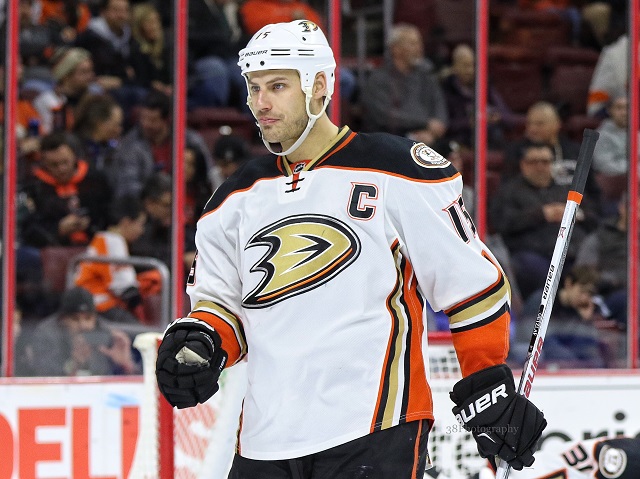 Calgary Flames (9-7-0, 18 points)
Last week: 1-1-0 (5-3 L vs VAN, 6-3 W vs DET)
Analysis: The Flames had another short week last week – they lost to the surprising Vancouver Canucks on Tuesday night at the Saddledome, but rebounded with a big 6-3 win over the Detroit Red Wings on Thursday. They've played just four times so far in November and are 3-1-0 for the month. They'll finish a seven-game homestand on Monday before heading out on the road for six.
Player of the week: Johnny Gaudreau – 3 goals, assist, +3
This week: Mon vs STL, Wed at DET, Sat at PHI
Edmonton Oilers (6-9-2, 14 points)
Last week: 2-1-1 (2-1 OTW at NYI, 3-2 OTW at NJ, 4-2 L at NYR, 2-1 SOL at WSH)
Analysis: Buoyed by some outstanding play in net from Cam Talbot, the Oilers rebounded from their slow start with five points in four road games last week. They're still a few points behind the rest of the Pacific Division, but that 2-1-1 road trip was a good start toward climbing back into contention.
Player of the week: Cam Talbot – 2-1-0 record, 98 saves on 104 shots (.942 SV%)
This week: Tue vs VGK, Thu vs STL, Sat at DAL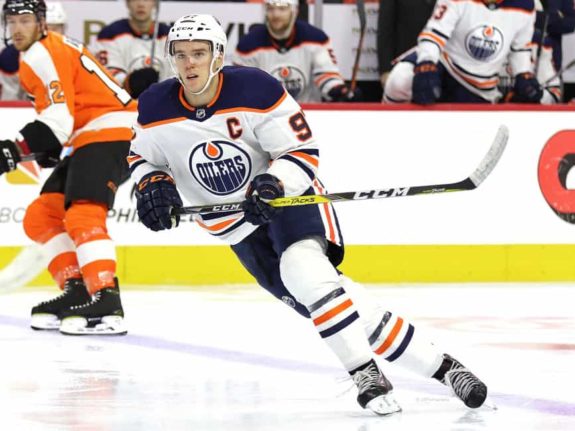 Los Angeles Kings (11-4-2, 24 points)
Last week: 1-2-0 (4-3 OTW at ANA, 5-2 L vs TB, 2-1 L vs SJ)
Analysis: It looks as if cracks have begun to appear in Los Angeles' armor – after a come-from-behind overtime victory over the Ducks on Tuesday, the Kings were blown off the ice by the Tampa Bay Lightning on Thursday and blew a 1-0 third-period lead against the Sharks on Sunday. John Steven's squad is just 2-3-1 in their last six and will need to get things going again in a hurry, as four of the Kings' next seven games are against division foes.
Players of the week: Dustin Brown – 2 goals, 2 assists
This week: Tue vs VAN, Thu vs BOS, Sat vs FLA, Sun at VGK
San Jose Sharks (10-6-0, 20 points)
Last week: 2-1-0 (5-1 L vs TB, 5-0 W vs VAN, 2-1 W at LA)
Analysis: The Sharks are playing perhaps the best hockey of any team in the Pacific Division right now – they're 6-1-0 in their last seven and have looked like a completely different team from the one that opened the season with three regulation losses in four games. Keep an eye on Brent Burns – none of his 65 shots on goal have found the back of the net this season. If he gets some puck luck to go his way, watch out.
Player of the week: Tomas Hertl – Goal, 3 assists, +2
This week: Tue vs FLA, Sat vs BOS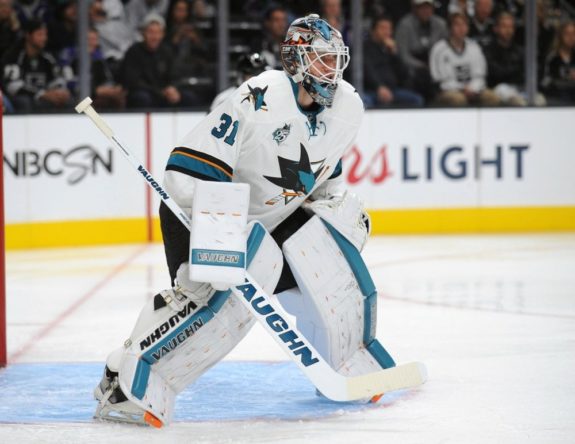 Vancouver Canucks (8-7-2, 18 points)
Last week: 1-3-0 (3-2 L vs DET, 5-3 W at CGY, 4-1 L at ANA, 5-0 L at SJ)
Analysis: Last week was a rough one for the Canucks – sandwiched around a 5-3 victory over the Flames were 3-2, 4-1, and 5-0 losses at the hands of the Red Wings, Ducks, and Sharks, respectively. If Vancouver is going to turn things around, they're going to have to get it done on the road, where they'll play seven of their next nine.
Players of the week: Daniel Sedin – Goal, 2 assists
This week: Tue at LA, Thu vs VGK, Sat vs STL
Vegas Golden Knights (10-5-1, 21 points)
Last week: 1-1-1 (4-3 SOL at TOR, 3-2 L at MTL, 5-2 W vs WPG)
Analysis: Somehow, the Golden Knights continue to keep their heads above water despite being without all of their top three goaltenders. Marc-Andre Fleury has resumed skating, though, so there is a light at the end of the tunnel. Vegas is going to need him back soon in order to stay near the top of the Pacific Division.
Players of the week: Deryk Engelland – Goal, 3 assists, +4
This week: Tue at EDM, Thu at VAN, Sun vs LA
The Coyotes have improved on the defensive end of the ice, but their offense has suffered as a result, as they've scored just seven goals in their last five games. Can they put together a few complete performances this week in Canada?