At the end of last season, Los Angeles Kings forward Dustin Brown was written off by many as being past his prime. He's too old, he's not scoring anymore, and he's certainly not worth the $5.875 million he'll be receiving every year until he becomes a free agent following the 2021-22 season, critics said.
A quick look at his statistics reveals that these concerns have been warranted. Brown hasn't reached the 20-goal mark or the 50-point plateau since the 2011-12 season, and has, in recent years, largely failed to live up to the expectations that come with being one of Los Angeles' highest-paid players.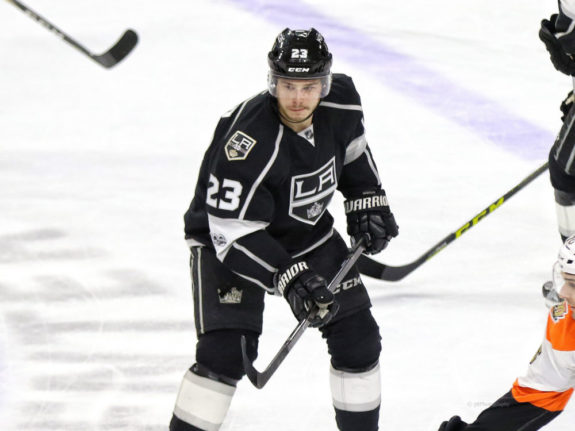 It appears as if the Kings felt the same way about the soon-to-be 33-year-old forward this summer, as they did not protect Brown in June's expansion draft. Surely, the organization was hoping that the Vegas Golden Knights would take Brown off of their hands, but Knights' general manager George McPhee had other ideas and selected defensemen Brayden McNabb, leaving many fans in L.A. disappointed that their Kings were stuck with their unproductive former captain and his mammoth contract.
With $10.75 million in cap space tied up between an aging Brown and an injury-prone Marian Gaborik, it appeared as if new Kings general manager Rob Blake would struggle to build a competitive roster under a stagnating NHL salary cap. However, Brown has, so far, surprised nearly everyone with one of the hottest starts of his career. He's scored four goals and added three assists in Los Angeles' first six games and has been a big reason for their franchise-best 5-0-1 start.
Dustin Brown has 3 goals in the LA Kings' first 3 games.

Scoring 3 goals took him 17, 34, 19 and 15 games in the previous 4 seasons.

— Greg Beacham (@gregbeacham) October 12, 2017
It's been a long journey back for Brown, who, from 2007-08 through 2011-12, averaged 81 games played, 26 goals, and 30 assists per season and was known as one of the league's most reliable power forwards.
The Decline Begins
As professional athletes quickly learn, no matter how good you are (or once were), people will turn on you in a heartbeat if you start to underperform, especially so if you play in a large media market like Los Angeles.
Brown was no exception to this. Following a Stanley Cup championship and a fifth consecutive 50-point season in 2011-12, Brown's production began to drop off. He still scored 18 goals during the lockout-shortened 2012-13 campaign (a 32-goal pace for a full season), but he saw his assist total drop off from 32 (.39 per game) to 11 (.24 per game).
Brown's play further deteriorated in the postseason – after registering 20 points in 20 games during Los Angeles' magical championship run in 2012, Brown recorded just four points in 18 games during the 2013 Stanley Cup Playoffs as the Kings lost in five games to the Chicago Blackhawks in the Western Conference Final.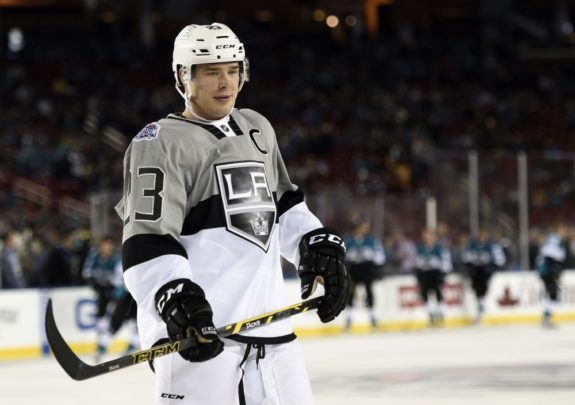 Okay. One bad year. There's nothing to be worried about. This is Dustin Brown – a Stanley Cup-winning captain and a perennial 50-point guy. He'll get things turned around.
Except he didn't. Despite playing 33 more games during the 2013-14 season, Brown failed to surpass either his goal total (15, down from 18) or his point total (27, down from 29) from the previous lockout-affected 48-game season. However, the Kings once again won the Stanley Cup, with Brown recording 14 points in 26 games during Los Angeles' second championship run in three years.
Captain No More
Sure, 'Brownie' had another rough regular season, but the Kings still managed to win the Stanley Cup! All was well – surely they'd be able to continue having success without their captain being the 50-point scorer he once was.
Except Brown's slide continued, and, this time, the Kings could not pick up their captain. Brown once again recorded just 27 points during the 2014-15 season and the Kings failed to make the playoffs for the first time in the Darryl Sutter era. Nearly every King was blamed at one point or another for Los Angeles' down year, but no one received more scrutiny than Brown, who had just finished the first season of an eight-year, $47 million contract extension.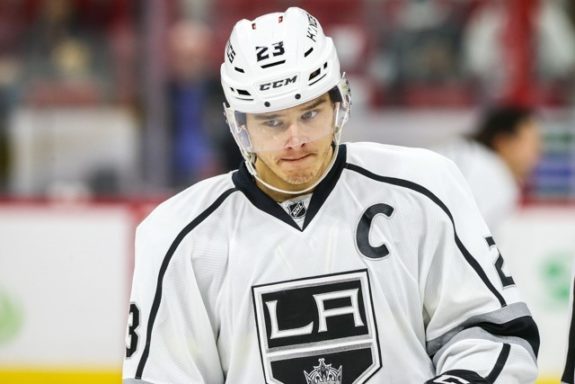 The Kings returned to the playoffs in the ensuing 2015-16 season, but they were bounced from the postseason in five games by the hated San Jose Sharks. Brown once again failed to reach the 30-point mark with 11 goals and 17 assists in 82 games, and he added just a single point during Los Angeles' brief series against their Northern California rivals.
Following Los Angeles' early playoff exit, the scrutiny that had been focused upon Brown and his poor play finally came to a head. After years of watching their captain's on-ice performance decline, the Kings made the decision to strip Brown of his captaincy and pass it on to Anze Kopitar, who had become one of the league's better two-way centers since he was selected by Los Angeles with the 11th overall pick in the 2005 Entry Draft.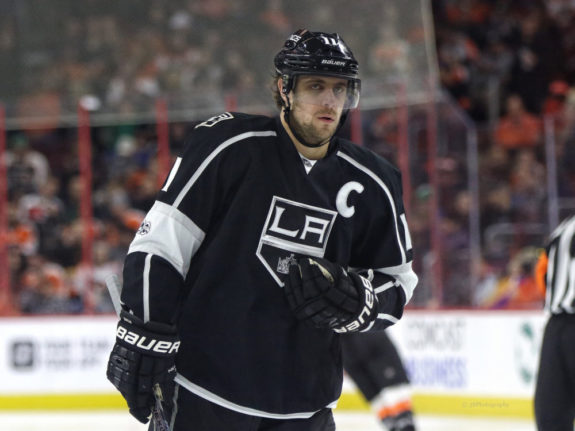 Understandably, the decision didn't sit well with Brown. NHL teams rarely strip players of their captaincies, and it's not like the Kings needed a major shakeup – they were two years removed from a second Stanley Cup championship in three years, and Brown himself had won the Mark Messier Leadership Award following the second of those championships in 2014. Either way, the decision was already made, and Brown had to move forward.
Don't Call It a Comeback
Despite being stripped of his captaincy, Brown rebounded in 2016-17 and turned in his best individual season in five years – he lit the lamp 14 times and added 22 more 'apples' for his first 30+ point campaign since the Stanley Cup championship season of 2011-12. The Kings once again failed to make the playoffs, though, and the organization cleaned house over the summer. Sutter was relieved of his head coaching duties, while general manager Dean Lombardi was shown the door as well.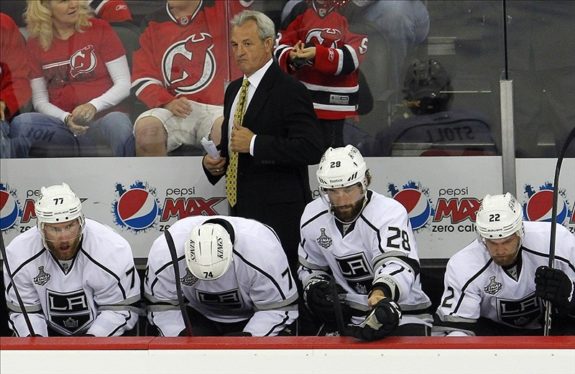 Kings legend Luc Robitaille was named as the team's new president, while long-time Kings defender Rob Blake assumed the role of general manager after serving under Lombardi as the assistant GM for four seasons. Instead of going outside of the organization to hire a head coach, Robitaille and Blake elected to promote John Stevens into the role. Stevens had been a member of the Kings' coaching staff prior to Sutter's arrival, and he ultimately outlasted the two-time champion bench boss in Los Angeles.
It appears as if Stevens has given his players the green light to create more offense in Los Angeles this season, and no one has benefitted more from the abandonment of Sutter's defensive style of hockey than Brown. He's back playing on Los Angeles' first line alongside Kopitar and, to the delight of Kings fans, is in the midst of perhaps the best start of his 14-year career.
I love living in a world where Dustin Brown scores goals again. 🙌

— THX BUD (@thxbud) October 15, 2017
Brown already has two multi-point games in 2017-18 after recording 22 such games during his previous 323 contests, so it's safe to say that he's scoring at a relatively high rate this season. Can he keep it up? His shooting percentage of 16.7% seems to indicate he's been a bit lucky, but, with Kopitar feeding him the puck on Los Angeles' top line, don't bet on Brown slowing down anytime soon.
A lifelong Phoenix resident, Louis has been following hockey since 2010, has covered the Arizona Coyotes since 2015, and has been playing hockey since 2020. So far, Louis has visited eight NHL cities, and one of his personal goals is to eventually make it to all 31 NHL arenas. For any questions or concerns, contact the writer via Twitter @LouisPannone.