The long, tedious process of finding a consistent number-one goaltender ended for the Calgary Flames when they acquired Mike Smith from the Arizona Coyotes.
Although Smith has been nothing short of spectacular so far, he's 35 years old and likely won't be re-signed when his contract expires at the end of the 2018-19 season.
With Eddie Lack better served in his current role as a backup, the door will open for one of the four promising goaltending prospects in the Flames' system to grab the reins as starting netminder. Not only did the Smith acquisition provide the Flames with a legitimate number-one goalie and a chance at a deep playoff run, it also gives the four youngsters more time to develop and prepare for what's to come.
Related: Smith Primes Flames for Deep Playoff Run
Jon Gillies
Out of the four candidates, Jon Gillies will be the favorite to land the starting gig when Smith's time is up. The 23-year-old is now in his third season with the Flames AHL affiliate, the Stockton Heat, and will look to prove he's ready for the big stage.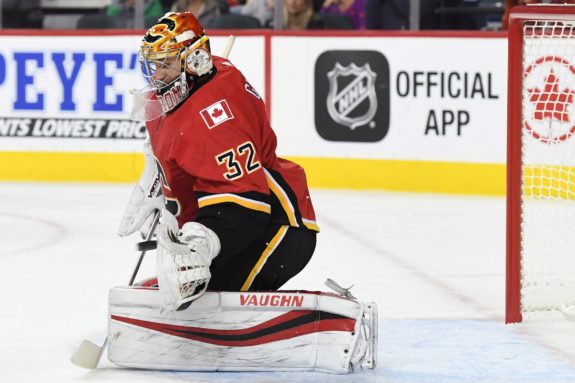 In very limited NHL action, the New Hampshire native allowed just one goal on 28 shots, earning his first career NHL win in his first career start.
"I just feel like I'm ready to compete for a spot on the NHL roster," said Gillies in a Calgary Herald article.
Not including this season, he owns a 2.62 GAA and .915 save percentage in 46 regular season games with the Heat, keeping in mind he's younger than the majority of starting goaltenders in the AHL. His college career at Providence College is where he really started to turn some heads. In 108 NCAA games, he totalled an impressive 2.08 GAA to go along with an equally remarkable .931 save percentage.
There's no doubting the talent and potential is there, but he's still too raw for the NHL. Gillies being able to play another two full seasons in the AHL during Smith's contract will give him ample time to grow into the goaltender the Flames projected him to be when they drafted him 75th overall in 2012.
David Rittich
A relatively unknown name to Flames fans until last season, David Rittich came over from the Czech Republic to play alongside Gillies in Stockton. Rittich, 25, is the oldest of the bunch of four youngsters, but also the most experienced.
He's spent the majority of his career playing in his hometown of Jihlava, Czech Republic for HC Dukla Jihlava, playing in 188 regular season games and 24 playoff games between their U18, U20, and Czech2 teams.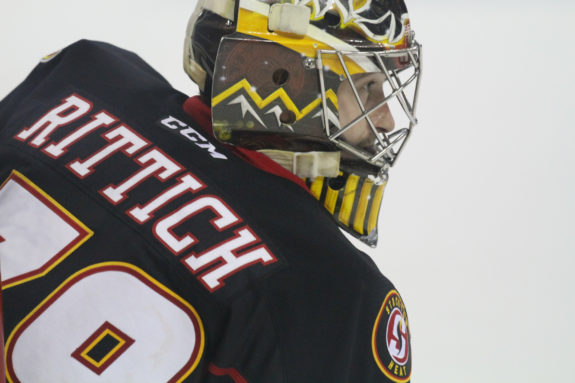 When he made the trip to North America, it was unknown how he'd hold up against a much higher level of competition. But he made it known right away he was ready – in his first season with the Heat, he played in 31 regular season games, finishing with 2.27 GAA and a .924 save percentage. He also appeared in four playoff games, posting a 2.88 GAA and a .917 save percentage.
If Rittich can continue his solid play from last season, he will continue earning starts in the AHL, and perhaps force the Flames into looking his way in two years.
Related: Flames Face Looming Decisions In Net
Tyler Parsons
Perhaps the most intriguing of the foursome, Tyler Parsons has all the makings of a star. At just 20 years old, the Michigan native already has the numbers and the hardware to prove he's a winner. He made his name known to the hockey world when he helped guide the USA to a gold medal in the 2017 IIHF World Junior Championship. In five games during the tournament, he totalled a 2.18 GAA and a .917 save percentage, while also stopping all five of Canada's shooters during the shootout in the gold medal game.
He spent his entire junior career with the London Knights in the OHL. While with the Knights, all he did was win. The 2015-16 season was one to remember as he helped the Knights become OHL champions and Memorial Cup champions in the same year. During the Memorial Cup, he was nearly unbeatable, finishing with a GAA of 1.78 and a .942 save percentage. He was also named the Memorial Cup's most outstanding goaltender.
His numbers while in London were nothing to shrug at either as he finished his OHL career with a 2.75 GAA and a .919 save percentage in 156 combined regular season and playoff games. He will now spend the 2017-18 season with the Kansas City Mavericks of the ECHL, which marks his first year of professional hockey. At just 20 years old, there's still a lot of growth and development that needs to happen, but there's no question the talent and potential are there.
Mason McDonald
The aspirant with seemingly the biggest hill to climb is Mason McDonald. Not only does he have to compete with Parsons for starts with the Mavericks, he also has to try and bounce back from last season. The Nova Scotia native completed his first season of professional hockey in 2016-17 with the Adirondack Thunder, but left a lot to be desired.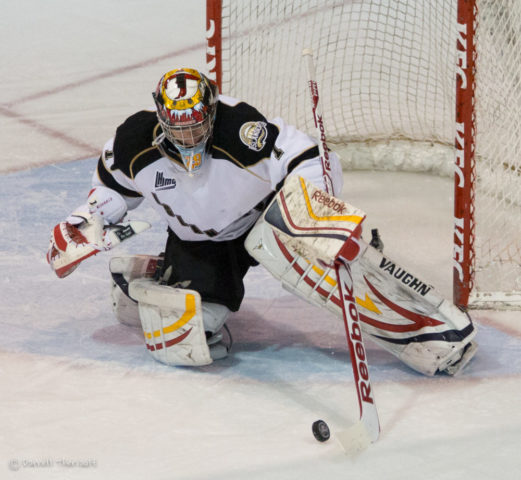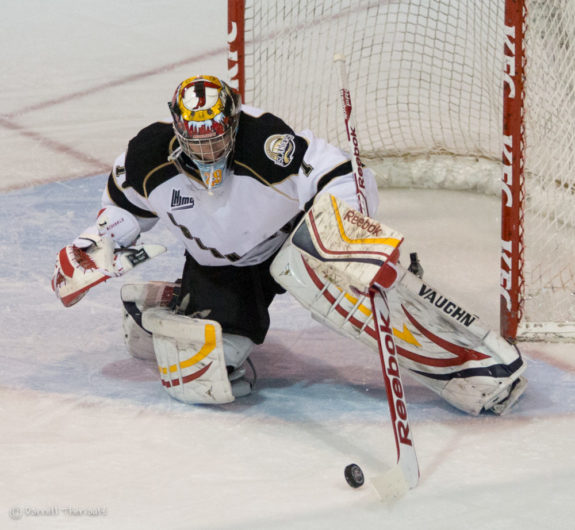 He played in 29 games with the Thunder, posting a 2.72 GAA and a .897 save percentage. He was also called up for a brief stint with the Stockton Heat, which resulted in a 5.75 GAA and a .818 save percentage. Much like his counterpart, McDonald is also still young at 21 years old and can certainly still form into a solid goaltender down the road.
I've been writing for over three years and have work published by the Calgary Herald, National Lacrosse League, Hard Knocks Fighting and The Weal at SAIT. Although I've covered many different topics as a journalist, sports writing remains my main passion and strength.