A little over a month into the 2017-18 season, the Chicago Blackhawks have had their fair share of ups and downs. After a successful matchup against the New York Rangers, the future of the Blackhawks looks bright. Veterans like Jonathan Toews and Patrick Kane have been successful as of late, but plenty of the younger Hawks show plenty of promise.
Here are four players to watch for the rest of the season.
John Hayden
John Hayden's grit and speed make him a fun player to watch, and he's had a productive season so far with two goals and five assists. Coach Joel Quenneville spoke to Mark Lazerus of the Chicago Sun-Times on Hayden's role on the Hawks:
'One thing we've noticed this year is his patience and play recognition with the puck,' coach Joel Quenneville said. 'Hopefully he gets more comfortable with the puck and [more] confident taking it to the net. It's not easy to teach that, but he's willing to do that. That's a big step forward in his game.'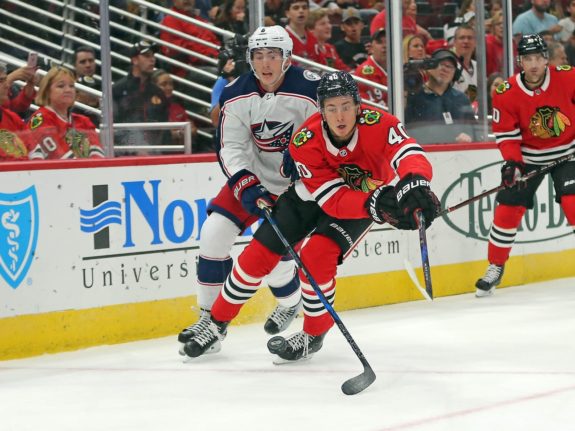 Hayden may not be the best scorer on the Hawks, but he is improving with each game. If he keeps up what he's doing, he has a promising future with the Hawks.
Alex DeBrincat
Leading the players on this list with seven goals and five assists, 19-year-old rookie Alex DeBrincat is proving to be essential to the Hawks' offensive core. DeBrincat attributes some of his success to playing alongside Connor McDavid of the Edmonton Oilers back when they were on the OHL's Erie Otters.
DeBrincat tells Brian Sandalow of the Chicago Sun-Times,"You learn to play with speed, and he does everything top speed, so that's kind of one of the things that's helped me," DeBrincat said. "I've tried to do everything at top speed and kind of emulate a little bit of his game."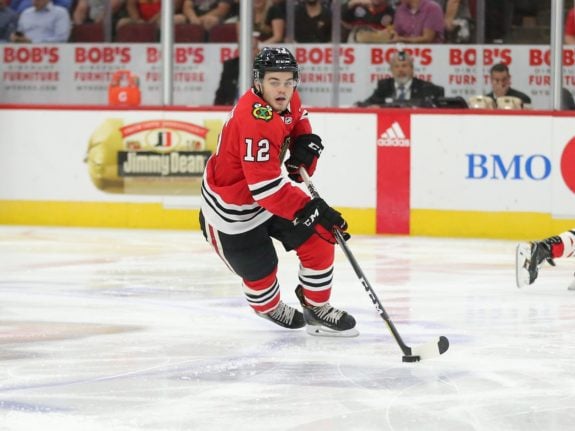 His experience with McDavid seems to be an asset to his play as well as an asset to the Blackhawks. His performance in the season so far makes him one to watch.
Nick Schmaltz
Despite missing a few games in October due to an injury, Nick Schmaltz has tallied three goals and seven assists so far this season. His absence was well noticed, and he has been slow in getting back to his best, but he is getting there. He frequently plays alongside Patrick Kane, who told Lazerus of the Chicago Sun-Times:
'[Schmaltz] just brings the speed up the middle. The biggest thing with that is the defenseman has to make a decision. If he wants to drop back, he's going to take [Schmaltz] away, and I get some more time and space. If he wants to come at me, then I can make that play to the middle and maybe have an odd-man rush. That's his biggest asset, obviously.'
Schmaltz brings speed to the Blackhawks lineup. In a league that is getting faster every year, his skill is very valuable to the Hawks and one to watch this season.
Ryan Hartman
Ryan Hartman had a breakthrough rookie season last year with 19 goals and 12 assists and started this season off with four goals and six assists. Although his future with the Hawks is questionable, right now he's where he needs to be. Hartman weighed some of the cons for this season so far with Mark Potash of the Chicago Sun-Times:
'Any time your team's struggling, I think everyone kind of grips the stick too hard,' Hartman said. 'Everyone's trying to produce when teams aren't producing. My game's always been playing the corners, play hard, and the goals and points will come, so maybe I was thinking a little too much offensively and not enough about playing hard in the corners and taking the body and stuff like that. I'm looking to bring that when I come back.'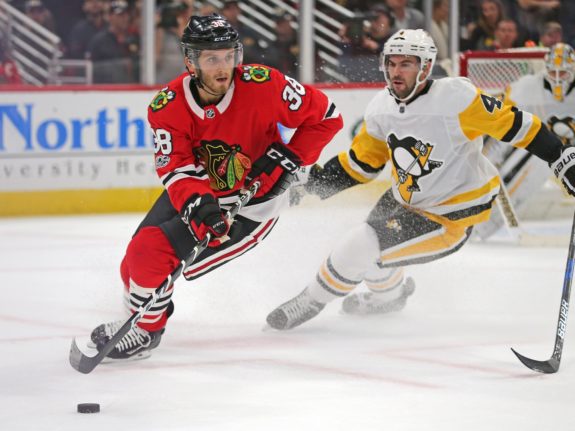 Although Hartman hasn't generated any points recently, his hot start and hopes that he can get back to it make him valuable to the Hawks. He has proven himself worthy and time will only tell where the future will take him.