Dear NHL,
It's time to move the struggling Arizona Coyotes franchise. It's been 21 years since Commissioner Gary Bettman proudly relocated a franchise to the state of Arizona, and 21 years later the original vision has yet to come to fruition. The Coyotes were supposed to be one of the thriving sun belt franchises in Bettman's expansion to the southern United States. For a multitude of reasons, this move to Arizona hasn't worked out, and it's time to move this franchise, for good finally.
There have been more ownership changes than we can count since a group of investors bought the franchise in 1995. For far too long there have been so many negative headlines about how poorly handled this franchise has been. We're talking about bankruptcy proceedings, shuffling the team from owner to owner, constant talk of relocation, and extenuating financial losses for two decades. Now the U.S. National Labor Relations Board is involved and has launched federal investigations into the franchise's handling of its employees.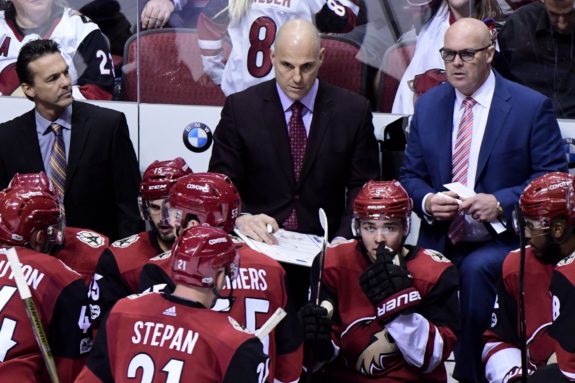 This team has had five different general managers, and each of them were handcuffed with the same problems since the Coyotes inception into the league. With all this headache behind the scenes, the on-ice product has been abysmal. In all the time the Coyotes have been in Arizona, the team has made the playoffs just eight times. Only once have they ever made it past the first round.
The 2017-18 Coyotes are off to one of the worst starts in NHL history with a 2-15-3 record through 20 games. They're on pace to finish with 29 points right now. If that holds true, it would be fourth worst point-total by an NHL franchise since 1974-75. That dubious distinction belongs to the expansion Washington Capitals from that year that finished with 21 points. This franchise is an embarrassment and has been the laughingstock of the league for its entire stay in Arizona.
Coyotes & the U.S. National Labor Relations Board
The latest scandal, as mentioned above, involves the U.S. National Labor Relations Board. They've now launched not one, but two investigations into the franchise and it's handling of its employees. The kicker? It's two investigations within nearly one year! The Coyotes have been accused by employees of spying on staff and meddling with the organization of a union. They've also been accused of firing employees who've raised concerns about pay.
The first investigation was withdrawn because of a settlement between the franchise and the employee. The second is still open. In fairness to the Coyotes, they've denied these claims through their general counsel and chief operation officer (COO).
"We have worked hard to create an excellent workplace culture for more than 100 employees. We are proud of that culture, which is based on respect and fair treatment for all employees. Any allegations to the contrary are not true."
A hearing has been set for January 9 with the National Labour Relations Board administrative law judge. This one is about the "union busting" claims made by a former ticket salesman. Regardless, none of this is good press for a team that has lost millions upon millions of dollars for the better part of two decades.
Arizona Coyotes: An NHL Franchise in Turmoil
In the past few years, Glendale has gone through so much turmoil with this franchise. Even the City of Glendale has nearly come to the end of their rope. In June 2015, they voted to terminate the existing 15-year lease agreement with IceArizona. Instead, the team can now do two-year lease agreements, which is what they're on for the 2017-18 season. In an effort for stability, the team ventured into a joint partnership with Arizona State University in November 2016 to build an arena in Tempe. That plan has fallen through now.
It took less than three months before that deal fell apart and Arizona State pulled out of the partnership. Glendale has been hemorrhaging financial losses for years now, highlighted by $22.8 million lost in 2011. The Coyotes lost $16.6 million in their first year under current owner Andrew Barroway and IceArizona. Before that, it was just over $34 million in losses. Going back further, in 2010 Forbes had the Coyotes with an operating income of negative $20.1 million.
A headache, in part, now belongs to AEG who just manage the existing arena. Barroway is committed to staying but is hoping to build a new arena in a more optimal location. The question is where is this money going to come from? Through all of this supposed commitment to stay, the league has stated if they don't get a new arena they're leaving. This has been the same dog and pony show for far too long. The narrative is growing old, and tiresome. You can't expect to build a stable fan base when you're continually threatening to leave.
Coyotes, Forbes, & the Business of Hockey
In 2016, Forbes ranked the Coyotes as the third-least valuable franchise ($240 million) in the NHL. The only teams worth less money were the Florida Panthers ($235 million) and the Carolina Hurricanes ($230 million). The Coyotes are valued at nearly half the median value of an NHL club according to Forbes "The Business of Hockey". We can go on and on with the financial figures, but the argument is firm that this is a failed experiment.
It hasn't got any better, and to cap it all off the on-ice team has just become the first team in NHL history to go 20 games without a regulation win. This is a dead horse that's still being beaten. The on-ice product isn't going to get better because no reasonable megastar will go there. The team also continually sells their stars because they can't afford them due to all the financial losses they endure yearly. Fans can watch the team draft, develop and then trade their future away because they can't financially make it happen.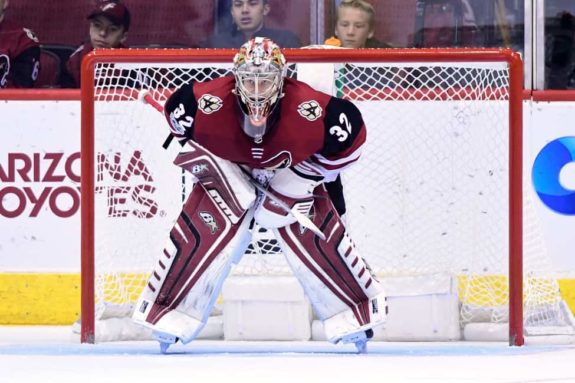 Maybe stability finds itself through relocation to a city north of the border like Quebec City, Hamilton, or Toronto. Perhaps Seattle or Houston could be valid options. Regardless where this team ends up, it can't stay in Glendale anymore. Gary, Bill Daly, Donald Fehr and anyone else that's listening; shut down this lemonade stand. It's floundered for far too long, and it's not the right situation for an NHL franchise.
It's time to relocate, find stability and get out of this toxic environment with a fresh start. The Coyotes are on life support, and it's time to pull the plug and move on.