With only a mathematical chance of advancing to the post-season, the Arizona Coyotes need to forget about winning and must use this season for all it offers in terms of development and setting the stage for the next step of this perpetual, seemingly endless rebuild. While contending teams must figure out the best usage of all 12 forward and 6-7 defence positions, the Coyotes must look more at forward trios in order to compile a "shopping list" for the upcoming trade deadline, and plan out an offseason strategy.
There is no doubt that Clayton Keller is the paragon of this team. His 11 goals and six assists on a team with a 2-13-3 record are impressive, but is that his best? Looking purely at even-strength hockey, how should the 'Yotes fine-tune their existing arsenal of young forwards?
First-line Shift?
Usually playing on a line with Derek Stepan and Max Domi, Keller is at right wing instead of center, but this could change at any time. While I strongly suspect Derek Stepan is being used as insulation for Keller (mopping up defensive lapses, tempering the exuberance of youth with veteran savvy…) I don't think it is a permanent arrangement. Keller may be thriving as a winger, but, at some point, it would be well worth giving him a look at center for some games to see if any natural chemistry emerges.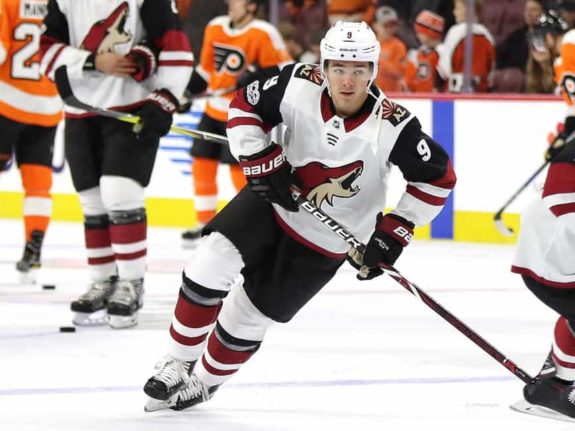 Despite this year's current scoring line, Keller is known more for his amazing passing skills (don't expect him to keep up shooting at 20% all year) and ability to get the puck into high-percentage scoring areas. Playing down the middle may afford him the opportunity to showcase this skill, possibly with someone who has more of a shooter's mentality, like Anthony Duclair.
Duclair's time to show he can be effective in the top-six forwards is running short. He is supposed to be a finisher, but with three goals this season, he hasn't shown the deft touch that earned him that assessment. Would moving him to a line with Domi and Keller push his goal total up more than would naturally be expected with additional ice-time? I would set the low side of expectations at 17 goals if he went to the top line.
If not, Brendan Perlini has shown decent touch in front of the net, and could be used in a similar way to Edmonton's Milan Lucic or Pat Maroon – a big body in front of the net, or at least in high-traffic areas, opening up for tips, screens or deflections. Could he handle top-line minutes and the pace of Keller and Domi, though?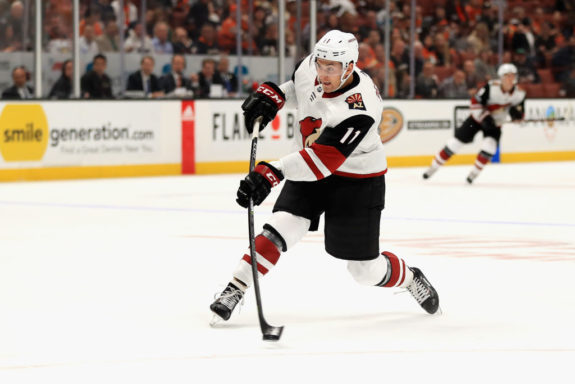 Of the existing wingers available at the NHL level, Christian Fischer and Christian Dvorak both play wing, and could be tried on the top line, but they have good chemistry together with Dvorak as the second-line winger, and it may be worth it to groom them as a duo rather than trying to find two other roster spots for them that they could be equally effective in.
Coyotes' Forwards | Pick of the Litter
Domi | Keller | Duclair | Fischer | Dvorak| Perlini | Martinook | Cousins | Rieder | Kempe | Strome | Rinaldo | Richardson | Stepan (possible trade-bait, or he makes the team)
This list, at least to me, represents players who need to prove themselves in terms of a roster spot for next season. Dylan Strome is being given a free pass, because at some point, someone will wake up and realize the 2015 3rd overall draft pick is not going to improve by NOT playing in the NHL. Yes, the audition for these players starts early, but next training camp is better spent looking at prospects like Pierre-Olivier Joseph, Tyler Steenberger and Filip Westerlund (regardless of their respective position), and getting their development plans in place. We must remember the plan we laid out for a three-year rebuild that will finally bring some respectability to this downtrodden franchise!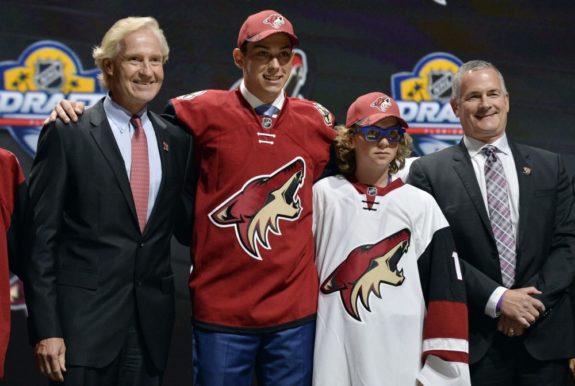 I believe eventually that group will be pared down to where Keller, Domi and two of Strome, Dvorak and Fischer remain as the core group of forwards for the Arizona(?) Coyotes. Coming soon, we will look at the defence corps in the same manner. Goaltending is being saved for last, as a team of scientists work around the clock trying to determine what exactly it is between the pipes for this team!
Dan Rakusan has been involved with sports writing and radio for nearly 15 years. He has been a contributor to HockeyRants.com, The Fourth Period.com, Prosportsblogging.com, Sportsfiend.ca and more. Here at TheHockeyWriters.com, expect some offbeat commentary and analysis as he covers the Arizona Coyotes.