Over the course of an 82-game NHL season, the numbers an individual player or team produce tends to work itself out. However, on occasion, there will be those anomalies that don't seem to add up. Though it is still earlier in the year, Edmonton Oilers netminder Cam Talbot is building a stat line that could lead to his 2017-18 campaign finishing up with numbers that could leave many scratching their heads.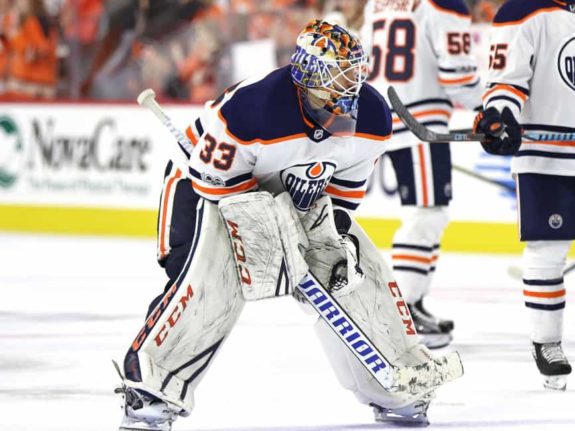 Going into this afternoon's tilt against his former club, the 30-year old has started 14 of his club's 15 games and posted completely different numbers on the road, compared to those in the "friendly confines" of good ol' Rogers Place. What is so peculiar about this particular situation, is that Talbot's totals are much worse on home ice…it is rather perplexing.
Talbot Splits Have Been Drastic
In most cases, when a player has a drastically different home-to-road split, it is usually the former which will spike in a positive direction…especially when it comes to a goaltender. Makes sense, as the vast majority of teams in the league play a much more effective game when playing in their own barn. With the familiarity of the rink, last line change and fan support all in their favour, results tend to be better.
Yet, when we look at Talbot's body of work to this point in the season, the numbers speak for themselves. In his eight starts on home ice, the former New Rangers' backup has an ugly 3.54 goals-against average and .894 save percentage. Not surprisingly, Edmonton has gone 3-5 in those games and currently have the second-fewest points in the Western Conference.
On the flip side of the equation, the Caledonia native has gone 3-2-1 away from Rogers Place and owns a stingy 2.00 GAA and  .938 SV% in six appearances. Impressive to be sure and when you consider those totals include his first road start of the season against the Vancouver Canucks, in which he lasted just over 20 minutes and gave up three goals, and they suddenly look even better.
Home Sweet Home?
So what gives?  Well, a couple of things. First and foremost, Talbot simply hasn't been good enough. For whatever reason, he has had the tendency to allow an early goal or goals against to put his team behind the eight-ball early on. Also, the veteran goalie has been unable to make that game-changing stop with any kind of frequency and the Oilers simply aren't scoring enough to win high-scoring games.
Something else to consider, is just how poor the penalty kill has been.  Anyone who has followed this year's edition of the Orange and Blue is well aware of their struggles when they're a man down. As of this morning, Edmonton sits dead last in the league at 72% but is fourth on the road with a rock-solid 91.7%.  Meaning their penalty kill at home has been "clicking" at a rate of 53.8%.
Last four road games:

Talbot has stopped 130/136 for a .955 save percentage.

Oilers PK is 12/13 for 92.3%.

— Reid Wilkins (@ReidWilkins) November 8, 2017
Those numbers are so staggeringly different that all one can do is chuckle at them. Obviously, for a penalty kill to be effective, the goaltender needs to be the "best" of the so-called killers but that drastic of a difference can't all be on the guy standing in goal. At some point, the other four players on the ice have to help their goalie out and we have yet to see that occur. Though to be fair, this has been an ongoing issue dating back to November of last season.
Oilers Penalty Kill a Major Concern
If anything, it has been Talbot who has managed to elevate the penalty kill on the road and the team's results have been better. With that said, expecting your goaltender to run at a .938 SV% isn't feasible at the best of times and next to impossible on a team with the defensive deficiencies this one has. At the other end of the spectrum, a goalie has to find a way to occasionally make a stop he has no business making.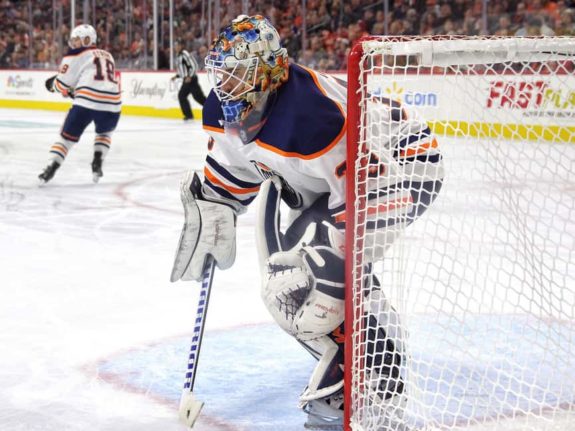 It's an expectation that comes with the job description but it hasn't been happening on home-ice. The goalies who can do it with regularity are the ones who are generally considered to be the best-of-the-best. Talbot was a part of that group for most of 2016-17 but there have been a few bumps in the road this time around. The biggest bump of all coming from the fact Edmonton has been without defenceman Andrej Sekera and the impact has been obvious.
Talbot has struggled to find consistency in his game to start 2017-18 but so has the entire Oilers roster. Whether fans want to believe it not, the pressure that comes with being a potential Stanley Cup favourite has clearly affected the collective. Getting off to a slow start has only made things harder and unfortunately for them, their goaltender hasn't been able to carry them on his back on a nightly basis. A tough break but again, by no means a complete shocker.
Despite their start, the Edmonton Oilers still have a decent chance at earning a postseason berth and Cam Talbot will have to be a key contributor in order for them to take a run at it. Chances are we'll see a slight regression in his performance on the road over the coming months, with a substantial spike in his numbers at home. Now it's just matter of finding out if it'll be enough to get them back to the playoffs for a second consecutive season.
Also available from Rob Soria: 
Connor McDavid: Hockey's Next Great One
Rob Soria is the Author of Connor McDavid: Hockey's Next Great One. He has chronicled the Orange and Blue since creating his Oil Drop blog in 2011 and has also had his writings featured over at HometownHockey.ca and Vavel USA, where he has covered the NHL, MLB and ATP Tour. Rob was born, raised and still resides in Edmonton, Alberta and can be reached via twitter @Oil_Drop.