Thursday night was arguably the Vancouver Canucks' worst performance of the 2017-18 campaign so far. As a result, they suffered a disappointing loss to the Anaheim Ducks. Part of the issue was a failure to put in the effort that had helped them get off to such a good start this season. As reported by Sportsnet's Iain MacIntyre, defenceman Erik Gudbranson said:
At the end of the day, we deserved what came to us tonight. We got absolutely worked for 60 minutes in all areas of the game.
Speaking of defencemen, Thursday's game also marked the return of Alexander Edler. The 31-year-old missed 12 games with an MCL sprain.
A Less Than Glorious Return
Edler was expected to boost an already impressive blue line. As a physically imposing player capable of logging big minutes, he has arguably been the Canuck's best defenceman in recent seasons. However, the 2012 NHL All-Star was unable to help against the Ducks. By the end of the contest, the Canucks had allowed four goals.
While it's just one game, it's worth asking how Edler's return impacts the Canucks, especially since the blue line has managed just fine without him. In fact, you could argue the Canucks have been better without the services of the 12th-year veteran. Consider that in the four games Edler has played this season, Vancouver has allowed 13 goals, for an average of 3.25 per contest. By comparison, they have allowed an average of 2.33 goals in the 12 games without him.
In Defence of Edler
Now, this doesn't mean we're putting this all on the Ostersund, Sweden native. Last time we checked, hockey is a team sport with three changing defensive pairs over the course of 60 minutes. Also, Edler's goaltender for three of the four games he's played was Jacob Markstrom, who has an inferior goals-against average and save percentage this season, compared to Anders Nilsson.
Another alarming development is the general downward trend in the Canucks' performance since the beginning of November. With a record of 2-3-0 in five games, the team has already equaled their loss total from October, although this only begins to tell the story.
The Canucks have been outshot in four of the five contests, and significantly so on three occasions. They are just 2-16 (12.5 percent) on the power play, compared to 10-17 (58.8 percent) on the penalty kill. This implies a lack of the effort that helped Vancouver to such a fantastic start this season. And despite an impressive record on the road (5-2-0), they are just two games into an energy-sapping flight schedule, which sees them play 10 of 12 contests away from Rogers Arena.
So, What Does Edler Offer?
However, to get back to Edler, evaluating his impact comes down to perspective. On the positive side, we've already mentioned the 2004 third-round draft pick's physical game and ability to play big minutes. He can also still be a fixture on the power play and offers veteran experience and leadership.
On the negative side, there's little denying Edler isn't the offensive threat he used to be, having averaged just 23 points over the past five seasons. Meanwhile, his durability has taken a hit over the same time period.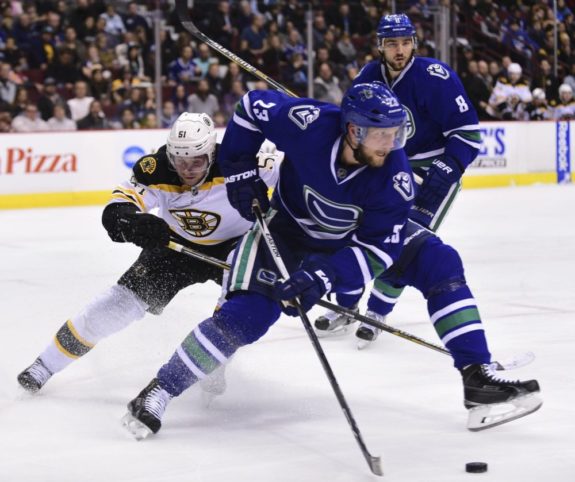 Overall, Edler should be a welcome return to the Canucks in the short-term. He is renowned for being a calming influence and should prove to be an invaluable mentor to his younger teammates.
However, given how detailed head coach Travis Green is in his preparation and outlook, you know he's also thinking long-term. As such, taking everything into account, once Edler becomes an unrestricted free agent at the conclusion of next season (assuming he's still in Vancouver), it's extremely unlikely he will stick around.
'Armed' with a journalism degree, I have covered numerous NFL, MLB, NHL, MLS, CFL & NLL events over the years, while being fortunate enough to interview various sporting personalities one-on-one, including Roger Goodell. Throughout it all, the one message I have for anyone in this industry is to never take it for granted. You can contact me via pltindustries@hotmail.com.