Everyone knows someone who has been affected by cancer, some of us closer to the heart than others. Just hearing the C-word can give us all flashbacks, bring back memories, make us sad. But every now and then comes along a story of hope. A story that can be uplifting and unifying, one that can captivate us and give us all some good memories of what can often be a negative world.
The hockey world is no different than the real world, and we all know the names of the personalities, coaches, and players that have been victimized by the deadly disease. Whether it's Pat Burns, Jason Blake, Saku Koivu, Phil Kessel, Dave Strader, or Eddie Olczyk  – it's something that has unified the hockey community over the years with the well known Hockey Fights Cancer campaign.
Now imagine getting a new job and days before you are set to start the new chapter in your life doing what you love to do, you are diagnosed with cancer. That's where Brian Boyle (who signed a two-year deal this summer) found himself on the eve of his first training camp with the New Jersey Devils in September. Thankfully for him and his family, the Chronic Myeloid Leukemia that had been detected in him is treatable, and the 32-year-old had hopes of being able to suit up opening night alongside his new teammates.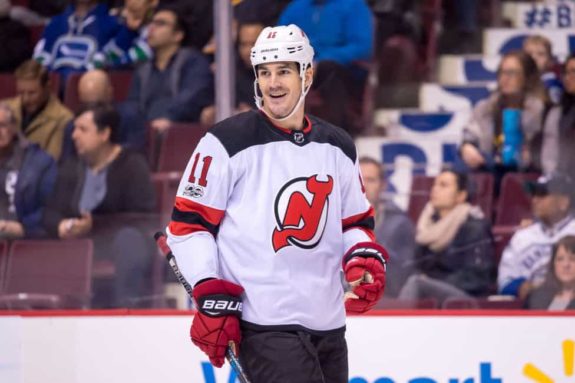 That wasn't the case, and opening night he still received one of the loudest cheers of anyone introduced from the fans and he hadn't even played a second in uniform yet. But after treatments, conversations with doctors and long nights of mental stress, on November 1 he made his return to the lineup as the Devils played the first of three games in Western Canada. On November 7 when the team returned home he made his debut at the Prudential Center where the fans cheered loudly when he recorded his first point in red and black with an assist. Two nights later they cheered even louder when he scored his first goal as a Devil.
To think of where he was two months earlier, and what he accomplished on November 9 at the Rock is astounding. "It was awesome. I think he's gotten better and more comfortable every single game that he's been back, and it takes time," said New Jersey's goalie Cory Schneider, a teammate of Boyle's at Boston College. "This last week or so has kind of been like a preseason for him. But he's battled, he's worked hard. He's overcome a lot. I'm sure he was relieved to just get that one out of the way."
Boyle — who is a huge man at 6'6", 245 lbs, and hands the size of cinder blocks — admitted during a first-period intermission interview on television that following the goal he cried. How could he not? Imagine the release of the stress of wanting to help the team, of wanting to just be one of the guys, of wanting to not be a distraction as the team tries to make the playoffs for the first time in six seasons. Of wanting to prove to yourself that cancer will not defeat you and take away your dream of competing for, and hopefully one day winning the Stanley Cup.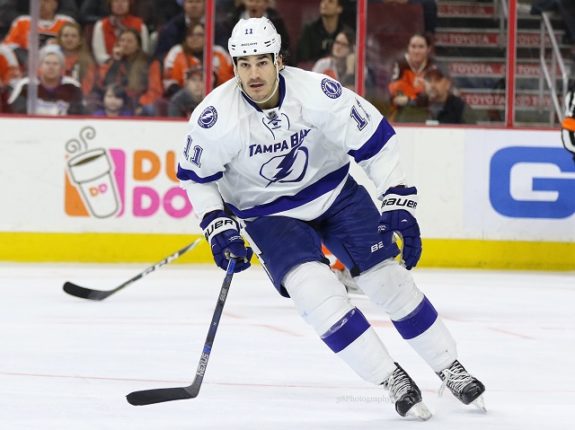 "I've never cried after a goal before," a clearly still emotional Boyle told MSG Network's Deb Placey. "That was…it's a lot. It's everything. Everything I talked to Sal (Bryce Salvador) about before the game. These guys (the Devils), my wife, my kids – they've been through a lot too. My parents, siblings…it's a good feeling."
Following the game, it was clear that Boyle was still trying to collect his thoughts or sum up his feelings. Unselfishly he was disappointed because his team had dropped a 3-2 decision to the Edmonton Oilers in overtime — one of those coulda, shoulda won games. But there he was front and center in the Devils locker room meeting with the throng of reporters that wanted to pick his brain about what this night was possibly like.
Again, unselfishly, Boyle's first instinct was to mention his teammates. "It was emotional, but these guys have been here through the whole thing with me. They've answered all of the questions about it, asked me how I'm doing and have been phenomenal to me. They've born some of the brunt of it as well. They've had my back. They've welcomed me here. I'm a new guy, and it's been an unfortunate circumstance, but they've supported me," he said proudly and then mentioned more than once the unwavering support of his wife and family.
Here's Boyle on the bench after his goal. Can't even imagine what's going through his head right now #NJDevils pic.twitter.com/UAcyFIp66B

— Fitz (@FitzGSN_) November 10, 2017
*On a personal note I lost my father to cancer and my mother is a breast cancer survivor. Sitting in the press box in New Jersey for as long as I have there are only two times that I (somewhat) applauded. The first was when Martin Brodeur (my favorite player growing up) played his final game as a member of the Devils franchise and I clapped a few times as he skated off the Prudential Center ice at the end of an era.
The other was when Brian Boyle scored his first goal with New Jersey and he let out a loud roar that was audible all the way up to where I was located, followed by the roar of the crowd in the arena. I freely admit I pumped my right fist once I could see the puck in the back of the net. 
We're still watching this @BriBrows22 highlight because it's so #BoyleStrong. 💪 pic.twitter.com/jU9VGoFBRr

— New Jersey Devils (@NJDevils) November 10, 2017
Somewhat appropriate I guess that during Hockey Fights Cancer month in the NHL and in a world where cancer has taken so much from all of us – our mothers, fathers, sons, daughters, friends, teammates, coaches, mentors and so on – it felt good to finally get one in the win column for one of the good guys. Thank You, Brian Boyle, for giving us hope.
Dan Rice is in his 9th year of reporting for THW & has covered NJ Devils home games for 15+ years at various websites. He began his journey working for legendary broadcaster/writer Stan Fischler from 2002-04 & completed an internship at the ECHL; he also has been writing features for the NWHL (nwhl.zone) website since 2016.