Although Calgary Flames fans may know his name, Andrew Mangiapane is relatively unknown to the rest of the NHL, but he's doing his best to change that this year. The 21-year-old is in his second season with the Flames' affiliate Stockton Heat and has been a pleasant surprise to start the year. His productive start has helped propel the Heat into second place in the AHL's Pacific Division, with an 8-4-0-1 record as of Nov. 11.
Mangiapane's Early Season Success
The Bolton, Ont. native has come flying out of the gates with 18 points (seven goals, 11 assists), through 13 games, good for second place in AHL scoring, and at one point was leading the league. He's been relied upon heavily this season, playing big-time minutes alongside Garnet Hathaway and Mark Jankowski (before he was recalled to the Flames), which helped his offensive production. He was put on a line with Hathaway and Jankowski halfway through his rookie season, and the chemistry that developed between the three has carried into this season.
We can neither confirm nor deny that Andrew Mangiapane is actually human. 🔥 https://t.co/9OCwqMBNdf

— American Hockey League (@TheAHL) November 5, 2017
Despite Jankowski's call-up to the big club, Mangiapane continued his assault on the scoresheets with Brett Findlay slotting in at center. Since his former centerman's departure, Mangiapane's tallied eight points (four goals, four assists), showing no signs of decreased chemistry on the top line.
"When Findlay came in, we never missed a beat," said Mangiapane in a Calgary Sun article. "Him, Janko, and Hathaway have all helped me; I couldn't have done it without them. Those guys have been playing great, we have good chemistry from last year, and we came in with a hot start."
Related: Can Jankowski Ignite the Flames?
Mangiapane's Scoring Touch Nothing New
For those that know him, it would be no surprise to see Mangiapane at the top of the scoring race. In his junior career with the Barrie Colts, he amassed an impressive 261 points (118 goals, 153 assists) in 195 regular season games, including a 51-goal, 2015-16 season. His production with the Colts didn't slow down when the playoffs came around either, as he recorded 38 points (18 goals, 20 assists) in 35 OHL playoff games.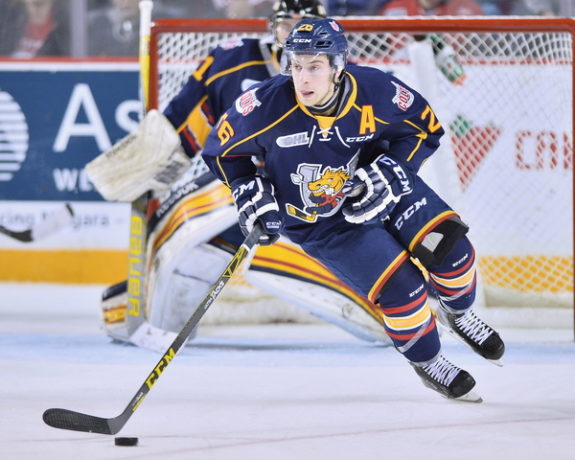 "I haven't played with many better people than him," said former Colts teammate Brendan Lemieux in a Sportsnet article. "He's that kind of guy that is smarter and reading the play ahead of everybody else. He's up there with a lot of first-round picks as for where his head is."
Even his days playing Midget AAA hockey, he was a threat to score each and every game. In 78 total games mixed between the Mississauga Senators and the Toronto Jr. Canadiens, he totalled 75 points (36 goals, 39 assists). Mangiapane has proven he can produce at an elite rate at every level of competition he's been given an opportunity.
Related: Barrie Colts Duo Among Flames' Top Prospects
What Can He Bring to Flames?
The only level Mangiapane has yet to crack is the NHL. He's only 21, so he's not expected to be a regular in the Flames' lineup yet. But given the team's recent struggles with secondary scoring, he seems like a recipe for improvement. Although his rapid scoring pace in the AHL won't carry over into the NHL, his offensive touch is exactly what the Flames need.
Given his success with Jankowski in Stockton, the two would likely start out on a line together, if Mangiapane were to receive the call-up. Their chemistry is hard to match, and with the scoring struggles of the Flames' bottom-six, there seems to be a very low risk in experimenting.
"He's motivated," Heat head coach Ryan Huska told the Calgary Sun. "I think it's a little bit of him picking up where he left off last year, but it's also because he has more confidence and swagger. He has the belief he can continue to push and get a call-up to the next level."
The dilemma isn't so much whether he can perform in the NHL, but finding a roster spot for him. The Flames have already waived forwards Tanner Glass and Freddie Hamilton to make room for Jaromir Jagr who's returning from IR and to open up a spot for Jankowski to remain with the team. Unfortunately, it's likely going to take an injury for Mangiapane to receive his shot but the season's still early, and a lot can change.
I've been writing for over three years and have work published by the Calgary Herald, National Lacrosse League, Hard Knocks Fighting and The Weal at SAIT. Although I've covered many different topics as a journalist, sports writing remains my main passion and strength.