Unless you're a die hard Flames fan, you may not have heard of Mark Jankowski.
But that's about to change.
With the start of the 2017-18 regular season just around the corner, opening night rosters must be submitted no later than Oct. 3, and Flames fans should expect to see Jankowski's name on that list. Throughout training camp and the preseason, Jankowski, 23, has done nothing but impress, showing vast improvement on both ends of the ice.
In five preseason games this year, the young center recorded three points, all of which were goals, while also earning time on both the power play and penalty kill.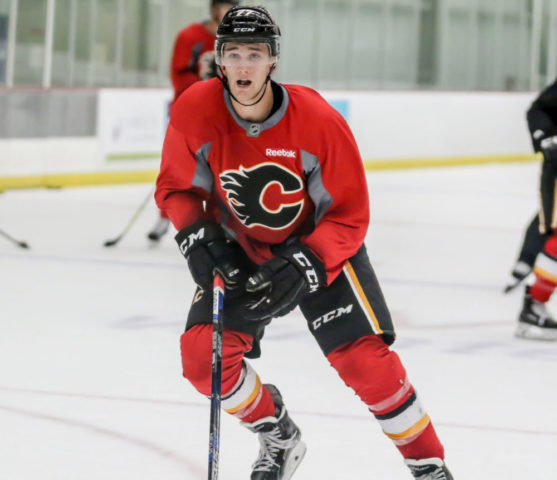 Despite seeing power play time, Jankowski will likely only be used sparingly, if at all, with the man advantage during the regular season. However, he could easily find himself in a distinguished role on the penalty kill with his big frame and improved defensive game playing key factors.
"I think I'm doing well so far," said Jankowski in a Calgary Sun article. "I think I've shown I can be a good player for this team and I can make an impact on the ice. I've been feeling good about my game, and I've been feeling better as camp has gone on. That's a good sign. I just have to keep doing what I'm doing and show I can help the team."
Where Will Jankowski Fit In?
With the center position on the top two lines being locked down by Sean Monahan and Mikael Backlund, and Sam Bennett having a tentative hold on the third line spot, Jankowski will likely start out centering the fourth line.
Perhaps the biggest strength Jankowski will the bring to the lineup is size, which is something the Flames have been lacking in recent years. The 6-foot-5, 210-pounder will be a step in the right direction for the Flames to become more physically competitive, especially against teams like the Anaheim Ducks.
In two playoff series with the Anaheim Ducks in 2014-15 and 2016-17, the Flames were noticeably outmatched physically, with players like Ryan Getzlaf and Ryan Kesler playing the role of bullies. Jankowski won't completely solve the problem but it's a start.
Although he's demonstrated his offensive abilities in all levels of his hockey career, as a fourth line center Jankowski won't be relied on to produce offense at a high rate. Not yet, anyway. If Bennett struggles to start the year and Jankowski continues to impress, the rookie could move up the depth chart, making his offensive capabilities more of a focus.
In 72 games with the Flames' affiliate Stockton Heat, he recorded 62 points (29 goals, 33 assists) and in 265 collegiate games between Providence and Stanstead College, he totalled an impressive 267 points (122 goals, 145 assists). He's no stranger to lighting the lamp when given the opportunity.
Just like his college and AHL career, Jankowski continued to show his supremacy at the faceoff dot during the preseason. Although his preseason faceoff percentage of 46.6 percent may not jump off the page, he had three of five games with an average of 50 percent or more, with one poor showing of 26.7 percent skewing his overall average.
He will have to battle Matt Stajan for the final center spot on the roster. But with Stajan's contract expiring this season, it seems logical to have Jankowski step in and Stajan shift over to left wing.
Long Journey to the Promised Land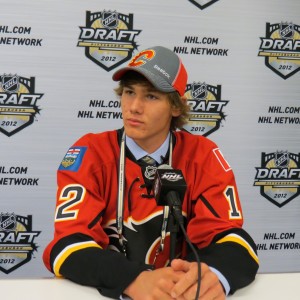 After being drafted 21 overall by the Flames in 2012, it's been a long road. On draft day, Jankowski was six-foot-three and a scrawny 170 pounds. Not exactly NHL-ready. The Flames ownership and coaching staff knew he was going to be a project. Not only did he need to develop his game, he needed to develop physically which doesn't happen overnight.
Both Jankowski and the Flames have been patient during the extended journey and it's finally time to reap the rewards. The rookie centerman has filled out his massive frame by adding 40 pounds since his draft day, while also growing a couple more inches. With his gigantic frame, experience, and ability to light the lamp, he will no doubt be a handful for the opposition to handle, and it's about time the Flames unleash him.
"I've put in a lot of hard work over the years and a lot of time and effort, and I think it's going to pay off," said Jankowski in a Calgary Herald article. "It's been an incredible journey. Ever since I was drafted, my goal was to make the Flames and stick with the Flames, and I think this is the year where I can do that.
I've been writing for over three years and have work published by the Calgary Herald, National Lacrosse League, Hard Knocks Fighting and The Weal at SAIT. Although I've covered many different topics as a journalist, sports writing remains my main passion and strength.