The Calgary Flames, despite short shrift from oddsmakers, have a decent shot at making a respectable plunge into the playoffs this year. As solid as the team looks, particularly on defence, several players did not perform as expected last season. If the Flames are to succeed in the upcoming season, they will need better production from these three skaters.
Can Sam Bennett Play Center?
Sam Bennett is still only 21. If Bennett had wanted a beer on a road trip in the US last season, he would have had to use McLovin's ID. Bennett's tender age is paramount to remember if he, once again, finds himself on a 12-game scoring draught (not a single point between December 29, 2016 and January 23, 2017) in the months to come.
When the Flames plucked Bennett from the Kingston Frontenacs with 2014's fourth overall pick, it would not have been out of line to have expected him to fill into a top-line centre. Three years later, some are wondering if Bennett can play centre at all.
For starters, you want your top-line centre to win faceoffs, broadly speaking. The Ontario native has not been able to do that. He's won 46.1% of the even strength puck drops in 2015-16 and 2016-17 (hooray for consistency) which would put him 86th in the NHL in 2015-16 (albeit a small 347 faceoff sample size) and 81st in 2016-17.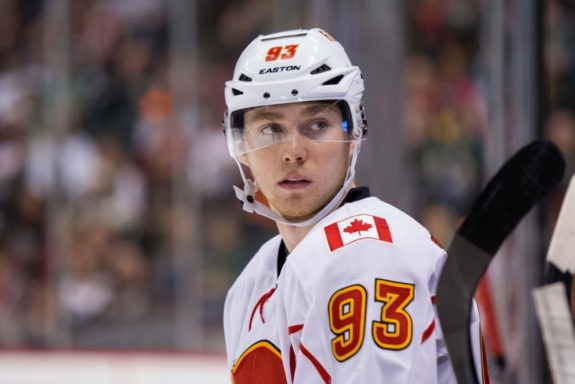 His scoring has been disappointing too.
In 77 games as a 19-year-old rookie in 2015-16, Bennett scored 18 goals and 18 assists. Nothing eye-popping but enough that one could project good things as he matured.
Things didn't shake out that way. Last season, he suited up for four more games (81) but scored only 13 goals and notched 13 assists.
Bennett Will Likely Improve
Despite these struggles, the Calgary Flames re-signed Bennett – a restricted free agent – to a two-year deal worth $3.9 million.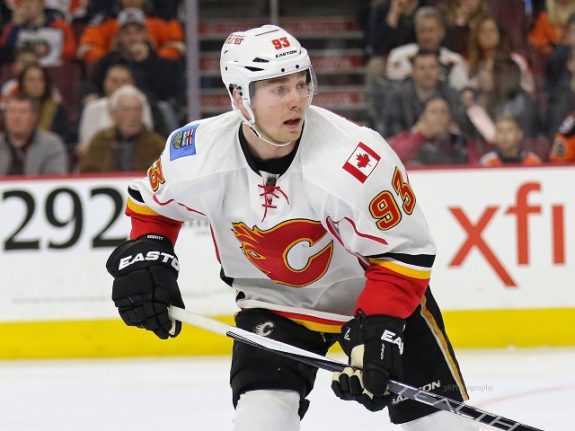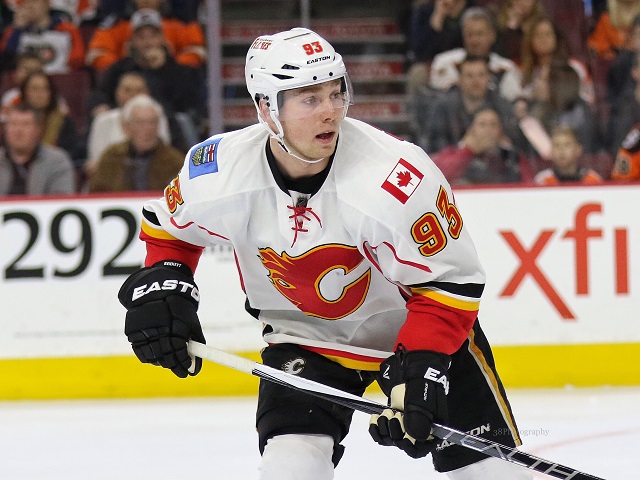 It took nearly six years before Mikael Backlund became a good player. Backlund was drafted in 2007 and didn't see significant playing time in Calgary until the 2013-14 season . His point totals going forward were 39 in 76 games, 27  in 52, 47 in 82 and 53 in 81.
It's likely Bennett's career will also blossom with some patience. Bennett brings a brand of toughness to the ice that doesn't always show on the stat sheet. He isn't quite a pesky irritant like Matthew Tkachuk, but he isn't shy mixing it up. Bennett was credited for 127 hits last season – tied with Lance Bouma for 4th on the team.
Bennett should improve. At least marginally. If he can give 50 points and a couple solid hits a game, his $1.85 million price tag would be a bargain.
Troy Brouwer Needs to Offer More than Experience
Troy Brouwer had difficulty playing good hockey last season. He scored 13 goals for 25 points in 74 games with a plus-minus of minus-11. Possession-wise, he was equally dismal with a -7.6 CF/rel. Brouwer started 53% of possessions in the offensive zone but managed an even-strength CF of 44.4%. That's not the worst part. The Flames are paying him $13.5 million over three years.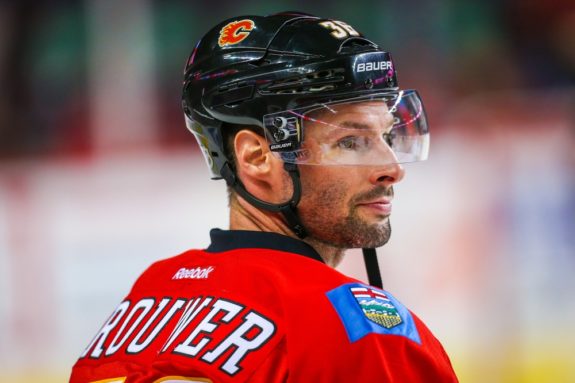 Clearly, Brouwer is not a good possession hockey player. Or scorer. He's scored more than 20 goals only three times in an 11-year career (25 in 2013-14, 22 in 2009-10 and 21 in 2014-15) and has only two positive plus/minus seasons in seven years.
So, why in the world did the Flames sign him in the first place? Particularly for $4.5 million a year.
He isn't afraid to hit, rattling 171 bodies last season. For his career, he averages 2.5 hits a game. But at 32-years-old, it's likely his willingness to get dirty will decrease.
Brouwer also has experience and an impressive track record in the post-season. In the 2015-16 playoffs, he scored eight goals and 14 points in 20 games for the St. Louis Blues. The Flames, being a young team, should have benefited from this sort of playoff experience and leadership. Although Brouwer notched two assists in the first round of last year's playoffs, the series outcome was ultimately dismal.
In summary, Calgary has an aging forward with seemingly no on-ice chemistry with anybody on the team, who they can't give away.
The Subtle Regression of T.J. Brodie
In the two seasons between 2014 and 2016, Brodie notched 86 points in 151 games, while playing over 25 minutes a game. His plus-minus was plus-19. He was, and still is, one of the best offensive blue liners in the league. But his numbers slipped in 2016-17. Brodie played in all 82 games and scored 36 points – a nine-point dip despite playing 12 more games. His plus-minus was an abysmal (and confounding) -16.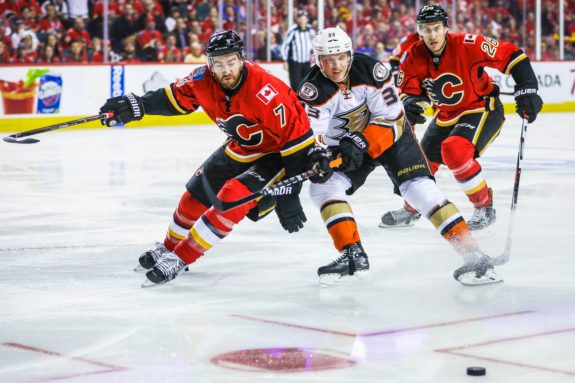 The prevailing consensus is – rightly in my opinion – Brodie was the victim of shaky play from his line partners last season. Brodie played with Derek Engelland, Michael Stone and Dennis Wideman. Of the three, Brodie appeared to mesh decently with Stone (in a small sample size) but Stone (who signed a new contract in the offseason) will likely slide to the third line so Brodie can pair with newly acquired Travis Hamonic.
Looking ahead to 2017-18, it's likely Brodie will bounce back with the more competent Hamonic anchoring the other side of the blue line.