The United States women's national hockey team has been in training camp in Wesley Chapel, Florida since Sept. 5. Wesley Chapel is about a 25-minute drive from Tampa. Though the Tampa Bay area was not directly hit by Hurricane Irma, as was originally feared that it would be, the region did receive a rough pounding from the storm nonetheless. There were some concerning talks regarding the safety of the players housed in the community of close to 45,000 residents. Fortunately, for everyone's sake, the area came out okay in what otherwise could have been devastating circumstances.
There is also a growing concern for the safety of athletes competing in the upcoming PyeongChang Winter Olympics in South Korea. This stems namely from the tensions currently felt between North Korea and the United States and its allies. How true any potential threat is remains to be seen, but worry is there nonetheless.
A general unrest is in the world right now. A dissension exists between growing numbers of people and oftentimes it stems from fear or hatred. At times, the world does not feel welcoming to those who inhabit it. We have become separated and divided on so many issues and throughout many walks of life.
Perhaps more than ever, people need something to feel hopeful about. In times of upheaval, sport has given the world sanctuary. We rally behind a particular athlete or a team. Our hopes ride on their hopes, and their victories seem to rejuvenate us as a community. It is a way to become one again.
Team USA goaltender Nicole Hensley will be competing in the 2018 Winter Games. She recognizes that she has a platform enabling her to make a positive difference and maybe help bring about togetherness once more. Though it is not talked about often, there are hockey players who play the game while exuding a faith in a higher power both on and off the ice. The prevailing reason behind where Hensley is today is her faith in God.
Regularly Sharing Verses From Scripture
"Be joyful in hope, patient in affliction, faithful in prayer" – Romans 12:12.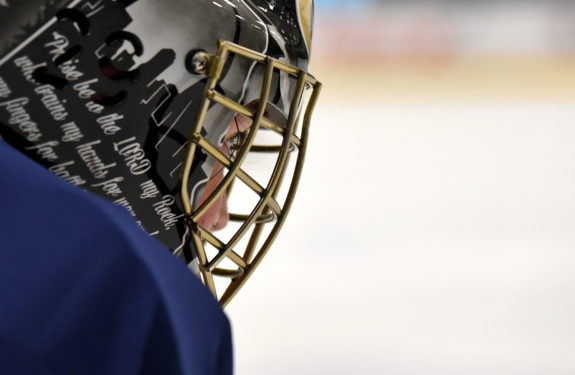 A few times a week Hensley tweets out quotes from scripture. If you follow her on Twitter you have likely seen these tweets. Most people may follow Hensley because they love hockey and recognize that she is one of most talented goaltenders in the game today. Perhaps some of these followers find momentary solace in her tweets. Asked where the reasoning behind her quoting scripture comes from, Hensley explained:
"Over the summer I started working through a devotional from (FCA) Fellowship of Christian Athletes called Heart of an Athlete," she said. "I just happened to walk into a Christian bookstore that was closing in St. Louis and it was on sale. I thought, 'Hmm, I'll give this a shot'. So the verses that I post are kind of through the focus of what the devotional is for that day. For me, I feel that with the abilities and love for hockey that God has given me, He's also given me a bit of a platform to possibly reach others who are wondering about their faith, or maybe don't have any faith, or want to grow stronger in their faith. Maybe it's a way to start a conversation with somebody. It comes from whatever the devotional is focused on that day."
With regards to her God-given abilities, Hensley is arguably the best female goaltender in the United States, at least. It is looking more and more that the 23-year-old will be the starting goaltender when the U.S. takes to the ice in PyeongChang.
An Elite NCAA Goaltender for All Four Years
"So that your faith might not rest on human wisdom, but on God's power" – 1 Corinthians 2:5
Hensley played her collegiate hockey at Lindenwood University in St. Charles, Missouri. The program is an NCAA Division I school and a member of College Hockey America (CHA). Hensley played in 122 games for the Lady Lions and went 30-78-12. Those numbers are highly deceiving, as her individual numbers separate from her record are quite remarkable. Her goals against across her four years was a minuscule 2.98. That would include four career shutouts, 4,094 saves and a .921 save percentage. During the first two games of her senior year – both against Wisconsin – she made 49 and 42 saves respectively.
Not surprisingly, her numbers were consistently among the top for goaltenders in the country during her collegiate career.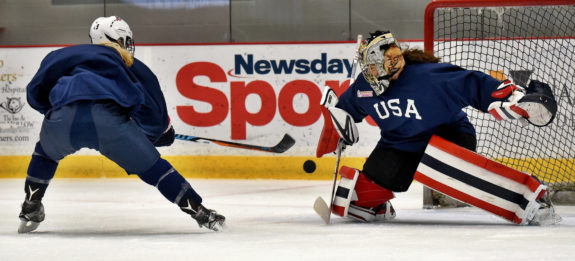 Even in her college years Hensley recognized the importance of spiritual belief and a relationship with God in her life. Attending church with teammates, she would garner a stronger understanding of her own faith.
"I grew up going to a Baptist church. Through college I would go to a non-denominational church with some of my other teammates," Hensley shared. "I do not think that I would classify myself as anything today other than just being a follower of Christ. It's more important to have a strong faith and a strong relationship with Him than to necessarily identify as one thing or another in that way."
Previous Experience With the National Team
"Many are the plans in a man's heart, but it is the Lord's purpose that prevails" – Proverbs 19:21
After finishing the 2015-16 season at Lindenwood, Hensley was one of the three goaltenders selected to represent the United States at the 2016 Women's World Championships in Kamloops. Tending the net alongside Alex Rigsby and Jessie Vetter, Hensley still saw her share of action. In the US's second game of the tournament, Hensley was between the pipes against Russia and pitched a shutout. She went a perfect 16 for 16, stopping shots from elite snipers like Lyudmila Belyakova and Ekaterina Smolentseva. The United States would go on to win the gold medal, defeating Canada 1-0 in overtime of the championship game.
The players of the USWNT are… #BeBoldForChange pic.twitter.com/X6wUeDJRXX

— Nicole Hensley (@NicHens29) March 24, 2017
Hensley would have a larger role in the following year's championship, this time in Plymouth, Michigan. Although she would not be perfect between the pipes this go-round, she would not be far from it. Hensley's stats were the finest of any netminder in the tournament. In three games she allowed only two goals while making 56 saves. In two of the three games she pitched shutouts; one each against Canada and Germany.
Hensley would be at her finest when it counted most. In the championship game she would back stop Team USA to a fourth straight gold medal for the women's national team. She steered aside 28 of 30 shots, including four in OT.
"Michigan was something. It was pretty nerve-wracking," she laughed in retrospect.
Hensley finished with an astonishing 0.63 goals against average and a .964 save percentage for the tournament.
Hensley's Strong Faith Has Made Her a Better Athlete
"… Everyone should be quick to listen, slow to speak, and slow to become angry" – James 1:19
To have pitched such stellar performances in net and at the highest level possible, one would think that Hensley has ice water flowing through her veins. How else could she maintain such cool in such high pressure situations? For Hensley though, her goaltending has been as much spiritual training as it has been mental and physical conditioning.
"I would say that I used to have a bit of a temper on the ice," she explains. "Obviously that is never helpful as a goaltender. I would either be mad at a teammate for screwing up and not at myself. Mad at letting a bad goal in, or mad at a ref for a bad call. It was kind of a never ending cycle. In the end that doesn't help your team and that doesn't help you win games, for the sake of competition. That is a lot of negative energy, negative thoughts and actions filling you. That is not how I want to portray myself or portray how God has acted in my life. I don't want people to see that and think, 'Oh, this kid is selfish,' or 'This kid is more worried about a bad call than saving the puck,' and things like that."
She said she wanted to be just like me, I told her, "be better." Taking a stand today for their tomorrow. #BeBoldForChange pic.twitter.com/NYRZ7EgPgi

— Nicole Hensley (@NicHens29) March 25, 2017
Now Hensley will take that mindset into the most monumental show of them all – the Olympic Games. As far as goaltending is concerned, every indication is that these will be Hensley's Olympics. Her faith has helped her keep the upcoming experience in perspective. Her mindset is strong.
"It is something bigger than the game," she stated. "As an athlete, my faith has calmed me down on the ice and helped me realize too that the result is not necessarily the most important thing. It is more important to be on the ice and enjoy the chance to play when God has given me such a passion and ability in this game."
Advice for Young Hockey Players From Hensley
"Whatever you do, work at it with all your heart, as working for the Lord, not for human masters" – Colossians 3:23
When the PyeongChang Games get underway in February, there are bound to be a vast number of young girls that will be getting their first glimpse of Hensley between the pipes. Many of these youngsters will want to emulate the US's goalie. Seeing the phenomenal saves she will make, the intricacies of her mask and her equipment, her artful acrobatics on the ice. They will find themselves a new hero. An athlete to admire.
As they look up to her from afar, Hensley must have advice to impart to her young admirers. It would be this:
"Do not let anybody stop you. I think it's an amazing game and the women's side is growing so rapidly right now. More girls are becoming open to playing the game and not just seeing it as a guy's sport. I grew up playing boys' hockey and I know that there are a lot of girls still doing that. I would say, 'don't let a guy tell you that you can't play' or 'don't let your parents tell you its a boys sport'. Things like that. This game is for everybody. Just enjoy being out there. There is no other sport like it."
Her Own Personal Growth and Goals
"Yet I will rejoice in the Lord, I will be joyful in God my Savior" – Habakkuk 3:18
Women's hockey is just starting to blossom into mainstream appreciation. That is greatly evident by the expansion of two teams into China with the CWHL and with the NWHL entering into a third season. The excitement of women's hockey in PyeongChang could easily foretell the state of the women's professional game for years to come. When the Olympics have wrapped up, the majority of the players on the national teams will be continue their play in either the CWHL or NWHL for at least the four years following. Hensley is only 23 and has many more years of hockey to play, if she so desires. How her hockey career progresses lies in the hands of a greater power.
"Obviously right now the main focus is the Olympics in February." Hensley said. "Past that, I would just like to play the game at the highest level that I can would be my goal. Eventually it will be time to hang up the skates, but for now I'm just focused on enjoying it and having fun. Just letting God lead my path wherever He feels it needs to go. Wherever that may be, I hope that I will be willing and able to listen and do my best in whatever realm He puts me in."
An Innate Set of Skills Fostered by Faith
"In his heart a man plans his course, but the Lord determines his steps" – Proverbs 16:9
All of us have innate gifts. Each person on the face of this earth has a particular talent or skill, no matter who they might be. The Olympics are the finest collection of individuals with abilities in a particular skill or craft. Hensley knows and understands that her affinity for and her elite prowess as a hockey goaltender are skills unique to her. At this moment in time, she is the best woman in the United States at being a hockey goaltender. Hensley knows though that how her skills have developed and how her career has progressed are more than just being talented or having worked hard. While those ingredients are certainly necessary, it is a steadying hand that has steered her in the right direction.
Asked what the most important thing she has learned about life from hockey is, Hensley shared:
"If anything, it would really be to trust God. I know that people may think that is cliche. Hockey has put me in some situations where I kind of wondered either 'why am I doing this?' or 'why am I here?' Or even, 'I don't want to be here – why is God making me go through this?'. And in the end those reasons are some of the reasons that I have been able to get to where I am today. Looking back with 20-20 hindsight, obviously He had a plan in every single place that He put me. It is easy to say that now, but really it's just taught me that through the hardships you have to trust in your faith. You have to be willing to be uncomfortable to either grow in your faith or grow as a person or player as well."
Reaching for Love and Not Hate
"Reckless words pierce like a sword, but the tongue of the wise brings healing" – Proverbs 12:18
Life is not easy. People are struggling more than ever to get by. Playing for a United States national team has given a Hensley and the other athletes that comprise the squad a unique view of the world. Hensley, like most astute young people, is aware of what is going on around her.
"You look at the things that are going on in the world today," she said. "Be it, the hurricanes that just came through Florida and Houston. The fires that going on in the western part of the U.S.. What is filling the news these days seems to be a lot of hate. Hate for one another. It is really sad to see, and to see that it exists so strongly in the world. It is important to not only know that God loves you, but there are so many people in this world that care for one another. I think it is important to hold onto that faith and the knowledge that love is going to win in the end. At this point in time, and what our world is going through, it seems more important than ever that people reach for love and not hate."
The #USWNT is building chemistry as the road to #PyeongChang2018 begins: https://t.co/OElWrZ5RFe#TheTimeIsNow 🇺🇸 pic.twitter.com/WSMk6AWil3

— USA Hockey (@usahockey) September 15, 2017
When Nicole Hensley take those first steps onto the ice in PyeongChang, an entire nation will look on with support and admiration. You do not need to be a Christian or believe in a higher power to support the performance of this young woman. The verses listed throughout the course of this article are all ones that Hensley has tweeted. While each contains a great amount of wisdom in and of itself, the finest one in terms of the Olympics, in terms of the world, in terms of each other may be this – "Finally, all of you, live in harmony with one another; be sympathetic, love as brothers, be compassionate and humble" – 1 Peter 3:8-9
Words such as those are what the Olympics are all about. Harmony, sympathy, compassion and humility.
United States goaltender Nicole Hensley imbues each of these qualities through her faith in God and her belief in following His path for her. That path will be taking her to South Korea. Perhaps when the tournament ends, her shoulders that a nation had been resting upon will also have a gold medal draped over them. Then, Hensley can rest assured with another important verse: I have fought the good fight, I have finished the race, I have kept the faith – 2 Timothy 4:7
General Manager of the Buffalo Beauts (NWHL). Hockey history writer "The Hockey Writers". Credentialed media for the NHL Combine and 2018 IIHF World Junior Championships in Buffalo, NY, USA. Born and raised in Buffalo, NY. Lifelong hockey fan for over 40 years. Proponent of the women's game.