Besides being some of the best in their chosen sport, hockey players such as Jarome Iginla, Shane Doan, Mike Fisher, Cam Ward, David Booth, Wayne Gretzky and Markus Naslund have one other thing in common. Religion.
When one thinks of the tough and hard-hitting sport of hockey, religion and faith are not the first two things that come to mind. With all the stigma attached to the macho hockey player, religion in hockey is still a taboo topic but since the recent publicity gained by players in other sports such as Tim Tebow of the NFL and Jeremy Lin of the NBA, the ideal of open religion in sport is slowly becoming more mainstream and accepted.
Finding religion came about in various ways for different players. For Dan Ellis, an NHL goaltender with over 150 games experience, Christianity provided him a welcome distraction from the turmoil of his home life with his parents eventually divorcing when he was 11 years old. In an interview with the Christian Broadcasting Network's Will Dawson, Ellis explains some issues he faced as teenager;
"When I was in high school, I kind of hung out with the wrong crowd, and I got into drugs every other weekend pretty much.  I was getting high and drinking at a young age. When all your friends are doing it, you figure, why not give it a try.  Shortly after that, though, things continued to slide.  As my life was just kind of spiralling  hockey wasn't going well and my grades weren't going well.  Obviously, the drugs and alcohol were having an effect on me in a number of areas in my life."
The way out of the downward spiral for Ellis came through a Christian hockey camp his father signed him up to. The more Ellis trained and studied the bible, the more he found a reason for being which eventually lead to his breakthrough in hockey and success in life.
In this 5 minute clip, Dan Ellis explains his spiritual journey;
If there was ever a poster boy for religious hockey players, Mike Fisher would be it. The Ontario-born, Nashville Predators player has been very open about his being a Christian hockey player since joining the NHL and continues to be a spokesperson for the Christian community along with his wife, country singer Carrie Underwood.
Both of Fisher's parents were devout Christians, raising him with the same beliefs, while his uncle David Fisher was a former chaplain to the Toronto Blue Jays baseball team. Fisher took these beliefs to heart throughout his life, eventually leading him to be named the winner of the 2012 NHL Foundation Player Award, given to the player who applies the core values of commitment, perseverance and teamwork while enriching the lives of people in his community.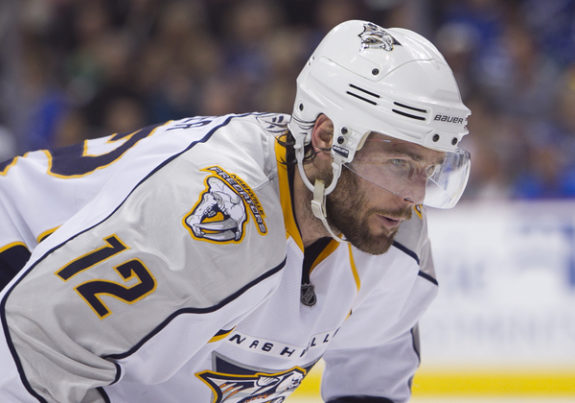 The star forward was also the subject of a book entitled "Defender Of The Faith: The Mike Fisher Story", written by Kim Washburn. The book explains the origins of Fisher's faith and how the player always puts religion first, demonstrating his passion to help others both on and off the ice.
In this Overtime video back when Fisher played for the Ottawa Senators, the forward explains his story and how he feels Christianity has developed in today's game:
Another hockey player who attributes religion to his success is Phoenix Coyotes captain Shane Doan. In the book "Toward The Goal" by Cathy Ellis, Doan tells his story of growing up in the small town of Halkirk, Alberta with a population of around 120 people and how when he finished bible school, he wasn't sure what to do in his life except wanting to help people. After his hockey career took off, Doan explains his journey to the NHL and how he became a mentor to young players, citing how important his family are in his life.
Doan says about his family;
"As much as I've been blessed in Hockey, God has given me the most amazing wife that I could ever ask for. And because I have an amazing wife, I have an amazing mother for my kids, and they are a treat to be around. It's such a blast to be with them. They are truly, simply a gift from God"
A common theme between religious hockey players is family. Players such as Mike Fisher, Shane Doan and Wayne Gretzky are known to be family men, growing up around religion and passing these beliefs onto new generations. Players like Dan Ellis grew up in difficult family situations and used religion as a way out, helping them build a new life.
In a Puck Report interview with retired NHL player Markus Naslund, the former Vancouver Canuck says of family and religion in the NHL:
They're working on it. I was raised very religious. My grandfather was a pastor. My mom and dad are still very active in the Pentecostal Church here. But I haven't been active for a number of years. I know that there's a Christian organization called Hockey Ministries International where they have chaplains for teams that accept it. They have to get permission from the GM and coaches to do something. I know there's a few teams that do that. But I haven't been on any teams that have it.
The group that Naslund mentions is Hockey Ministries International (HMI), a charity devoted to both
spreading the word of religion and well as providing a way into the sport for young players overseas through training camps.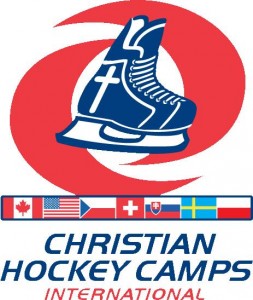 Every summer, HMI helps around 2000 young players develop their game both in North America and overseas, with the help of pro-instructors such as David Booth of the Vancouver Canucks.
As well as organizing hockey camps, HMI also provides a Chapel service, which is active from both the NHL and AHL levels down to the junior game. The Chapels are available to all players, no matter what religious affiliation and serve the purpose of talking about issues relevant to professional athletes. HMI is a registered charity and publishes a variety of books on the topic of religion and hockey.
It is not just the Christian players that have made headlines due to their beliefs. Jeff Halpern was the subject of a Washington Post article when he sat out a game in 2005 as it coincided with the Jewish Day Of Atonement known as Yom Kippur. Toronto Maple Leaf player Nazem Kadri also received media attention when was selected in the 2009 NHL entry draft, becoming the first Muslim player to skate for the Maple Leafs and reportedly only the second Muslim player to be drafted into the NHL after Ramzi Abid.
With all the recent exposure religion has gained along with strong pro-religion sentiments by players, it seems that this topic will only become more relevant in years to come. While religion itself cannot make anyone a better athlete, having strong faith, belief and the will to achieve can certainly help players reach their goals.
Part 2:  THW interviews current Windsor Spitfire captain and devout Christian, Saverio Posa
Originally published in 2012, this post on religion in sports is rather timeless. We feel it's still relevant and many of our newer fans may enjoy it.