The 22nd of October, 2011 may become an important date when the Canucks look back and reflect at the end of the season. This was the date Mike Gillis traded David Booth to Vancouver from Florida along with Steven Reinprecht and a third round draft pick in exchange for forwards Mikael Samuelsson and Marco Sturm. The Canucks finally acquired the power forward they were looking for, while the loss of Samuelsson would be cushioned by the play of Chris Higgins who was acquired eight months earlier.
The 27-year-old winger made an immediate impact for the Canucks, scoring in pressure situations and combining well with fellow American team-mate Ryan Kesler. Despite nearly all of the Canucks players going through some kind of scoring slump so far this season, there is no doubt the presence of Booth alongside Kesler on the second line has led to an increase of production from the powerful centre. Booth and Kesler have great chemistry, leading back to the 1999/00 season when they both played for the Detroit Honeybaked in the Midwest Elite Hockey League. Booth makes Kesler better, this is where the Tebow comparisons begin.
Tim Tebow also made immediate impact with pretty much everything he did. He took a struggling Dever Bronco's team and turned both the players and the fans around by providing some much-needed inspiration. Tebow, love him or hate him, had a record of 7 wins and 4 losses in 11 games started, leading a struggling Denver team to not only the playoff's but also a first round victory over a heavily favored Pittsburgh Steelers team who had finished the regular season with four more victories.
While not going as far as painting bible verses on his face, Booth has been open about his Christian faith since his Florida Panther days (Tebow was raised in Florida and had a successful college career with the Florida Gators) and attributes religion as major contributor to his Hockey success. He was quoted in BC's The Province newspaper as saying:
"When it's a part of you and the most important thing in your life, you want to show that, there's no thing to hide. I'm proud of who I am and there's no shame in being a Christian. You have to be bold in your faith and guys respect it when somebody has conviction like that. When guys have a passion for things, that's very convincing and you can change peoples' lives. And that's when people believe in you and follow you"
"A lot of times we have our plans and we think everything is going to be easy-going in life, the bible says: 'In this world you will have trouble, but take heart, I have overcome this world.' That was a very encouraging verse for me. We want to make it easier and we keep getting away from the real joy and knowing Christ and the joy he has for you. Maybe I was getting a little away and maybe they [concussions] were just a wake-up call in Christ saying, 'Hey, I'm No. 1 in your life.' I'm happy I took a positive spin out of it because being a Christian makes you work harder for the Lord and not for man's goals or expectations. You're going to fall short because there's not always a coach watching and when you can do things on your own accord, it gives you an extra boost of motivation to give back."
A quick check of the website Hockey Ministries International shows a picture of Booth (as well as former Canuck Darcy Hordichuk) as a pro instructor of the Christian Hockey Camp International program, a great initiative sending NHL players and alumni overseas to spread the love for the game of hockey internationally. Tim Tebow, at 24, has already started his own 'Tim Tebow Foundation', spreading faith, hope and love for those needing a brighter day. Both Tebow and Booth are using their influence to change the lives of others without looking for anything in return.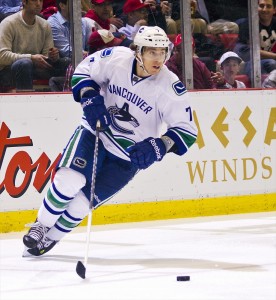 While the camera-shy Booth looks more like a surfer from Malibu than a pro NHLer, his hockey sense and genuine good character is extremely prevalent. The top 6 winger still has three more years left on his $4.25 million cap hit contract and his partnership with Kesler will only get stronger. Despite only playing 45 games so far this season, he currently sits 4th overall in Canucks goal-scoring, with more goals than Henrik Sedin, Chris Higgins and Jannik Hansen, all who have played 60 or more games.
The arrival in professional sports of players such as Tim Tebow in the NFL, Jeremy Lin in the NBA and David Booth in the NHL make a nice change from the Adam 'Pac-man' Jones and Sean Avery types, the former convicted of various off-the-field conduct charges and the later with the infamous 'sloppy seconds' quote. The idea of Tim Tebow or David Booth making front-page headlines through womanizing or drug taking seems ludicrous and whether a person is religious or not, these are the types of people the young players of tomorrow should be idolizing and looking up to.