The Arizona Coyotes begin the 2017-18 season in Anaheim on Thursday. Like every team, they are facing a few tough decisions to determine which players will fill those final roster spots.
Rookie Clayton Keller is currently leading the team in preseason scoring and is a virtual lock to make the team. Here are a few players fighting for the final spots with the Coyotes.
Dylan Strome, Center
The former third-overall pick almost made the Coyotes' opening night roster in 2015. Last season, he started with the team but was sent down to the Erie Otters of the OHL after recording just one assist in seven NHL games.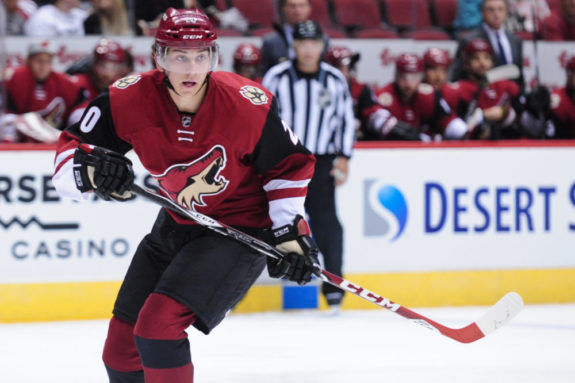 Strome entered training camp this summer with high expectations, however, it is not completely guaranteed that he will make the roster. Strome has underwhelmed so far scoring one goal and two assists in four preseason games. While those numbers aren't bad, he tends to disappear for vast amounts of time despite his 6-foot-3-inch frame. Strome has very rarely been dictating play, in any zone, when he has been on the ice.
While Strome will most likely start the season in the NHL, don't be surprised if he ends up seeing some time in the American Hockey League with the Tucson Roadrunners.
Christian Fischer, Right Wing
Fischer made his NHL debut last season scoring three goals on his first three shots. He played seven games with the Coyotes while spending most of the season in Tucson, where he recorded 20 goals and 27 assists in 57 games and was selected to the 2017 AHL All-Star game.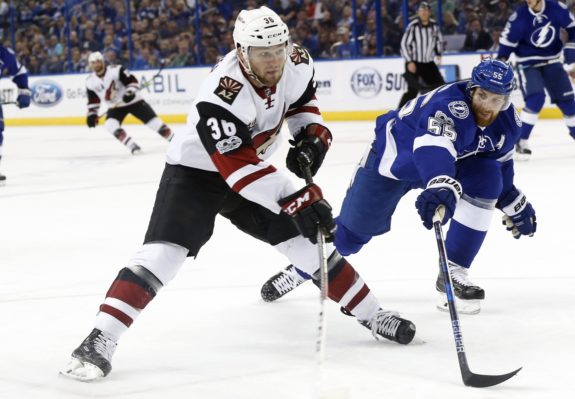 Fischer is a big-bodied power forward who, like Strome, will likely be on the roster when the Coyotes open their season. He is a right-handed shot, which is important as the team has very few right-handed wingers.
Fischer scored two goals in the Coyotes' first preseason game against the Ducks but hasn't scored since. His versatility and ability to play a top-six role or a fourth-line checking role should prove vital in him making the roster.
Mario Kempe, Forward
When the Coyotes signed Kempe to a one-year, two-way contract in May, most people expected him to play in Tucson. However, Kempe has turned heads this training camp and caught the attention of head coach Rick Tocchet.
Mario Kempe (@kempemario) has been turning heads at #CoyotesCamp.@davest4yotes catches up with him before before tonight's game in Tucson: pic.twitter.com/OgQLGTtx8S

— Arizona Coyotes (@ArizonaCoyotes) September 25, 2017
"I don't know much about him, but I've noticed him," Tocchet said. "He's got some speed, he's in great shape and he's got some offensive talent."
Kempe has scored 2 goals and 3 assists this preseason.
The Swede, a fifth-round draft pick of the Philadelphia Flyers, spent the last three seasons in the KHL notching 39 goals and 44 assists in 166 games.
Zac Rinaldo, Forward
Rinaldo is a gritty winger who hasn't played in the NHL since 2015-16, yet coach Tocchet seems impressed by his effort in camp to date.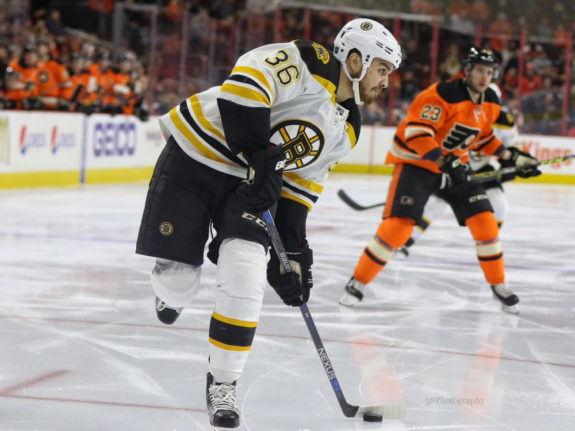 "He's a real good team guy," Tocchet said. "He can skate. I like him. We haven't made a decision on him yet, but he's the type of guy he's been around. He's a well-liked guy in the locker room."
If Rinaldo makes the Coyotes roster, he won't be in the lineup opening night. In his last NHL game, he was handed a five-game suspension for an illegal check to the head on Tampa Bay's Cedric Paquette. He still needs to serve that suspension before he can play.
Dakota Mermis, Defenseman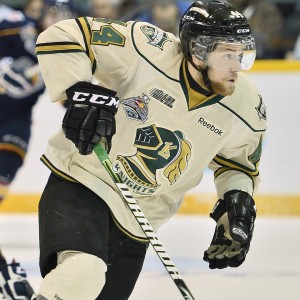 With Jakob Chychrun beginning the season on injured reserve and the recent injury to Oliver Ekman-Larsson, suddenly the left side of the Coyotes defense has become a question mark. It is unknown if Ekman-Larsson will be ready by Thursday, but if he is forced to miss any time, expect the left-handed Mermis to become the team's seventh defenseman.
"He's actually been pretty solid in camp," Tocchet said. "He deserves the chance to be here and compete for a job."
Mermis spent last season with the Tucson Roadrunners where he posted 12 points in 67 games.
Arizona Coyotes season ticket holder since 2011.