The Arizona Coyotes just completed a tumultuous off-season consisting of multiple blockbuster trades. Now they are a possible dark-horse candidate to make the playoffs. Arizona has several exciting young forwards, including more incoming rookies. They have a revamped blue line that is, on paper, arguably one of the best in the NHL. They also have a new head coach in Rick Tocchet. Yet with all these changes, several questions still remain that will determine whether the 2017-18 season will be a success or failure for the Coyotes.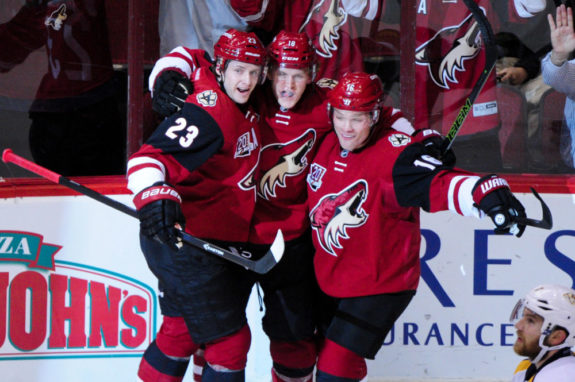 Who Can Fill Shane Doan's Shoes?
For the first time since the lockout-shortened 1994-95 season, when they were the original Winnipeg Jets, the Arizona Coyotes franchise will play without Shane Doan on their roster. During the middle of that season, their gritty right-winger Tie would have a son named Max. Now, it's up to Domi and his teammates to fill the enormous leadership void left by Doan, who had captained the team since 2003.
Captain Oliver Ekman-Larsson
Star defenseman Oliver Ekman-Larsson is widely expected to be named the new captain before the start of the season. Ekman-Larsson was drafted by the Coyotes sixth overall in 2009 and is the only member of the team remaining from the 2012 Western Conference Final run.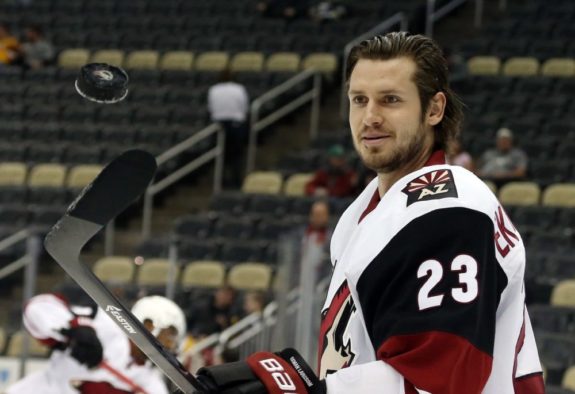 Shane Doan had routinely heaped praise on Ekman-Larsson as a teammate and leader saying in 2013 that he "wouldn't trade him for any player in the league."
Ekman-Larsson has been the Coyotes best player over the last couple seasons and a strong presence in the locker room, but it had always been Doan's team. Now the Coyotes are going to be Ekman-Larsson's team, and it is still unseen how he will handle that pressure. Arizona is hoping for a seamless transition.
Stepan as Alternate?
When general manager John Chayka traded for Derek Stepan from the New York Rangers, he wasn't just getting a top-line center, he was getting someone to help Ekman-Larsson lead the Coyotes. Stepan has four years left on his contract and will likely be named an alternate captain.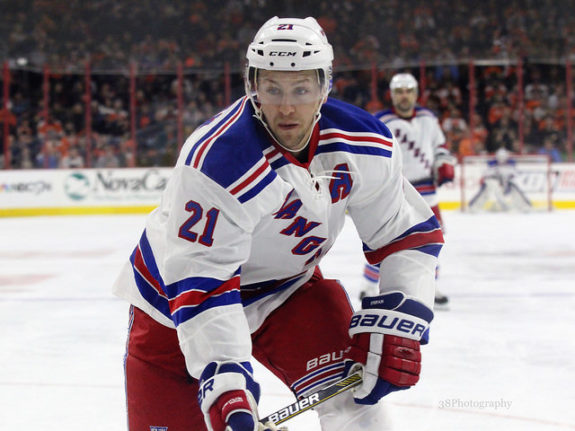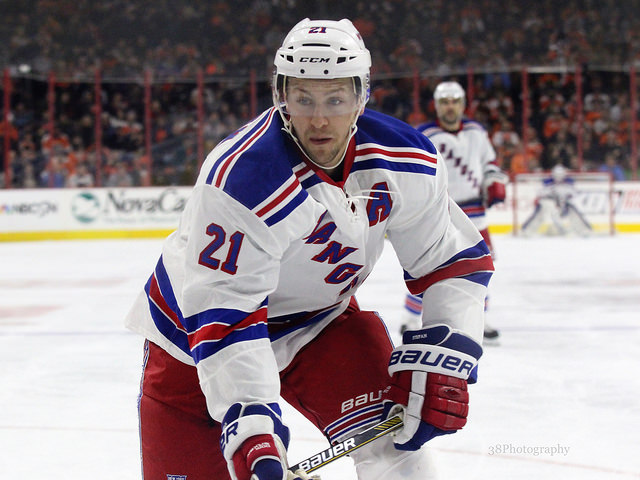 Stepan has never missed the playoffs in his entire NHL career and it is clear he already commands respect from his new teammates.
"Guys are calling me Tocch on the ice," he recently told the Arizona Republic in reference to new Coyotes head coach Rick Tocchet.
Look for Stepan, along with Alex Goligoski and Domi, to play a key role in helping Ekman-Larsson fill the void left by Shane Doan's retirement.
Is Raanta Ready for Prime Time?
Also coming to the Coyotes in that draft-day trade from the Rangers is goaltender Antti Raanta. Raanta posted a .922 save percentage and 2.26 goals against average in 26 starts last season with the Rangers. He primarily served as the backup to Henrik Lundqvist, but turned many heads with his solid performance.
Raanta is hoping to follow in the footsteps of former Rangers backup goaltender Cam Talbot with a chance to become a starter in the Western Conference. Talbot has since made the most of his opportunity with the Edmonton Oilers and has solidified his status as a starter.
Raanta is excited about his chance and wants to capitalize on it.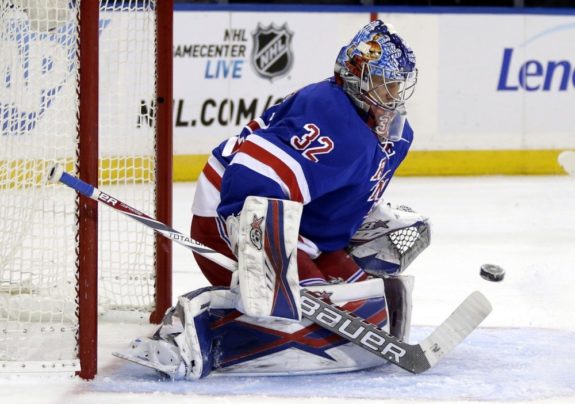 The Coyotes will be counting on Raanta for the bulk of the goaltending workload. Current Coyotes backup Louis Domingue has proven himself a very capable backup in the NHL, yet has struggled recently with consistency and when thrown into stretches of consecutive starts. At the same time, however, Raanta has never started more than 26 games in a single season and is still unproven in that role.
Can Duclair Shake His Sophomore Slump?
On March 1, 2015, Anthony Duclair was the prized return in the trade that sent Keith Yandle to the Rangers. Since then, Duclair has been on an up-and-down rollercoaster in Arizona.
Duclair had a tremendous rookie season with the Coyotes posting 20 goals and 44 points and even received a vote for the Calder Trophy as the league's rookie of the year.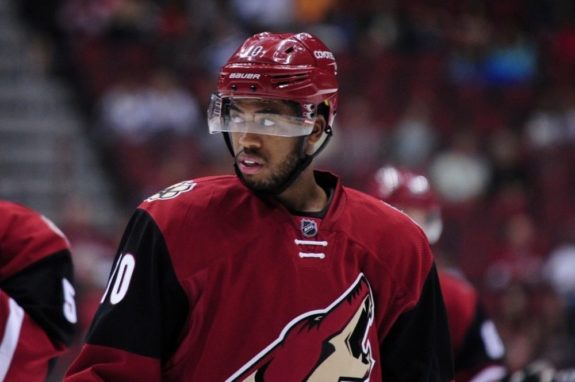 In his second season, however, Duclair posted a measly five goals and 15 points. He was demoted to the Tucson Roadrunners of the AHL where he only scored a single goal in 16 games. When Duclair returned to the Coyotes, then-coach Dave Tippett publicly stated the recall was not based on merit.
Duclair spent much of his NHL time last season bouncing around the Coyotes' lines, even playing a significant amount of time on the fourth line.
The Coyotes did not trade for Duclair for him to be a minor leaguer or a fourth-liner. Arizona needs him to play an important scoring role in their offense.
Now after only being offered a one-year contract due to his poor sophomore season, Duclair has a chance to prove that last season was a fluke.
Will Strome Step Up?
Besides Duclair, rookie Dylan Strome is perhaps under the most pressure to perform. The third-overall pick of the 2015 NHL draft has dominated the OHL over the last three seasons, but has managed only a single assist in seven NHL games.
Many Coyotes fans are still bitter about the 2015 NHL draft lottery that saw Arizona fall to the third pick which sent the much-hyped Connor McDavid and Jack Eichel elsewhere. Those two have since established themselves as marquee names in the NHL.
Strome sometimes still gets compared to those generational talents in "what could have been" scenarios, but that is unfair. However, it is not unfair to compare Strome's development to those taken after him in that draft. Mitch Marner, Noah Hanifin, Pavel Zacha, Ivan Provorov, and Zach Werenski were the next five picks. All of them have established themselves as important pieces for their respective teams.
The Coyotes need Strome to live up to his potential. The addition of Stepan will allow Tocchet to ease Strome into the league with more favorable matchups. However, the Coyotes drafted Strome to play a top-six center role.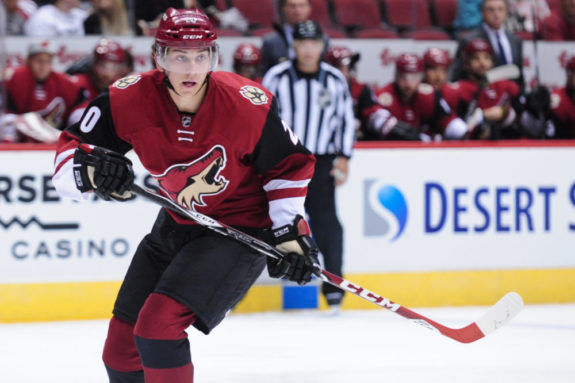 "I don't want to put pressure on [Strome]," Tocchet recently said. "[He doesn't] have to, every second [he's] on the ice, try to impress everybody. [He's] just got to play."
This season will be extremely important for Strome and the Arizona Coyotes. Will he at least develop into a second-line center? Will he spend most of the year in the American Hockey League with Tucson? Coyotes fans are desperately hoping for the former.
Arizona Coyotes season ticket holder since 2011.